BENJAMIN JOHNSTON MAYO (1832-1920)
MARY DANIEL (1843-1900)

(Last Updated: November 12, 2016)
For those of us interested in the MAYO families of Manitoba; most of the earliest ones were descendants of brothers Benjamin and Charles MAYO. They were both born in Brownville, Maine, USA, sons of Betsy JOHNSTON and Jacob MAYO (1796-1862) who was of Irish descent. ** MORE ABOUT JACOB MAYO
There were about 12 children in Jacob's family. Benjamin Johnston MAYO was born on Apr 2, 1832 and Charles Edwin MAYO on May 15, 1834. ** MORE ABOUT CHARLES EDWIN MAYO
Perhaps the most famous of the Mayo brothers was the youngest, Alfred Henry MAYO (1847-1924).
** MORE ABOUT CAPTAIN ALFRED HENRY MAYO
USA Census of 1840: Camden Township; Waldo County, Maine: The household of Jacob MAYO (age 40-49) lists 10 unidentified children (four sons and four daughters ranging in age from 2 to 19) including two sons (ages 5-9). These would be Ben & Charles.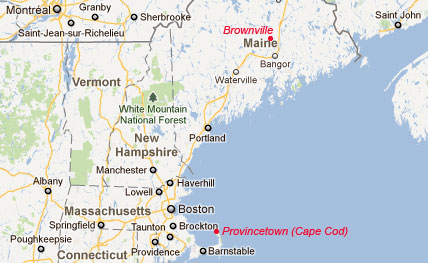 Ben and Charles grew up in Brownville. Charles was probably the first to leave home in the early 1850's. He moved to Provincetown, Massachusetts (County of Barnstable) at the tip of Cape Cod where he became a 'mariner'.
US Census 1850: Benjamin J (age 18) and his brother (Charles Edwin) enumerated with their parents in Brownville, Maine.
US Census 1860: Benjamin J (age 26) and his brother (Charles Edwin) enumerated with their mother in Benoit, Wisconsin.
Ben stayed with his parents in Brownville, but by 1860 the entire family (including his brother Charles) had moved to Benoit, Rock County, Wisconsin, USA, at the southwest end of Lake Superior (east of Duluth). Interestingly, Charles was also recorded back at Cape Cod (MA) in the same census year, staying with a Stephen MAYO (age 63; probably an uncle). Both their father (Jacob) and mother (Betsy) died at Benoit (WI) in 1862.
Immigration to Manitoba
Benjamin marries Mary DANIEL
1862
After his parents died in 1862, Benjamin moved to Red River, preceded by his brother Charles.
It was in the early 1860's that Benjamin married Mary DANIEL, a daughter of Madeleine McKAY and Griffiths DANIEL (1785-1869). ** MORE ABOUT GRIFFITHS DANIEL
Madeleine was born and raised in Red River, possibly in St Andrews Parish. Her father (Griffith) was an Englishman from Wales; a retired Hudson's Bay Company voyageur who spent most of his career working at Fort Albany on James Bay and along the Albany River; retiring to Red River in 1830.
Some sources indicate that their first children were born in the USA (probably at Benoit, WI), suggesting that Ben may have worked on the river boats involved in the fur trade between the Great Lakes and Red River, and perhaps met her there during his travels and, after they married, they resided in Wisconsin. Their first child, Louisa Rose, was born on May 2, 1864.
Canadian Confederation
A Red River Rebellion
Creation of the Province of Manitoba
Signing of Treaty Number One
1867-1871
On July 1, 1867 the British colonies in North America were united under the British North American Act to become the Dominion of Canada.  Sir John A MacDONALD (1815-1891) was appointed as Canada's first Prime Minister.
On Oct 11, 1869, Louis RIEL (1844-1885) placed his foot on the surveyors' chain to tell them their work was finished! This marked the beginning of another Red River Métis Rebellion. When it was all over, RIEL's Provisional Government accepted the terms of the Manitoba Act andon July 15,1870Manitobabecame the fifth province of Canada, the Canadian Government having acquired the territory previously governed by the HBC. At this time Benjamin MAYO was about 38 years old
.
In 1871 Chief Henry PRINCE or RED EAGLE (1819-1902) signed Treaty Number One on behalf of the St Peters Indians.
** MORE ABOUT CHIEF HENRY PRINCE
In 1878 daughter Louisa married Thomas DANIEL, son of Jane ROSE and John DANIEL (1807-1872).
In 1879 Ben's brother, Charles MAYO, married Caroline SUTHERLAND in St Peters, daughter of Eleanor & George SUTHERLAND (1810-1898).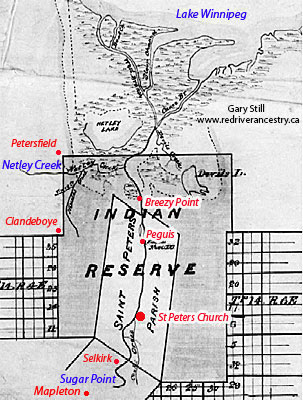 Boundaries of the St Peters Indian Reserve
1881
Finally, in the Red River Census of 1881, we find the first documented evidence of the MAYO brothers residing in the St Peters Reserve. It's a handwritten record; almost impossible to read due to its condition and the handwriting therein. Regardless, several interpretations have been made by various people with some perhaps dubious information presented (one on the Mormon's website). It seems that Charles and Ben (both 'pilots' and/or steersmen) were living adjacent to one another. Charles MAYO and his wife Caroline are recorded there with two young children, seemingly Allan (age 2) and a baby named Benjamin.
In the same census we find Benjamin's son Augustus (age 18) in the St Andrews household of Nancy and Philip DANIEL (1849-1888), Ben's brother-in-law (his mother Mary's brother).
In 1881 Alexander MUCKLE (1844-1908) became the Indian Agent for St Peters Indians, including Fort Alexander and Brokenhead Bands. ** MORE ABOUT ALEXANDER MUCKLE
Town of Selkirk Incorporated
1882
On June 15, 1882 the Town of Selkirk was incorporated with James COLCLEUGH (1841-1918) as the first Mayor. At that time it was still believed that the new CPR mainline from the east would pass through Selkirk. There were already branch lines on both sides of the river, from Winnipeg to Selkirk and East Selkirk, with Selkirk at the crossroads. In that belief, the town was booming, a veritable land rush and COLCLEUGH was at the forefront of the land speculators. He circulated a petition which called on the Federal Government to put the St. Peter's reserve up for sale, as it was a "drawback to our growth and prosperity." Such feelings were shared by other land-grabbers, touching off an Indian Land Claim Dispute that would last to this very day (2011). It should be noted that very soon afterwards the Government chose Winnipeg for the main east-west rail route, and Selkirk was no longer a boon-town.
In the fall of 1883 VANKOUGHNET asked for yet another investigation, which was to be carried out by Indian Agent MUCKLE. VANKOUGHNET took the view that no one who was, or had become, a treaty Indian could pass title to private property unless the sale was completed before the vendor's adherence to Treaty 1.
In 1885 daughter Louisa gave birth to a child named Gordon CAMPBELL. The father is unknown at this time.
A few notes that I scribbled down from a booklet I had borrowed regarding the St Peters Land Dispute: In the spring of 1887, Chief William PRINCE was mentioned in a communication with the Department of Indian Affairs (DIA), which stated "they claimed the land inside the exterior lines of the survey, and they would not give up 1 inch of it - - they would lay down their lives before they would give it up" - - ejection of those who held scrip - - In May, Charles MAYO - a man whom band members desired to have an example made of - was approached by the Agent and told to leave. Although he swore that he would never be taken out of the house alive - - and would shoot the first man who would touch him - - in the end he departed peaceably.  MAYO and his wife, together with 2 loads of furniture, were taken outside of the reserve boundaries, and told not to return. - - According to MUCKLE, eviction had the intended effect - - almost all half-breeds when they saw how MAYO was treated - - left the Reserve.
Around 1888 daughter Louisa began a connubial relationship with John James CORRIGAL, son of Eliza FIRTH & John Charles CORRIGAL (1816-1891). ** MORE ABOUT JOHN CHARLES CORRIGAL
Census of 1891: Benjamin (age 53) recorded with his brother Charles in St Andrews.
In 1899 daughter Ellen married George Henry BEGGS in Winnipeg. He was born in 1862 in the USA and came to Canada in 1871. ** MORE ABOUT GEORGE HENRY BEGGS
On Aug 11, 1900 Mary (nee DANIEL) MAYO died.
Census 1906, 1911:  Ben (age 71, 76), was living in Selkirk with his brother Charles Edwin MAYO.
On Aug 20, 1920 Benjamin MAYO died in Selkirk, age 89.
Comments and queries at this link: FORUM for DISCUSSING THE FAMILY OF BENJAMIN JOHNSTON MAYO
========================== Family Details ==========================
Children :
1. May 2, 1864 LOUISA ROSE MAYO (m1. Thomas DANIEL; m2. CAMPBELL; m3. John James CORRIGAL)
2. Jan 28, 1867 AUGUSTUS MAYO
3. 1871 ELLEN MAYO (m. George Henry BEGGS)
** MORE ABOUT GEORGE HENRY BEGGS