CHARLES EDWIN MAYO (1834-1917)
CAROLINE FLORENCE SUTHERLAND (1861-1948)
(Last Updated: October 30, 2016)
For those of us interested in the MAYO families of Manitoba; most of the earliest ones were descendants of brothers Benjamin and Charles MAYO. They were both born in Brownville, Maine, USA (See map below), sons of Betsy JOHNSTON & Jacob MAYO (1796-1862) who was of Irish descent. There were about 12 children in Jacob's family. Benjamin Johnston MAYO was born on Apr 2, 1832; Charles Edwin MAYO on May 15, 1834. ** MORE ABOUT JACOB MAYO
USA Census of 1840: Camden Township; Waldo County, Maine: The household of Jacob MAYO (age 40-49) lists 10 unidentified children (four sons and four daughters ranging in age from 2 to 19) including two sons (ages 5-9). These would be Ben & Charles.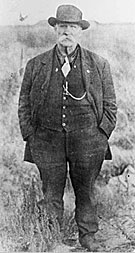 Charles & Ben's famous little brother, Captain Alfred Henry Mayo (1847-1924)
(University of Alaska Archives, Fairbanks)
** MORE ABOUT CAPTAIN ALFRED HENRY MAYO **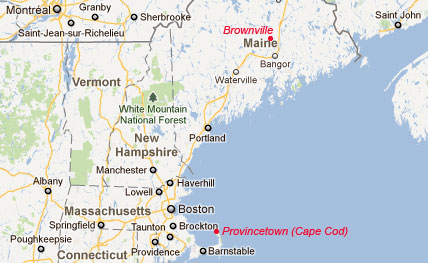 Ben and Charles MAYO grew up in Brownville. Charles was probably the first to leave home in the early 1850's. He moved to Provincetown, Massachusetts (County of Barnstable) at the tip of Cape Cod where he became a 'mariner'. The term 'Mariner' is broadly defined as a seaman or sailor, a crew member of a ship.
The MAYO family moves to Wisconsin
Ben stayed with his parents in Brownville, but by 1860 the entire family (including his brother Charles) had moved to Beloit, Rock County, Wisconsin, USA. Interestingly, Charles was also recorded back at Cape Cod (MA) in the same census year, staying with a Stephen MAYO (age 63; probably an uncle).
Both their father (Jacob) and mother (Betsy) died at Benoit (WI) in 1862.
Benjamin MAYO marries Mary DANIEL; immigrates to Manitoba
1862-1867
Benjamin was the first of the two brothers to immigrate to Canada (Red River), probably after his parents died in 1862.
** MORE ABOUT BENJAMIN JOHNSTON MAYO
The 1911 census record indicates that Ben immigrated to Canada in 1862. However, some references indicate that his first children were born in the USA (probably Wisconsin), and that he and his family (and his brother Charles) may not have actually lived in Red River until after Confederation.
Canadian Confederation and a Red River Rebellion
Creation of the Province of Manitoba
Signing of Indian Treaties One and Two
1867-1871
On July 1, 1867 the British colonies in North America were united under the British North American Act to become the Dominion of Canada.  Sir John A MacDONALD (1815-1891) was appointed as Canada's first Prime Minister.
On Oct 11, 1869, Louis RIEL (1844-1885) placed his foot on the surveyors' chain to tell them their work was finished! This marked the beginning of another Red River Métis Rebellion. When it was all over, RIEL's Provisional Government accepted the terms of the Manitoba Act and on July 15, 1870 Manitoba became the fifth province of Canada, the Canadian Government having acquired the territory previously governed by the HBC.
In 1871, Wemyss SIMPSON (1824-1894) was appointed as Canada's Commissioner and General Indian Agent for the Northwest, to negotiate treaties with the Indians of the region. By the end of August SIMPSON's negotiations culminated with the signing of Indian Treaties One and Two, the first such treaties concluded by the new Dominion of Canada.
Charles MAYO immigrates to Canada - Marries Caroline SUTHERLAND
St Peters Land Disputes
1876-1879
The census of 1816 indicates that Charles didn't immigrate to Canada (Manitoba) until 1876. His brother Ben had presumably been there for about 14 years by this time.
The Salteaux and Cree became openly antagonistic toward one another during the 1870's and the parish of St Peters, by 1876, was divided in two. The formal split caused the Reserve to alter in appearance with the southern half (Dynevor) occupied by the Cree's basically with the northern half (Peguis) housing the Salteaux. During the years following 1876 the Indian population of the St. Peter's Reserve steadily declined and more and more non-Indian settlers were evident. The rules regarding Half-breed Scrip had changed by this time. Heads of families were to be entitled only to Scrip with which they could purchase land if they wished.  Scrip was now negotiable, speculators were quick to offer trifling sums for pieces of paper which were of little value to Métis who did not understand that each paper entitled one to a quarter-section of land. 
In the spring of 1878, a second investigation was conducted by DIA Inspector Ebenezer McCOLL (1835-1902), who concluded that Chief Henry PRINCE of the St Peters Band had little cause to complain about lot sales, since he had participated in many of them, but that the claims of persons who purchased from Treaty Indians were without merit.
On Jun 12, 1879 Charles married in St Peters (MB) to Caroline SUTHERLAND, daughter of Eleanor & George SUTHERLAND (1810-1898).
It seems that the MAYO brothers were both occupying property (perhaps jointly) in the St Peters Reserve during the period when the land disputes began to heat up.
Despite continuing pressure from the Peguis Band, no action was taken as a result of McCOLL's report until the spring of 1879. At that time, VANKOUGHNET recommended to the Superintendant General that all non-Indians who had acquired lots from Indians after the date of Treaty One should be ejected by notice, pursuant to the provisions of the Indian Act. When steps were taken to effect this plan, however, the residents refused to leave, and the Departmental Officials began to consider the introduction of special legislation to resolve the problem.
On Aug 3, 1879, in exchange for the Indians' agreement to cede their aboriginal title to all land in the new province of Manitoba, the government agreed to set aside reserves for each signatory band. The treaty stated: For the use of the Indians belonging to the band of which Henry PRINCE, otherwise called Mis-koo-ke-new, is the Chief, so much land on both sides of the Red River, beginning at the south line of St. Peter's Parish, as will furnish one hundred and sixty acres for each family of five, or in that proportion for larger or smaller families; ... it being understood, however, that if, at the date of the execution of this treaty, there are any settlers within the bounds of any lands reserved by any band, Her Majesty reserves the right to deal with such settlers as She shall deem just, so as not to diminish the extent of land allotted to the Indians.
1881
Finally, in the Red River Census of 1881, we find the first documented evidence of the MAYO brothers residing in the St Peters Reserve. It's a handwritten record; almost impossible to read due to its condition and the handwriting therein. Regardless, several interpretations have been made by various people with some perhaps dubious information presented (one on the Mormon's website). It seems that Charles and Ben (both 'pilots' and/or steersmen) were living adjacent to one another. Charles and his wife Caroline are recorded there with two young children, seemingly Allan (age 2) and a baby named Benjamin.
In 1881 Alexander MUCKLE (1844-1908) became the Indian Agent for St Peters Indians, including Fort Alexander and Brokenhead Bands. ** MORE ABOUT ALEXANDER MUCKLE
Town of Selkirk Incorporated
1882
On June 15, 1882 the Town of Selkirk was incorporated with James COLCLEUGH (1841-1918) as the first Mayor. At that time it was still believed that the new CPR mainline from the east would pass through Selkirk. There were already branch lines on both sides of the river, from Winnipeg to Selkirk and East Selkirk, with Selkirk at the crossroads. In that belief, the town was booming, a veritable land rush and COLCLEUGH was at the forefront of the land speculators. He circulated a petition which called on the Federal Government to put the St. Peter's reserve up for sale, as it was a "drawback to our growth and prosperity." Such feelings were shared by other land-grabbers, touching off an Indian Land Claim Dispute that would last to this very day (2011). It should be noted that very soon afterwards the Government chose Winnipeg for the main east-west rail route, and Selkirk was no longer a boon-town.
In the fall of 1883 VANKOUGHNET asked for yet another investigation, which was to be carried out by Indian Agent MUCKLE. VANKOUGHNET took the view that no one who was, or had become, a treaty Indian could pass title to private property unless the sale was completed before the vendor's adherence to Treaty 1.
A few notes that I scribbled down from a booklet I had borrowed regarding the St Peters Land Dispute: In the spring of 1887, Chief William PRINCE was mentioned in a communication with the Department of Indian Affairs (DIA), which stated "they claimed the land inside the exterior lines of the survey, and they would not give up 1 inch of it - - they would lay down their lives before they would give it up" - - ejection of those who held scrip - - In May, Charles MAYO - a man whom band members desired to have an example made of - was approached by the Agent and told to leave. Although he swore that he would never be taken out of the house alive - - and would shoot the first man who would touch him - - in the end he departed peaceably.  MAYO and his wife, together with 2 loads of furniture, were taken outside of the reserve boundaries, and told not to return. - - According to MUCKLE, eviction had the intended effect - - almost all half-breeds when they saw how MAYO was treated - - left the Reserve.
In the Census of 1891, St Andrews Parish we have Charles MAYO, age 50, a Ship Carpenter; wife Caroline, age 32. Children: Benjamin (age 10); Charles 9; Cora B 7; Alfred 5; George 3; William (age 1). Allan, who had been recorded in 1881 as age two, was no longer with the family; he may have died.  Also recorded with them was Charles' brother, Benjamin MAYO, age 53, also a Ship Carpenter.
Around 1893-94 Charles' niece (by marriage), Mrs. Harriet (nee SINCLAIR) McDONALD and her baby daughter, Catherine Elizabeth McDONALD, came from Fairford to live with Charles and his family. Harriet's husband, Hugh McDONALD (1870-1925) apparently found it necessary to leave his wife and daughter with the MAYO family while he worked as a fisherman on Lake Winnipeg (Norway House area). Charles MAYO already had about eight young children of his own at the time, so the addition of another one undoubtedly created an extra burden.
On Oct 13, 1896 Harriet SINCLAIR-McDONALD died at the MAYO residence; three year old daughter Catherine remained with the MAYO family (obviously too young for her father to take care of her). A few years later Hugh McDONALD took the little girl away from the MAYO home, claiming that she wasn't being properly cared for.
When the Census of 1901 was taken Charles was living in Selkirk (Taylor Ave). He was listed as a "ship carpenter", age 60; Caroline, age 40. Since 1891 the family had increased to 11 with the addition of Wallace (age 8), Fred (age 6), Eleanor (age 2) and baby James. Eight year old Catherine McDONALD of course was no longer with them. She had gone to live with her father, Hugh McDONALD at Norway House.
On June 19, 1902, Charles Edwin MAYO (a resident of Selkirk) appeared before North-West Halfbreed Claims Commissioner J.A.J. McKENNA, signing an affidavit that provided evidence regarding his deceased niece (by marriage) Harriet (nee SINCLAIR) McDONALD; her only child, Catherine Elizabeth; and a Scrip claim made by Hugh McDONALD. Charles stated that Harriet's father was Thomas SINCLAIR; her mother Elizabeth WHITFORD, both half-breeds; that Harriet died  at his house on Oct 13, 1896; that she was married at the time to Hugh McDONALD, a fisherman on Lake Winnipeg. There are numerous letters of communication associated with this Scrip claim revealing conflicts between MAYO and McDONALD regarding the custody of the child. Ultimately, McDONALD was awarded his Scrip claim as the sole heir of his deceased wife.
On Nov 10, 1904, daughter Cora married in Selkirk to Edward George DUXBURY.
In 1906 Charles was about 74 years old and living on Taylor Ave. He still had nine of his children at home. His 76 year old widowed brother, Ben MAYO, was now staying with Charles as well.
On Jan 15, 1907 son Benjamin married in Selkirk to Flora Ann LYONS, daughter of Alice McKENZIE & William LYONS (1856-1939) who lived in Mapleton. Their first residence was on Jemima St. in Selkirk.
On Oct 14, 1907, an Order in Council accepted the Surrender of the St Peters Reserve. The same month, the Band and representatives of the department selected the site of the new reserve, near Fisher River, Manitoba.
In the Census of 1911, Charles, Caroline, and eight children were enumerated as living on Main Street in Selkirk. Charles' 75 year old brother, Benjamin was still with them. They also had a three month old baby with them named Rose CROZEL, listed as a 'boarder'. This is somewhat mysterious; I have no idea who were the parents of this baby were.
Charles was also recorded in the Town of Rainy River in the census of 1911 (probably in the fall), staying with 37 year old daughter Cora and son-in-law Edward DUXBURY. He was undoubtedly there to attend the Oct 19, 1911, wedding of son Charles Edwin Jr. in Rainy River to Alice Maud MOORE (father unknown), a child of Grace Agnes SANDERSON who later married John Robert MOORE. ** MORE ABOUT JOHN ROBERT MOORE
On Feb 14, 1912, son George married in Selkirk to Clara SIGURDSON.
The Outbreak of World War I
1914
On Aug 14, 1914 Great Britain declared war on Germany and Austria-Hungary to uphold treaties with France and Belgium which were under German attack. This marked the beginning of World War I.
On Dec 31, 1915, son Charles Edwin Jr. enlisted at Selkirk.
On Mar 11, 1916, son William enlisted, a 'homesteader' at Wynard, SK.
In 1916, when the census was taken in Town of Selkirk, Charles and his family were recorded on Main Street. He was recorded as a ship carpenter, age 86. Caroline was recorded as 54 years old. Children at home were Alfred (age 26), William (age 23), Wallace (age 22), Fred (age 21), Eleanor (age 17), James (age 15) and Cecil (age 6). Although Cecil is recorded as a child of six in this census, and some genealogical reference indicate that he was born on Mar 26, 1911, he was not recorded with the family when the census was taken in June that year. Somehow it seems more likely that he was a grandchild. After all, Caroline was about 50 years old when Cecil was born and Charles was about 77 years old. I cannot find any documented record of his birth.
On May 30, 1917, son Wallace married in Selkirk to Agnes Matilda KENNEDY, daughter of Juliet THOMAS & John George KENNEDY.
Charles Edwin MAYO Sr. died on June 10, 1917 in Selkirk at the age of 83.
On Aug 31, 1917; son Frederick enlisted at Selkirk.
On Aug 9, 1918, son William died a soldier in France, age 27

November 11, 1919, Armistice Day (Remembrance Day) marked the end of the First World War.
On Aug 1, 1923, daughter Eleanor married in Selkirk to James Hamilton SHAND, son of Agnes KAYE & Thomas SHAND (1868-1915).
On Jan 10, 1924 son James married in Selkirk to Beatrice PRUDEN, daughter of Isabella TAYLOR & Thomas PRUDEN (1866-1937).
On July 7, 1934 Cecil MAYO married in Selkirk to Katherine SETTEE, daughter of Jemima PHILLIPS & Albert James SETTEE (b-1872). ** MORE ABOUT ALBERT JAMES SETTEE
Caroline MAYO died on Dec 28, 1948.
Please post comments & queries at this link: FORUM DISCUSSING the CHARLES MAYO FAMILY
========================== Family Details ==========================
Children:
1. 1879 ALLAN MAYO (Died in infancy?)
2. Sep 25, 1881 BENJAMIN BERTRAM MAYO (m. Flora Ann "Granny Mayo" LYONS)
** MORE ABOUT BENJAMIN BERTRAM MAYO
3. Mar 1, 1882 CHARLES EDWIN MAYO (m. Alice Maud MOORE)
4. Mar 29, 1884 CORA BEATRICE MAYO (m1. Edward George DUXBURY, m2. Reginald William MAYBURY)
5. Dec 23, 1886 GEORGE JACOB MAYO (m. Clara SIGURDSON)
6. Feb 7, 1889 ALFRED H MAYO
7. Jan 10, 1891 WILLIAM ROLAND MAYO
8. Mar 3, 1893 WALLACE L MAYO (m. Agnes Matilda KENNEDY)
10. Aug 15, 1898 ELEANOR FLORENCE MAYO (m. James Hamilton "Jim" SHAND)
11. Oct 6, 1900 ISAAC (twin) MAYO (Died at birth)
12. Oct 6, 1900 JAMES FRANKLIN (twin) MAYO (m. Beatrice PRUDEN)
?13. Mar 26, 1911 CECIL ARCHIBALD MAYO (m. Katherine "Kye" SETTEE)