JOHN ROBERT MOORE (1862-1937)
GRACE AGNES SANDERSON (1861- )
(Last Updated: September 06, 2016)
John Robert MOORE was born Dec 19, 1862 in the Parish of St Paul (Middlechurch, MB) to Margaret CUMMINGS, the third wife of Caesar MOORE (1827-1884), both half-breeds.
By 1865 Roberts's family had settled in the St Peters Indian Settlement north of Selkirk, MB. St Peters was then occupied in part by white and Métis settlers who had received title to their river lots from Chief PEGUIS (1774-1864).
Robert was only eight years old in 1870 when General Lord Garnet WOLSELEY (1833-1920) arrived with his troops to put an end to the Red River Rebellion led by Louis RIEL (1844-1885). Manitoba became the fifth province in Canada that year. In December that year the Government completed a Census of the entire Red River area. The results indicated there were 5, 757 French-speaking Métis; 4, 803 white settlers and 558 Indians in the census region. This information would be later used to determine who would be eligible for Land Grants and Scrip. In that census Robert was recorded with his parents in St Peters Parish, ensuring his eligibility for a Half-breed Grant of land.

On June 15, 1882 the Town of Selkirk was incorporated with James COLCLEUGH (1841-1918) as the first Mayor. COLCLEUGH circulated a petition which called on the Federal Government to put the St. Peter's Reserve up for sale, as it was a "drawback to our growth and prosperity." Such feelings were shared by other land-grabbers, touching off an Indian Land Claim Dispute that would last to this very day (2011).
Robert joins the Nile Expedtiion
1884-85
In 1884 Robert MOORE (age 22) was recruited by General WOLSELEY as part of a group of 392 Canadian boatmen known as the Nile Voyageurs. This is the same Gen. WOLSELY mentioned above who's troops ended the RIEL rebellion. Robert accompanied the late Captain George ROBINSON (1833-1883). Chief William PRINCE of the St Peters Indian Band headed the Ojibwe-Manitoba team.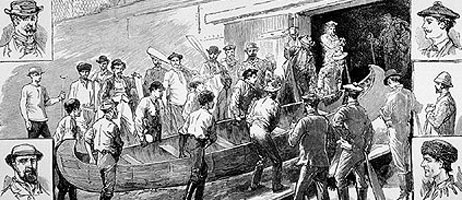 For the relief of General Gordon, Canadian boatmen going on board the
"Algoma" at Port Arthur, Lake Superior, on their way to Québec
(Courtesy Library and Archives Canada/C-71203).
Overview by Lorine McGinnis Schulze
The Nile Expedition was the first instance of overseas service of Canadians. In 1884, during the Battle of Khartoum in the Sudan, the British put out a call for Canadian volunteers to help guide British soldiers up the Nile River. The soldiers were to provide some relief to the isolated men stationed there.
The River Column left Korti on the Nile, December 1884, to traverse the rapids and advance south into the Sudan to relieve Gen. GORDON in Khartoum, who was being attacked by the forces of the Mahdi. General Lord Garnet WOLSELEY needed men who could overcome the Nile's cataracts as they moved upriver, and he decided that Canadian boatmen like those who assisted in his Red River Expedition, would be the answer.
The Canadian government gave Britain permission to recruit and the men were brought to Egypt under the command of Colonel F. C. DENISON.
General Lord Garnet WOLSELEY's group of 392 Canadian boatmen - the Nile Voyageurs - 56 of whom were Mohawks, mostly from the Kahnawake band in Quebec, and 30 of whom were Ojibwa from Manitoba and Northern Ontario. Chief Louis JACKSON of Kahnawake recommended the design for the whaler-boats that were used on the voyage and became a river foreman.
Only 89 men actually helped the expedition in moving the boats up the Nile. A total of 16 Canadians lost their lives during this six-month, 19,000-kilometre expedition. The journey turned out to be in vain as the British troops were killed two days before the rescuers arrived. Upon learning of General GORDON's death, the column was forced to retrace its steps in March 1885.
** MORE ABOUT THE NILE EXPEDITION in WIKIPEDIA
On Nov 29, 1884 Robert's father (Caesar MOORE) died. He was buried in the St Peters Cemetery.
Robert MOORE & Grace SANDERSON
1888
Around 1888 Robert began a relationship with Grace SANDERSON (born 1861), daughter of Jane HENDERSON and George SANDERSON (1810-1885), both half-breeds. ** MORE ABOUT GEORGE SANDERSON
Grace was also living in St Peters at the time and she had three children from previous relationships: 10 year-old Margaret CAMERON, her illegitimate child by Adolphus CAMERON (c1852-c1894); four year old Alice (father unknown) and two year old Alexander SUTHERLAND (father unknown).
On Dec 15, 1889, son Donald was born and on Jan 15, 1890 Robert & Grace were formally married (probably at St Peters).
On Mar 23, 1891, son Joseph was born.Three months later (on June 30) Grace's child, Margaret CAMERON died in St Peters at the age of three.
Move to Ridgely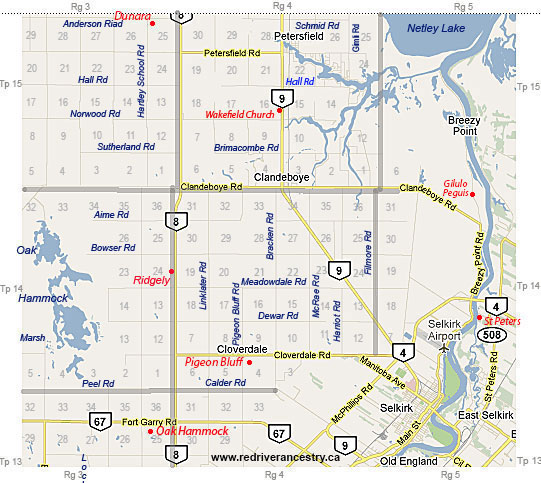 Robert's property was just south of Ridgely between the Meadowdale Road and Dewar Road
By 1901 Robert and his family had moved to Ridgely. The census that year recorded both Robert and Grace as age 29 and their children, Alice (age 16), Donald (age 11) and Joseph (age 10).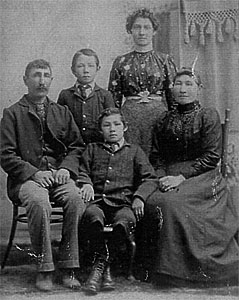 The Moore Family in 1905. Standing: Donald & Alice
Seated: Robert, Joseph & Grace
(Courtesy Bob Climie)
Adoption of Irene (DICKINSON)
1910
In 1910 Agnes & Robert adopted Tena Irene, an illegitimate child of Sarah LAMBERT and George DICKINSON (1860-1930). Sarah LAMBERT was Grace's niece, daughter of her sister, Harriet SANDERSON & Andrew LAMBERT (1849-1915). ** MORE ABOUT SARAH LAMBERT & GEORGE DICKINSON
On Oct 19, 1911 at Rainy River, Ontario, daughter Alice married Charles Edwin MAYO, son of Caroline SUTHERLAND & Charles Edwin MAYO SR (1882-1956).
On Nov 19, 1913, son Donald married in Selkirk to Lillian ADAMS, daughter of Harriet JOHNSTON & Joseph Charles ADAMS (1868-1953). ** MORE ABOUT JOSEPH CHARLES ADAMS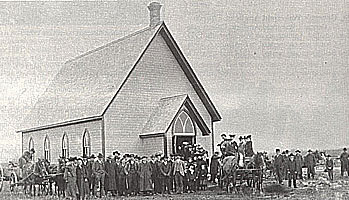 St Matthews Anglican Church, Cloverdale, opened 1905
The Moore family attended this church
The Census of 1916 recorded Robert (age 54), Grace (age 47) at Ridgely with three children at home, Alexander (age 28), Joseph (age 24) and Tena (age 6).
Agnes MOORE died in 1920.
On Dec 7, 1921, son Alexander married in Selkirk to Hazel ADAMS, his sister-in-law.
Around 1927 Tena Irene became the wife of Stephen ZELISKO (1910-1967), son of Mary PIWARCHUK and Julian ZELISKO (1874-1956) from the Ukraine. ** MORE ABOUT IRENE & STEVE ZELISKO
On Jun 22, 1937 John Robert MOORE was buried in the St Matthews Churchyard at Cloverdale.
On Jan 23, 1943, son Joseph Ernest married in Selkirk to Louise McDONALD.
Please post comments & queries at this link: FORUM DISCUSSING the family of JOHN ROBERT MOORE
========================== Family Details ==========================
Child of Agnes SANDERSON & Adolphus CAMERON:
1. Jan 14, 1878 MARGARET (CAMERON) SANDERSON (Died age 13)
Child of Agnes SANDERSON & UNKNOWN:
1. Apr 6, 1884 ALICE (MAUD) MOORE (m. Charles Edwin MAYO)
Child of Agnes SANDERSON & Unknown SUTHERLAND:
1. Feb 21, 1886 ALEXANDER JAMES (SUTHERLAND) MOORE (m. Hazel ADAMS)
Children by Robert MOORE & Agnes SANDERSON:
1. Dec 15, 1889 DONALD CHARLES SANDERSON MOORE (m1. Lilian ADAMS)
2. Mar 23, 1891 JOSEPH  ERNEST MOORE (m. Louisa (nee McDONALD) COOK)
Adopted:
1. June 21, 1910 IRENE TENA MOORE (DICKENSON) (m1. Stephen SALISKO, m2. VENTRICE THOMAS)
** MORE ABOUT IRENE & STEVE ZELISKO