STEPHEN (STEVE) ZYLESKO/ ZELISKO (1910-1967)
IRENE (DICKINSON) MOORE (1910-1988)
COOK
GATES
(Last Updated: September 24, 2012)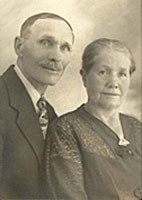 Julian Zelisko & Mary Piwarchuk (Steve's parents)
Around 1875 Mary PIWARCHUK & Julian ZELISKO (1875-1956) were born and married in Brody, Galicia (Ukraine). They had two, perhaps three children there before 1903-04 when they immigrated to Canada and settled on River Lot 235 in St Clements Parish. This was on the east side of the Red River across from Lambert's Point; south of the Old St Andrews Church. They raised about 10 children there, one of which was Stephen (Steve) ZELISKO, born on Aug 10, 1910.
Census 1911, 1916: Steve/ Stephen (age 9 months, 6) with parents on Lot 235 in St Clements Parish.
Western Land Grants: Undated: Steve ZELISKO; SW-21-25-3-E1. ** That location is NW of Gimli. These records cover a period between 1870 and 1930. No other information is provided.
Steve moves to the Ridgely area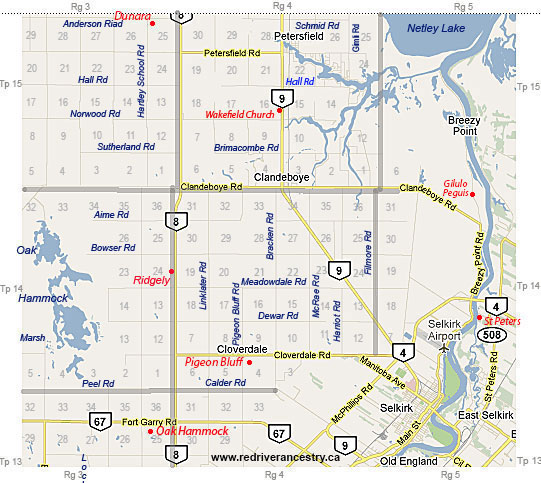 Recollections of Oak Hammock, by Ernest G JOHNSON: In the late 1920's my brother Ed and other young adults – organized a a social club called the "Oaks" - - The social order in the country had the English, Irish and Scots at the top, followed by the Scotch-Indians, mixed-bloods, and then, again because of the language barrier, the Ukrainians. After one "Oaks" club meeting at the school, brother Ed, Rosser MOWAT and other Anglos started for home walking west and the Ukrainian group, Steve ZALISCO and friends, started east. An egg sailed through the air from the east and hit Rosser MOWAT squarely in the back of the head and splashed all and sundry. After the hit both groups continued home, but met at Rybak's Store the following Sunday afternoon. After an exchange of words in the store, Rosser & Steve went outside and squared off with bare fists. The match was fairly even until Rosser gave Steve a foot in the groin. That ended the fight and also ended the social club. We (the JOHNSON family) left the farm in the spring of 1932 and moved to the village of Stony Mountain.
Marriage to Irene MOORE
1927
Around 1927 Steve married Irene (Tena) MOORE, an adopted daughter of Grace SANDERSON & John Robert MOORE (1862-1937). ** MORE ABOUT JOHN ROBERT MOORE
In 1929 Steve went to Chicago where he was recorded in the 1930 U.S. Census as age 19; a Labourer in a Machinery Factory; staying in a rental house with the family of his 25 year old brother, Miles (Mike) ZELISKO. He's recorded as single; did not attend school but able to read and write; speaks English.
By about 1931 Irene had three of Steve's children: Grace, Doug and Jim.
Irene was still referred to as Mrs ZALISKO in the 1937 obituary of John Robert MOORE, but by that time it seems that Steve had vanished, abandoning his wife and their three children.
Jul 4, 1938: Detroit Border Crossings and Passenger and Crew Lists; Arrival at Greyhound Bus Station, Detroit, Michigan:  Stephen MARTIN alias ZALISKO; accompanied by friend, Edith MILLER. Age 30; born c1908 in Leamington Ontario. Occupation: News Reporter; able to read & write. Last permanent residence: 1106 Langlois, Windsor, Ontario; Birth date: abt. 1908 in Leamington, Ontario. He states his father as James MARTIN, Leamington, Ontario. Purpose in coming: Visit – 1 hour. He's 5' 10", ruddy complexion, brown hair, blue eyes; two inch scar under his left ear. Arrival date: Jul 4, 1938. Arrival Place: Detroit, Michigan.
Lauralim: Emailed to me Jun 28-29, 2009 via ancestry.com: Stephen was my grandfather's brother. My grandmother is the only spouse of any of the ZALISKO's still alive. She remembered about Irene but lost contact with her after my grandparents moved to the US in 1948. She did know of the three children. Evidently Stephen went to the US but got deported. He then went to Windsor, Ontario and married and had more children. - - My grandmother doesn't know much about him after he came back to Canada. She thinks he had four or five more kids but doesn't remember their names. The boys did go by the ZALISKO name (I'm pretty sure). He died very young. I guess that he was a big drinker.
Around 1942 Irene became the wife of Ventrice THOMAS (1893-1985).
** MORE ABOUT IRENE & VENTRICE THOMAS
Stephen ZELISKO died in September of 1967, age 57.
On web-forums there are indications that Steve remarried two more times to a COOK and a GATES. I have not been able to verify this information but have added their supposed children below in hopes that someone can verify or refute this info.
Please post comments and queries at this link: FORUM DISCUSSING STEPHEN ZELSIKO FAMILY
============================ Family Details ============================
Children by Irene MOORE:
1. c1928 DOUGLAS R. ZALISKO (m. Joan TETROE)
2. July 13, 1930 GRACE ZALISKO (m. Samuel "Big Sam" BABISKY)
3. 1931 JAMES P. S. ZALISKO (m. Vera PATZER)
Child by COOK re Pertiet:
1. LYNN ZELISKO (m. Henry LESPERANCE)
Children by Living GATES:
1. Living Female ZELISKO (m. Living RAWSON)
2. Living Female ZELISKO (m. Living ELLIS)
3. Living Female ZELISKO
4. Living Male ZELISKO (m. Living GRANZIOL)
5. Living Male ZELISKO (m. Living VIGNEUX)
6. Living Female ZELISKO (m. Living HOTTE)