JOSEPH CHARLES ADAMS (1868-1953)
HARRIET "HATTIE" JOHNSTONE (1868-1938)
(Last Updated: September 01, 2014)
Joseph Charles ADAMS was born Nov 27, 1868 in High Bluff (Manitoba), son of Ann Elizabeth BIRD and Joseph ADAMS (1842-1897).  ** MORE ABOUT JOSEPH ADAMS
Joseph's mother (Ann Elizabeth nee BIRD) died in 1871, when Joseph was only about 3 years old. In 1872 his father (Joseph Sr) re-married to Christina Ann FRANKS, daughter of Justine STEVENS & James FRANKS (1813-1884) from England. 
In the 1881 census Joseph ADAMS (age 11) was recorded in High Bluff with his father, step-mother and four step-siblings. In the same census, Harriet JOHNSTONE (age 14) was recorded with her parents in St Andrews Parish.
Around 1882 Joseph's father and his step-mother and five step-siblings moved to Red Deer Hill, Saskatchewan.
Marriage to Harriet JOHNSTONE
1890
In 1890 Joseph married Harriet "Hattie" JOHNSTONEin Winnipeg, the daughter of Catherine MURDOCK and George JOHNSTONE (1836-1898). Sometime after they married Joseph and his family settled on the SE-14-16-Epm near Netley (See map below). ** MORE ABOUT GEORGE JOHNSTONE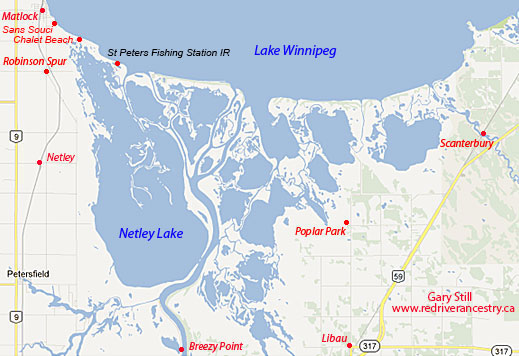 Census of 1891 in the Netley area: George (?) ADAMS, age 22; Harriet ADAMS, age 22. Widowed Aunt Catherine SPENCE, age 64. ** The George ADAMS is a puzzler and must be our Joseph Charles (see next). Aunt Catherine SPENCE is Catherine (nee BIRD; his mother's sister) who was married to Thomas SPENCE (1812-1881+).
Census of 1901 in the Netley area: Joseph C ADAMS, age 32, wife Harriet, age 32. Children: William (age 9), Catherine (8), Lilly (5), Percival (3) and baby Hazel.  Still with them is Widow Catherine SPENCE.
Selkirk – Lily Avenue
1906
By 1906 the family had moved to Selkirk and were recorded on Vaughan Ave. as Joseph ADAMS (age 36); wife Hattie (age 36). Children: Graham (age 14), Katherine (13), Lillian (9), Percy (8), Hazel (5), Charles (3), Ernest (2) and baby Leslie. Also living with them is Hattie's 65 year old mother Katherine JOHNSON.
By 1911 Joseph had moved his family to Lily Avenue at the north end of Selkirk where they would remain for many years to come. That year the family was recorded as follows: Joseph ADAMS, age 42; wife Harriet, age 42. Children: Graham (age 19), Catherine (18), Lillie (15), Percy (14), Hazel (13), Charles (9), Gordon (7), Leslie (6), Stanley (3) and Mildred (age 1).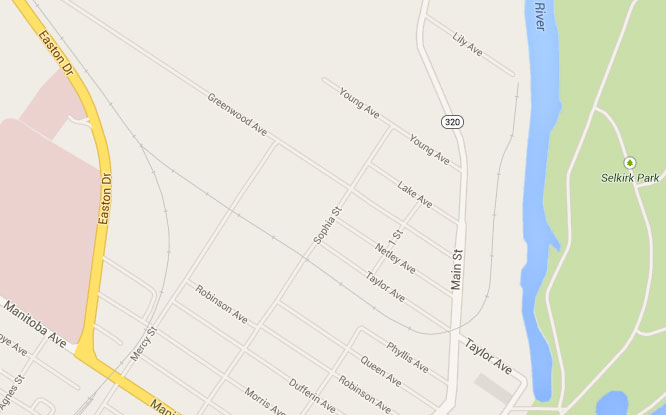 North side of Selkirk
In 1911 eldest daughter Catherine married Leon HOOKER in Selkirk, son of Inez ALVORD and Frank HOOKER (1860-1935).
In 1913 daughter Lillian married Donald Charles MOORE in Selkirk, son of Grace Agnes SANDERSON and John Robert MOORE (1862-1937). ** MORE ABOUT JOHN ROBERT MOORE
World War I
1914-1919
On Aug 4, 1914 Great Britain (Canada on Aug 5) declared war on Germany and Austria-Hungary to uphold treaties with France and Belgium which were under German attack. This marked the beginning of World War I.
On Nov 22, 1915 son-in-law Leon HOOKER enlisted in Selkirk (78th Battalion, Manitoba Regiment of the Canadian Infantry).
On Nov 29, 1915 son William Graham enlisted at Brandon, MB.

According to Heather Hallett, son Percy served with the Royal Engineers in WWI, and was a member of the British Expeditionary Force.
Census of 1916 on Lily Avenue in Selkirk: Joseph C ADAMS, age 48; wife Harriet, age 47. Children: William (age 24), Percy (18), Hazel (15), Charles (13), Ernest (12), Leslie (10), Stanley (8) and Mildred (age 5). Adopted daughter: Mary A FIDLER (age 14; b-1902).
On Sep 28, 1916 son William Graham died at War in France at the age of 24 (Vimy Memorial in Pas de Calais, France).
On Apr 9, 1917 son-in-law Leon HOOKER also died at War in France at the age of 29.
November 11,1919, Armistice Day (Remembrance Day) marked the end of the First World War.
Census of 1921 on Lily Ave: Joseph Charles ADAMS, age 49; wife Harriet, age 48. Children: Percy (age 24), Hazel (20), Charles (19), Ernest (19), Lester (15), Stanley (13) and Mildred (age 10).
In 1921 daughter Hazel married Alexander SUTHERLAND in Selkirk, son of Agnes Grace (nee SANDERSON) MOORE and a SUTHERLAND of unknown origins. ** MORE ABOUT GRACE SANDERSON and ROBERT MOORE
In 1922 son Percy marriedMiriam McLEOD in Selkirk, daughter of Sarah FIDLER & Alexander McLEOD (1873-1935).
** MORE ABOUT ALEXANDER McLEOD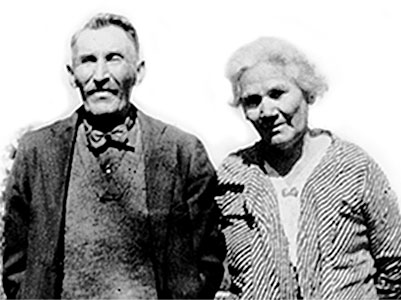 Joseph Charles Adams and Harriet (From Art Adams)
In 1930 son Ernest Gordon married Gertrude WELLS in Selkirk, daughter of Rachel LEWIS and Andrew WELLS (b-1882) from the Tyndall area.
In 1930 youngest daughter Mildred married Harold McCUMBER, the eldest son of Katherine KNAUS and Milton "Mike" McCUMBER (1877-1962). ** MORE ABOUT MIKE McCUMBER
In 1932 son George Stanley married in Selkirk to Bertha OLSON of uncertain origins.
In 1933 son Leslie married Olive COCHRANE, daughter of Sophia SPENCE and Captain Hugh COCHRANE (1879-1947). ** MORE ABOUT CAPTAIN HUGH COCHRANE
On Oct 11, 1938 Harriet (nee JOHNSTONE) ADAMS died in the Selkirk General Hospital at the age of 70. She was buried in the St Clements Church Cemetery at Mapleton.
World War II
1939-1945
On Sept 4, 1939 Canada and Britain declared war on Germany, and almost immediately new recruits began pouring into Winnipeg to sign up with the Winnipeg Grenadiers and the Royal Rifles of Canada.
Son Leslie "Chappy" joined the Winnipeg Rifles and served with the Saskatchewan Light Infantry in England, Sicily and Italy where he was wounded.
Son Ernest "Buck" served with the Little Black Devils for six years during the war both in Canada and overseas.
Youngest son George Stanley was also a soldier during the war (need more details).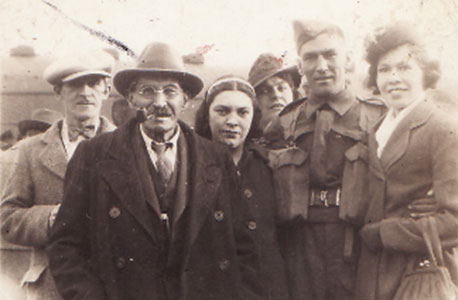 Soldier Leslie Adams at train station
(Can anyone identify the other people in this picture?)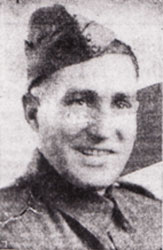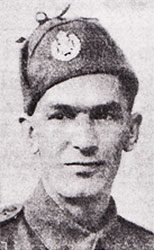 Sons Ernest Gordon (L) and George Stanley (R)

Grandson Ernest Gordon MOORE (1915-1948) served with the PPCLI and parachute corps and returned to Canada with the Royal Winnipeg Rifles. His was the son of Lillian ADAMS and Donald MOORE (1889-1929).
In 1944 grandson William Charles ADAMS died (age 20) in Caen, France, killed after he was taken prisoner by the Nazis. He was a son of Millie McLEOD and Percy ADAMS (1897-1937).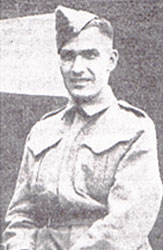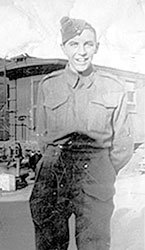 Grandsons Ernest Gordon Moore (L) and William Charles Adams (R)
On May 7, 1945 Germany surrendered and the War in Europe ended; the next day, May 8, is declared VE Day.
On August 14, 1945 Japan surrendered - VJ Day. The Second World War was officially over.
On May 22, 1953 Joseph Charles ADAMS died in Selkirk.
Comments and queries at this link: FORUM DISCUSSING the JOSEPH CHARLES ADAMS FAMILY
======================= Family Details =======================
Children:
1. Nov 6, 1891 WILLIAM GRAHAM ADAMS (Died 1916 in WW I)
2. Mar 5, 1893 CATHERINE ELLEN ADAMS (m. Leon HOOKER)
3. Jan 21, 1895 JOSEPH ERLAND ADAMS (Died in infancy same yr)
4. Mar 9, 1896 LILLIAN ADAMS (m. Donald Charles Sanderson MOORE)
5. Jun 30 1897 PERCIVAL "PERCY" ADAMS (m. Miriam "Millie" McLEOD)
6. Sep 8, 1900 HAZEL ADAMS (m. Alexander James SUTHERLAND)
7. Feb 8, 1902 HERBERT CHARLES ADAMS (Died 1924)
8. Sep 4, 1903 ERNEST GORDON "BUCK" ADAMS (m. Gertrude WELLS)
9. Dec 21, 1905 LESLIE "CHAPPIE" ADAMS (m. Olive COCHRANE)
10. Feb 18, 1908 GEORGE STANLEY ADAMS (m. Bertha OLSEN)
11. Jun 21, 1910 MILDRED ADAMS (m. Harold McCUMBER)