ALEXANDER DONALD "ALEX" McLEOD (1873-1935)
SARAH HARRIET FIDLER (1880-1918)
(Last Updated: March 13, 2016)
Alexander Donald McLEOD was born Jun 4, 1873 (baptized at St Clements Church, Mapleton), son of Clementine HARPER and John McLEOD (1835) from Scotland. ** MORE ABOUT JOHN McDONALD
Census 1881:  Alex (age 9) with his parents (Clementine & John McLEOD) in Clandeboye. Alex's mother (Clementine) died in September of 1881 at Clandeboye. Three months later (Nov 14) Alex's father re-married to Widow Margaret (nee COCHRANE) JOHNSTON (1838-1918).
Marriage to Sarah Harriet FIDLER
1899
On Jan 11, 1899 Alex married at St Clements Church (Mapleton) to Sarah Harriet FIDLER, witnessed by R FIDLER & Janet McLEOD (Alex's step-sister). Sarah Harriet was a daughter of Jane YOUNG and William FIDLER (1845-1929).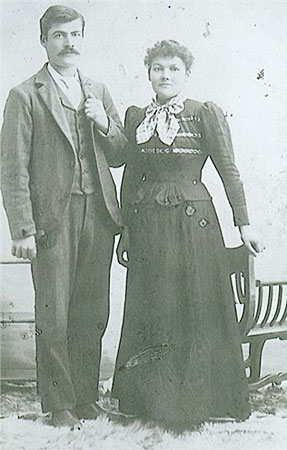 Alex McLeod and Harriet Fidler
On May 1, 1900 their first child, Clementine (named after her grandmother Clementine HARPER) was born in East Mapleton and baptized on May 12 that year in St Clements Anglican Church, Mapleton (across the river).
Alex and Harriet raised their family on River Lot 94 (East Mapleton), across the Red River from the St Clements Church, not far south of the historic Bunn House as shown on the map below. Their home was next-door to Harriet's father (Bill FIDLER).
When the 1906 Census was taken their children were Clementine (age 6), Wallace (4), Miriam (3) and Sarah (age 1).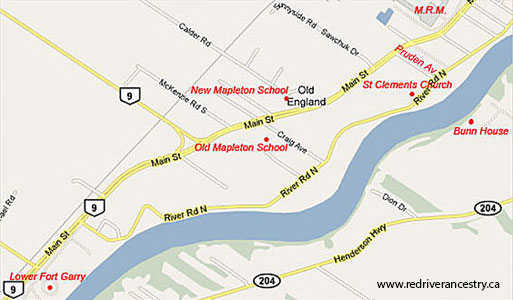 Alex's children probably attended the Old Mapleton School.
Golden Bay
1912
After 1912 Alex and his family lived at Golden Bay, east of Beausejour as shown on the map below.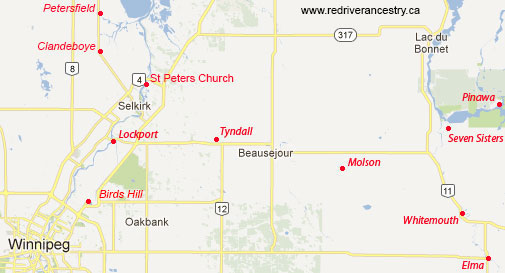 Golden Bay is about midway between Beausejour and Molson
World War I
1914-1919
On Aug 4, 1914 Great Britain (Canada on Aug 5) declared war on Germany and Austria-Hungary to uphold treaties with France and Belgium which were under German attack. This marked the beginning of World War I.
In the 1916 Census the family of Alex McLEOD (age 43) and his wife Sarah (age 36)  were recorded in Township 12-19-Epm; with children as Clementine May (age 16), Wallace (14),  Miriam (12), Sarah (11), Alex (9), Gladys (8), Jenny (6), Mary (age 2) and baby Bertha (6 months old).
In December of 1918 Alex's wife Sarah, and two of their youngest children (Mary & Hazel), died in the Flu epidemic.
November 11, 1919, Armistice Day (Remembrance Day) marked the end of the First World War.
The family moves to Selkirk
1919
By 1919 it seems that Alex had moved his family to Selkirk (119 Morris Ave).
In 1919 eldest daughter Clementine married Albert Percival HALL at the St Clements Church, Mapleton. Albert HALL was a recent veteran of the War. He was the son of Annie JOHNSTON and Henry HALL (1834-1919)of Selkirk.
In the 1921 Census Alex was recorded as a 48 year old widower at 119 Morris Avenue in Selkirk; children as Marion (age 17), Alexander (14), Gladys (14), Jennie (11) and Irene (age 5).
In 1922 daughter Miriam "Millie" married Percival ADAMS in Selkirk, son of Harriet JOHNSTON & Charles ADAMS (1868-1953). ** MORE ABOUT JOSEPH CHARLES ADAMS
In 1924 eldest son Wallace married Jessie (Tassie) MOWAT in Selkirk, daughter of Victoria McDONALD & James MOWAT (1861-1933).
In 1925 daughter Gladys married Charles Theo Leonard OLSON in Selkirk, son of Jennie ERICKSON and Peter OLSON (b-1874).
 In 1927 son Alex (Sandy) married Violet Clementine MONKMAN, daughter of Rose Ann RAMSAY and William Alexander MONKMAN (1879-1958). ** MORE ABOUT WILLIAM MONKMAN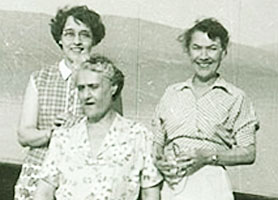 L-R: Irene, Tina and Jean – Alex McLeod sisters
In 1935 Alexander Donald McLEOD died.
In 1935 daughter Irene married Jack HARRIS, son of Augusta Emilie Maria MAHNKE and Edward HARRIS (1858-1931).
By 1940 daughter Sarah Harriet was married to her brother-in-law Earl HARRIS (and living in Illinois (USA), son of Augusta MAHNKE and Edward HARRIS (1858-1931).
Please post comments and queries at this link: FORUM DISCUSSING the ALEX McLEOD FAMILY
=========================== Family Details ===========================
Children:
1. May 1, 1900 CLEMENTINE MAY "TINA, CHRISTINA" McLEOD (m. Albert Percival HALL)
2. Mar 13, 1902 WALLACE McLEOD (m. Tina (Tassie) MOWAT)
3. Aug 3, 1903 MIRIAM "MILLIE" McLEOD (m1. Percival ADAMS, m2. Walter BEAVER)
** MORE ABOUT PERCY ADAMS and WALTER BEAVER
4. Jan 19, 1905 SARAH HARRIET McLEOD (m. Earl HARRIS)
5. Jul 13, 1906 ALEXANDER DONALD "SANDY" McLEOD (m. Violet Clementine MONKMAN)
6. Feb 21, 1908 GLADYS McLEOD (m. Charles Theo Leonard OLSON)
7. Dec 30, 1909 ISABELLE JANE "JENNY" McLEOD
8. Sep 8, 1911 STANLEY McLEOD (Died in infancy, age 6)
9. Jul 9, 1913 WILLIAM LESLIE McLEOD (Died in infancy 2 mos old)
10. Jul 1, 1914 MARY McLEOD (Died in infancy, age 4)
11. Dec 14, 1915 BERTHA IRENE McLEOD (m. Reuben Martin (Jack) HARRIS)
12. 1917 HAZEL McLEOD (Died in infancy, age 1)