PERCIVAL "PERCY" ADAMS(1897-1937)
MIRIAM "MILLIE" McLEOD (1903-1957)
(Last Updated: October 12, 2014)
Percival "Percy" ADAMS was born on Jun 30, 1897 at Netley Creek, son of Harriet JOHNSTONE and Joseph Charles ADAMS (1868-1953). ** MORE ABOUT JOSEPH CHARLES ADAMS


The ADAMS Family move from Netley to Selkirk
By 1906 the ADAMS family had moved to Vaughan Avenue in Selkirk. In the 1911 Census they were recorded on Lily Avenue in Selkirk, Percy as age 14.
World War I
1914-1919
On Aug 4, 1914 Great Britain (Canada on Aug 5) declared war on Germany and Austria-Hungary to uphold treaties with France and Belgium which were under German attack. This marked the beginning of World War I. On Nov 29, 1915 Percy's oldest brother William enlisted at Brandon.
In the 1916 Census both William (age 24) and Percy (age 18) were enumerated with their parents on Lily Avenue in Selkirk. Both were listed as Cooks on Steam Boat(s). ** Note: William's Attestation can be found in the On-line Military Records. Percy is said to have served as well, with the Royal Engineers as a member of the British Expeditionary Force. However,  his name cannot be found in the same listings in order to verify this.
On Sep 28, 1916 Percy's brother William died a soldier in France.
November 11, 1919, Armistice Day (Remembrance Day) marked the end of the First World War.
Percy worked as a Cook on the Government Dredge for the rest of his life.
Marriage to Miriam McLEOD
1922-1937
On May 17, 1922 Percy married Miriam McLEOD in Selkirk. She was a daughter of Sarah FIDLER & Alexander McLEOD (1873-1935). ** MORE ABOUT ALEXANDER McLEOD
The Percy ADAMS family lived in Selkirk and had six children by 1932; William Charles (age 8), Doreen (7), Clarence (6), Harriet (5), Eleanor (4) and baby Shirley.
On Sep 3, 1937 Percy ADAMS died at the Sanatorium in St Boniface (incurable TB of the throat). He was buried St Clements Cemetery, Mapleton.
By the time the Second World War broke out, the ADAMS family was living in the Petersfield area (MB).  It was probably while they were there that Eldest daughter Doreen began a Common-law relationship with George Edward CLOUSTON, son of Harriet PHILPOTT and John Henry CLOUSTON (1873-1963).
World War II
1939-1945
On Sept 4, 1939 Canada and Britain declared war on Germany, and almost immediately new recruits began pouring into Winnipeg to sign up with the Winnipeg Grenadiers and the Royal Rifles of Canada.
Sometime during the War Eldest daughter Doreen began a Common-law relationship with George Edward CLOUSTON, son of Harriet PHILPOTT and John Henry CLOUSTON (1873-1963). ** MORE ABOUT JOHN HENRY CLOUSTON
Eldest son William Charles enlisted with the Winnipeg Rifles.  On June 8, 1944 he was killed (executed) at Caen, France after he was taken prisoner by the Nazis. He was only 20 years old. Kurt MEYER, a Nazi Officer was tried for War Crimes, and convicted for murdering William (and  many other Canadian POW's) (CBC Documentary – 1999).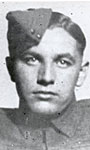 William Charles Adams
(Died in France during the First World War)
It is said that son Clarence "Hootney" ADAMS also served in the First World War.
On May 7, 1945 Germany surrendered and the war in Europe ended; the next day, May 8, was declared VE Day. On August 14, 1945 Japan surrendered - VJ Day. The Second World War was officially over.
Widow Miriam remarries to Walter BEAVER
1940
Walter BEAVER was born around 1888 in Ontario. Around 1921 he married Mary Elizabeth "Lillie" WILLIAMS who was born in England, the daughter of Elizabeth ROTHWELL and Richard WILLIAMS (b-1869). They farmed in Saskatchewan after they married. At some time during the 'Dirty Thirties' Walter and his family moved to Petersfield (MB).
Lillie (nee WILLIAMS) BEAVER died in 1940 in Petersfield, leaving Walter with five children; Norman BEAVER (age 18), Evan Charles, Barbara and Doreen BEAVER.
After his wife Lillie died in 1940, Widow Millie McLEOD- ADAMS became the wife of Walter BEAVER. Millie would have been about 37 years old; Walter about 43 years old.
Around 1942 daughter Eleanor had an illegitimate child named Guy ADAMS. Angie on the Forum says she thinks Guy's father was Marty BRUCE who was the son of Mary Jane SABISTON and David Charles BRUCE (b-1896), a descendant of Patrick BRUCE (1848-1933). ** MORE ABOUT PATRICK BRUCE.
In 1947 daughter Harriet married Joseph "Jack" HYGAARD in Winnipeg. Jack was born 1924 in Cloverdale (west of Mapleton), son of Susan ROBINSON & Grant HYGAARD (b-1894).
Canadians in the Korean War
On July 30, 1950 three Canadian destroyers (the Cayuga, Athabaskan and Sioux) arrived in Sasebo, Japan, under orders to sail for Korean waters, the first Canadians to see action in Korea.
Son Clarence "Hootney" ADAMS served in the Korean War where he was wounded in 1952.
The BEAVER Family in Mapleton
** I (Gary STILL) remember the BEAVER-CLOUSTON families when they lived directly behind the Old Mapleton School in Mapleton. In particular I remember Doug CLOUSTON and Guy ADAMS. This must have been around 1957 when Millie BEAVER died. Doug CLOUSTON was a child of the above-mentioned Doreen ADAMS & George Edward CLOUSTON.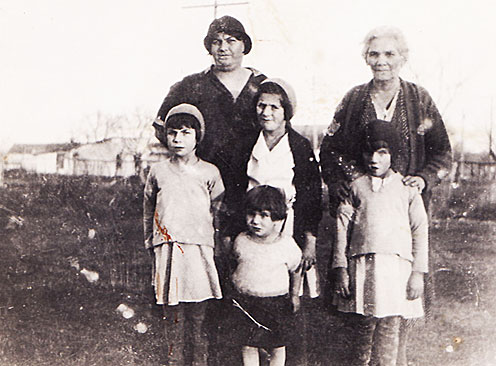 At back is 'Big Millie' Miriam McLeod (Adams – Beaver) and mother-in-law Harriet Adams
(Need help identifying the kids)
On Mar 24, 1957 Millie BEAVER died.  
The BEAVER family only lived at Mapleton for only a brief time. They probably moved away after Millie died in 1957, to where I do not know.
In 1961 youngest daughter Shirley ADAMS married Tony ONYSKE in Selkirk, son of Catherine and John ONYSKE.
In 1963 son Clarence "Hootney" married Shirley BEGG, daughter of Nora CALDER and George "Doodie" BEGG (1904-1976) from Mapleton. Shirley was a granddaughter of Margaret FIDLER and Robert BEGG (1860-1951).
** MORE ABOUT ROBERT BEGG
In 1965 Walter BEAVER died.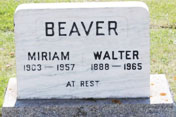 Please post comments and queries at this link: FORUM DISCUSSING the PERCY ADAMS FAMILY
======================= Family Details =======================
Children of Millie McLEOD & Percy ADAMS:
1. Apr 12, 1924 WILLIAM CHARLES ADAMS (Died at War, age 20)
2. May 8, 1925 DOREEN ADAMS (m. George Edward "Ed" CLOUSTON)
3. Sep 28, 1926 CLARENCE PERCIVAL (HOOTNEY) ADAMS (m. Shirley BEGG)
4. Sep 28, 1927 HARRIET MAY ADAMS (m. Joseph Franklin "Jack" HYGAARD)
5. Oct 8, 1928 ELEANOR GLADYS ADAMS (m1. Marty BRUCE; m2. Walter Alexander LECLAIR)
6. Oct 9, 1932 SHIRLEY MARIAM ADAMS (m. Tony ONYSKE)