JOHN HENRY CLOUSTON (1873-1963)
HARRIET MARTHA "HARTIE" PHILPOTT (1881-1971)
(Last Updated: April 17, 2016)
John Henry CLOUSTON was born Nov 11, 1873 near Lower Fort Garry, Red River, son of Maria Matilda JOHNSTONE and Joseph James CLOUSTON (1838-1899) from the Orkneys of Scotland. His father was a Blacksmith with the Hudson's Bay Company (HBC).
In 1899 Henry's father (Joseph James CLOUSTON) died (froze to death). His mother (Maria) became a patient in the Manitoba (Selkirk) Asylum where she remained until she died in 1912.
In the 1901 census Henry (age 28) and his five siblings, all single, were recorded in Lower Fort Garry.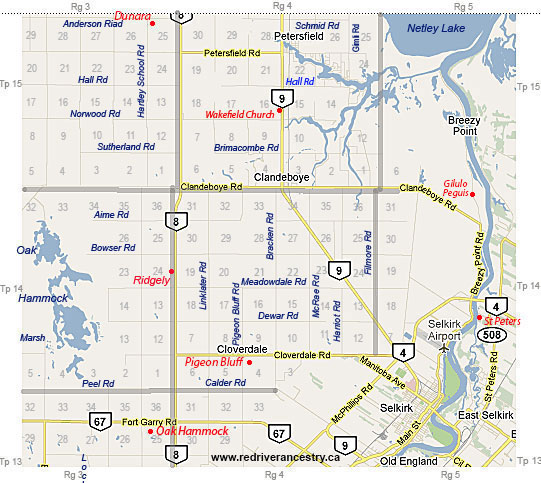 Marriage to Martha PHILPOTT
A Farm at Cloverdale
1903
On Dec 30, 1903 John Henry married Harriett Martha PHILPOTT in Winnipeg, the eldest daughter of Harriet BOOTH and Francis William PHILPOTT (1853-1924) from England.
Henry bought land and built his home in Cloverdale – Pigeon Bluff area (9-14-4-Epm) where his family was enumerated in the 1906 census as follows: John H CLOUSTON, age 31; wife Harriet, age 25. Children: Alice (age 1) and baby Frank (5 months).
Each spring John Henry operated a sawmill at Netley Creek. Neighbours would haul logs to the site to be sawn into lumber.
Census of 1911: Henry J CLOUSTON, age 37; wife Henrietta M, age 20. Children: Alice (age 6), Francis (5), William (3) and baby Joseph (9 months).
By 1921 all of Henry's children had been born. Children recorded at home on the Pigeon Bluff farm that year were Francis Wilfred (age 14), William Henry (13), Joseph Albert (11), George Edward (9), Thomas Edward (6), John Henry (2) and baby Edith (age 11 months).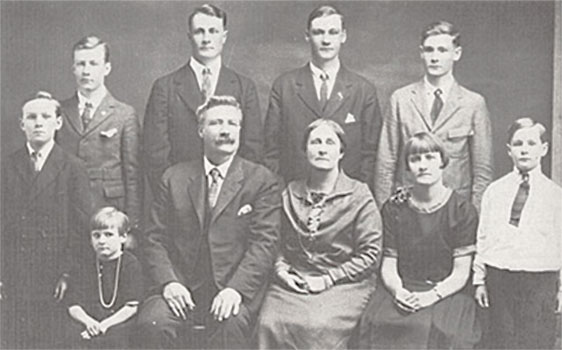 Petersfield 1925. Standing: Tom, Eddie, Frank, Bill, Bert, Jack
Sitting: Edith (Aime), John Henry, Harriet Martha, Alice (Anderson)
(From Edith Aime in Beyond the Gates of Lower Fort Garry)
In 1931 eldest daughter Alice married Walter ANDERSON in St Andrews, son of Ellen Victoria EASTMAN & Erick Albert ANDERSON (1872-1924) from Sweden. 
World War II
1939-1945
 On Sept 4, 1939 Canada and Britain declared war on Germany, and almost immediately new recruits began pouring into Winnipeg to sign up with the Winnipeg Grenadiers and the Royal Rifles of Canada.
Sometime during the War son George Edward was in a common-law relationship with Doreen ADAMS, daughter of Miriam McLEOD and Percival ADAMS (1897-1937).** MORE ABOUT PERCY ADAMS
In 1943 son Thomas Edward married Margaret Jean BLACK of uncertain origins.
On May 7, 1945 Germany surrendered and the war in Europe ended; the next day, May 8, was declared VE Day. On August 14, 1945 Japan surrendered - VJ Day. The Second World War was officially over.
In 1946 son John Henry married Lenore Edell BIRSTON, daughter of Martha Elizabeth LANDIN & Alexander Magnus BIRSTON (1884-1965). ** MORE ABOUT ALEXANDER MAGNUS BIRSTON
In 1948 youngest daughter Edith married Maurice AIME in Cloverdale, son of Janet Elaine HAMPTON and William Donnelly AIME (b-1891).
On Oct 21, 1963 John Henry CLOUSTON died at the Selkirk General Hospital at the age of 89. Widow Harriet then went to live with daughter Alice and son-in-law Walter ANDERSON.
In 1971 Harriet Martha (nee PHILPOTT) CLOUSTON died in Cloverdale at the age of 90. Her obituary indicates that she left surviving six sons, Bill, Bert, Eddie, Tom and Jack of Selkirk and district, Frank of Petersfield; two daughters; Mrs. Walter ANDERSON (Alice) of Selkirk and Mrs. Maurice AIME (Edith) of Petersfield. Also a sister Mrs. Maud SINCLAIR of Lethbridge and two brothers; Frank PHILPOTT of Petersfield and Eric PHILPOTT of Winnipeg.
Comments and queries at this link: FORUM DISCUSSING the JOHN HENRY CLOUSTON FAMILY
======================= Family Details =======================
Children:
1. Dec 22, 1904 ALICE HENRIETTA CLOUSTON (m. Walter ANDERSON)
2. Jan 17, 1906 FRANCIS WILFRED (FRANK) CLOUSTON
3. Dec 24, 1907 WILLIAM HENRY CLOUSTON
4. Sep 17, 1910 JOSEPH ALBERT CLOUSTON
5. Aug 4, 1912 GEORGE EDWARD CLOUSTON (m. Doreen ADAMS)
6. 1915 THOMAS EDWARD "TOM" CLOUSTON (m. Margaret Jean BLACK)
7. c1919 JOHN HENRY CLOUSTON JR (m. Lenore Edell BIRSTON)
** MORE ABOUT JOHN HENRY CLOUSTON JR
8. Jul 18, 1920 EDITH CLOUSTON (m. Maurice AIME)