JOHN HENRY (JACK) CLOUSTON (1919-1989)
LENORE EDELL BIRSTON (1924-1996)
(Last Updated: April 19, 2016)
John Henry (Jack) CLOUSTON was born Apr 10, 1919 in Cloverdale – Pigeon Bluff area of Manitoba (9-14-4-Epm), the youngest son of Harriet PHILPOTT and John Henry CLOUSTON SR (1873-1963).
** MORE ABOUT JOHN HENRY CLOUSTON SR
Inspiration to develop this family history came from Jack's daughter, Lana, who made a donation and will be cooperating in its production.
Jack's future wife, Lenore Edell BIRSTON, was also born in the Cloverdale area on Aug 24, 1924, daughter of Martha LANDIN and Alexander Magnus BIRSTON (1884-1965). ** MORE ABOUT ALEXANDER MAGNUS BIRSTON
The BIRSTON and CLOUSTON family farms were on the same section, so Lenore and Jack essentially grew up together and probably attended the same school in Cloverdale, albeit some 4-5 years apart.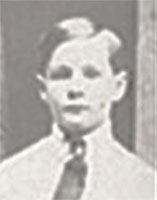 Jack Clouston in Petersfield (from 1925 Family Photo)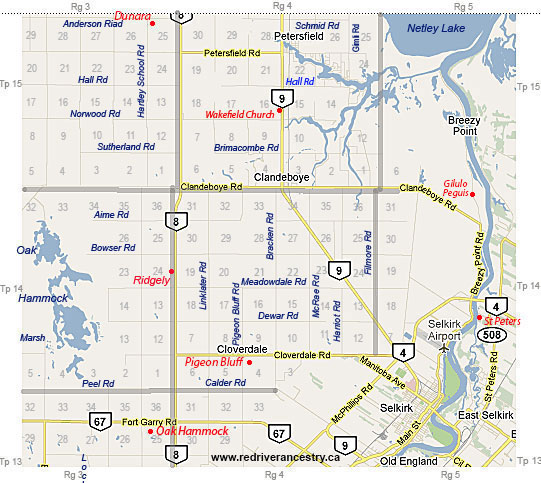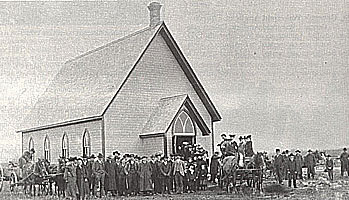 St Matthews Anglican Church, Cloverdale, opened 1905 (601 Pigeon Bluff Road)
World War II
1939-1945
On Sept 4, 1939 Canada and Britain declared war on Germany, and almost immediately new recruits began pouring into Winnipeg to sign up with the Winnipeg Grenadiers and the Royal Rifles of Canada.
Jack CLOUSTON spent 5 years in the Canadian Armed Forces and served with the Light Anti-Aircraft Regiment, 70th Battery. He saw active duty in the United Kingdom and Continental Europe.
Lenore CLOUSTON served with the Canadian Air Force from 1942 to 1945.
On May 7, 1945 Germany surrendered and the war in Europe ended; the next day, May 8, was declared VE Day. On August 14, 1945 Japan surrendered - VJ Day. The Second World War was officially over.
Both Jack and Lenore became members of the Canadian Legion, Branch No. 42 in Selkirk.
Marriage to Lenore BIRSTON
1946
On Sep 21, 1946 Jack CLOUSTON married the aforementioned Lenore BIRSTON, his childhood sweetheart. They farmed in the same area as their parents.
Jack was also employed by the Manitoba Rolling Mills for 25 years.
On Oct 10, 1977 son Christopher Gary died in Selkirk. He was only 12 years old. He was buried in the Cloverdale Untied Church Cemetery.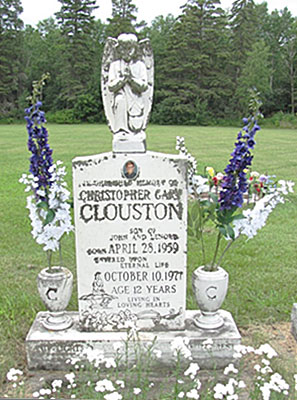 Christopher Gary Clouston – Grave marker in Cloverdale United Church Cemetery
(From Mark Landin and Lana Clouston)
Jack was a long-time member of the Cloverdale United Church, serving on the Board of Stewards and the Cemetery Committee.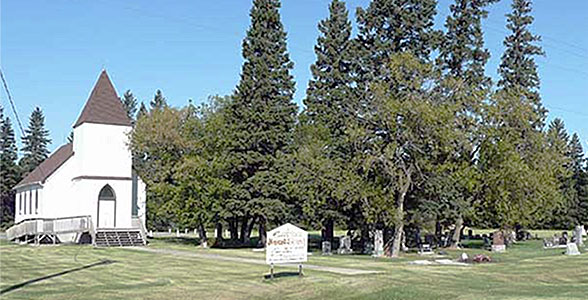 Cloverdale United Church and Cemetery, 805 Cloverdale Road (Photo by Peter McLure)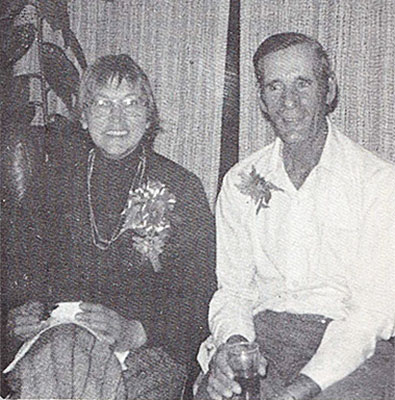 Lenore and Jack Clouston in 1980 (From Mark Landin)
On Jan 16, 1989 John Henry CLOUSTON died at the Selkirk General Hospital at the age of 69.
On May 2, 1996 Lenore (nee BIRSTON) CLOUSTON died in Red Lake, Ontario.
From Lenore's obituary: Lenore had a lifelong commitment to education and the arts, encouraging her children in these pursuits. She practiced art with her young children, studied by correspondence and later enrolled in the University of Manitoba, graduating with a Bachelor of Arts in 1976. Her interests were expressed in ongoing creative projects as well as community service. She was a founding member of the Association for Retarded Children from 1957, served as a Board Member of the Selkirk Friendship Centre from 1976 to 1984, including a term as chairperson; was a founding member of the Selkirk Community Arts Centre and served a term as chairperson. She received a commemorative medal for the 125th Anniversary of Confederation for volunteer work at the Selkirk Art Centre, and received the Lescarbot Award from the Government of Canada for outstanding community cultural activities. Lenore was a member of the St Mathews Anglican Church from 1924 to 1950, and for the remainder of her life, of Cloverdale United Church. She was a mmber  of the Royal Canadian Legion Branch No. 42 in Selkirk. She had a strong interest in the rich cultural heritage of Manitoba, and affirmed pride in Metis culture through research, art and volunteer activities.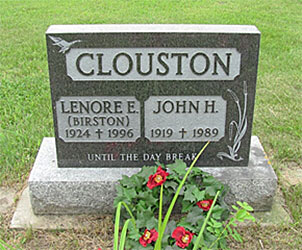 Grave marker in Cloverdale United Church Cemetery (From Lana Clouston)
Comments and queries at this link: FORUM DISCUSSING THE FAMILY OF JOHN HENRY CLOUSTON JR
========================== Family Details ==========================
Children:

1. Mar 16, 1947 BEVERLEY ANN CLOUSTON
2. May 20, 1948 HARLEY JOHN CLOUSTON (m. Hazel)
3. Dec 4, 1949 JOYCE ELLEN CLOUSTON (m. Leonard CARLSON)
4. Nov 27, 1953 ALEXANDER DAVID MORLEY CLOUSTON (m. Margaret)
5. Apr 28, 1959 CHRISTOPHER GARY CLOUSTON (Died age 12)
6. Oct 17, 1963 LISA MARIE (Twin) CLOUSTON
7. Oct 17, 1963 LANA MARIE (Twin) CLOUSTON (m. Lyle ARMSTRONG)