PATRICK BRUCE (1848-1933)
ELIZABETH ANN GARRIOCH (1853-1912)
(Last Updated: August 18, 2017)
Patrick BRUCE was born on May 17, 1848 in Kildonan, MB, son of Mary McNAB & James BRUCE (1801-1878), both half-breeds. His grandfather, Benjamin BRUCE (1770-1823) an HBC employee from the Orkneys of Scotland, came to York Factory on Hudson Bay in 1789 and married an Indian woman.
Patrick was born and raised in the Kildonan Settlement.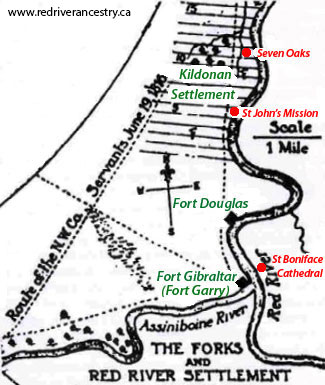 In 1855 Reverend Thomas COCKRAN (c1830-1864) was in charge of the St John's College and Parochial School until it was closed in 1859. He was the son of Archdeacon William COCKRAN (1798-1865). Patrick probably began his education under Thomas COCKRAN; he would have been about 11 yeas old when the College was closed.
On Nov 1, 1866, Bishop Robert MACHRAY (1831-1904), with the help of his friend the Reverend John McLEAN (1828-1886) as Warden, re-opened St John's College to offer higher education and to train promising individuals for the priesthood. Reverend Samuel PRITCHARD (1827-1913) became the English Master. It was probably soon after this that Patrick (about 18 years old) began his religious training there.
Canadian Confederation
1867
On July 1, 1867 the British colonies in North America were united under the British North American Act to become the Dominion of Canada. Sir John A MACDONALD (1815-1891) was appointed as Canada's first Prime Minister.
On May 29, 1867 Bishop MACHRAY reported to his senior conference of clergy & laity on May 29, 1867, that three senior theological students had attended the first session:  "They were Baptiste SPENCE, George BRUCE (Patrick's older brother) and Gilbert COOK (1840-1929)." The following year Gilbert COOK married Patrick's sister, Catherine Margaret BRUCE.
In 1868 Patrick's older brother Rev George BRUCE (1837-1938) was ordained and in 1869 he was put in charge of the Fairford Mission where he would serve for 45 years.He replaced Rev David HALE who died that year. Patrick would have been about 20 years old then and it seems that he may have joined his brother there for a time.
During the Red River Resistance of 1869–70, Rev McLEAN joined Rev MACHRAY in urging the Protestant inhabitants, the majority of whom were Anglican, towards a moderate course, and in advising them to send English-speaking delegates to the convention proposed by Louis RIEL (1844-1885).for January 1870.
Marriage to Elizabeth Ann GARRIOCH
1870
On Apr 6, 1870, Patrick married Elizabeth Ann GARRIOCH, daughter of Elizabeth CAMPBELL & John GARRIOCH (1813-1891), both half-breeds.
On July 15,1870 Manitoba became the fifth province of Canada, the Canadian Government having acquired the territory previously governed by the HBC. On Aug 21, 1870, Colonel Garnet Joseph WOLSELY (1833-1913) and his soldiers arrived at Fort Alexander. On Aug 24 they forced their way into Upper Fort Garry. RIEL, having learned that the soldiers were planning to lynch him, fled, just a few hours before they arrived. The Rebellion was over.
Patrick becomes a Missionary
Patrick's first posting seems to have been at Fairford where his brother George was in charge. Three of his children were born there between 1871 and 1874 (John Edward, Mary Josephine and James).
If or when Patrick was ordained is unclear. Although many sources refer to him as Reverend, it seems likely that he was not an ordained minister like his brother, but rather a Catechist (as he is stated in his Scrip affidavit of 1875). Wikipedia definition: In many parts of the Anglican Communion, day to day parish ministry is carried out by catechists. A catechist in most parts of the Anglican Communion is someone who is licensed by the bishop on recommendation of the priest and local church council. A century ago, a catechist was a teacher paid by the Church, today a village catechist is primarily a pastor in the village. In most parts of the Anglican Communion, the priest comes for Holy Communion only when it is possible. The Catechist organises and conducts worship services on Sundays when there is no priest, and throughout the week, the catechist rings the bell that calls people to Morning and Evening Prayer. In most villages, the catechist also works with youth, educates parents and godparents for the Baptism of their children, rehearses those to be confirmed, and many other duties. Some dioceses have training centres for catechists, in some dioceses catechists are trained by priests or by more experienced catechists. Most catechists also assist in the distribution of Holy Communion when the priest comes to a village for celebration. In some parishes, a catechist also distributes Holy Communion with elements previously consecrated by the priest.
In 1875, when Elizabeth & Patrick claimed their halfbreed Scrip, they gave their residence as Kildonan.
In 1876, son David Alfred was born at Kinosota MB (Kinosota is located on Lake Manitoba in the Narrows area), indicating that he was still assisting his brother George in the Fairford district.
Lansdowne Mission – Fort Alexander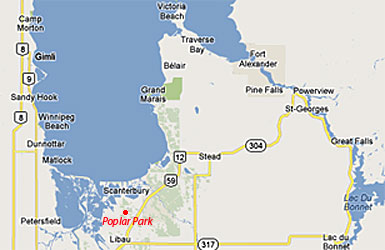 In 1876, after one or more missions, Patrick came to Lansdowne Mission with his family. This mission was established in 1864 and was associated with Fort Alexander. He may have been replacing Reverend Gilbert COOK (1840-1828) who was there until 1875.
In the Census of 1881 Patrick was enumerated in the Fort Alexander area as age 33; wife Elizabeth, age 31; and children as John Edward (age 10), Mary Josephine (8), James Arthur (6), David A (4), Victor Alex (age 2) and Walter Andrew as a baby.
On Aug 27, 1883 son Percy was born and on Apr 16, 1885 their last child, daughter Elsie Gertrude, was born.
From May 8 to May 12 of 1885 the Northwest Rebellion reached its climax with the Battle at Batoche led by Louis RIEL.
After a few years, Patrick and his family moved to Point Grand Marais (see map above). There, his career was extended to teaching school as well as still serving the Church.
In 1890 eldest son Edward married Margaret KENNEDY, daughter of Margaret DENNET and Alexander KENNEDY (1852-1935). ** MORE ABOUT ALEXANDER KENNEDY
Fort Alexander – Poplar Park
1891
Interestingly, in the Census of 1891 Patrick was recorded twice. On April 8 that year he was enumerated as a School Teacher in the Lisgar District, Plessis Sub-district (Fort Alexander) with his children as follows: Edward (age 20, now also a School Teacher) and daughter-in-law Margaret (Edward's wife); Josephine (age 17), Arthur (16), David (13), Victor (12) Walter (9) and Elsie (age 5). About a month later, May 18, he was enumerated in St Clements Parish (he had moved to Poplar Park) with the same children except son Edward and his wife who had stayed behind at Fort Alex.
Around 1892, he bought land (NW Quarter of 30-15-6-Epm), near Poplar Park.  He moved his family there, and started to farm. He would remain in this area for the rest of his life.
On Sep 18, 1892 daughter Mary Josephine married Edward SCOTT (1859-1927) in St Andrews.
On Oct 9, 1899 son Arthur married Isabella TAYLOR, daughter of Jane Sophie & William Nelson TAYLOR (1831-1895). At the time of his marriage, Arthur was a 23 year old Teacher at Eagle River, west of Dryden, Ontario.
On Aug 28, 1901, daughter Elsie Gertrude married George MONKMAN, son of Mary Ann MORWICK & Albert MONKMAN (1854-1911).
On July 27, 1903, son David married in St Andrews to Alice (nee LEASK) PRUDEN daughter of Fanny COCHRANE & William LEASK (1839-1901). Alice was the widow of William PRUDEN (1862-1900).
Around 1904 son Walter Andrew married Mary Jane MONKMAN, daughter of Nancy CHASTELLAINE & Andrew MONKMAN (1851-1929). ** MORE ABOUT ANDREW MONKMAN
On May 29, 1904, daughter Josephine (then SCOTT) died at the young age of 30, leaving her husband, Edward SCOTT, with two young daughters, Edith (age 9) and Winnie (age 7). They were living in Poplar Park at the time.

In 1905 the St James Anglican Church (pictured above) was established at Poplar Park (NE 32-15-6). It was around this time that daughter Elsie (now MONKMAN) and her two children (Patrick's grandchildren), Georgina (age 3) and Mamie (age 1) moved in with Patrick, his wife and son Victor (age 27). Elsie's husband (George MONKMAN) had mysteriously disappeared and there is no record of him thereafter.
In the 1911 census Patrick was 62 years old, wife Elizabeth was 60 years old. Daughter Elsie MONKMAN (age 34) and her two children, Georgina (age 8) and Mamie (age 6) were still with them in Poplar Park, as was son Victor, now 29 years old. Granddaughter Winnie SCOTT (age 13) was also now staying with them. On December 29 that teenager Winnie married in Selkirk to Byron Edgar Stanley FROST (1897-1980).
On Feb 9, 1912, Elizabeth BRUCE died at the age of 62.
On March 26, 1914 son Percy married Lydia PRUDEN, daughter of Alice LEASK & William PRUDEN (1862-1900).
On May 3, 1915, daughter Elsie remarried to Charles Henry CHAPPEL in Winnipeg.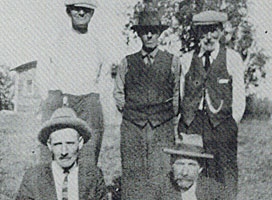 Back L-R: Percy, Walter and Patrick Bruce
Front: David & Victor Bruce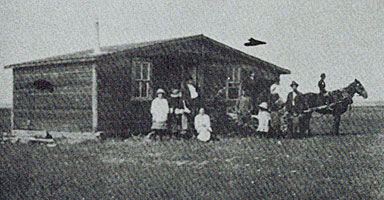 Patrick Bruce Sr. Lodge at Libau Marsh, 1915 (burned down in 1960)
(Adapted photos from the book 'East of the Red River')
In 1916 the last census available for Poplar Park recorded Patrick as a farmer, widowed. Son Victor (age 38) was still with him, as were granddaughters Georgina (age 14) and Mamie (age 11). They have a "boarder", 21 year old School Teacher named Daisy McLEAN who would soon marry son Victor.
On July 1, 1916, son Victor married Daisy Gertrude McLEAN in St Clements, daughter of Charlotte EDWARDS & John McLEAN (1866-1938) from Portage la Prairie.
On March 3, 1933, Patrick BRUCE died in Poplar Park. He was buried there.
Forum Discussions: ** FORUM DISCUSSIONS about PATRICK BRUCE
======================= Family Details =======================
Children:
1. Jan 11, 1871 JOHN EDWARD GEORGE BRUCE (m1. Margaret KENNEDY, m2. ANNA PRETTE)
** MORE ABOUT JOHN EDWARD GEORGE BRUCE
2. Sep 23, 1872 MARY JOSEPHINE "JOSIE" BRUCE (m. Edward SCOTT)
3. 1874 REV JAMES ARTHUR BRUCE (m. Isabelle TAYLOR)
4. July 31, 1876 DAVID ALFRED BRUCE (m. Alice (nee LEASK) PRUDEN)
** MORE ABOUT DAVID ALFRED BRUCE
5. May 25, 1878 VICTOR ALEXANDER RUSSEL BRUCE (m. Daisy Gertrude McLEAN)
6. Nov 15, 1879 WALTER ANDREW BRUCE (m. Mary Jane MONKMAN)
7. Aug 27, 1883 PERCIVAL "PERCY" BRUCE (m. Lydia PRUDEN)
8. Apr 16, 1885 ELSIE GERTRUDE BRUCE (m1. George MONKMAN, m2. Charles Henry CHAPPEL)