ANDREW MONKMAN (1851-1929)
NANCY CHASTELLAINE (1856-1888)
CATHERINE ELIZABETH WHITESAND (1870-1918)
(Last Updated: February 15, 2014)
AndrewMONKMAN was born on June 6, 1851 in Selkirk, Manitoba, son of Isabella SETTER and Joseph "Ole Joe" MONKMAN (1810-1899).  On July 30 that year William was baptized at the St Andrews Church.
** MORE ABOUT JOSEPH "OLE JOE" MONKMAN
Canadian Confederation
Red River Métis Rebellion
Manitoba becomes a Province
1867-1870
On July 1, 1867 the British colonies in North America were united under the British North American Act to become the Dominion of Canada.  Sir John A MACDONALD (1815-1891) was appointed as Canada's first Prime Minister.In 1868William McDOUGALL (1822-1905) became the first Minister of Public Works for the new Dominion of Canada, and he began negotiations to acquire Rupert's Land from the HBC. Surveyors were sent out to prepare the way for an expected influx of settlers.
On Oct 11, 1869, Louis RIEL (1844-1885) placed his foot on the surveyors' chain to tell them their work was finished! This marked the beginning of another Red River Métis Rebellion. RIEL began to organize resistance to the anticipated transfer of the North-West to the Dominion of Canada without prearranged terms.His strongest and most ardent and outspoken opponents among the English speaking population were Dr John SCHULTZ (1840-1896) and Thomas SCOTT (1842-1870).
In December of 1869 Colonel John Stoughton DENNIS (1820-1885) assigned Andrew's father (Ole Joe MONKMAN) a commission to recruit Indian tribes to join in the war against the French Métis. Their plan was to arrest the rebel Métis' and occupy Upper Fort Garry.
During the winter of 1869-70 Andrew was about 18 years old when most of the hostilities of the Métis Insurrection occurred. His parents and siblings were living in the St Peters Reserve (Lot 95) at the time. Dr John SCHULTZ and Thomas SCOTT were arrested and imprisoned at Fort Garry that winter.
On Jan 23, 1870, it was Andrew's oldest brother, Joseph MONKMAN JR.(about 34 years old) who facilitated the daring escape of SCHULTZ. Around the end of February of 1870 SCHULTZ left Kildonan on snowshoes, bound for Upper Canada with Andrew's father (Ole Joe MONKMAN) as his guide.
On March 4, 1870 Thomas SCOTT was executed by a Métis firing squad, having been condemned by Louis RIEL.
In May of 1870 'Ole Joe' MONKMANtestified before the Special Senate Committee. He met Colonel Garnet Joseph WOLSELEY (1833-1913) at Fort St. Frances with messages and intelligence, having obviously acted as a Canadian agent.
On July 15,1870, Manitoba became the fifth province of Canada, the Canadian Government having acquired the territory previously governed by the HBC.
On Aug 21, 1870, Colonel WOLSELY and his soldiers arrived at Fort Alexander. On Aug 24 they forced their way into Upper Fort Garry. RIEL, having learned that the soldiers were planning to lynch him, fled just a few hours before they arrived. He took refuge at St Joseph's Mission, about 10 miles south of the border in Dakota Territory.
Treaty Number One
1871
On Aug 3, 1871, Chief Red Eagle (Mis-koo-ki-new) Henry PRINCE (1819-1899) signed Treaty Number One on behalf of the St Peters Band of Indians.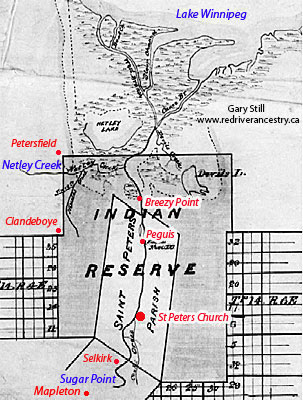 St Peters Indian Reserve Boundaries after the signing of Treaty One
In 1871 Andrew's father 'Ole Joe' became the Postmaster at the Eagle's Nest Post Office in the St Peters Reserve. This Post Office was later known as the Peguis P.O. and the Gilolo/ Gilulo P.O.
Marriage to Nancy CHASTELLAINE
1874-1888
On Sep 9, 1874, Andrew married at St Peters, Dynevor, to Nancy CHASTELLAINE, daughter of Nancy FINLAYSON & Narcisse CHASTELLAINE (1821-1888). ** MORE ABOUT NARCISSE CHASTELLAINE
In 1875 Andrew claimed his Halfbreed Scrip.
In 1876 their first child, Robert was born in St Peters
In 1877 wife Nancy claimed her Halfbreed Scrip and on Aug 21 that year Andrew received a Land Grant for the North Half of the NE Quarter of Section 10-14-4-Epm. This location is at the corner of Dewar and McRae Roads as shown on the map below.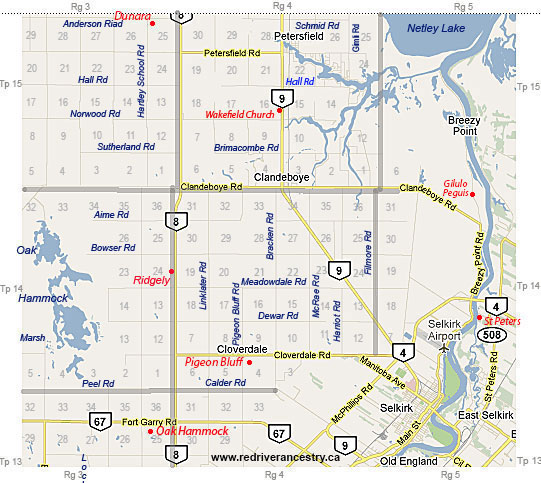 Nancy Dies
1888
In 1888 Andrew's wife Nancy died.
The 1891 Census recorded William as a 59 year old widower with six surviving children: William (age 12), Thomas (9), twins Annie & Mary Jane (both age 7), Elizabeth (5) and Margaret (age 3).
Loon Straits
Kathleen Monkman: After the death of his first wife, Nancy, with his family grown and on their own, Andrew came to the rather isolated spot called Loon Straits, where he became a fisherman. He built a little log shack on the east side of the peninsula at "Fish Cache". Apparently he dug quite a deep cellar, for it is partly visible today and to this day people refer to the place as the "Old Cellar". At the time, a certain John THOMAS built his first house on the island at Loon Straits, across the channel from the mainland. Mr THOMAS raised several dogs and soon became known as John DOGGIE, a name that he became known by permanently. However, John DOGGIE did not remain on the island very long. Fairly soon he sold his house to Andrew MONKMAN and moved to Matheson Island. Andrew then moved his wife and 4 children from the log place at Old Cellar and took up permanent residence on the island. Thus it became known as Monkman's Island, as it remains on maps of Lake Winnipeg to this day. The last six children were born on this island.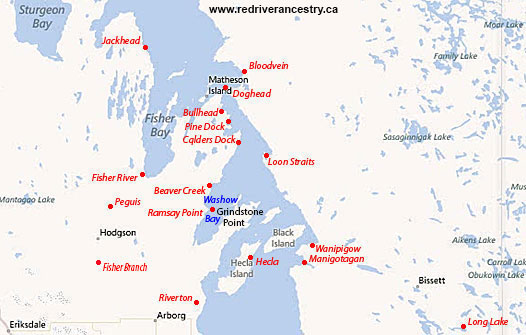 Marriage to Elizabeth WHITESAND
1897
Kathleen Monkman: There was an Indian Reservation at Bloodvein, to the north, and also an Indian Settlement at the Rice River to the south. Andrew met and struck up a relationship with an Indian lass by the name of Elizabeth WHITESAND, but whether she was from Rice River or Bloodvein is not known. A travelling priest performed the marriage ceremony. This union produced ten children.
Usually it was considered a day's travel by team to Ramsay Point, where George NORQUAY and his wife, Betsey, kept a stopping place. Travellers could stable their horses in the large barns where hay was supplied. - - for the next day they journeyed on to the stopping place at Washow Bay. The stopping place was 12 miles north of Riverton, as Icelandic River Town became known.
On Jan 31, 1897 Andrew married Catherine Elizabeth WHITESAND at Gimli, Manitoba. Her origins are difficult to ascertain. Some sources indicate she was an Indian.
On June 6, 1899 Andrew's father, Ole Joe MONKMAN died. He was buried in the St Peters Dynevor Cemetery. He would have been almost 90 years old.
In the 1901 census we find son Thomas (age 19) at Berens River with his sister, Mary Jane (age 17).
In 1902 eldest son William was married for a short time to Adelaide FAVEL of uncertain origins. Adelaide died the following year (1903) after giving birth to daughter Rosalie. William then joined his father at Loon Straits where in 1906 he re-married to Rose Ann RAMSAY, daughter of Julia and John RAMSAY. William remained at Loon Straits as a Fisherman for over 40 years. He ran the Fishing Station there and also built boats.
Around 1904 daughter Mary Jane married Walter Andrew BRUCE at Fort Alexander, son of Elizabeth Ann GARRIOCH & Reverend Patrick BRUCE (1848-1933). ** MORE ABOUT PATRICK BRUCE
In 1906 son Thomas, a fisherman, was married to Margaret "Maggie" SCOTT and living on Matheson Island. ** Help needed regarding Margaret's origins.

Also in 1906 daughter Elizabeth married Robert WHITEWAY, son of Elizabeth & Joseph WHITEWAY (1830-1910).
Also in 1906 son William married Rose Anne RAMSAY, daughter of Julia D'ARCIS & John RAMSAY (b-c1865).
Andrew MONKMAN and his family were enumerated at Loon Straits in the census records for 1901, 1906 and 1911. In 1911 the children at home were recorded as Edwin (age 13), Hugh (12), Nancy (10), Agnes (8), Bella (6), Benjamin (4), Colin (2) and baby Ida.
In 1913 daughter Minnie was born, and finally in 1915 son Victor was born.
World War I
1914-1919
On Aug 4, 1914 Great Britain (Canada on Aug 5) declared war on Germany and Austria-Hungary to uphold treaties with France and Belgium which were under German attack. This marked the beginning of World War I.
In the spring of 1918 son Edwin (age 20) enlisted in the Canadian Over-seas Expeditionary Force.
In 1918 Catherine MONKMAN died at Loon Straits; about 48 years old.
November 11, 1919, Armistice Day (Remembrance Day) marked the end of the First World War.
In 1920 son Hugh married Catherine WESLEY at Manigotagan, daughter of Flora Bella CHASTELLAINE & Albert WESLEY (b-1857).
In 1921 son Edwin married Janet McKAY of unknown origins.
In 1921 daughter Agnes married George GUIBEAULT, son of Eva & Alexander GIBEUALT (b-c1832).
In 1924 daughter Nancy married Alfred James LECLAIR in Selkirk, son of Frances Jessie PEEBLES & George LECLAIR (b-1870).
In 1929 Andrew MONKMAN died at Loon Straits; about 78 years old..
In 1940 youngest son Victor married Priscilla MOWAT, daughter of Inga JENSEN and Arthur William MOWAT (b-1888).
Please post comments and queries at this link: FORUM DISCUSSING the ANDREW MONKMAN FAMILY
======================= Family Details =======================
Children by Andrew & Nancy CHASTELAINE:
1. Jan 27, 1876 ROBERT MONKMAN (May have died before 1881)
2. Aug 7, 1879 WILLIAM MONKMAN (m1. Adeline FAVEL, m2. Rose Anne RAMSAY)
** MORE ABOUT WILLIAM MONKMAN
3. Aug 8, 1882 THOMAS ALEXANDER MONKMAN (m. Margaret SCOTT)
** MORE ABOUT THOMAS ALEXANDER MONKMAN
4. Aug 22, 1884 ANNIE (ANNABELLA) (twin) MONKMAN (m. Nicholas CHASTELLAINE)
5. Aug 22, 1884 MARY JANE (twin) MONKMAN (m. Walter Andrew BRUCE)
6. Nov 5, 1885 ELIZABETH "LIZZIE" MONKMAN (m. Robert William WHITEWAY)
7. 1888 MARGARET "MAGGIE" MONKMAN (m. O'HARA)             
Children by Andrew & Catherine WHITESAND:
1. Jan 12, 1897 EDWIN MONKMAN (m. Janet McKAY)
2. Mar 29, 1898 HUGH MONKMAN (m. Catherine (Kathleen) "Kate" WESLEY)
3. Oct 3, 1900 NANCY MONKMAN (m1. Alfred James LECLAIR, m2. Morris SMITH)
4. Dec 13, 1902 AGNES MONKMAN (m. George GIBEAULT)
5. Nov 17, 1904 BELLE/BELLA MONKMAN (m. Harry DUPRE)
6. Aug 31, 1907 BENJAMIN MONKMAN (m. Elizabeth "Lizzie" EVERETT)
7. Sep 27, 1908 COLIN MONKMAN (m. Doris LEASK)
8. Aug 30, 1910 IDA MONKMAN (m. Walter BOYD)
9. Sept, 1913 MINNIE MONKMAN (m. George "Sparky" JOHNSON)
10. Aug 15, 1915 VICTOR MONKMAN (m. Priscilla MOWAT)