NARCISSE CHASTELLAINE (1821-c1888)
NANCY FINLAYSON (1815-1869)
FRANCES "FANNY" (nee HOURIE) - TODD (1842-1904)
(Last Updated: February 04, 2016)
Narcisse CHASTELLAINE was born in December of 1821 at Lac la Pluie (Fort Frances), Ontario, the eldest son of Nanette CHARTIER & Nicholas "Old Nick" CHASTELLAINE (1795-1892), a veteran of the War of 1812.
** MORE ABOUT NICHOLAS CHASTELLAINE
Narcisse marries Nancy FINLAYSON
1844
Around 1844, Narcisse (about 19 years old) had a child, Narcisse Jr, by Nancy FINLAYSON at Fort Frances. Nancy was a daughter of an Ojibwe-Cree woman and Nicol FINLAYSON (1794-1877) from Ross-Shire, Scotland, the HBC Chief Trader at Fort Frances. ** MORE ABOUT NICOL FINLAYSON
In October of 1844 son Narcisse Jr. was born at Fort Frances.
By 1866, six children were born to Nancy & Narcisse, all in the Fort Frances district (Narcisse, Mary, Nancy, David, Flora and William).
It isn't clear just when the CHASTELLAINE family moved to Red River. It was probably just prior to, or around the time of, Canadian Confederation. What we do know is that Narcisse Sr. and Narcisse Jr. both became members of the St Peters Indian Band before the signing of Treaty One in 1871.
Canadian Confederation
Narcisse in Mapleton
1867
On July 1, 1867 the British colonies in North America were united under the British North American Act to become the Dominion of Canada.  Sir John A MacDONALD (1815-1891) was appointed as Canada's first Prime Minister.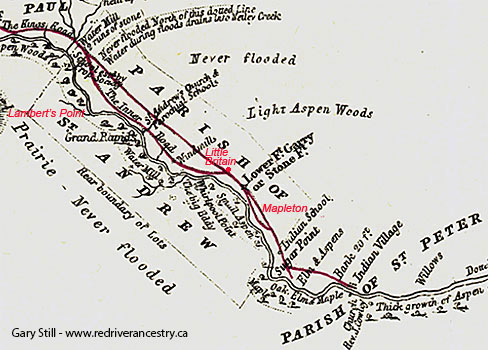 Part of Henry Hind's Map based on his observations of 1857
It was around 1867 that son Narcisse Jr. married Sarah SPENCE, daughter of Marguerite STEVENSON & George SPENCE (1827-1897). The elder Narcisse had five other children with him at this time; Marie (age 15), Nancy (13), David (9), Flora (4) and William (age 1).
Nancy Dies
The Red River Rebellion
Manitoba becomes a Province
1869-1870
Nancy (nee FINLAYSON) died in 1869, leaving 48 yr old Narcisse Sr. with five young children. This was the year that the Red River Rebellion began, led by Louis RIEL (1844-1885). The Rebellion ended the following year and on July 15,1870Manitoba became the fifth province of Canada, the Canadian Government having acquired the territory previously governed by the HBC. On Aug 24, 1870 Colonel Garnet Joseph WOLSELY (1833-1913) and his soldiers arrived to take possession of Upper Fort Garry. RIEL fled to the USA and the Rebellion was essentially over.
In 1870 Narcisse was a neighbor of William TODD (1823-1871), a retired HBC employee who was now a "free-trader" at Mapleton. TODD's wife (his 2nd wife) was Fanny Anne (nee HOURIE), daughter of Jessie DENNETT & John Henry HOURIE (1810-1896).
Treaty Number One
1871
As fate would have it, William TODD died on July 18, 1871 (buried in Mapleton), and in a few years Fanny would become Narcisse' wife (widow & widower) and step-mother to his five children. Fanny also had a baby of her own (Mary Jane TODD).
On Aug 3, 1871 Treaty Number One was signed by Chief Henry (Red Eagle) PRINCE (1819-1902) on behalf of the St Peters Indian Band. In 1876 The Daily Free Press published an article relating to Treaty One in which it listed members of the St Peters Band in 1871. Included in the list were the following CHASTELLAINE (miss-spelled in the article) names: Narcisse Sr., Narcisse Jr. and James (this one is a puzzler). ** MORE ABOUT CHIEF HENRY PRINCE
Around 1874 daughter Mary CHASETELLAINE became the wife of Roderick STEVENSON (1847-1903), son of Elizabeth JOHNSON & John Thomas STEVENSON (1818-1868), both Treaty Indians (St Peters Reserve).On Sep 9 that same year daughter Nancy CHASTELLAINE married Andrew MONKMAN at St Peters, son of Isabella SETTER and Joseph "Ole Joe" MONKMAN (1810-1899). 
Treaty Five
1875
On Sep 17, 1875, Treaty Commissioners Alexander MORRIS (1826-1889) and McKAY left Fort Garry aboard the Hudson's Bay Company steamer Colville. They proceeded to Berens River where, in short order, they secured that band's acceptance of the treaty terms. From there, they quickly pushed on to Norway House where many people had earlier expressed a desire to move south and establish an agricultural colony. When the treaty was signed there, the commissioners agreed that any who left the original settlement would receive a reserve at their new location. A number of them subsequently moved to Fisher River.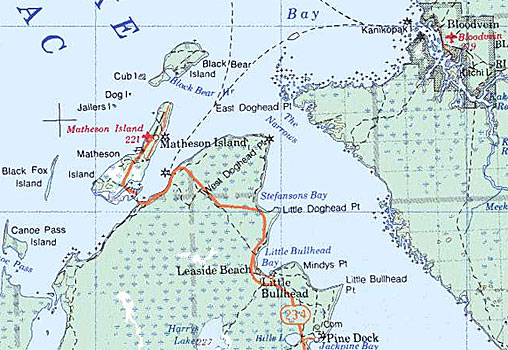 The Dog-Head Community includes both sides of the Lake Winnipeg Narrows as shown here
Treaty 5: Sep 28, 1875: signing by Wa-Pang or Dog-Head community, to be included with the reservation assigned for the Norway House community.
On Oct 21, 1875, between 235 and 285 Icelanders arrived at Willow Point near Gimli; later that summer 1,200 new immigrants from Iceland joined them.
Around 1875 Widower Narcisse CHASTELLAINE and Widow Fanny (nee HOURIE) TODD had their first child together; son John CHASTELLAINE. Fanny was the daughter of Jessie DENNETT and John HOURIE (1810-1896).
John CHASTELLAINE would later state that he spent the first 12 years of his life (until about 1887) at Dog Head. Narcisse, as an HBC employee probably managed their post there during most of its existence (shown in picture below).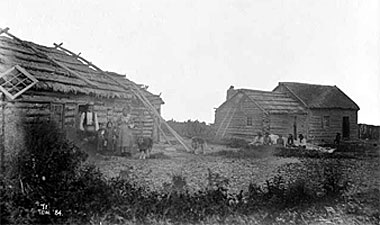 Hudson's Bay Company Post at Dog Head Point, Lake Winnipeg 1884
Library of Archives Canada
In 1876 Thomas HOWARD (1845-1903) and John Lestock RIED (b-1841), the Treaty 5 negotiating team. travelled together to Dog Head Point where they met members of the Dog Head, Blood Vein River, Big Island, Jack-Fish Head, and Sandy Bar bands. In the summer of 1876, they were to pay annuities to bands already treated with and to meet with the Native people at Dog Head Point, on the islands of Lake Winnipeg, at the rapids on Berens River, and at The Pas. The Dog Head Band requested a point opposite the Dog Head River.
The Dog Head trading post seems to have operated much of the time just as a seasonal (winter) outpost of Lower Fort Garry because Narcisse and his family were frequently recorded living in the St Peters – Mapleton area as well during his assignment there. Almost all of his relatives had their homes in St Peters, and on Sep 12, 1876, when Fanny claimed Scrip as Narcisse' wife, she gave her residence as St Peters, as did Narcisse in 1877 when he claimed his Scrip.
In 1877 son David married Maria STEVENSON at Dog Head. After they married they made their home in St Peters Parish.
On May 18, 1878 daughter Mary Jane was born in Mapleton
On Jan 5, 1880, daughter Bella was born at Dog Head.
On June 15, 1882 the Town of Selkirk was incorporated with James COLCLEUGH (1841-1918) as the first Mayor. At that time it was still believed that the new CPR mainline from the east would pass through Selkirk. There were already branch lines on both sides of the river, from Winnipeg to Selkirk and East Selkirk, with Selkirk at the crossroads. In that belief, the town was booming, a veritable land rush and COLCLEUGH was at the forefront of the land speculators. He circulated a petition which called on the Federal Government to put the St. Peter's reserve up for sale, as it was a "drawback to our growth and prosperity." COLLEUGH would later testify (in a Scrip claim made by Fanny) that he knew Narcisse and his family very well.
The family leaves Dog Head and returns to Mapleton
1886
In 1886 William James McLEAN (1841-1929) became the HBC Chief Trader at Lower Fort Garry, in charge of the Lake Winnipeg District. He later testified that Narcisse CHASTELLAINE had worked under him for several years at Dog Head. The McLEAN family attended the St Clements Church at Mapleton. It was during McLEAN's tenure that Narcisse and his family left Dog Head to live year-round in the Mapleton area, perhaps with his elderly HOURIE in-laws.
The death of Narcisse and daughter Bella
1888
Around 1888, Narcisse would have been about 67 years old when he and daughter Bella (age 8) both died at Lower Fort Garry, apparently at the same time. This was stated by Fanny when she later claimed Scrip for Bella. It would be interesting to know what the circumstances were. Fanny and her other two other teenagers (John & Mary) then moved in with her elderly parents (Jessie & John HOURIE).
It is said that both Jessie & John HOURIE (Fanny's parents) died in 1896.
In the 1901 census Widow Frances and her 22 year old daughter, Mary Jane, both indicated as "charwomen", were still living in Mapleton. Mary Jane moved soon after to Winnipeg.
Frances CHASTELAINE died Mar 15, 1904 in Mapleton. She would have been about 62 years old.
Please post comments & queries at this link: FORUM DISCUSSING NARCISSE CHASTELLAINE & FAMILY
========================== Family Details ==========================
Children by Nancy FINLAYSON:
1. October, 1844 NARCISSE CHASTELLAINE JR (m. Sarah SPENCE)
** MORE ABOUT NARCISSE CHASTELLAINE JR
2. c1850 MARY CHASTELLAINE (m. Roderick STEVENSON)
3. Aug 1, 1856 NANCY CHASTELLAINE (m. Andrew MONKMAN)
4. Oct 9, 1858 DAVID CHASTELLAINE (m1. Maria STEVENSON, m2. Margaret FAVEL)
5. 1863 FLORA CHASTELLAINE
6. 1866 WILLIAM CHASTELLAINE
Child of Fanny HOURIE & WILLIAM TODD:
1. 1870 MARY JANE TODD (Died age 7)
Children of Fanny HOURIE & Narcisse CHASTELLAINE:
1. c1875 JOHN CHATELAIN
2. May 18, 1878 MARY JANE CHASTELLAINE (m. William James PIERSON)
3. Jan 5, 1880 BELLA MARGARET RACHEL CHASTELLAIN (Died 8 yrs old)