NARCISSE CHASTELLAINE (1844-1919)
SARAH SPENCE (1849-?)
(Last Updated: August 12, 2014)
Narcisse CHASTELLAINE was born in October of 1844 at Fort Frances to Nancy FINLAYSON and Narcisse CHASTELLAINE SR (1821-1888).  ** MORE ABOUT NARCISSE CHASTELLAINE SR
It isn't clear just when the CHASTELLAINE family moved to Red River. It was probably just prior to, or around the time of, Canadian Confederation. What we do know is that Narcisse Sr. and Narcisse Jr. both became members of the St Peters Indian Band before the signing of Treaty One in 1871.
Canadian Confederation
The Riel Rebellion
Narcisse marries Sarah SPENCE
1867-1870
On July 1, 1867 the British colonies in North America were united under the British North American Act to become the Dominion of Canada.  Sir John A MacDONALD (1815-1891) was appointed as Canada's first Prime Minister.
It was around 1867 that Narcisse began a relationship with Sarah SPENCE, daughter of Marguerite STEVENSON and George SPENCE (1827-1897). Daughter Elizabeth was born around that time.
In 1868 William McDOUGALL (1822-1905) became the first Minister of Public Works for the new Dominion of Canada, and he began negotiations to acquire Rupert's Land from the HBC. Colonel John Stoughton DENNIS (1820-1885), a soldier and a surveyor, was sent to delineate plots of land for settlers. He would introduce a new system of land surveys termed the Dominion Land Survey (DLS) using the Township System. The old system of long narrow river lots was discontinued.
In 1869 Narcisse' mother (Nancy) died, and his father (Narcisse Sr.) re-married to Fanny HOURIE, daughter of Jessie DENNETT & John Henry HOURIE (1810-1896). By this time Narcisse was already married, with two children, and living in St Peters Parish. Daughter Margaret was born around this time.
On Oct 11, 1869, Louis RIEL (1844-1885) placed his foot on the surveyors' chain to tell them their work was finished! This marked the beginning of another Red River Métis Rebellion. RIELbegan to organize resistance to the anticipated transfer of the North-West to the Dominion of Canada without prearranged terms. On Nov 2 RIEL took possession of Upper Fort Garry; on Nov 27 he accepted compromise with the English-speaking delegates and they agreed to a Provisional Government.
Manitoba becomes a Province
1870
In 1870 Narcisse and his family were recorded in St Peters; children were Elizabeth (age 3) and Margaret (age 1).
On July 15,1870 Manitoba became the fifth province of Canada, the Canadian Government having acquired the territory previously governed by the HBC. On Aug 24 Colonel Garnet Joseph WOLSELY (1833-1913) and his soldiers forced their way into Upper Fort Garry; RIEL fled to the USA and the Rebellion was over.
The Manitoba Act provided substantial land grants to the Métis (Half-breeds) at Red River. Section 31 set aside 1.4 million acres of land for distribution among the children of Métis heads of families residing in the province, while section 32 guaranteed all old settlers, Métis or white, "peaceable possession" of the lots they occupied in the Red River settlement prior to July 15, 1870.
Treaty Number One
1871
On Aug 3, 1871 Treaty Number One was signed by Chief Henry (Red Eagle) PRINCE (1819-1902) on behalf of the St Peters Indian Band. ** MORE ABOUT CHIEF HENRY PRINCE
In 1877 and 1878 respectively Half-breed Scrip claims were made by Narcisse, then Sarah. By receiving Scrip as Half-breeds they forfeited their status as Treaty Indians and members of the St Peters Indian Band.
In the Census of 1881 Narcisse and his family were living in St Andrews Parish with his brother, David CHATELAIN (b-1858). Children recorded them were Mary (age 12), Sarah (9), Caroline (6), Flora (4) and baby Lewis. Daughter Margaret is missing; apparently died in infancy.
The Town of Selkirk is Incorporated
1882
On June 15, 1882 the Town of Selkirk was incorporated with James COLCLEUGH (1841-1918) as the first Mayor. At that time it was still believed that the new CPR mainline from the east would pass through Selkirk. There were already branch lines on both sides of the river, from Winnipeg to Selkirk and East Selkirk, with Selkirk at the crossroads. In that belief, the town was booming, a veritable land rush and COLCLEUGH was at the forefront of the land speculators. He circulated a petition which called on the Federal Government to put the St. Peter's reserve up for sale, as it was a "drawback to our growth and prosperity."
On Aug 10, 1882 daughter Mary married Oliver HOURIE, son of Margaret McKAY & John HOURIE (b-1835).
On Feb 21, 1883, son John David was born in Selkirk. On Mar 6, 1883 he was baptized at the St Peters Church by Reverend Benjamin McKENZIE (1837-1928).
Western Land Grants: Dated Oct 22, 1887: Narcisse CHATELAINE, Trader: River Lot 62, Parish of St Peters.
Around 1888 Narcisse' father (Narcisse Sr.) died at Lower Fort Garry. The elder Narcisse had been operating a trading post himself at Dog Head (Lake Winnipeg Narrows).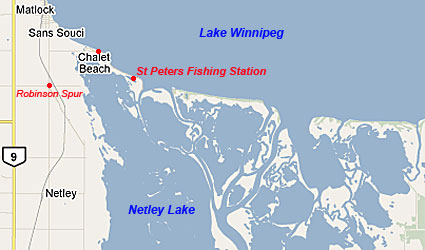 Mouth of the Red River
By about 1890 Narcisse had established a Trading Post along the Salamoniac Channel, near where the Red River empties into Lake Winnipeg (southeast of Chalet Beach as shown on the above map). The main HBC supply depot and fur buying centre was located at Lower Fort Garry, so Narcisse and his family would have made frequent trips there to sell furs and acquire trade-goods. His widowed step-mother (Fanny) was living near the Lower Fort with her elderly parents (Jessie & John HOURIE).
On Apr 10, 1890 daughter Caroline married Albert ROSE.
In the Census of 1891 Narcisse and his family were enumerated at their trading post. The children were then Sarah (age 18), Caroline (16), Flora (14), Louis (10), John (8) and Margaret (age 6). Lodger:  Margaret MONKMAN (a niece), age 3 (daughter of Andrew MONKMAN, widower of Narcisse' sister Nancy)
To complete Narcisse' family, two more children were born; Roderick in 1891 and Narcisse Jr. in 1894.
On Feb 15, 1893 daughter Sarah married Albert CALDER in Selkirk, son of Charlotte LYONS & George CALDER (1823-1906). ** MORE ABOUT GEORGE CALDER
Before the railroad, many families had already settled around the mouth of the river. In addition to halfbreed and Indian families, there were many Icelandic and Ukrainian setters in the area, particularly from Matlock north.There were no motor cars, tractors or airplanes and very few horses. Most of the people used oxen and dog teams (oxen were the order of the day), with which they hauled their cordwood and fish, and did their farm work.
These early settlers built a church and school called the Netley Mission Near the spot indicated on the above map as Robinson Spur (so-named later, after the railroad reached the area). It is very difficult to determine exactly when the first Netley Mission was built, but we do know that Reverend Benjamin McKENZIE (1837-1928) served as the first rector, frequently travelling there from his home in Mapleton. The congregation was composed of about 26 families.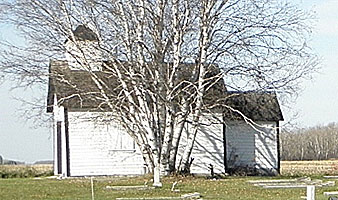 The Little Mustard Seed Chapel can still be seen today.
 (Built at Chalet Beach and later moved to Robinson Spur)
In 1901 the historic little Mustard Seed Chapel was built at Chalet Beach andReverend Benjamin McKENZIE was its first rector. Tiny as it was, the little chapel began to serve as a school as well, and some of Narcisse' children were probably among his first students. ** MORE ABOUT BENJAMIN McKENZIE
Advent of the Railroad
Robinson Spur
1902
In 1902 a CPR railway line from Winnipeg to Winnipeg Beach was completed. A train station and a dance pavilion were built at the 'Beach'. By 1903, the CPR ran a short line into a cord wood camp owned by Captain William ROBINSON (1850-1936), which became known as "Robinson's Spur". A lot of men of the district found work at his camp, cutting cord wood to earn much-needed cash. This camp was only about a mile from where the CHASTELLAINE family lived.
On Feb 12, 1903 son Louis married Rachel HUNT in St Andrews.
On Apr 14, 1904, daughter Flora Bella married Robert William SINCLAIR. They settled in St Peters.
Census 1906:  N CHASTELLAINE, 60, with his wife Sarah, 54, are living on Sec 30-16-5-E1 (Salamoniac Channel).  With them are:  John D 23; Margaret 21; Maggie b-c1888 (adopted) 18; Roderick 15; and N. (Narcisse Jr) 12.
On Apr 11, 1907 son John DAVID married Lydia COCHRANE at the Old St Peters Church. Lydia was the eldest child of Mary Jane MURDOCH & Alexander COCHRANE (1865-1949), a member of the St Peters Indian Band.

Feb 13, 1908 daughter Margaret married Jeremiah THOMAS in St Clements.
On May 14, 1914 son Roderick married to Flora IRVINE, daughter of Matilda ORVIS & William IRVINE (1866-1908).
In the 1916 census Sarah & Narcisse was sitll recorded along the Salamoniac Channel. The only child still at home was Narcisse Jr. (age 21).
Narcisse CHASTELLAINE died in 1919.
Please post comments & queries at this link: FORUM DISCUSSING SARAH & NARCISSE CHASTELLAINE FAMILY
======================== Family Details ========================
Children:
1. 1867 MARY ELIZABETH CHASTELLAINE (m. Oliver Adolphus HOURIE)
2. 1869 MARGARET CHASTELLAINE (?Died in infancy)
3. 1872 SARAH CHASTELLAINE (m. Albert CALDER)
4. 1875 CAROLINE CHASTELLAINE (m. Albert ROSE)
5. 1877 FLORA BELLA CHASTELLAINE (m. Robert William SINCLAIR)
6. Oct 6, 1880 LOUIS CHASTELLAINE (m1. Rachel Harriet HUNT; m2. Mary STEVENSON)
7. Feb 21, 1883 JOHN "SONNY" DAVID CHASTELLAINE (m. LYDIA COCHRANE)
** MORE ABOUT JOHN DAVID CHASTELLAINE
8. Dec 9, 1887 MARGARET CHASTELLAINE (m. Jeremiah THOMAS)
9. Apr 19, 1891 RODERICK CHASTELLAINE (m. Flora IRVINE)
10. Jul 28, 1894 NARCISSE CHASTELLAINE JR