GEORGE CALDER (1823-1906)
CHARLOTTE LYONS (1828-1885)
(Last Updated: August 12, 2014)
George CALDER was born on Dec 15, 1823 at York Factory, the youngest child of Nancy LINDSAY and Captain James CALDER (1775-1824), an HBC Sea Captain from the Orkneys of Scotland. Around the time George was born his father sailed home to the Orkneys, never to return. His mother (Nancy) later moved to Red River where she died in 1826 when George was only three years old. ** MORE ABOUT NANCY LINDSAY and CAPTAIN JAMES CALDER
It is unknown who cared for toddler George after his mother died. It seems most likely that it would have been his eldest sibling, Nancy CALDER who married in 1828 to Sam FOULDS (1803-1870) and moved from York Factory to Red River in 1830.
The Rapids Church – St Andrews
1831
In 1831 Reverend William COCKRAN (1798-1865) and his wife moved to "The Rapids" (now St Andrews) where he built the first Anglican Church (a log structure). On May 1, 1832, the Church was opened and dedicated, and Reverend David JONES (1796-1844) promoted the establishment of a boarding school near the church, "to educate the sons of the gentlemen of the fur trade". It was decided that girls could attend as well.
It seems that George was literate, at least in 1875 he signed his own name on his Scrip affidavit whereas most half-breeds of his era simply signed with an 'X'. This might suggest that he received some schooling as a youngster. George's future wife Charlotte LYONS for example did sign with an 'X'.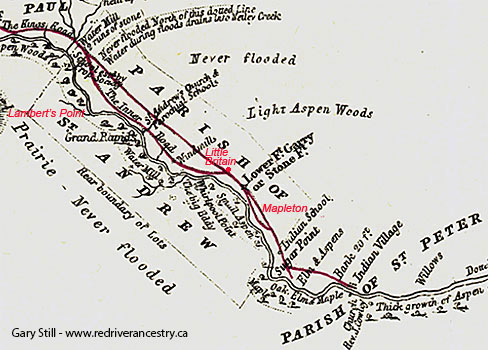 St Andrews Parish from Hind's Map of 1857
Marriage to Charlotte LYONS
1843
By 1843 George was in St Andrews Parish (Old England/ Mapleton) where he married Charlotte LYONS, daughter of Margaret KIPLING and John LYONS (1786-1875). ** MORE ABOUT JOHN LYONS
Around 1863 eldest son Tommy, married Annie FOLSTER, daughter of Maria PRUDEN and William FOLSTER (1827-1912).
Also around 1863 daughter Annie married John DANIEL, son of an Indian woman and Griffith DANIEL (1785-1869).
Canadian Confederation and a Red River Rebellion
Creation of the Province of Manitoba
1867-1870
On July 1, 1867 the British colonies in North America were united under the British North American Act to become the Dominion of Canada.  Sir John A MACDONALD (1815-1891) was appointed as Canada's first Prime Minister.
On Oct 11, 1869, Louis RIEL (1844-1885) placed his foot on the surveyors' chain to tell them their work was finished! This marked the beginning of another Red River Métis Rebellion. When it was all over, RIEL's Provisional Government accepted the terms of the Manitoba Act and on July 15,1870 Manitoba became the fifth province of Canada, the Canadian Government having acquired the territory previously governed by the HBC.
Census of 1870 in St Clements Parish: George CALDER, age 48; wife Charlotte, age 44. Children: Catherine (age 18), Albert (15), Mathilda (10), Miles (8), Joseph (6) and Mary (age 3).
In 1875, George & Charlotte of St Clements claimed Half-breed Scrip as husband & wife.
It must have been after 1875 that daughter Annie re-married to a Philip WHITE of uncertain origins.
On July 18, 1878 George received patent to Lot 10, 92.75 acres, Parish of St Clements. 
In 1878 daughter Alice married Henry FIDLER in Selkirk, son of Nancy PRUDEN and Henry FIDLER (1831-1908).
** MORE ABOUT HENRY FIDLER
Around 1880 son Albert married Elizabeth Jane HOURIE daughter of Margaret McKAY & John HOURIE (b.1835).
** MORE ABOUT JOHN HOURIE
Census of 1881 in St Andrews: George CALDER (age 60); wife Charlotte (age 58). Children at home: Joseph (age 16) and Mary Helen (age 13).
Charlotte Dies
1885
On Nov 30, 1885 Charlotte (nee LYONS) CALDER died in St Andrews, Parish at the age of 57.
In 1888 George CALDER is listed renting a pew at St Clements Church at Mapleton
In 1892 daughter Ellen married her brother-in-law, George HOURIE in Selkirk.
In 1893 widowed son Albert re-married to Sarah CHASTELLAINE in Selkirk, daughter of Sarah SPENCE & Narcisse CHASTELLAINE (1844-1919). ** MORE ABOUT NARCISSE CHASTELLAINE
Census of 1901 in the Algoma District (ON):George CALDER (age 77) with his daughter Alice and son-in-law Henry FIDLER.in Keewatin Township.
In 1906 widower George (age 84) was recorded in Mapleton.
George Dies in Keewatin, Ontario
1906
In December of 1906 George CALDER died in Keewatin (west of Kenora, Ontario). He had caught a chill during the journey from Selkirk to Keewatin, which proved fatal.  He was buried at Mapleton.
In 1909 daughter Annie (nee CALDER) WHITE became the second wife of John George BEGG in Kenora (ON), son of Catherine SPENCE and Charles Robert BEGG (1814-1915). ** MORE ABOUT CHARLES ROBERT BEGG
Comments and queries at this link: FORUM DISCUSSING the GEORGE CALDER FAMILY
========================== Family Details ==========================
Children:
1. Feb 14, 1844 THOMAS CALDER (m. Maria Anne "Annie" FOLSTER)
2. 1845 MARGARET CALDER (Died in infancy 1846)
3. Aug 29, 1847 GEORGE CALDER JR
4. Nov 9, 1849 ANNIE CALDER (m1. John DANIEL; m2. Philip WHITE; m3. John George BEGG)
5. 1852 CHARLOTTE CALDER (Died 1855 in infancy Age 3)
6. 1854 JAMES WILLIAM CALDER (Died in infancy Age 2)
7. 1856 CATHERINE CALDER
8. Oct 20, 1858 ALBERT CALDER (m1. Jane Elizabeth HOURIE, m2. Sarah CHASTELLAINE)
10. Jan 9, 1861 MATHILDA ALICE CALDER (m. Henry Thomas FIDLER)
11. Jan 8, 1863 MILES CALDER
12. Oct 1, 1865 JOSEPH CALDER
13. May 11, 1868 MARY ELLEN CALDER (m. George HOURIE)