CAPTAIN JAMES CALDER (1775-1824)
NANCY LINDSAY (1786-1826)
(Last Updated: January 11, 2015)
James CALDER was born around 1760-1775 in Burra, Ronaldshay (Orkney, Scotland).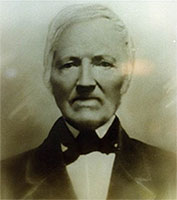 James Calder
(From Wiley – Originally from Lori Cote Family Tree on Ancestryu.ca)
Sea Captain with the Hudson's Bay Company
1801
In 1801 James entered the service of the Hudson's Bay Company (HBC) as a Sea Captain, posted at York Factory. He would spend his entire career sailing around Hudson Bay. ** MORE ABOUT JAMES CALDER in HBC ARCHIVES

Marriage to Nancy LINDSAY
1805
Around 1805 James was united with Nancy LINDSAY at York Factory. According to Sprague & Frye, Nancy was a half-breed born about 1786.
Union of the North West Company with the Hudson's Bay Company
James returns to the Orkneys
1821-1823
In 1821 the union of the North West Company (NWC) and the Hudson's Bay Company (HBC) occurred, ending the years of bitter rivalry for dominance of the fur trade in Western Canada. George SIMPSON (1786-1860) became the Governor of Rupert's Land. After the merger, almost 1,300 employees lost their jobs since the single HBC organization that emerged had no need for most of the voyageurs and fur traders.
Around 1823 James apparently returned to the Orkneys, never more to return. His last child, George, was born on Dec 15, 1823 at York Factory. Nancy would have been left with at least seven youngsters ranging in age from baby George to the eldest child being Nancy who was yet in her teens.
Nancy dies in Red River
In 1826 Nancy (nee LINDSAY) CALDER died in Red River.
In 1828 eldest daughter Nancy married Samuel FOULDS (1803-1870) at York Factory, an HBC Laborer from England.
In 1829 daughter Elizabeth married James SUTHERLAND at St John's (Winnipeg), son of Nancy COOK & James SUTHERLAND (born c1785).
In 1843 son George married Charlotte LYONS in St Andrews (Red River), daughter of Margaret KIPLING and John LYONS (1786-1875). ** MORE ABOUT JOHN LYONS
Around 1845 son John married Widow Mary (nee McKAY) BIRD in Oregon, daughter of Mary FAVEL and John McKAY (1758-1810). ** MORE ABOUT JOHN McKAY
Comments and queries at this link: FORUM DISCUSSING DESCENDANTS of CAPTAIN JAMES CALDER
========================== Family Details ==========================
Children:
1. 1805 ANN (NANCY) CALDER (m. Samuel FOULDS)
3. 1809 JOHN CALDER (m. Mary (nee McKAY) BIRD
4. 1810 PETER CALDER (m1.Margaret CASSINO, m2. Louise GADBOIS dit BOUSQUET, m3. Isabelle LUSSIER)
5. Dec 15, 1813 ELIZABETH CALDER (m1. James SUTHERLAND, m2. Cuthbert CUMMINGS JR)
** MORE ABOUT JAMES SUTHERLAND
6. 1815 HENRY CALDER (Died 1838)
7. Dec 15, 1823 GEORGE CALDER (m. Charlotte LYONS)