JAMES SUTHERLAND (c1803-1844)
ELIZABETH CALDER (1813-1907)
(Last Updated: February 05, 2015)
James SUTHERLAND JR was born around 1803, son of Nancy COOK & James SUTHERLAND (born c1785), a half-breed of uncertain origins who must have died not long after James Jr. was born. His mother, Nancy COOK was born around 1785, the daughter of a Cree woman named Agatha KANAPAWANAKAN & Englishman William Hemmings COOK (1768-1846). ** MORE ABOUT WILLIAM HEMMINGS COOK
** One of my primary sources of information about James SUTHERLAND and his family was the book 'NAHOVWAY' authored by his descendant, Donna SUTHERLAND. ** MORE ABOUT DONNA SUTHERLAND and NAHOVWAY
The man who would become James' step-father, William GARRIOCH (1779-1849) arrived at York Factory in the autumn of 1807, having been engaged by the HBC as a 'Writer' for five years. He was employed in various duties including that of Schoolmaster. ** MORE ABOUT WILLIAM GARRIOCH
From the 1809 York Factory Post Journal (Donna's book, page 204):  The York school continued to operate and by September the "carpenter & others employed building a small house for the accommodation of the YF children". A month later on Oct 3, "Bricklayer erecting a chimney in the Beer Shed for the purpose of converting this place into a Winter School Room, entered Sam COOK on the School List," and  shortly after James SUTHERLAND Jr. was added.
Around 1810 James' mother Nancy became the "Country wife" of William GARRIOCH. That was the year that his maternal grandfather, W.H. COOK was appointed to the position of Chief Factor at York Factory.
In 1812, when James was about eight years old the GARRIOCH family moved to the Swan River District where his step-father was based for the next 10 years.
In 1818-19 Grandfather W.H. COOK spent the winter at Fort Hibernia in the Swan River District. He resigned from the HBC in the spring of 1819 and became a settler at Red River.
In 1820 Reverend John WEST (1778-1845) arrived at Red River from England, the first HBC Chaplain to Rupert's Land.
Union of the NWC-HBC
James' mother and Step-father are Church-Wed
1821
The 1821 union of the North West Company (NWC) and the Hudson's Bay Company (HBC) occurred, ending years of bitter rivalry for dominance of the fur trade in Western Canada. After the merger, almost 1,300 employees lost their jobs since the single HBC organization that emerged had no need for most of the voyageurs and retired fur traders. At the time of the HBC-NWC union, (Sir) George SIMPSON (1786-1860) became the Governor of Rupert's Land.
On May 27, 1821 at Fort Douglas (Winnipeg), William GARRIOCH and Nancy COOK had their marriage solemnized and their five children baptizedat Fort Douglas (Winnipeg).
On May 20, 1822, SIMPSON reported to the board of governors of the HBC that he had established a fort at the junction of the Red and Assiniboine Rivers (Upper Fort Garry).

Red River
1822
In 1822 James' step-father retired from the Company and the GARRIOCH family moved to Red River where they settled adjacent to Grandpa William H COOK.
In 1823 Reverend WEST departed Red River and was replaced by Reverend David JONES (1796-1844).In August 1825, William GARRIOCH took charge of the first Mission School at Red River (St John's)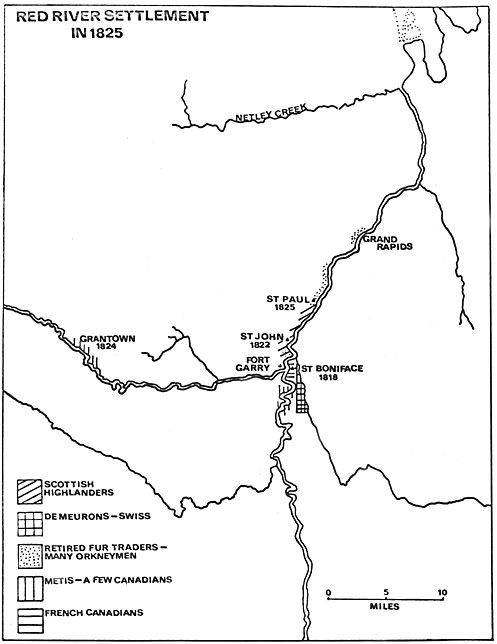 James marries Elizabeth CALDER
1829-1844
On May 21, 1829 James married Elizabeth CALDER at St Johns, daughter of half-breed Nancy LINDSAY and Captain James CALDER (1775-1824) from the Orkneys of Scotland, at one time an HBC Schooner Master based at York Factory. Elizabeth's father had returned to the Orkneys in 1822 and her mother (Nancy) and her siblings had settled in Red River where Nancy died around 1826.
In 1832 daughter Ann Margaret was born; in 1833 son William Richard was born.
1835 re Sprague & Frye: James SUTHERLAND on Lots 20 to 23 in St Paul Parish: Four persons; 1 horse; 6 cattle; 1 acre farmed..
ERed2, Map pg 156:  Distribution of Landowners St Andrews Parish 1835 shows a James SUTHERLAND as owner of Lots 96-97, south of the old St Andrews Church.
On Aug 13, 1844 James SUTHERLAND died leaving Elizabeth a widow with at least two children, Ann Margaret (age 12) and William Richard (age 11).
Widow Elizabeth remarries to Cuthbert CUMMINGS
On Dec 5, 1851 Widow Elizabeth re-married to Cuthbert CUMMINGS, son of Susette and Cuthbert CUMMING SR (1787-1870).  No children are indicated from this marriage.
Around 1856 daughter Ann Margaret married Murdoch McLENNAN (1825-1916) from Scotland.
In 1861 son William Richard married Margaret INKSTER, daughter of Mary SINCLAIR and John INKSTER (1799-1874) from the Orkneys of Scotland. ** MORE ABOUT JOHN INKSTER
In the Census of 1901 Widow Elizabeth (age 87) was enumerated in the St Andrews household of her grandson, William Colin SUTHERLAND (1870-1931).
On July 29, 1907 Elizabeth died in St Andrews.
Please post comments and queries at this link: FORUM DISCUSSING the JAMES SUTHERLAND FAMILY
=========================== Family Details ===========================
Children:  
1. Jul 14, 1832 ANN MARGARET SUTHERLAND (m. Murdoch McLENNAN)
** MORE ABOUT MURDOCH McLENNAN
2. Dec 8, 1833 WILLIAM RICHARD SUTHERLAND (m. Margaret INKSTER)
** MORE ABOUT WILLIAM RICHARD SUTHERLAND