WILLIAM GARRIOCH (c1779-1849)
NANCY (nee COOK) SUTHERLAND (c1785-1876)
(Last Updated: August 06, 2013)
William GARRIOCH was born around 1779 in the Orkneys of Scotland, said to have been a son of Magnus GARRIOCH who had been a "Tailor" at Moose Factory until 1795 when he returned to Scotland.
Early HBC Forts around Hudson Bay
William GARRIOCH Arrives at York Factory
1807
The York Factory Journal of 1807 indicates that William GARRIOCH arrived at York Factory in the autumn of 1807, having been engaged by the HBC as a 'Writer' for five years. He was employed in various duties including that of Schoolmaster.
One of William's young students was James SUTHERLAND JR., the son of Nancy COOK and James SUTHERLAND SR, a half-breed of uncertain origins.
Nancy COOK was born around 1785, the daughter of a Cree woman named Agatha KANAPAWANAKAN & Englishman William Hemmings COOK (1768-1846). At the time of Nancy's union with William, her father was in charge of all of the Nelson River HBC posts from the Bay all the way up to Norway House.** MORE ABOUT WILLIAM HEMMINGS COOK
William GARRIOCH Marries Nancy (nee COOK) SUTHERLAND
1810
Nancy's husband must have died at some time before 1810, because around that time Widow Nancy and William GARRIOCH were married "according to the custom of the country." On July 15, 1811 their first child, Peter was born.
During the winter of 1811-12 Nancy's father (W.H. COOK) struggled with problems of provisioning and transport for the first Selkirk Settlers who were under his charge after they arrived.
Swan River District
1812-1822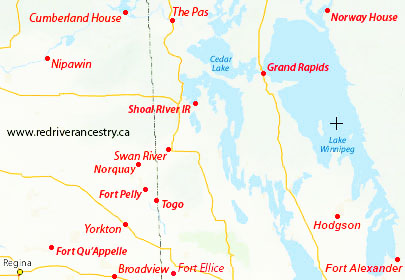 In 1812 William transferred to the Swan River District where he seems to have been based for the next 10 years.
In October of 1820 Reverend John WEST (1778-1845) arrived at Red River from England as the first HBC Chaplain in the northwest.
Union of the NWC-HBC
William & Nancy are Church-Wed
1821
The 1821 union of the North West Company (NWC) and the Hudson's Bay Company (HBC) occurred, ending years of bitter rivalry for dominance of the fur trade in Western Canada. After the merger, almost 1,300 employees lost their jobs since the single HBC organization that emerged had no need for most of the voyageurs and retired fur traders. At the time of the HBC-NWC union, (Sir) George SIMPSON (1786-1860) became the Governor of Rupert's Land.
On May 27, 1821 at Fort Douglas (Winnipeg), William GARRIOCH and Nancy COOK had their marriage solemnized and their five children baptized at Fort Douglas (Winnipeg). These would have been Peter (age 9), John (8), Margaret (6), Sarah (3) and Harriet (age 2).
On May 20, 1822, SIMPSON reported to the board of governors of the HBC that he had established a fort at the junction of the Red and Assiniboine Rivers (Upper Fort Garry)
.
Retired to Red River
1822
In 1822 GARRIOCH retired from the Company and moved to Red River where he settled with his family adjacent to his father-in-law William H COOK. However, his interest in teaching continued. In August 1825, he took charge of the first Mission School at Red River (St John's), established by Reverend WEST.
** MORE ABOUT REVEREND JOHN WEST and the FIRST RED RIVER CHURCHES & SCHOOLS
In 1823 Reverend WEST departed Red River and was replaced by Reverend David JONES (1796-1844).
St Paul (Middlechurch)
1824
During the summer of 1824 JONES built a second church, Middle Church (St Paul's) and a day-school, a few miles (6 miles or so) downstream (Image Plain) from the original mission at the Upper Church (St John's).
In 1825 Reverend William COCKRAN (1798-1865) arrived at Red River as an assistance to Reverend JONES.On Jan 30, 1825 the first service was held in Image Plains Church.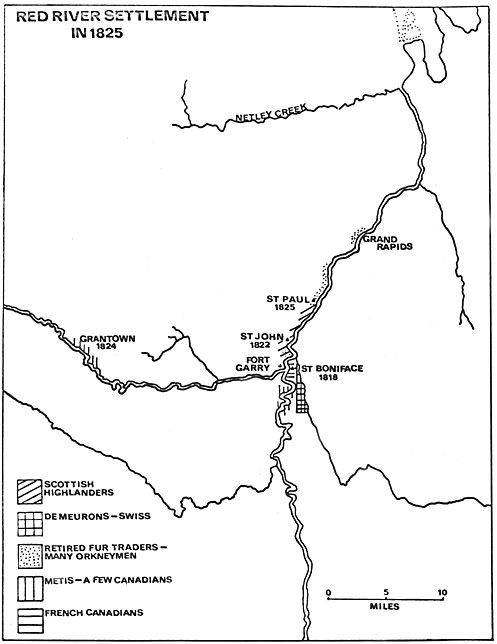 On Oct 25, 1825 William GARRIOCH was a Witness at the marriage of Annie SAUNDERS and Charles FIDLER (1798-1886).
The Great Red River Flood occurred in the spring of 1826, the worst ever experienced by the settlers of the time. On May 1l, 1826 Reverend JONES wrote in his journal that year-old St. Paul's Middlechurch at Image Plain was completely destroyed by the flood. Meanwhile, St. John's (Upper Church) was left relatively unscathed.
In the Red River Census of 1827, William GARRIOCH was recorded on Lot 19-23. He was a Protestant from Orkney; 40 years old and married. He had eight children, all under the age of 16; three sons and five daughters. He had a house and stable; a mare, three cows and an ox; five calves; a cart, plough and canoe. He had five acres under cultivation.
In 1829 William and his family set up a permanent residence on Lot 42-43 in the Parish of St Paul (Middlechurch). That same year, his In 1829 step-son James SUTHERLAND married Elizabeth CALDER at St Johns (Winnipeg), daughter of Half-breed Nancy LINDSAY & & James CALDER (1755-1824), a Scotchman.
In 1834 daughter Margaret married William GADDY, son of Mary and James GADDY (1774-1833) from the Orkneys.
In an 1835 census William was recorded at his St Paul residence as having 20 acres under cultivation. He had two horses, 24 cattle, six farm implements and two carts. There were nine persons in his household.
In 1838 daughter Harriet married her cousin Henry COOK, son of Catherine SINCLAIR and Joseph COOK (1788-1848). ** MORE ABOUT JOSPEH COOK
In 1843 son John married Elizabeth CAMPBELL, daughter of Elizabeth McGILLIVRAY and Colin CAMPBELL (1787-1853). Also that year, daughter Anna married Frederick Adolphus BIRD, son of Nancy THOMAS and George BIRD (1798-1855).
Around 1845 daughter Sarah married Charles CUMMINGS, son of Susette and Cuthbert CUMMINGS (1787-1870).
The Diocese of Rupert's Land was founded in 1849 when Bishop David ANDERSON (1814-1885) was sent from England to be the first bishop of Rupert's Land. He arrived at York Factory aboard the Prince Rupert. When he arrived at Red River he purchased the Red River Academy from its former proprietor, the Reverend John MACALLUM (1806-1849). He re-named it St Johns Collegiate School.
In 1849 son Peter married Margaret McKENZIE at St Johns, daughter of Susannah DAVIS and Kenneth McKENZIE (1801-1861) from Scotland.
At the same time that the Academy was founded, JONES replaced WEST's log mission-house at Upper Church by a stone church, which became part of Bishop David ANDERSON's cathedral in 1861. Joined to this stone church were a day-school and a Sunday school, both conducted by Peter GARRIOCH. The Indian school founded by WEST and continued by JONES was moved to Lower Church (St Andrew's) at Grand Rapids and placed under COCKRAN's guidance.
In 1849 William GARRIOCH died. This is the most often reported year of William's death, but several references have him dying earlier than that (as early as 1844). If someone has a proven death date for him, please let us know on the Forum.
Around 1850 son Gavin Hamilton married Hannah BOURKE, daughter of Nancy CAMPBELL and John Palmer BOURKE (1792-1851) from Ireland.
St Mary's Church and Parish is established at Portage la Prairie
1853
In 1853, Reverend COCKRAN started a mission at Portage la Prairie; St Mary's Parish and Church were established. Around the same time about 12 other families from Middlechurch and St Andrews settled in Portage as members of the first St Mary's congregation. These included John & Peter GARRIOCH.
In 1853 son William married Mary BROWN, daughter of Isabella SLATER and Henry BROWN (1795-1875) from the Orkneys.
In 1855 daughter Emma married John GUNN, son of Margaret SWAIN and the Honorable Donald GUNN (1797-1878). ** MORE ABOUT HONORABLE DONALD GUNN
Canadian Confederation
The Riel Rebellion
Manitoba becomes a Province
1867-1870
On July 1, 1867 the British colonies in North America were united under the British North American Act to become the Dominion of Canada. Between 1869 and 1870, The Red River Rebellion occurred; led by Louis RIEL (1844-1885).On July 15,1870 Manitoba became the fifth province of Canada, the Canadian Government having acquired the territory previously governed by the HBC.
On Aug 23, 1875, Nancy, of Portage la Prairie, claimed Scrip as the widow of William GARRIOCH.
On Nov 15, 1876 Nancy COOK-GARRIOCH died and was buried in the St Mary's Cemetery at Portage la Prairie.
Please post comments and queries at this link: FORUM DISCUSSING the WILLIAM GARRIOCH FAMILY
========================== Family Details ==========================
Step-son – Child of Nancy COOK and James SUTHERLAND:
1.  c1803 JAMES SUTHERLAND JR (m. Elizabeth CALDER)
** MORE ABOUT JAMES SUTHERLAND JR
Children of Nancy COOK and William GARRIOCH:
1. Jul 15, 1811 or 1812 PETER GARRIOCH (Margaret McKENZIE)
2. Aug 25, 1813 JOHN GARRIOCH (m. Elizabeth "Eliza" CAMPBELL)
3. 1815 MARGARET GARRIOCH (m. William GADDY)
4. c1818 SARAH GARRIOCH (m. Charles CUMMINGS)
5. Mar, 1819 HARRIET GARRIOCH (m. Henry COOK)
6. c1822 GAVIN HAMILTON GARRIOCH (m. Hannah BOURKE)
7. Jul 20, 1824 EMMA GARRIOCH (m. Honorable John GUNN)
8. 1826 ANNA GARRIOCH (m. Frederick Adolphus BIRD)
9. Jul 4, 1828 WILLIAM GARRIOCH JR (m. Mary BROWN)