GEORGE BIRD (1798-1855)
MARY ANNE "NANCY" THOMAS (1800-1847)
(Last Updated: August 29, 2014)
George BIRD was born 1798 at York Factory, son of Mary OO-MENAHOMISK and James Curtis BIRD (1773-1856).
** MORE ABOUT JAMES CURTIS BIRD
In 1818-19 George's father, James Curtis BIRD resumed his position as Chief of the Cumberland District and that winter he and his fellow ex-Governor Thomas THOMAS (1765-1828) and their families spent the winter together at Cumberland House. And that was the winter that romance blossomed between three of James' sons and three of Thomas' daughters as follows: George BIRD and Nancy THOMAS; Joseph BIRD and Elizabeth THOMAS; and Levi BIRD and Jane THOMAS.
Marriage to Nancy THOMAS
1820
Around 1820 George began a connubial relationship with Nancy THOMAS, daughter of Sarah (Indian) and the above mentioned Thomas THOMAS. ** MORE ABOUT THOMAS THOMAS
Union of the North West Company with the Hudson's Bay Company
1821
In 1821 the union of the North West Company (NWC) and the Hudson's Bay Company (HBC) occurred, ending years of bitter rivalry for dominance of the fur trade in Western Canada. After the merger, almost 1,300 employees lost their jobs since the single HBC organization that emerged had no need for most of the voyageurs and retired fur traders.
At the time of the HBC-NWC union, George SIMPSON (1786-1860) became the Governor of Rupert's Land.
** MORE ABOUT GOVERNOR GEORGE SIMPSON
In 1821 George and Nancy THOMAS had their first child, Amelia, who was born at Fort Edmonton.
On May 20, 1822, SIMPSON reported to the board of governors of the HBC that he had established a fort at the junction of the Red and Assiniboine Rivers. He named it Fort GARRY (the Upper Fort). Around this fort was to grow the city of Winnipeg.
On Aug 23, 1823 George and Nancy were church-wed at St Johns, Red River (Winnipeg).
Personal Assistant to Governor George SIMPSON
Expedition to the Columbia
1824-25
In 1824-25 Governor George SIMPSON made his first Expedition to the Columbia. His Personal Assistants on that trip were our George BIRD and Thomas TAYLOR (1800-1879). Excerpt from MacGregor's Czar of the Prairies: Before getting that far along his way (on the Columbia Expecition), however, Governor SIMPSON's servants, Tom TAYLOR and George BIRD had dismounted to stalk an elk and had wandered off. When they did not come back, SIMPSON had halted his party for 24 hours, but when they still had not returned, he had moved on, having felt that somehow the pair would make their way back to Fort Garry. Two weeks later the two famished men, having made their way practically straight east for 200 miles, had turned up at the HBC Swan River post. Because they left the caravan scantily clad and with no food and with no means  of making a fire, they had suffered severe hardships, living on roots, bark, and a plethora of bird's eggs. According to George SIMPSON, when they reached McDONELL's Swan River post "they crawled rather than walked to his private room, standing before him with their torn and emaciated limbs, while their haggard cheeks and glaring eyes gave them the appearance of maniacs. After a minute inspection of his visitors, Mr McDONELL with the aid of sundry expletives, ascertained , by degrees, that one of his friends was the Governor's Tom." He had nursed them back to health and sent them to Norway House where weeks later they rejoined SIMPSON.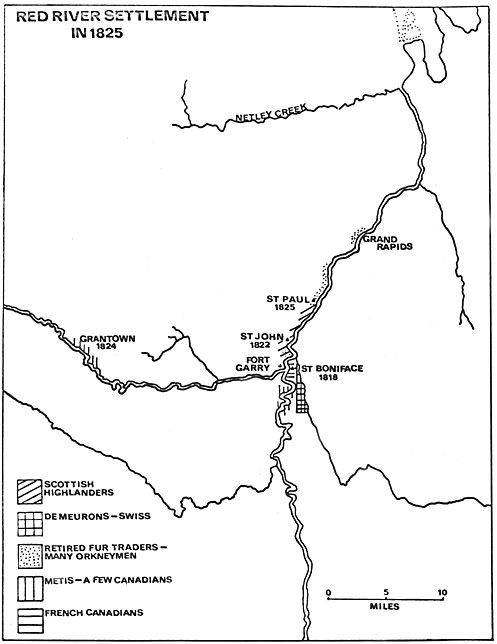 In the 1827 Red River Census (probably St Paul Parish), George and his family were recorded on Lot 198: George BIRD (age 31) with and one daughter and one son. These would have been Amelia and Frederick. George had a house and two cows; he had one acre under cultivation.
In 1835 George was recorded on Lots 24-25 in St Paul Parish. There were seven persons in his household (indicating five children). He had nine cattle and a horse; two farm implements and a cart. He now had three acres under cultivation.
In 1838 eldest daughter Amelia married Peter FIDLER JR, son of Mary MACKAGONNE and Peter FIDLER SR. of Bolsover (1769-1822). ** MORE ABOUT PETER FIDLER of BOLSOVER
In 1843, son Frederick married Anna BIRD, daughter of Nancy (nee COOK) SUTHERLAND and William GARRIOCH (1779-1849). ** MORE ABOUT WILLIAM GARRIOCH
On Dec 9, 1846 their last child, Harriet Sophia was born. It seems that Mary Ann (Nancy) must have died thereafter, perhaps in 1847.
On Feb 28, 1855 George BIRD died; buried in St Paul (Middlechurch)
In 1862 son Thomas married Ann Nancy FOX in St Andrews, daughter of Theresa (Thirza) STEVENS & Charles FOX (c1820-1868). ** MORE ABOUT CHARLES FOX
Around 1866 daughter Ann Elizabeth married Joseph ADAMS, son of Ann HEYWOOD and George ADAMS (1796-1865). ** MORE ABOUT GEORGE ADAMS
Around 1868 son William married Mary Jane SUTHERLAND, daughter of Maria BIRD and James SUTHERLAND (1817-1901).
Around 1870 daughter Catherine married Thomas SPENCE, son of Sophia (Indian) and Joseph SPENCE (1772-1856) from the Orkneys, at one time an HBC trader.
Please post comments and queries at this link: FORUM DISCUSSING the GEORGE BIRD FAMILY
========================== Family Details ==========================
Children:
1. Jan 4, 1821 AMELIA BIRD (m. Peter FIDLER JR)
2. Mar 18, 1823 FREDERICK ADOLPHUS BIRD (m. Anna GARRIOCH)
3. Aug 17, 1829 CATHERINE BIRD (m. Thomas SPENCE)
4. 1831 GEORGE BIRD JR (Died in infancy)
5. Mar 3, 1833 THOMAS BIRD (m. Ann Nancy FOX)
6. Sep 13, 1835 CHARLES JAMES BIRD
7. July 7, 1838 SARA BIRD
8. Dec 6, 1840 WILLIAM GEORGE (TOM) BIRD (m. Mary Jane SUTHERLAND)
9. 1844 ANN ELIZABETH BIRD (m. Joseph ADAMS)
10. Dec 9, 1846 HARRIET SOPHIA BIRD (Died age 9)