.SIR GEORGE SIMPSON (1786-1860)
ELIZABETH SINCLAIR (1802-1878)
MARGARET TAYLOR (1805-1885)
FRANCES GEDDES SIMPSON (1812-1853)
(Last Updated: December 16, 2015)
George SIMPSON was born out of wedlock, around 1786 in Dingwall, Ross-shire (Parish of Lochbroom, Scotland). He was the only son of George SIMPSON SR, a writer in Dingwall.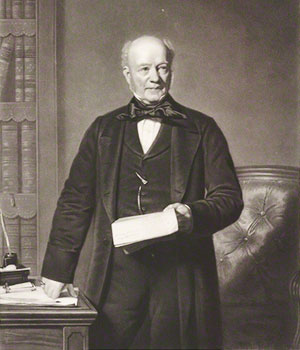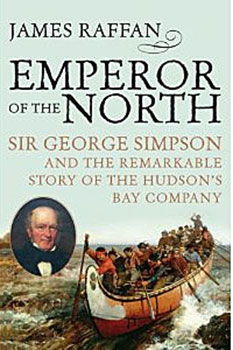 Sir George Simpson (National Portrait Gallery, London)
Fortunately, there is no need to go into all of the details of the life of Sir George SIMPSON here. There are countless sources for that. A few links for further reading about Sir George Simpson:
** DICTIONARY of CANADIAN BIOGRAPHY ONLINE by Galbraith
** HUDSON'S BAY COMPANY HERITAGE
** BOOK: EMPORER of the NORTH by James Raffan
During his reign as the Hudson's Bay Company (HBC) Governor of Rupert's Land, his dictates profoundly affected the lives of almost all of our Red River Ancestors of that era.
Two Daughters out of Wedlock
Even before joining the HBC, SIMPSON had already acknowledged two daughters born out of wedlock in Britain. Marie Louisa born in 1815 and Isabella born about 1817.
George comes to Canada
1820
The HBC's London committee lost faith in Colin ROBERTSON (1783-1842) and William WILLIAMS (1770-1837) and decided to select another manager for North America. WEDDERBURN, who had since changed his name to Andrew COLVILLE (1779-1856), used his influence to have George SIMPSON appointed governor-in-chief locum tenens in 1820. In the following months, SIMPSON travelled to many posts and familiarized himself with the HBC's operations and holdings.
** MORE ABOUT COLIN ROBERTSON in DCBO
** MORE ABOUT WILLIAM WILLIAMS in DCBO
** MORE ABOUT ANDREW COLVILLE in WIKIPEDIA
Union of the HBC and the North West Company
1821
In 1821 the union of the North West Company (NWC) and the Hudson's Bay Company (HBC) occurred, ending years of bitter rivalry for dominance of the fur trade in Western Canada. After the merger, almost 1,300 employees lost their jobs since the single HBC organization that emerged had no need for most of the voyageurs and retired fur traders.
Merging the Companies(Parks Canada)
Tired of the ongoing battle for control of the most lucrative trade grounds, the HBC governing board pushed for an agreement between the two companies. In March of 1821, the HBC and NWC merged under the title of the Hudson's Bay Company. This gave the HBC a monopoly of control over the fur trade in British North America for more than 40 years. Territory was divided into two regions, the Northern and Southern Department, the former being more profitable. WILLIAMS, designated as the senior governor, was expected to choose the Northern Department, but forego the option and took the southern. This decision left SIMPSON, then junior governor, control of more fertile trading grounds.
George and Elizabeth "Betsey" SINCLAIR
Betsy SINCLAIR was the daughter of NAHOVWAY and William SINCLAIR (1766-1818), a former HBC officer from the Orkneys.  ** MORE ABOUT WILLIAM SINCLAIR
From the book Tender Ties (Pg 115, 161):  Sometime in 1821 during his first year in Rupert's Land, SIMPSON formed a union with Betsy SINCLAIR.  From Betsy's point of view, the prospect of having such an important husband was undoubtedly attractive, and again fur-trade society assumed that SIMPSON would treat her as a country wife.  In a York Fort journal on Feb 10, 1822, the writer saw fit to record that "Mrs. SIMPSON was delivered of a daughter."  SIMPSON did not regard Betsey in this light; to him, she was "his article", "an unnecessary & expensive appendage" for whom he had little time since he was kept busy with extensive tours of the Company's operations.  When SIMPSON set off from York Factory that fall, he left it to his friend John George McTAVISH (1778-1847) to dispose of Betsey as he saw fit, with the proviso that she should not become "a general accommodation shop". 
** MORE ABOUT JOHN GEORGE McTAVISH in DCBO

Upper Fort Garry
1822
On May 20, 1822, SIMPSON reported to the board of governors of the HBC that he had established a fort at the junction of the Red and Assiniboine Rivers. He named it Fort GARRY (the Upper Fort) after Nicholas GARRY (1782-1856), President of the Council of the Northern Department of the HBC.Around this fort was to grow the city of Winnipeg. 
** MORE ABOUT NICHOLAS GARRY in DCBO
l
Strangers in Blood pg 123: It is clear, however, from his actions and from the record of his private correspondence with J.G. McTAVISH that he (SIMPSON) did not regard this alliance as binding and did not view Betsey as his wife. His attitude went against conventions of that time and place; while the York Factory journal for Feb 10, 1822 recorded that Maria was born to "Mrs. SIMPSON" on that day, SIMPSON referred to her by such terms as "my article" or "my Japan help-mate." In June of 1822, he asked McTAVISH to send his "Damsel" from York to the care of her brother-in-law, Thomas BUNN, "as I do not wish to be troubled with a Lady during the busy Season" (Fleming 1940:411). On Nov 12, 1822, he wrote from an inland post to McTAVISH at York that he was leaving his "Family concerns" to the latter's "kind management." **Note: Thomas BUNN (1765-1852), a retired HBC Accountant from England, was married to Phoebe SINCLAIR, Margaret's sister.
When young clerk Robert MILES took Betsy SINCLAIR as a "Femme du Pays" at York Factory in the fall of 1822, a friend recorded that "we had a Dance & supper on the occasion, when no one but the happy swain (young lad) was allowed to go sober to bed." ** Note: This was Robert Seaborne MILES (1795-1870), an HBC employee who began his HBC service in Montreal and became an Accountant at York in 1821.
The Columbia Express – York Factory to Fort Vancouver
1824-25
In July of 1824 the Northern Department council appointed Chief Trader James McMILLAN to accompany SIMPSON to the Columbia, and also assigned Chief Factor John McLOUGHLIN (1784-1957) to the Columbia district. McLOUGHLIN left for the Columbia from York Factory in August of 1824; SIMPSON and McMILLAN followed on Aug 15.
** MORE ABOUT JOHN McLOUGHLIN in DCBO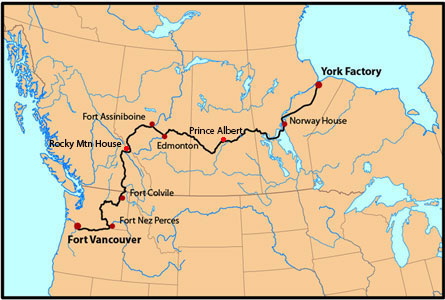 Route of the Columbia – York Factory Express
Modern day political boundaries are shown.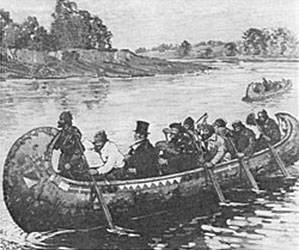 Simpson and his voyageurs
At Cumberland House they picked up Alexander KENNEDY (1781-1832) who was selected to be the Chief Factor at Fort George (previously NWC's Fort Astoria). ** MORE ABOUT ALEXANDER KENNEDY
In September the parties joined near the Athabasca River, and continued on to Fort George at the mouth of the Columbia, arriving on November 8. Soon after his arrival, SIMPSON ordered the abandonment of Fort George, and on March 19th, 1825 he presided over the birth of HBC's newest post at point Belle Vue on the north bank of the Columbia River, some 100 miles (160 km.) upstream from its mouth. The occasion was marked by SIMPSON smashing a bottle of rum against the new post's flagstaff and proclaiming: "In behalf of the Honourable Hudson's Bay Company I hereby name this establishment Fort Vancouver. God Save King George the Fourth!" (HBC Heritage).
After Simpson's party arrived at Fort George, Chief Factors KENNEDY and McLOUGHLIN were dispatched to find a suitable site for a new post on the north side of the Columbia.
Women of Red River:  Mrs. John NORQUAY remembers going down to the Stone Fort to see Sir George's arrivals in state  "The canoes were elaborately decorated, and there was always a piper playing as they came up the river, and the guns at the Fort were fired in salute".  Of the speed with which Sir George used to travel, it is recorded that in 1822, the year after he was appointed Governor, he made the over-land trip from Hudson Bay to the Pacific by lake, river, and trail, in only 90 days, of which he spent 16 at the important posts.  Sir George was a man of remarkable ability and energy; he judged rightly the effect of pomp and circumstance, especially upon the Indians. ** Note: This would probably be Isabella TRUTHWAITE who was the wife of John NORQUAY (1810-1849) and her observation must have been made in the 1830's after her husband became an HBC voyageur himself. ** MORE ABOUT JOHN NORQUAY
George and Margaret TAYLOR
A Second Legendary Trip to Fort Vancouver
1826-1829
In 1826 William WILLIAMS was retired and SIMPSON was appointed to the dual Governorship of both Northern and Southern Departments of Rupert's Land, and established his headquarters in Lachine.
It was in 1826 that George began a connubial relationship with Margaret TAYLOR, the sister of his personal servant, Thomas TAYLOR (1800-1879). Margaret and her sister, Mary TAYLOR, were widely admired, not only for their beauty, but for their "civilized womanly qualities". They were children of a Cree Indian woman named Jane and George TAYLOR (1759-1844), an HBC Sloop Master from England. ** MORE ABOUT GEORGE TAYLOR
TenderTies: Initially, his attitude toward Margaret shows that the Governor regarded mixed-blood women primarily as objects for sexual gratification.
In the fall of 1826, SIMPSON made another legendary canoe trip from York Factory to Fort Vancouver (now in Washington State). A major reason for the trip was to determine if the Fraser River route to the Pacific could be developed as an all-British alternative to the Columbia.
Upon his departure, he left Margaret at York Factory under the surveillance of Chief Factor John George McTAVISH (1778-1847)  Prey keep an eye on the commodity if she bring forth anything in proper time & of the right colour let them be taken care of but if anything amiss let the whole be bundled about their business... 
** MORE ABOUT JOHN GEORGE McTAVISH in DCBO

On Feb 11, 1827 Margaret gave birth to George's child, George Stewart SIMPSON.
In 1828 Amable HOGUE (1796-1858) arrived from Montreal as yet another servant for SIMPSON.
George remained on the Pacific coast until the spring of 1829. That summer, he made arrangements for Margaret, now far advanced in her second pregnancy, to stay at Bas de la Riviere (Fort Alexander) with her sister and brother-n-law, Mary and Chief Factor John STUART (1780-1847) until his return from another planned furlough. 
** MORE ABOUT JOHN STUART in DCBO

In August of 1829 Margaret TAYLOR gave birth to their second child John McKenzie SIMPSON.  
His return trip took him to Norway House and Moose Factory to meet with his Departmental Councils and then to Lachine, where he arrived by the end of August, along with his servant, Amable HOGUE.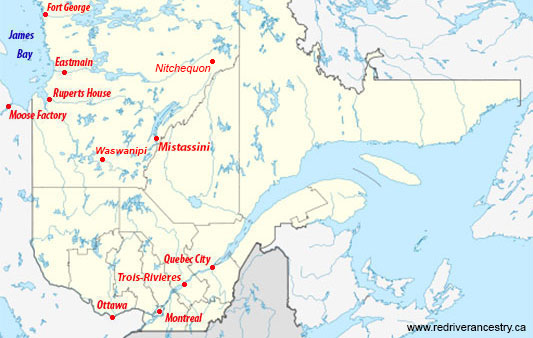 Lachine is located not far southwest of Montreal
Marriage to Frances Geddes SIMPSON
1830
On Feb 24, 1830 at St. Mary's Church, Middlesex, SIMPSON married his beautiful 18 year-old cousin Frances, daughter of Geddes Mackenzie SIMPSON.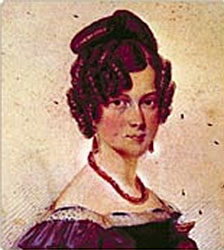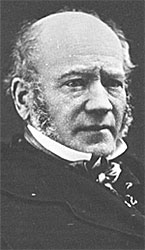 Frances Geddes Simpson - Governor George Simpson
In 1830 SIMPSON sent HOGUE from Montreal to Red River. It appears that he had arranged for him to marry his now abandoned concubine. On Mar 24, 1831 Margaret TAYLOR married Amable HOGUE.
Lower Fort Garry
1832
By 1833 Frances SIMPSON found life in the wilderness too much; she returned to England where she would would remain for the next five years.
Around 1833 George's illegitimate Scottish daughter Maria Louisa married Donald MacTAVISH

In 1838 George's illegitimate Scottish daughter Isabella married James Cook GORDON of Jamaica. Note: Both MacTAVISH and GORDON were lawyers, according to Raffan.
In August of 1838 George's Half-breed daughter Maria (George's child with Betsy SINCLAIR) married English Botanist, Robert WALLACE (1814-1838) at Norway House. On Oct 22, 1838 Maria and Robert WALLACE were drowned in the Columbia River on their way to Oregon Territory.
An Overland Journey Round the World
Knighted by Queen Victoria
1841-1842
In 1841 George accompanied Eden COLVILLE (1819-1893) to Red River. A little later, they started on a trip around the world that took them overland across British North America, Asiatic Russia and Europe.
Son George Stewart joined the HBC at Fort Vancouver that year. He voyaged to Honolulu with his father and spent the next four years in apprenticeship there.
In 1841, George was knighted by Her Majesty Queen Victoria as Sir George SIMPSON, in recognition of his assistance in the Arctic explorations of his cousin, Thomas SIMPSON (1808-1841) and Peter Warren DEASE (1788-1863). This honor also acknowledged his position of importance in the business world and his contribution as an adviser on foreign affairs to the British government.
In 1853 George's wife Frances Geddes SIMPSON died.
In 1857 son George Stewart SIMPSON married Isabella YALE in Langley, BC, daughter of James Murray YALE.
In 1859 son John McKenzie SIMPSON married in St James to Amelia FIDLER, daughter of Ann SAUNDERS and Charles FIDLER (1798-1886) both half-breeds. ** MORE ABOUT CHARLES FIDLER
On Sep 7, 1860 Sir George SIMPSON died in Lachine, Lower Canada.
Galbraith: The bulk of his estate was bequeathed to his son John Henry Pelly SIMPSON and each of his three legitimate daughters received £15,000 (Frances, Augusta and Margaret), with the provision that if a daughter married without the consent of the executors she would lose the legacy. He also stipulated that if his son had no male heirs the estate would pass to his daughters' male heirs, provided they agreed to take the name of SIMPSON. Only one of his illegitimate children was named in his will: his Scottish daughter, Maria MACTAVISH, widow of Donald, was bequeathed an annuity of £100.
Please post comments and queries at this link: FORUM DISCUSSING SIR GEORGE SIMPSON & DESCENDANTS
========================= Family Details =========================
Children (Illegit) in Britain:
1.  Oct 25, 1815 MARIA LOUISA SIMPSON (Donald MACTAVISH)
2. 1817 ISABELLA SIMPSON (m. James Cook GORDON)
Child by BETSY SINCLAIR:
1. Feb 10, 1822 MARIA SIMPSON (m. Robert WALLACE)
Child re "dalliance with the wife of James KEITH":
1. 1826 JAMES KEITH SIMPSON
Children by Marg TAYLOR:
1. Feb 11, 1827 GEORGE STEWART SIMPSON JR (m. Isabella YALE)
2. Aug, 1829 JOHN McKENZIE SIMPSON (m. Amelia Mary "Amy" FIDLER)
Children by Frances Geddes SIMPSON:
1. 1831 GEORGE GEDDES SIMPSON (Died in infancy)
2. 1833 FRANCES WEBSTER "FANNY" SIMPSON
3. 1841 AUGUSTA d'ESTE (GUSSY) SIMPSON
4. 1843 MARGARET MACKENZIE (MAGGIE) SIMPSON
5. 1850 JOHN HENRY PELLY SIMPSON