AMABLE HOGUE (1796-1858)
MARGARET TAYLOR (1805-1885)
(Last Updated: December 16, 2015)
Amable HOGUE was born July 14, 1796 in St Vincent de Paul, PQ, son of Marie Anne LABELLE and Louis Amable HOGUE (b-1763).
Amable joins the Hudson's Bay Company
1821
On Jan 12, 1821 Amable joined the Hudson's Bay Company (HBC), spending his first winter at Norway House. During 1822-23 he served in the Bow River District.
From 1823 to 1825 Amable served in the Columbia District.
In 1824 Governor George SIMPSON (1786-1860) arrived in the Columbia District on his first overland trip from York Factory to the Pacific. In 1825 SIMPSON assigned Amable HO0GUE the task of transporting him back to Montreal where he stayed until 1828 when Amable transported SIMPSON on his second trip to the Columbia.
** MORE ABOUT GOVERNOR GEORGE SIMPSON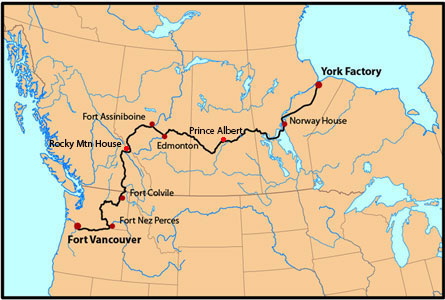 Route of the Columbia – Simpson's York Factory Express
Modern day political boundaries are shown.
Marriage to Margaret TAYLOR
Red River
1831
In 1830 Governor SIMPSON sent Amable HOGUE from Montreal to Red River where he functioned as a mason, helping to build Lower Fort Garry. It appears that SIMPSON had arranged for Anable to marry his now abandoned concubine, Margaret TAYLOR, daughter of a Cree Woman and HBC sloop-master George TAYLOR (1759-1844). The marriage took place on Mar 24, 1831. ** MORE ABOUT GEORGE TAYLOR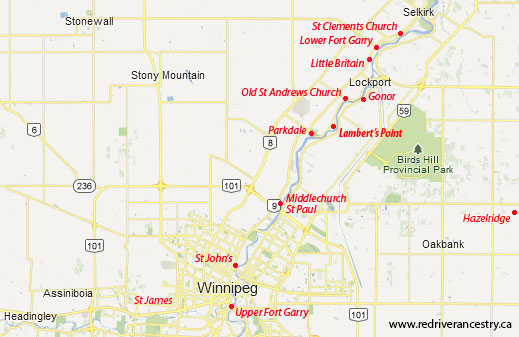 Upon his marriage to Margaret TAYLOR in 1831, Amable became the step-father to her two children with George SIMPSON; George Stewart (age 4) and John McKenzie SIMPSON (age 2).
In 1833 Amable became a "freeman" (retired from HBC service) and settled in St Charles, Assiniboia. In the 1835 Red River census he was recorded there as the owner of a house and stable. He had a mare, three cows, a calf and five pigs. He had a plough and a cart and he had six acres of land under cultivation.
Around 1851 eldest daughter Mary became the third wife of William BREMNER in St Boniface, son of Elizabeth TWATT and Alexander BREMNER (1791-1885). ** MORE ABOUT ALEXANDER BREMNER
In 1857 step-son George Stewart SIMPSON married Isabella YALE at Fort Langley (BC), daughter of James Murray YALE (1796-1871).
On Feb 26, 1858, Amable HOGUE died in Red River.
In 1859 step-son John McKenzie SIMPSON married Amelia FIDLER in St James (Red River), daughter of Ann SAUNDERS and Charles FIDLER (1798-1886). ** MORE ABOUT CHARLES FIDLER
Also in 1859 daughter Marguerite married Andre ROBILLARD in St Boniface, the son of Marie-Rose Antoinette LAGIMODNIERE and Jean Baptiste-Lambert ROBILLARD (1783-1839) from Quebec.
Around 1860 son Amable Jr married Betsy MORRISETTE, daughter of Philomene FAVEL and Francois MORRISETTE (1814-1870).
In 1865 son Thomas married Philomene McMILLAN in St Boniface, daughter of Margaret DEASE and William McMILLAN (1805-1903).
By about 1865 son Antoine was married to Crawford BROWN, daughter of Sarah BREMNERE and Peter BROWN (1806-1758) from the Orkneys.
In 1866 daughter Elizabeth married Frank AYMOND of uncertain origins.
Canadian Confederation
A Red River Rebellion
Manitoba becomes a Province
1867-1870
On July 1, 1867 the British colonies in North America were united under the British North American Act to become the Dominion of Canada.  Sir John A MACDONALD (1815-1891) was appointed as Canada's first Prime Minister. William McDOUGALL (1822-1905) became the Minister of Public Works, and he began negotiations to acquire Rupert's Land from the HBC; surveyors were sent to Red River to prepare the way for an expected influx of settlers.
In 1868 son Louis married Julie TURCOTTE, daughter of Madeleine CAPLETTE & Vital TURCOTTE (1818-1882).
Around 1869 daughter Marie Ann married Francois WELSH, son of Charlotte SAUVE and Francois Xavier WELSH (b-1797).
On Oct 11, 1869, Louis RIEL (1844-1885) placed his foot on the surveyors' chain to tell them their work was finished! This marked the beginning of the historic Red River Métis Rebellion.
On July 15, 1870 the Rebellion ended when RIEL's Provisional Government accepted the terms of the Manitoba Act and Manitoba became the fifth province of Canada.
In 1875 Margaret, a resident of St Charles, applied for her Metis Scrip as the widow of Amable HOGUE.
Around1875 son Joseph was married his sister-in-law Pelagie TURCOTTE, daughter of Madeleine CAPLETTE and Vital TURCOTTE (1818-1882).

Census 1881: Widow Margaret HOGUE (age 60) with daughter Mary Ann and her hubby, Francois WELCH, in Assiniboia.
On Dec 16, 1885 Margaret (nee TAYLOR) HOGUE died in St Charles; buried in St Charles RC Cemetery.
Comments and queries at this link: FORUM DISCUSSING the FAMILY OF AMABLE HOGUE
=========================== Family Details ===========================
Children of Margaret TAYLOR and George SIMPSON:
1. Feb 11, 1827 GEORGE STEWART SIMPSON JR (m. Isabella YALE)
2. Aug, 1829 JOHN McKENZIE SIMPSON (m. Amelia FIDLER)
Children Margaret TAYLOR and Amable HOGUE:
1. Jan 18, 1832 MARY HOGUE (m. William BREMNER)
2. May 6, 1833 AMABLE HOGUE JR (m. Betsy MORRISETTE)
3. Dec 30, 1835 JOSEPH HOGUE (m. Pelagie TURCOTTE)
4. July 6, 1838 MARGUERITA HOGUE (m. Andre ROBILLARD)
5. Apr 1, 1843 THOMAS HOGUE (m. Philomene McMILLAN)
6. Dec 24, 1844 ANTOINE HOGUE (m. Crawford BROWN)
7. Jun 10, 1846 LOUIS HOGUE (m. Julie TURCOTTE)
8. Oct 20, 1848 ELISABETH (BETSY) HOGUE (m1. John MARCELLAIS, m2. Frank AYMOND)
9. 1850 MARIE ANN HOGUE (m. Francois WELSH)