GEORGE TAYLOR (1759-c1844)
JANE CREE INDIAN (1780-1844)
(Last Updated: February 04, 2017)
George TAYLOR was born Aug 19, 1759 in Berwick-on-Tweed, England.
Some references indicate that he was the son of Mary WATSON & Matthew TAYLOR (b-c1735); others that he was the son of Margaret GRIEVE and George TAYLOR SR (1726-1758).
**Caution: When attempting to determine George's true origins on the Internet, Ancestry.com and elsewhere you will find a genealogist's nightmare of contradictory and confusing information; much of it is obviously simply misinformation! He and his wife Jane are most often confused with his son of the same name who also had a wife named Jane. It is my hope that someone will come forward on this Forum with some concrete, proven/ documented information that will solve the puzzlement.
Sloop Mate at Fort Prince of Wales
1787-1792
On May 17, 1787 George TAYLOR was about 28 years old  when he signed his first contract with the Hudson's Bay Company (HBC) to serve as a Sloop's Mate for three yrs at 25£ per annum, probably aboard the Seahorse III.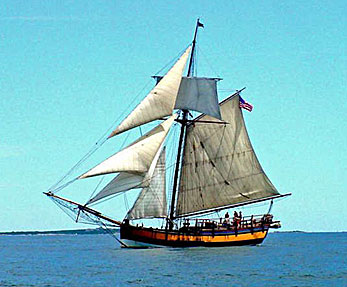 The Sloop that George Taylor served on was probably similar to this one.
A Sloop might have been anything from a single-masted ship to a three-masted ship
with a crew of up to 75. Slim, fast, and extremely seaworthy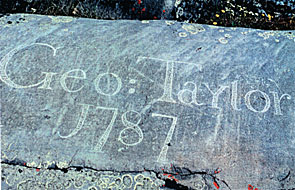 Inscription on a rock at Sloop's Cove
(Photo courtesy of Ellen Paul)
In 1787 George's base of operations was at Fort Prince of Wales (Churchill) on Hudson Bay. That was the year that the famous explorer Samuel HEARNE (1745-1792) retired as the Chief Factor there; he was replaced by William JEFFERSON (b-c1740).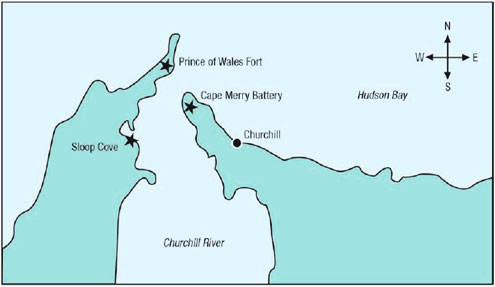 The three sites that comprise Prince of Wales Fort NHSC, Churchill (Manitoba)
In June, 1788 the Master of the Sloop Churchill, Thomas PRINCE, drowned and George TAYLOR was appointed to the vacant command.  His wages increased to 46£ per annum on his promotion. His logs regarding trading voyages to Marble Island carried out by the sloop in 1788, 89, and 1790 are preserved in the HBC Archives. Rankin Inlet is located on the western shore of Hudson Bay, far to the north of Churchill, and Marble Island is about 70 km from there.  The inlet was an important meeting place for the Inuit.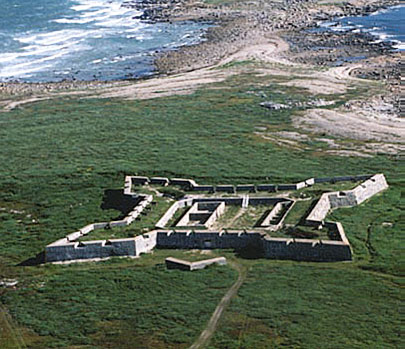 Fort Prince of Wales (Still standing today)
Severn District and the Brig Beaver
1791-1793
In 1791 George began serving aboard the Brig Beaver, first as Ship's Mate; then in 1793 as Master working in the Severn District (Fort Severn shown on map above).
A Cree Wife named Jane
Perhaps around 1797, while working the Severn District, George was united with Jane, a Cree Indian woman. Their first children, George Jr., Peter and Thomas were reportedly born between 1798 and 1802.
In August of 1803 George returned home to England aboard the ship King George. He returned to York Factory in 1804 on the same ship to resume command of the Brig Beaver. 
1805
From 1805 to 1813, according to the HBC Archives George was Master of the Brig Beaver in the Severn River District. It was during this period that the rest of his children were born; reportedly daughters Margaret, Mary and Nancy.
** Note: The details about George's children (their names and birth dates) are very poorly documented by most sources that I have found.
HBC Restructured
1810
In 1810 the HBC divided Rupert's Land into two new jurisdictions, the Northern and Southern Departments. William AULD (1770-1830) was appointed Superintendant of the Northern Department (Churchill, York Factory, Winnipeg and Saskatchewan Districts). Thomas THOMAS (1765-1828) was appointed Superintendant of the Southern Department (Fort Albany, Moose Factory and Eastmain Factory). That year, John HODGSON was replaced by Englishman Thomas VINCENT (1776-1832) as the Chief Factor in charge of the Albany District.
1813-1818
HBC Archives: During the Outfit Year 1813-14 George was Master of the Schooner "Eastmain" in the York District. In 1815 he was "Home" (in England).
In 1815 George TAYLOR SR would have been about 56 years old. His three sons (George Jr., Peter and Thomas) would have been in their teens. It has been said that their father took them (and perhaps youngest daughter Nancy) with him to England to be educated on that 1815 trip home.
Many Tender Ties by Sylvia Van Kirk: George TAYLOR had indeed retired to England in 1815, but returned to service and to Canada in 1818.  His daughter Nancy went back to England, only to return a short while later.
HBC Archives: In 1818 he returned to the York Factory District as a Pilot on the Ship "Britannia." ** This is where his HBC Biography ends.
Union of the North West Company with the Hudson's Bay Company
1821
In 1821 union of the North West Company (NWC) and the Hudson's Bay Company (HBC) occurred, ending years of bitter rivalry for dominance of the fur trade in Western Canada. After the merger, almost 1,300 employees lost their jobs. At the time of the HBC-NWC union, (Sir) George SIMPSON (1786-1860) became the Governor of Rupert's Land.
It seems quite plausible that George Sr. may have been among the HBC employees who were retired soon after the aforementioned HBC-NWC merger. He was, after all, about 62 years of age by that time.
In 1822 George's son, Thomas TAYLOR became the personal assistant to Governor George SIMPSON, and in 1825 daughter Margaret became one of his "country wives".
In 1829 Jane CREE (George's wife) was living with her daughter, Margaret, at Bas De La Riviere (Fort Alexander, MB). Some references indicate that Jane died there around 1844.
When and where did George TAYLOR SR. die? Some say 1838 in England, others say Nov 15, 1844 in England.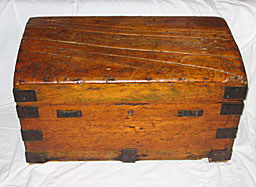 George Taylor's trunk which was in the possession of Vera Smith,
George Taylor's great granddaughter
(Photo courtesy of Ellen Paul)
There are many details about this family that need to be proven or verified. Help will be greatly appreciated.  Please post comments & queries at this link: FORUM DISCUSSING GEORGE TAYLOR SR
=========================== Family Details ===========================
The HBC Archives (stating source as Warren Sinclair's Métis Genealogies) list George's children as George Jr., Thomas, Margaret and Mary and does not provide any birth dates.
Children (birth dates only approximate):
1. c1800 GEORGE TAYLOR JR (m. Jane PRINCE)
** MORE ABOUT GEORGE TAYLOR JR
2. c1798 PETER TAYLOR
3. c1802 THOMAS TAYLOR SR (m. Mary KEITH)
4. c1805 MARGARET TAYLOR (m1. Governor George SIMPSON, m2. Louis Amable HOGUE)
** MORE ABOUT GOVERNOR GEORGE SIMPSON
5. c1806 MARY TAYLOR (m. John STEWART)
6. c1811 NANCY (ANN) TAYLOR (m1. William HARPER, m2. John COX)
** MORE ABOUT JOHN COX
7. c1815 ROBERT TAYLOR