GEORGE TAYLOR (1800-1844)
JANE PRINCE (c1810-?)
(Last Updated: July 03, 2017)
George TAYLOR, a Half-breed, was born around 1800 at York Factory to a Cree Indian named Jane and Sloop Master George TAYLOR SR (1759-1844) from England.  ** MORE ABOUT GEORGE TAYLOR SR
In 1815 George's father (George Sr.) sailed to Europe. George went with him to receive an education at Aberdeen University.
In 1818 George's father returned to York Factory as a Pilot on the Ship "Britannia".
George begins his career with the Hudson's Bay Company
1819
In 1819 George joined his father in the employ of the Hudson's Bay Company (HBC). His first assignment was that of a Clerk; 1819-20 at York Factory and 1820-21 at Fort Prince of Wales (Churchill).
Union of the North West Company with the Hudson's Bay Company
1821
In 1821 union of the North West Company (NWC) and the Hudson's Bay Company (HBC) occurred, ending years of bitter rivalry for dominance of the fur trade in Western Canada. After the merger, almost 1,300 employees lost their jobs. At the time of the HBC-NWC union, (Sir) George SIMPSON (1786-1860) became the Governor of Rupert's Land.
George was no stranger to sailing and sailing ships. He essentially grew up on them, often assisting his father who retired after the NWC-HBC union of 1821. That year the younger George became Master of the one of the sloops his father had previously commanded, the Sloop Severn.
From 1823 to 1827 George served as a Clerk in the winters and as a Sloop Master in the summers in both the York Factory and Churchill districts. He seems to have been a master of many trades, including that of a part-time surveyor and cartographer as well.
During this period George's brother Thomas became the personal assistant of Governor George SIMPSON; and his sister Margaret became the Governor's "country wife".
George & Jane PRINCE
It was probably before 1827 that George began a connubial relationship with Jane PRINCE from Fort Albany while he was still working the ships and HBC posts around York Factory and Churchill. Jane was the daughter of Jane HODGSON and Mark PRINCE. ** BIO of MARK PRINCE in the HBC ARCHIVES
Red River
1827-1829
In the fall of 1827 George travelled to Red River via the Hayes River trade route, doing cartographical observations and making sketch-maps along the way. That winter he produced an "1827 Map from York Fort to Winnipeg Lake through Hayes River, etc".  After he arrived at Red River, he was also employed in taking a chain of observations along the 49th parallel (US-Canada Border).
On Jan 11, 1828 George and Jane were church-wed by Reverend David JONES (1796-1844). At that time he was described as a Sloop Master; Jane as "a native of Albany, daughter of Englishman Mark PRINCE." Daughter Mary was born in October that year.
Oxford House – York Factory
1829-1832
In 1828-29, according to the HBC Archives, George was appointed to be a Clerk in the Columbia District but apparently he never got there. Instead, in 1829-30 he was posted to Oxford House in the Island Lake District, then back to York Factory.
In 1829 Jane produced two more children at York Factory(Jane in February, their first son, George Jr. in October).
Lake Winnipeg - Red River
1832
From 1832 onward George spent the rest of his HBC career in Red River (St Andrews Parish), first as a Master on Lake Winnipeg Vessels (York boats) and later as a Clerk and Surveyor at Lower Fort Garry.
In 1832 Governor SIMPSON reported of George TAYLOR "…About 40 years of Age…Was intended for the Naval Country Service, but has not been regularly bred to Sea and is not qualified to command a Ship altho' he understands the theoretical part of his profession: is a good Draftsman and a tolerable Clerk. Has no command over the people, does not seem to possess much Nerve and if not closely watched is likely to take to the Bottle. At the height of his ambition; stationed at York."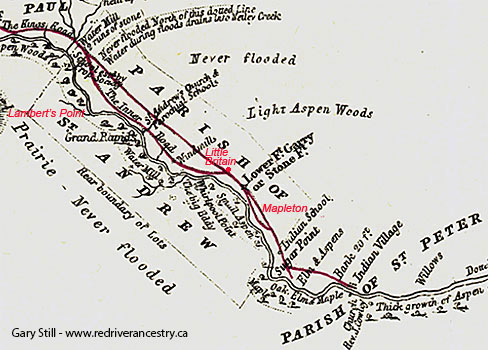 St Andrews Parish from Hind's Map of 1857
Manitoba Historical Society:  - - The next survey of which we have record was a survey of the Red River Settlement made by George TAYLOR in 1836, 1837 and 1838, and appears to have covered all previous surveys. This survey is generally called the "Old Settlement Belt Survey." TAYLOR was Surveyor for the Colony from 1836 to 1844, and while his name does not appear on the plan of the Settlement it is generally acknowledged to be his work. It would appear that he surveyed 1,542 lots along the Red and Assiniboine Rivers from Selkirk to St. Norbert on the former and as far west as St. Francois Xavier on the latter, corresponding to what are now the Parishes of St. Boniface, St. Vital, St. Norbert, St. John, Kildonan, St. Paul, St. Andrews, St. Clements, St. James, St. Charles, Headingly and St. Francois Xavier. I understand that this plan was the basis of all the Hudson's Bay Company Land Grants in the Red River Settlement, as we have no record of any further surveys of the river lots until after Confederation.
In 1836 son Robert was born; daughters Victoria in 1837 and Sarah in 1838; son Edward in 1840.  In 1843 their last/ youngest child Thomas was born.
Hawthorne Lodge Property
1839
In 1839 George obtained an HBC Land Grant for the property later (not until 1858) known as Hawthorne Lodge at Little Britain (south of Lockport).
George TAYLOR Dies
1844
An interesting side-note: In 1844 the famous explorer Dr. John RAE (1833-1893) had to qualify as a Surveyor. His would-be instructor, George TAYLOR, was too ill to teach at Red River Settlement. 
On Nov 15, 1844 George TAYLOR died of a heart attack at Fort Dauphin (MB). He was only about 44 years old
In 1847 daughter Mary married John SMITH, son of neighbours Mary (Indian) & John James SMITH (1791-1850).
** MORE ABOUT JOHN JAMES SMITH
In 1848 daughter Jane married Frederick HEMMINGWAY (born 1817 in England).
In 1851, teen-age daughter Victoria married Alexander THOMAS, son of Eleanor & Richard THOMAS (1800-1861) who operated a Grist-Mill at Lockport. ** MORE ABOUT RICHARD THOMAS
Around 1854, George TAYLOR JR. married Isabelle COOPER, daughter of Catherine THOMAS and Thomas COOPER (1810-1846) from England. 
In 1862, son Edward married Mary SABISTON, daughter of Sarah FLETT & Alexander SABISTON.
In 1867 son Robert married Eliza WALLER, daughter of Nancy BIRSTON & James WALLER (1800-1876), an Englishman. ** MORE ABOUT JAMES WALLER
Finally in 1868 son Thomas married Mary Anne YOUNG, daughter of Isabelle STEVENS and James YOUNG (1822-1870). ** MORE ABOUT JAMES YOUNG
Please post comments & queries at this link: FORUM DISCUSSING GEORGE TAYLOR JR and his FAMILY
=========================== Family Details ===========================
Children:
1. Oct 12, 1828 MARY THOMAS TAYLOR (m. John SMITH JR)
2. Feb 1, 1829 JANE TAYLOR (m. Frederick HEMMINGWAY)
3. Oct 1, 1829 GEORGE SIMPSON TAYLOR (m1. Isabella COOPER)
4. 1836 ROBERT ALEXANDER "BOB" TAYLOR (m. Eliza WALLER)
** MORE ABOUT ROBERT TAYLOR
5. Feb 25, 1837 VICTORIA TAYLOR (m. Alexander THOMAS)
6. June 1, 1838 SARAH TAYLOR
7. 1840 EDWARD PRINCE TAYLOR (m1. Mary SABISTON, m2. Sarah (nee SMITH) STEVENS)
** MORE ABOUT EDWARD PRINCE TAYLOR
8. 1843 THOMAS TAYLOR (m. Mary Ann YOUNG)