RICHARD THOMAS (1800-c1861)
ELEANOR THOMAS (1807-1878)
(Last Updated: May 22, 2017)
Richard THOMAS was born around 1800 in the Albany River district west of James Bay, the only son of six children born to Half-breed Catherine BEST and Englishman William THOMAS (1780-1818), a Hudson's Bay Company (HBC) fur trader who spent most of career at inland posts along the Albany River. ** MORE ABOUT WILLIAM THOMAS
From Aug 19, 1808 to Sep 14, 1809 Richard (age 9) appears on a list of children who attended a school at Fort Albany.
In 1815, in his mid-teens Richard began to work for the HBC himself as a Labourer and Hunter at Martin Falls and at Fort Albany. ** MORE ABOUT RICHARD's HBC CAREER
** Please note that the accuracy of some of the information provided in this Biography regarding Richard's children is questionable and conflicts with information from other sources.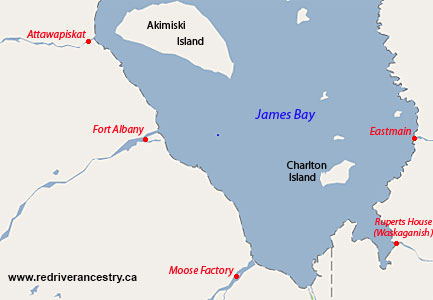 In 1818 Richard's father (William) died in England at the age of 38 on a last visit to his homeland. Richard became the father-figure and provider for his mother (Catherine) and his five young sisters (Eleanor, Charlotte, Mathilda, Catherine and Nancy).
In 1820 Richard began to work as a steersman (canoe man) and was moved to the Moose Factory District.
Union of the North West Company and the HBC
1821
By October of 1821, the HBC and the North West Company (NWC) agreed on terms and approved an "amalgamation." The new, merged Company retained the HBC name and governing board in London.
From 1822 on, Richard's duties as steersman caused him to move around quite a bit; Abitibi River, Moose Factory and finally Rupert's River District where he would remain for the rest of his HBC career as a Post Master and Interpreter, mostly at an inland post at Pike Lake, southwest of Lac Chibougamau (Quebec).
Union with Eleanor THOMAS
1823
It was around 1823 that Richard began a connubial relationship with Eleanor THOMAS (not related), daughter of Mary MEENISH (an Indian) and Half-breed John THOMAS (1784-1816) who died when Eleanor was only nine years old. She was now a step-daughter of Richard STEVENS (1796-1872), an Englishman.
** MORE ABOUT MEENISH & RICHARD STEVENS
Around 1823 Eleanor gave birth to their first child, Alexander.
By 1827 Eleanor's mother and step-father (MEENISH & Richard STEVENS) and their children had moved south to Red River (St Andrews). It was around that time that Eleanor gave birth to their first child, Alexander.

Richard and his family move to Red River
1836
Eleanor & Richard remained in the Rupert's River District until 1836 by which time they had four children: Louisa, Mathilda, Alexander and Richard Jr. Richard was retired that year and the family moved to Red River.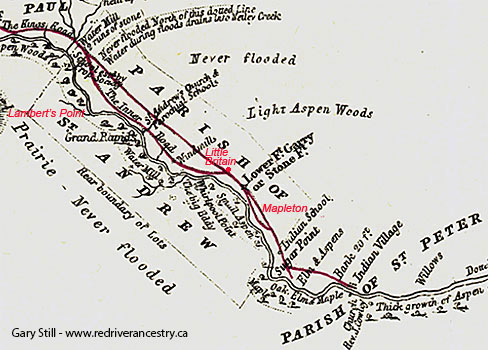 From Hind's Map of 1852
According to HBCA, On Nov 13, 1837 both Eleanor & Richard, as well as children Matilda, RichardWilliam and Charles(?) Thomaswere baptised. Charles in this statement is somewhat puzzling. At first I thought this might be Eleanor's brother named Charles. However, son Alexander is not mentioned, suggesting this might actually be him (perhaps his name was Charles Alexander?).
Richard and Eleanor were church-wed on Dec 21, 1837 in St Andrews Parish. The clergyman at that time was probably Reverend William COCKRAN (1798-1865) although Reverend David JONES (1794-1844) was also still at Red River then (he left in 1838).
On Nov 2, 1843, daughter Mathilda died in St Andrews at the age of 14.
Richard THOMAS (re Danwich) operated a Grist-Mill on the Creek at what was known as Little Britain and is now Lockport, MB.
Perhaps around 1850 daughter Margaret married Robert PEEBLES, son of Mary or Nancy (Indian) and James PEEBLES (1780-1840) from the Orkneys of Scotland. ** MORE ABOUT JAMES PEEBLES
On Oct 9, 1851 son Alexander married Victoria TAYLOR b-1834, daughter of Jane PRINCE & George TAYLOR (1800-1844). ** MORE ABOUT GEORGE TAYLOR
In 1858 son Richard married in St Andrews to Mary THOMAS, daughter of Mary BOUUVIER & Charles THOMAS (1814-1904). ** MORE ABOUT CHARLES THOMAS
Richard died around 1861.
Richard's Will
1861
Richard's Will::  Signed by him in 1861:  "I give to my dear loving wife (Eleanor), the house where in I now dwell with all the furniture and the lands attached to it, also the stove, the old grey mare and cow and calf.  I bequeath to my son Alexander, the windmill, after the expiration of the lease to Charles FOY with this provision, that he give his mother a share during her life, say one-third of the mootr-i Grain by grinding.  After her death the mill to be solely his property.  I bequeath to my daughter Louise, a cow and calf.  I bequeath to my son Richard, a young ox and a young bull, also the plough.  I bequeath to my daughter Margaret, a cow.  Ann - a cow and calf.  Henry - 2 cows with their calves, also an ox, 7 or 8 yrs old.  N.B. the old grey horse to be sold to enable the pay of debts.  I constitute and appoint, Thomas TRUTHWAITE & John VINCENT, my executors of this my last will and testament and trustee's for my wife and children. - Signed June 13, 1861 - witness Henry STEVENS." Henry STEVENS b-1821 was Eleanor's step-brother.
Around 1866 in Little Britain daughter Louisa became the 2nd wife of William SMITH b-1828, son of Mary (Indian) & John James SMITH (1791-1850). Also around 1866 daughter Nancy became the wife of John FAVEL, son of Margaret KIPLING and SAMUEL FAVEL (1820-1896). ** MORE ABOUT SAMUEL FAVEL

In 1869 son Henry married in St Peters to Charlotte PARISIEN, daughter of Margaret & Jean Baptiste PARISIEN (1811-1895).
In 1874 daughter Margaret married Peter HOURIE, son of Christiana ANDERSON & Robert HOURIE (1815-1911).
Eleanor died in 1878.
Discussions about this family: FORUM DISCUSSING the Family of RICHARD THOMAS
========================== Family Details ==========================
Children:
1. c1828 LOUISA THOMAS (m. William SMITH)
2. 1829 MATILDA THOMAS (Died age 14)
3. c1830 ALEXANDER CHARLES THOMAS (m. Victoria TAYLOR)
4. May 7, 1834 RICHARD WILLIAM THOMAS (m. Mary THOMAS)
** MORE ABOUT RICHARD WILLIAM THOMAS
5. Mar 15, 1837 MARGARET THOMAS (m1. Robert PEEBLES, m2. Peter HOURIE)
6. 1839 JOHN THOMAS
?7. 1842 (Est) CATHERINE THOMAS
8. May 21, 1845 NANCY "ANN" THOMAS (m. John FAVEL)
9. Feb 9, 1848 HENRY THOMAS (m1. Charlotte PARISIEN, m2. Agnes HUNTMAN)