JOHN FAVEL (1843-1893)
NANCY (ANN) THOMAS (1845-1913)
** Maternal Great-Grandparents of BEA BEGG-STILL **

(Last Updated: May 22, 2017)
John FAVEL was born around 1843 in the St Andrews Parish of the Red River Settlement (he was baptised Aug 15, 1843), the third (youngest) child of Margaret (nee KIPLING) and Samuel FAVEL (1820-1896). 
In 1845 John's mother (Margaret) died when he was only about two years old, and in 1846 his father (Sam) re-married to Elizabeth IRVINE.
In the mid 1860's, the FAVEL and THOMAS families were living in the Lockport area, where many of the retired HBC families first settled, and John began romancing Nancy THOMAS, the daughter of Eleanor and Richard THOMAS.(1800-1861)  Nancy's father had operated a Grist-Mill in the Little Britain area, but he died in 1861.
Marriage to Nancy THOMAS
1866
In 1867 John and Nancy (no formal marriage information) had their first child, Richard, when John was 24 years old, Nancy was 22 years old.
Canadian Confederation
A Red River Rebellion
Manitoba becomes a Province
1867-1870
On July 1, 1867 the British colonies in North America were united under the British North American Act to become the Dominion of Canada.  Sir John A MACDONALD (1815-1891) was appointed as Canada's first Prime Minister. William McDOUGALL (1822-1905) became the Minister of Public Works, and he began negotiations to acquire Rupert's Land from the HBC; surveyors were sent to Red River to prepare the way for an expected influx of settlers.
On Oct 11, 1869, Louis RIEL (1844-1885) placed his foot on the surveyors' chain to tell them their work was finished! This marked the beginning of the historic Red River Métis Rebellion.
On July 15, 1870 the Rebellion ended when RIEL's Provisional Government accepted the terms of the Manitoba Act and Manitoba became the fifth province of Canada.
Census of 1870 in St Clements Parish: John FAVEL, age 25; wife Nancy, age 24. Children: Richard (age 4) and Henry (age 2).
On July 9, 1875 both Nancy & John (of St Clements Parish) claimed Half-breed Scrip for themselves and their children (Richard & Henry).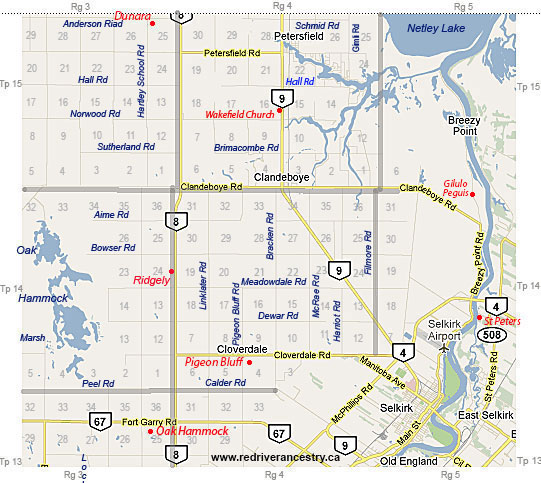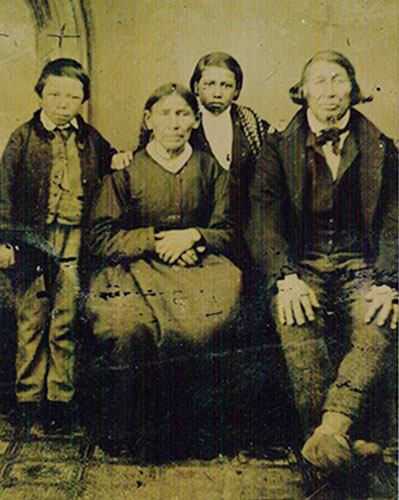 Favel Family, L-R: John JR, Nancy (mother), Henry and John FAVEL Sr.
 (From Bea and Patty)
Census 1881: Son Henry FAVEL b-c1869 (age 12) in St Andrews household of Teacher/ Catechist JOHN KIPLING (1846-1906).
Census of 1891 in St Andrews Parish: John FAVEL, Fisherman, age 49; wife Nancy, age 45. Children: Henry (age 22), John (19), Thomas (13), Robert J (11) and Mary E (age 8).
On Feb 22, 1893 John FAVEL died in St Andrews Parish.
In 1894 son Henry married Mary Anna Bella IRVINE in Selkirk, daughter of Catherine LAMBERT and Cornelius IRVINE (1848-1910).
Also in 1894, son John married Elizabeth Frances SINCLAIR at Christ Church in Selkirk, daughter of Marie LAMBERT and George SINCLAIR (1831-1884). ** These are the maternal grandparents of Bea BEGG-STILL.
** MORE ABOUT GEORGE SINCLAIR
In 1897 daughter Mary Ellen married her brother-in-law, Cuthbert SINCLAIR in Selkirk.
In 1904 son Thomas married his sister-in-law, Annabella SINCLAIR, at the Wakefield Church north of Clandeboye.
Census of 1906: Widow Nancy FAVEL with her daughter (Mary Ellen) and son-in-law (Cuthbert SINCLAIR) in Dunara, west of Petersfield.

In 1906 son Richard married Clara PARISIEN in St Peters, daughter of Sarah PRINCE and John PARISIEN (1852-1923).
Census of 1911: Widow Nancy FAVEL (age 70) with son Tom in the Clandeboye area.
On Jan 20, 1913 Nancy (nee THOMAS) FAVEL died in St Andrews.
Comments and queries at this link: FORUM FOR DISCUSSING THE JOHN FAVEL FAMILY
========================== Family Details ==========================
Children:
1. Mar 1, 1867 RICHARD ALEX FAVEL (m. Clara PARISIEN)
2. Feb 11, 1869 HENRY "HARRY"ARCHIBALD FAVEL (m. Mary Ann Bella IRVINE)
3. Jul 12, 1872 JOHN FAVEL JR (m. Frances Elizabeth SINCLAIR)
4. Aug 13, 1877 THOMAS GEORGE FAVEL (m. Annabella SINCLAIR)
5. 1879 ROBERT JAMES FAVEL (Died 1916 in France – World War I)
6. Jul 2, 1882 MARY ELLEN FAVEL (m. Cuthbert SINCLAIR)