JOHN FAVEL (1872-1948)
FRANCES ELIZABETH "LIZZIE" SINCLAIR (1873-1955)
(Last Updated: July 18, 2017)
John FAVEL was born July 12, 1872 in Old England (Mapleton; just south of Selkirk, MB) to Nancy THOMAS and John FAVEL Sr (1843-1893), both half-breeds. ** MORE ABOUT JOHN FAVEL SR
John was a descendant of a Cree woman named TITAMEG and John FAVEL (1754-1784) from England, who arrived at Fort Albany on James Bay way back in 1740. John's first ancestral FAVEL to settle in the Lower Fort Garry area was their son, Thomas FAVEL (1781-1848), who married a Cree woman named Sarah TROUT. They arrived in the Lockport area (Lambert's Point) around 1823. ** More about THOMAS FAVEL **
In 1875, when John was only about three years old, the Town of Selkirk came into existence in anticipation that the CPR was going to locate its offices in the vicinity of Mapleton. Considerable construction took place there the following year; stores and hotels, in anticipation of its future importance as a railway centre.
In the mid to late 1870's large numbers of white homesteaders began to arrive in Manitoba from all over the world. In 1878 my own grandfather, James STILL (1864-1936),  about 14 years old at the time,  arrived from Ontario with his surrogate parents, Ellen & Peter STILL (1834-1929,) to begin homesteading near Gunton, MB. Around the same time a five year old William Duncan GILLESPIE (1870-1949) arrived with his parents who began homesteading in the same area.
It wasn't until 1882 however that Selkirk was actually incorporated as a Town. By that time it had been decided that the CPR mainline would pass through Winnipeg rather than Selkirk. The first Railway train to travel over the CPR rails, from Montreal to Vancouver, happened in 1886, the first train arrived Winnipeg on July 1 that year.  By 1886, Selkirk's population had grown to over 20,000.
John was 22 years old in 1893 when his father (John Sr.) died in St Andrews at the age of 52.
John marries Lizzie SINCLAIR
1894
On Aug 2, 1894, John FAVEL married at Christ Church in Selkirk to Elizabeth Frances SINCLAIR, daughter of Marie LAMBERT & George SINCLAIR (1831-1884). ** MORE ABOUT GEORGE SINCLAIR
Their first child was John FAVEL Jr., born Dec 10, 1894 in St Andrews.
Around 1900 John & Lizzie moved to the Gunton area to begin a life of farming.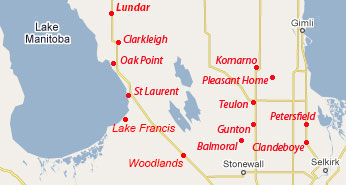 In the 1901 Census John was enumerated in the Gunton area as a 29 year old Labourer; wife Lizzie was 28 years old and they had only one surviving child, six year old daughter Ethel. Staying with them was Lizzie's sister, Bella SINCLAIR (age 21), who was working as a "Domestic". Lizzie had given birth to four children by that time; three had died in infancy. That fall, after the census was taken, another daughter (Elsie) was born; she also died in infancy (about two years later).
On Sep 28, 1904, daughter Sarah "Sadie" FAVEL was born. About three months later Lizzie's sister, Bella SINCLAIR, married John's brother (Tom FAVEL) at the Wakefield Church north of Clandeboye.
On Dec 26, 1906, daughter Clara May FAVEL was born and on Oct 6, 1909 son Reuben FAVEL (their last child) was born.
The FAVEL children first went to the Dundas School (somewhere between Gunton and Clandeboye) as youngsters; later at Teulon.
Besides farming, John did road work. He was also a rural mailman, working out of the Post Office at Teulon when his children were going to school there. In 1919 my father, Jim STILL, after his discharge from war service, returned to Teulon to visit his elderly surrogate Grandpa Peter STILL and to work for about seven months at Dave WOODS' lumber yard in Teulon. His sister, Widow Mary Ann (nee STILL) MARTIN was in charge of the Teulon Post Office and would have been John FAVEL's boss when he was a mailman there. Jim was about 25 years old then; he told me he remembered Sadie and Clara FAVEL who were just teen-agers at that time attending school in Teulon. Sadie FAVEL of course would later become the mother of his future daughter-in-law (Beatrice BEGG-STILL).
On Nov 3, 1928 daughter Sadie FAVEL married in Selkirk to Reuben BEGG (1902-1987), son of Margaret FIDLER & Robert James BEGG (1860-1951), both Half-breeds. ** MORE ABOUT ROBERT JAMES BEGG
On Dec 31, 1929, daughter Clara married William Henry GILLESPIE in Winnipeg, the son of Nettie BOWMAN and William Duncan GILLESTPIE (1870-1949).
John FAVEL JR died in 1948.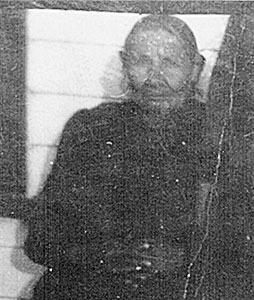 Great Grandma Sinclair (From Patty & Beatrice Begg)
On Oct 22, 1955 Widow Eliza Frances FAVEL died at the home of her daughter and son-in-law, Sadie & Reuben BEGG, then living on Lot 5, Old England (Mapleton).
Please post comments & queries at this link: FORUM DISCUSSING the JOHN FAVEL FAMILY

======================== Family Details ========================
Surviving Children (Four died in infancy):
1. Dec 10, 1895 ETHEL FAVEL (m.1, UNKNOWN, ?m2 Unknown HAZELTON)
2.  Sep 28, 1904 SARAH ELLEN "SADIE" FAVEL (m. REUBEN BEGG)
** MORE ABOUT REUBEN BEGG
3. Dec 26, 1906 CLARA MAY FAVEL (m. William Henry GILLESPIE)
4. Oct 6, 1909 REUBEN FAVEL