WILLIAM HENRY GILLESPIE (1900-1969)
CLARA MAY FAVEL (1906-1974)

(Last Updated: July 18, 2017)
William Henry GILLESPIE was born Sep 3, 1900 in the RM of Rockwood, MB (west of Petersfield (SE of Gunton), son of Nettie BOWMAN and William Duncan GILLESTPIE (1870-1949).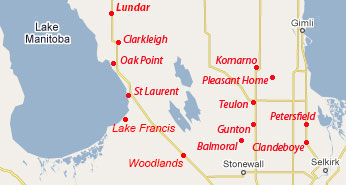 In 1906 Henry's mother (Nettie) died when he was just six years old.
Census 1906, 1911, 1916: Henry W (age 5, 10, 15) with his father in Teulon.
In 1918 Henry's father (William Duncan) re-married to Widow Harriet Louise (nee PALAN) BIRD in Winnipeg, the daughter of Hellen MURPHEY and William Henry PALAN (1851-1896).
Census of 1921: Henry (age 20) with his step-mother (Harriet) and father (Duncan) in Teulon.
Marriage to Clara FAVEL
1929
On Dec 31, 1929, Henry married Clara FAVEL in Winnipeg, the daughter of Elizabeth SINCLAIR and John FAVEL (1872-1948). ** MORE ABOUT JOHN FAVEL
In 1941 Henry began to work for the University of Manitoba, Soils Department.
By about 1950 the family was living in the Mapleton area. I (Gary STILL) remember when they lived in a house located in a grain field between Reuben BEGG's home and the TATARYN farm.
In 1950 daughter Jean married Gerald CROMARTY at the St Clements Church in Mapleton, the son of Edna Ray FLETT and Russell CROMARTY (1909-1977).
Around 1954 Henry and Clara moved to Winnipeg.
In 1955 son Bill married Valmarie WESTON in St Andrews, the daughter of Isabel Catherine YOUNG and George William WESTON (1897-1981) from England.
Son Bob married Jeannine FRASER, daughter of Bertha THERRIEN and Alexander FRASER (b-1900).
In 1960 daughter Ellen married Richard (Dick) McKENZIE in Selkirk, son of Mary BALE and Benarr McKENZIE (1911-1971). ** MORE ABOUT BERNARR McKENZIE
In 1962 son Oakley married Karen Jean HODGSON in Winnipeg, the daughter of Melville Glyn HODGSON (1914-1988).
In 1966 Henry retired from the U of M Soils Dept.
On May 9, 1969 William Henry GILLESPIE died at the Winnipeg General Hospital, aged 67.
On Jul 13, 1974 Clara May (nee FAVEL) GILLESPIE died at the Selkirk General Hospital, age 69.
Comments and queries at this link: FORUM FOR DISCUSSING THE HENRY GILLESPIE FAMILY
========================== Family Details ==========================
Children:
1. Feb 11, 1932 FRANCES JEAN GILLESPIE (m. Gerald CROMARTY)
2. Feb 23, 1935 REUBEN WILLIAM "BILL" (Twin) GILLESPIE (Laura Valmarie WESTON)
3. Feb 23, 1935 ROBERT EDWARD "BOB" (Twin) GILLESPIE (m. Jeannine FRASER)
4. 1939 NORMA ELLEN GILLESPIE (m. Richard "Dick" McKenzie)
5. Jul 21, 1941 HENRY OAKLEY GILLESPIE (m. Karen Jean HODGSON)