FINDLAY BERNARR "BURR" McKENZIE (1911-1971)
MARY MARGARET BALE (1915-1996)
Findlay Bernarr "Burr" McKENZIE was born on July 17, 1911 in Mapleton (Old England), son of Charlotte Christine LYONS & Hubert Douglas McKENZIE (1882-1970). ** MORE ABOUT HUBERT DOUGLAS McKENZIE
Burr was a descendant of Angelique MALOTTE (Ojibwe) & Roderick McKENZIE (1772-1859) from the Parish of Assynt in Scotland, long time Chief Trader at Ile a la Crosse with the Hudson's Bay Company (HBC).
** MORE ABOUT RODERICK McKENZIE
In the Census of 1916, Burr (age 1) was recorded with his parents in the Netley Creek (now Chalet Beach) area. The McKENZIE family ultimately made their home on Mackenzie Road in Mapleton (Old England).
Marriage to Mary BALE
1936
On Apr 8, 1935 Burr married Mary Margaret BALE. Mary was born May 20, 1915 at Elrose, Saskatchewan, daughter of Margaret RITCHIE and Richard BALE (1879-1950). The BALE family (Mary had 4 brothers and a sister) moved to Selkirk.
On Feb 14, 1936 their first child, William Bruce "Billy Bruce", was born.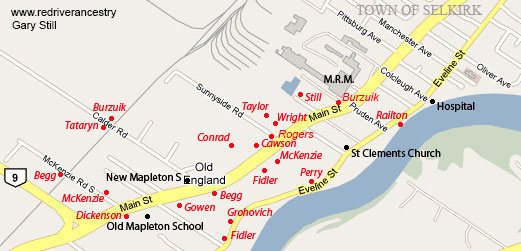 Locations of the Old and the new Mapleton School and some families of note during the mid-1900's
Burr worked at the Manitoba Rolling Mills (MRM) and all of his children attended the Old Mapleton School.
In 1960 Son Richard (Dick) married Ellen GILLESPIE, daughter of Clara FAVEL and Henry GILLESPIE (1900-1969).
** MORE ABOUT HENRY GILLESPIE
In 1969 Burr's mother (Christina) died and in 1970 his father (Douglas McKENZIE) died; both buried St Clements Cemetery, Mapleton.
Son Billy Bruce married Heather LARSEN, daughter of Eileen GRACE(?) & Emil LARSEN (1910-?)
Daughter Merle married Gerald HYGAARD, son of Susan ROBINSON & Thorsteinn Grant HYGAARD (1894-?).
Son Douglas married Margaret CAMPBELL, daughter of ?
Daughter Maureen "Mo" was the mother of Willie McKENZIE
Daughter Mary Lou married Ted ROSSER, son of Iris & John ROSSER.
Son Randal (Randy) married  Cheryl "Sherry" (nee GILLESPIE) GARTEN, daughter of Alice & William GILLESPIE
Son Gregory married Linda CHOLOSKY, daughter of Dorothy LITTLE & Joseph "Joe" CHOLOSKY
Son Peter married a (?) BURZUIK, daughter of Dorothy SUTHERLAND & Peter BURZUIK (1915-1972)??
Burr McKENZIE Dies
1971
On Nov 12, 1971 Findlay Bernarr (Burr) McKENZIE died at the Winnipeg General Hospital
Mary worked for Selkirk Home Care and the Betel Home until retiring in 1979.
Mary Dies
1996
On Feb 1, 1996, Mary McKENZIE died at the age of 80.
Some Family Pictures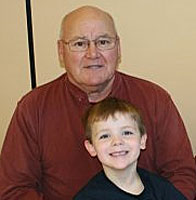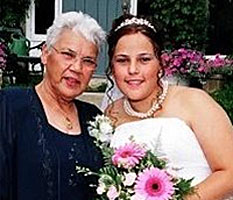 Left: Dick and grandson – Center: Merle and granddaughter "Deeny"
Right: Douglas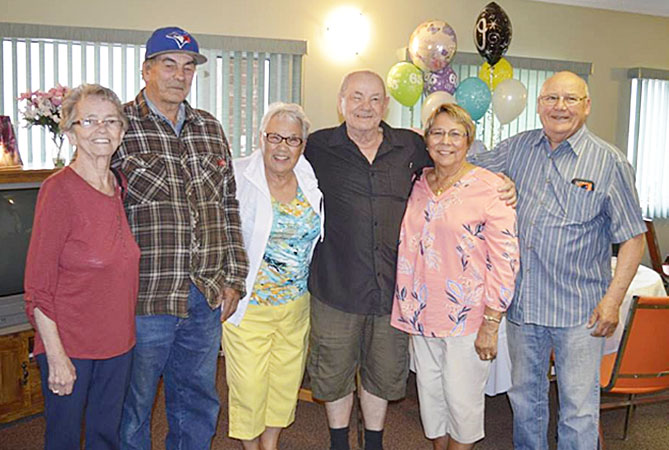 Jun 17, 2017 at Everett Still's 65th Wedding/ 90th Bbirtday Tea
L-R: Eleanor  and Peter Gowen, Merle (nee McKenzie) Hygaard, Gary Still, Beatrice (nee Hood) Furdyk and Dick McKenzie
Please post comments & queries as this link: DISCUSSIONS about MARY & BURR McKENZIE FAMILY
========================== Family Details ==========================
Children:
1. Feb 14, 1936 WILLIAM BRUCE "BILLY-BRUCE" McKENZIE (m. Heather LARSEN)
2. May 6, 1939 RICHARD "DICK" McKENZIE (m. Ellen GILLESPIE)
3. MERLE McKENZIE (m. Gerald David HYGAARD)
4. Feb 31, 1941 DOUGLAS RALPH McKENZIE (m. Margaret CAMPBELL)
5. MAUREEN "MO" McKENZIE
6. MARY LOU McKENZIE (Ted ROSSER)
7. RANDALL "RANDY" McKENZIE (m. Cheryl "Sherry" GARTEN)
8. GREGORY "GREG" McKENZIE (m. Linda CHOLOSKY)
9. PETER McKENZIE (m. Kim BURZUIK)