HUBERT DOUGLAS JAMES McKENZIE (1882-1970)
CHARLOTTE CHRISTINE LYONS (1890-1969)
(Last Updated: December 05, 2015)
Hubert Douglas McKENZIE was born on July 2, 1882 at Gilbert Plains, MB, son of Harriet FIDLER and Reverend Benjamin McKENZIE (1837-1928).  The McKENZIE home was in St Peters when Douglas was born but his father (Ben) travelled a lot as a missionary during the next 10 years. ** MORE ABOUT REVEREND BENJAMIN McKENZIE
Douglas was a descendant of Angelique MALOTTE (Ojibwe) & Roderick McKENZIE (1772-1859) from the Parish of Assynt in Scotland, long time Chief Trader at Ile a la Crosse with the Hudson's Bay Company (HBC).
** MORE ABOUT RODERICK McKENZIE (1772-1859)
In 1890 the McKENZIE family settled on the east side of the Red River somewhere between the St Clements Church and Lower Fort Garry (Mapleton East). Douglas probably attended school across the river at Mapleton for a few years. This meant walking across the frozen river in the winter time and ferrying or boating across during the summer months. There was a ferry just below the Bunn House, north of his home. ** MORE ABOUT BUNN HOUSE
In 1901 Douglas and his brothers, Ben Jr., Sam, Ferd and Archie helped their father and other parishioners build the little Mustard Seed Chapel at the mouth of the Red River (later called Robinson Spur). Daughter Jean said that Douglas and his brothers "all grew up to be Carpenters, taught by their father. They all had a chance to be well educated at St John's College. But our grandfather wanted them to be Carpenters, and be humble, like our Lord. Dad and his brothers built dredges, boats and numerous houses in the district. They also built schools in Hodgson, Black River and Fairford, MB, often only making a dollar a day."
Douglas marries Christia LYONS
1906
On Dec 19, 1906 Douglas married, at his father's home, to Charlotte Christina LYONS from West Mapleton, daughter of Alice McKENZIE and William LYONS (1856-1939). Doug and Charlotte now made their home in West Mapleton on what is now called McKenzie Road (named after him). ** MORE ABOUT WILLIAM LYONS
World War I
1914
On Aug 14, 1914 Great Britain declared war on Germany and Austria-Hungary to uphold treaties with France and Belgium which were under German attack. This marked the beginning of World War I. On Dec 2, 1915 Douglas enlisted at Selkirk. His Attestation record described him as a Carpenter; age 33, 5' 8 ½", dark complexion, brown eyes, black hair. Next of kin: his wife, Christine Florence. Doug's brothers (Ben Jr. and Archie) also enlisted for war service.
When the Census of 1916 was taken, Doug and his family were enumerated in the Matlock area on Section 16-4-E1 (shown on maps as Chalet Beach), near or with his father (Rev. Ben). They then had three living children: Marion (age 8) James (age 7) and Bernarr (age 4). Two daughters (Hazel & Christina) had died in infancy.
The family ultimately returned to Mackenzie Road in Mapleton where Doug and Christina would spend the rest of their days. Daughter Ruth was born in 1920; son Bill in 1923; daughter Jean in 1925; son Ross in 1927.
On May 10, 1928, Doug's father (Rev. Benjamin McKENZIE) died at Matlock (buried at Mapleton).
Son Charlie was born in 1929 and lastly son Ian in 1931.
In 1936 son Bernarr married Mary BALE, daughter of Margaret RITCHIE and Richard BALE (1879-1950).
In 1940 eldest son James married Elizabeth PARKER from Scotland, daughter of Mary Creighton (MENZIES) and Joseph PARKER of uncertain origins.
By the early 1940's eldest daughter Marion was married to Alexander Wilfred "Nicky" McRAE in Mapleton, son of Annie NORQUAY and Angus McRAE (1876-1957). ** MORE ABOUT ANGUS McRAE
Daughter Evangeline (Ruth) married Jens MAGNUSSON (1912-2011) from Iceland, son of Emirisjana BENEDICKSDOTTIR and John MAGNUSSON (1871-1943), a painter/ decorator who owned Daerwood Decorating in Selkirk.
In 1946 daughter Jean married James Gordon STILL, son of Bessie CONROD and Thomas James STILL (1894-1980).
** MORE ABOUT THOMAS JAMES STILL

Also in 1946 son Alexander "Ross" married Ida Lylene TAYLOR in Mapleton, daughter of Maude SHERRET & John Stanley TAYLOR (b-1889).
Son William "Big Bill" married Rita MONKMAN, daughter of Charlotte Olive Alice KIRTON & Oliver MONKMAN (1888-1977).
A comment from daughter Jean: In his retirement years, Dad did ox-cart carvings; one was given to Mr Duff ROBLIN, then Premier of Manitoba. Another is presently at Lower Fort Garry and also one in Dr EASTON's office, Selkirk.  
In 1957 Mr.  & Mrs. Charlotte and Douglas McKENZIE observed their Golden Wedding Anniversary at their home in Mapleton. A reception was held in the Mapleton Parish Hall where they were received by Mrs. Walter BIRSTON and Mrs. A.W. McRAE. Reiben BEGG presented them with a corsage and boutonniere, as did Findlay McKENZIE and Walter BIRSTON who were attendants at their wedding.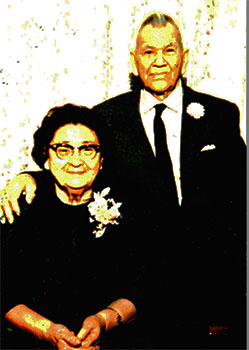 Charlotte and Douglas McKenzie
Youngest son Edward (Ian) married Marilyn "Kitty" LINNING of uncertain origins.
Christina died in 1969; Douglas in 1970, both buried St Clements, Mapleton.
Please post comments & queries at this link: FORUM DISCUSSING the DOUGLAS McKENZIE FAMILY
========================== Family Details ==========================
Children:
1. 1908 MARION McKENZIE (m. Alex Wilfred "Nicky" McRAE)
2. May 22, 1909 HUBERT DOUGLAS JAMES "JIM" McKENZIE (m. Elizabeth Begg "Betty" PARKER)
3. Jul 17, 1911 FINDLAY BERNARR "BURR" McKENZIE (m. Mary BALE)
** MORE ABOUT MARY & BURR McKENZIE
4. Dec 19, 1913 HAZEL IRMA McKENZIE (Died in infancy, 4 mos)
5. c1915 CHARLOTTE CHRISTINA McKENZIE (Died in infancy, 11 mos)
6. March 13, 1920 EVANGLINE "RUTH" McKENZIE (m. Jens MAGNUSSON)
7. Sep 26, 1923 WILLIAM ALBAN "BIG BILL" McKENZIE (m. Rita MONKMAN)
8. May 11, 1925 ALICE HARRIET CATHERINE "JEAN" McKENZIE (m. James Gordon STILL)
** MORE ABOUT JEAN & GORDON STILL
9. Aug 28, 1927 ALEXANDER "ROSS" McKENZIE (m. Ida Lylene TAYLOR)
10. c1929 CHARLES "CHARLIE" McKENZIE (Never married)
11. Aug 9, 1931 EDWARD "IAN" McKENZIE (m. Marilyn "Kitty" LINNING)