WILLIAM LYONS (1856-1939)
ALICE MARGARET McKENZIE (1862-1958)
(Last Updated: September 17, 2017)
William LYONS was born Oct 28, 1856 in Mapleton (near Selkirk, MB), son of Charlotte PRUDEN and Thomas LYONS (1825-1897). ** MORE ABOUT THOMAS LYONS
Canadian Confederation and a Red River Rebellion
Creation of the Province of Manitoba
1867-1870
On July 1, 1867 the British colonies in North America were united under the British North American Act to become the Dominion of Canada.  Sir John A MacDONALD (1815-1891) was appointed as Canada's first Prime Minister.
On Oct 11, 1869, Louis RIEL (1844-1885) placed his foot on the surveyors' chain to tell them their work was finished! This marked the beginning of another Red River Métis Rebellion. When it was all over, RIEL's Provisional Government accepted the terms of the Manitoba Act andon July 15,1870 Manitoba became the fifth province of Canada, the Canadian Government having acquired the territory previously governed by the HBC. At this time William was 14 years old and living with his parents on Lot 8 in what was then St Clements Parish.
At that time river lots extended two miles west from the Red River; Lot 8 was located approximately between Craig Ave. and McKenzie Rd. as shown on the map below. It was later known as the 'McKenzie Strip'.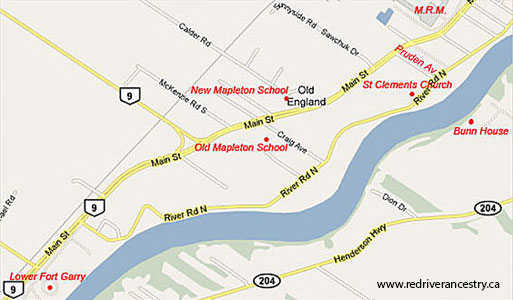 William Lyons last settled on River Lot 18 (shown as Sawchuk Drive on this map)
In 1875 William LYONS (age 18), a farmer of St Clements Parish claimed his Half-breed Scrip.
William marries Alice Margaret McKENZIE
1878
On Dec 11, 1878 William married at the St Clements Anglican Church in Mapleton to Alice Margaret McKENZIE, daughter of Christina BELL-PEERS & Alexander Black McKENZIE (1828-1873).
** MORE ABOUT ALEXANDER BLACK McKENZIE
Western Land Grants:  Patented Mar 11, 1879, to an Alice Margaret McKENZIE, 240 acres on SW-27-13-6-EPM (that's in the Sand Hill area, east of East Selkirk). Scrip records indicate that in 1875 Alice Margaret's widowed mother (Widow Christiana BELL-McKENZIE) claimed Scrip for Alice as an heir to her deceased father (Alex McKENZIE).
As a young man William freighted on the York boats between Lower Fort Garry and Norway House and between trips farmed part of River Lot 8 (known as the 'McKenzie Strip').
In 1881 William bought the Mapleton property of John Edward HARRIOTT (1842-1924), Lot 18, who then moved his family to Cloverdale (MB). When the census was taken that year William was recorded as age 24, his wife Alice (age 18). They now had a one year old son, Alexander LYONS. Staying with them were Alice's siblings; Peter McKENZIE (age 15), Alex McKENZIE (age 12) and Arabella McKENZIE (age 11).
Town of Selkirk Incorporated
1882
On June 15, 1882 the Town of Selkirk was incorporated with James COLCLEUGH (1841-1918) as the first Mayor. At that time it was still believed that the new CPR mainline from the east would pass through Selkirk. There were already branch lines on both sides of the river, from Winnipeg to Selkirk and East Selkirk, with Selkirk at the crossroads. A few years later it was decided that the CPR mainline would pass through Winnipeg rather than Selkirk.
Census of 1891: William and his family were again enumerated in Mapleton. He was recorded as age 33; wife Alice as age 29. Their children: Alex T (age 11), Flora (age 4) and baby Charlotte.
In 1891 William began to serve on the Vestry of the St Clements Church in Mapleton. He would continue to serve on the Vestry for many years to come.
Before 1901 horse drawn carriages were a familiar sight in Winnipeg, but around this time the first automobiles were seen on the streets.
Census 1901: William LYONS(age 44); Alice (age 38) and their children at Mapleton: Alex (age 21), Flora (14), Charlotte (10); Charles E (7); Isabella R (5) and Catherine (age 2). They also have Nephew Robert LYONS (age 19) with them. This is Robert James, son of Eliza ISBISTER & Thomas LYONS b-1847 (William's brother). Robert's mother (Eliza) died in 1883 and there is no information thereafter regarding his father (Thomas LYONS).
In 1902 William was the People's Warden for St Clements Anglican Church.
In 1904 the first passenger train of the Winnipeg, Selkirk and Lake Winnipeg Railway ran along the tracks and a small steam locomotive (called "Dinky") pulled freight and passengers for a year.
On Dec 19, 1906 daughter Charlotte Christina married at her father's home in Mapleton to Douglas McKENZIE (1882-1970), son of Harriet FIDLER & Reverend Benjamin McKENZIE (1837-1928).
** MORE ABOUT DOUGLAS McKENZIE
On Jan 1, 1907 daughter Flora married in Selkirk to Benjamin "Benny" MAYO (1881-1938), son of Caroline SUTHERLAND & Charles Edwin MAYO (1840-1917).
On May 8, 1907 son Alex married in St Andrews to Isabella MOWAT, daughter of Mary Ann SPENCE & John MOWAT (1856-1927). On May 11, 1908 their daughter Alma Mae was born. On July 17, 1909, Alex's wife Isabella died in Selkirk at the young age of 23. Alma Mae was thereafter raised by her grandparents (Alice & William).
On May 18, 1909, Alice gave birth to her last child, Inez (Lucy) Mary, who died two months later.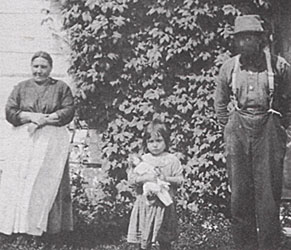 Alice "Granny Lyons" & William Lyons with granddaughter Alma Mae (around 1913)
(From Verna Gamache in Beyond the Gates of Lower Fort Garry)
In June of 1913 the Selkirk Development Corporation Limited was formed, specifically interested in bringing Manitoba Rolling Mills (MRM) to town since it had outgrown its St. Boniface site. Construction began in October and was completed by February. (MRM is now Gerdau Ameristeel).
World War I
1914-1918
On Aug 14, 1914 Great Britain declared war on Germany and Austria-Hungary to uphold treaties with France and Belgium which were under German attack. By 1916 son Charles Edward was a soldier in the Canadian Infantry Regiment (16th Battalion).
Census of 1916, June 5, Lot 18 (Mapleton): William LYONS (age 57, a farmer); wife Alice (age 54). Children: Alex (age 37), Charles (a 23 yea old soldier), Isabella Ruth (age 20), Catherine (age 18), Bruce (age 14), Alice (age 10). Granddaughter Alma Mae (age 8).
The Battle of the Somme took place between July 1 and Nov 18 of 1916. This was one of the largest battles of the War. On Aug 8, 1918 son Charles Edward LYONS died in this battle and was buried at Somme, France.
On Nov 11, 1918 (Remembrance Day), the Armistice was signed ending the First World War.
Around 1918 daughter Isabella Ruth married in Winnipeg to Frederick SQUIRES, son of Florence THOMPSON & William James SQUIRES (1849-1918).
William LYONS provides horses for MRM
By 1919 the Manitoba Rolling Mills was operational and for the next seven decades would play a major role in Selkirk's economy. Around that time William LYONS was supplying (by contract) heavy horses to haul ingots from the 'open-hearth' to the Rolling Mills. William was one of the first Teamsters and three of his sons worked at the Mill.

Left: Clydsedale – Centre: Percheron – Right: Belgian
These were gigantic heavy work horses
I remember all three breeds trotting past our driveway as a youngster
My older brothers were 'horse drivers' for Walter ROGERS or Tom JOHNSON at that time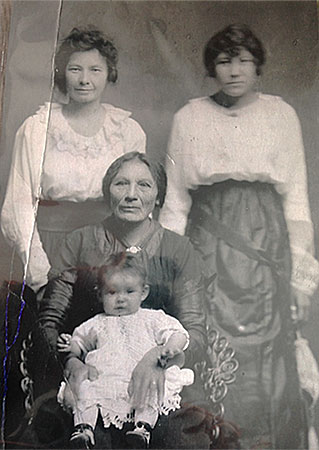 Photo from Liane Kupchik – About 1920
My opinion: Seated: Alice (Granny LYONS) holding granddaughter Mildred (Lianne Kupchik's grandmother-to-be).
Standing (L-R): Probably Dorothy Knott (Mildred's older sister) and Mary (nee Poker) Knott (baby Mildred's mother)
On Dec 4, 1926, daughter Alice married in Winnipeg to Grant WRIGHT, son of Agnes GRANT & William Charles WRIGHT (1876-)
On Dec 25, 1926, daughter Catherine married in Winnipeg to Thomas Ivan FERGUSON.
In 1930 granddaughter Alma Mae married Robert GUNN (born 1905), son of Leta MUCKLE & Donald GUNN (born 1867).
William LYONS Dies
1939
Winnipeg Free Press, Thursday, March 23, 1939: William W.H. LYONS, Selkirk Octogenarian, Dies: Funeral services for William LYONS, 81, who died March 22 at his home residence, Mapleton, Man. will be held Saturday at 2:39 p.m. at the home, and at 3 p.m. in St Clement's Anglican Church, Rev. R.S. MONTGOMERY officiating. Burial will be made in the family plot, St Clement's Chuchyard. Honorary pallbearers: Paul PRUDEN, W.T. FIDLER, William FIDLER, J.T. CALDER, R. BEGG, R. McKENZIE. Active pallbearers will be the grandsons, James and Burr McKENZIE; Ben. Cecil, William and Bruce MAYO.
Mr. LYONS was born at Mapleton, October 28, 1858. He was the son of Thomas LYONS, Hudson's Bay Company employee, who helped in the erection of Lower Fort Garry. On December 11, 1938, Mr LYONS and his wife, the former Alice Margaret McKENZIE, celebrated their diamond wedding anniversary. He was an honorary vestryman of St Clement's Church, and served on the Mapleton School Board. For over 20 years he was employed by the Manitoba Rolling Mills.
Surviving are his widow, one son, Alex, and five daughters, Mrs Douglas McKENZIE (Christina), Mrs Ben MAYO (Flora), Mrs Grant WRIGHT (Alice) of Selkirk; Mrs. Wilbur FERGUSON (Catherine), Winnipeg; and Mrs. Ruth SQUIRES (Isabella Ruth), Detroit, Mich.
After William died, Alice 'Granny LYONS' continued managing the horse contract with the MRM. She was known as the 'Horse Lady'.
Alice died Sep 28, 1958, in Mapleton.
========================== Family Details ==========================
Children that survived to adulthood: ** Note: there were six other children that died in infancy.
1. Aug 3, 1879 ALEXANDER THOMAS LYONS (m1. Isabella MOWAT, m2. Mary KNOTT)
** MORE ABOUT ALEXANDER THOMAS LYONS
2. Sep 11, 1886 FLORA ANN "Granny Mayo" LYONS (m. Benjamin Bertram MAYO)
** MORE ABOUT BENJAMIN BERTRAM MAYO
3. Dec 10, 1890 CHARLOTTE CHRISTINA LYONS (m. Douglas McKENZIE)
** MORE ABOUT DOUGLAS McKENZIE
4. June 14, 1893 CHARLES EDWARD LYONS (Died WW 1, France, 1918)
5. Mar 28, 1896 ISABELLA RUTH LYONS (m. Frederick Aberdeen "Fred" SQUIRES)
6. Aug 18, 1898 CATHERINE LYONS (m. Wilbur FERGUSON)
7. 1902 ARCHIBALD BRUCE LYONS (Drowned, age 32)
8. Aug 6, 1905 ALICE HELEN (ELLEN) HARRIET LYONS (m. Edmond Grant WRIGHT)
Granddaughter raised by Alice & William:
1. May 11, 1908 ALMA MAE LYONS (m. Robert "Bob" GUNN)