ALEXANDER THOMAS "ALEX" LYONS (1879-1945)
ISABELLA MOWAT (1884-1909)
Widow MARY ELIZABETH (nee POKER) KNOTT (?-1945)

(Last Updated: September 17, 2017)
Alexander Thomas "Alex" LYONS was born Aug 3, 1879 in Mapleton (south of Selkirk, Manitoba), son of Alice McKENZIE and William LYONS (1856-1939). ** MORE ABOUT WILLAM LYONS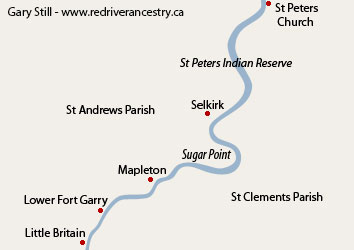 Census 1881, 1891, 1901, 1906: Alex (age 1, 11, 21, 27) with his parents in Mapleton.
Marriage to Isabella MOWAT
1907-1909
On May 8, 1907 Alex married Isabella MOWAT in St Andrews Parish, daughter of Mary Ann SPENCE and John MOWAT (1856-1927).  Daughter Alma was born May 11, 1908, in Mapleton.
On Jul 17, 1908 Isabella LYONS died in Selkirk, age 23. Baby daughter Alma Mae was taken in and raised by Alex's parents (Alice and William LYONS).
In the 1911 census daughter Alice May (age 3) was recorded with her grandparents (Alice and William LYONS) in Mapleton.
World War I
1914-1918
On Aug 4, 1914 Great Britain (Canada on Aug 5) declared war on Germany and Austria-Hungary to uphold treaties with France and Belgium which were under German attack. This marked the beginning of World War I.
Census of 1916:  Alexander, widowed, age 37, Dredge Master, with his parents on Lot 18, Mapleton.
November 11, 1918, Armistice Day (Remembrance Day) marked the end of the First World War.
Manitoba Rolling Mills
1920

Manitoba Rolling Mills c.1920
Alex, an Engineer, learned his trade on the river boats and government dredges.  By about 1920 he was working at the Manitoba Rolling Mills (MRM), when the first steam boilers were fired with wood. He stayed until he retired. 
Alex marries Widow Mary (nee POKER) KNOTT
1921
Census of 1921: Alex T LYONS, widowed Engineer, age 42. He's with his parents (Alice & William LYONS) in Mapleton.
On Aug 6, 1921 Alex re-married to Widow Mary (nee POKER) KNOTT. Mary's first husband, Ralph KNOTT b-1879, died 1920 in Selkirk.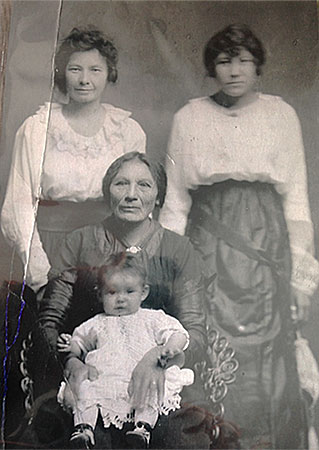 Photo from Lianne Kupchik
Liane: My grandmohter (Mildred) is the infant in this picture. I was told by my grandfather
(John Machowski) that possibly the woman on the top right is Mrs. Mary Lyons.

(At top left is probably Dorothy KNOTT, Mildred's older sister)
In 1930 daughter Alma Mae married Robert GUNN, the son of Letitia MUCKLE and Donald GUNN (1867-1962).
On Oct 3, 1945 Mary Elizabeth (nee POKER) LYONS died in Selkirk. Three days later (Oct 6), Alexander Thomas LYONS died in Selkirk.
Comments and queries at this link: FORUM FOR DISCUSSING THE FAMLY OF ALEXANDER LYONS
========================== Family Details ==========================
Child with Isabella MOWAT:
1. May 11, 1908 ALMA MAE LYONS (m. Robert "Bob" GUNN)
Adopted:
1. Nov 20, 1919 DOROTHY MAY and MILDRED MAY LYONS (m. Herbert BOBERG; MACHOWSKI)