THOMAS LYONS (1825-1897)
CHARLOTTE PRUDEN (1830-1892)
(Last Updated: August 09, 2014)
Thomas (Tom) LYONS was born around 1825 in St Andrews Parish (see map below), son of Margaret KIPLING & John LYONS (1786-1875), both half-breeds.  ** MORE ABOUT JOHN LYONS
Lower Fort Garry
1832
In 1832 Tom was about seven years old when construction of Lower Ft Garry was begun. This new fort became an important trading center for supplying goods to northern fur trading posts and packing furs for shipment to York Factory. It would become the social hub for settlers of the region. This was the era when the Hudson's Bay Company (HBC) Governor George SIMPSON (1786-1860) still ruled in Assiniboia and Rupert's Land and Chief PEGUIS (1774-1864) was the leader of the Indian Settlement that would later became the St Peters Reserve.
A school under Joseph COOK (1788-1848) was opened in 1834 at Sugar Point (32 children attended); the natives were encouraged to build houses and learn to farm. The log school-house (6 x 12 meters) also functioned as a teacher's residence, and had a loft that doubled as a granary. Tom however did not receive any schooling (as an adult he signed his name with an 'X').
Between 1845 and 1849 construction proceeded on a new Stone Church at St Andrews to serve a burgeoning Parish of St Andrews. It was designed by Archdeacon William COCKRAN (1798-1865) to serve the local community of retired HBC personnel and English mixed-bloods. Much of the stonework was done by Duncan McRAE (1818-1898).
Marriage to Charlotte PRUDEN
1846
In December of 1846 Tom married at St Andrews to Charlotte PRUDEN, daughter of Nancy OGDEN-HENRY & William PRUDEN (1804-1844). ** MORE ABOUT WILLIAM PRUDEN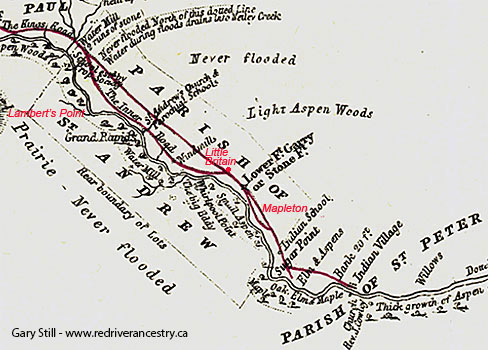 Part of Henry Hind's Map based on his observations of 1857
By 1850 construction of a stone wall around Lower Fort Garry was well under way, under the supervision of Stonemason Duncan McRAE (1818-1898). The southwest bastion is the main feature of the header for this website (See above).
In 1857 Stonemason Samuel TAYLOR (1812-1894) moved down from Moose Factory to begin building the St Clements Church in Mapleton. On Dec 1, 1861 it was opened for divine worship by Lord Bishop of Rupertsland and Mr HUNTER. 
My old friend and one-time school-mate, Verna WRIGHT-GAMACHE, was a great granddaughter of Tom LYONS. She said that Tom helped to build Lower Fort Garry and that he was one of the builders of the beautiful stone church of St Clements.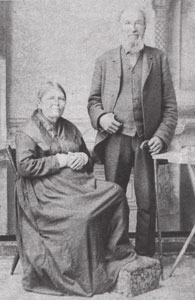 Mr & Mrs Thomas Lyons
(From Verna Gamache in Beyond the Gates of Lower Fort Garry)
The HBC Archives indicate that Tom, described as a 'Native', worked for one 'Outfit Year' (1857-58) as a Steersman (voyageur) out of Fort Garry. An article in The Beaver presented this amusing description of him: "He was a peculiar looking man. Standing straight he was five feet. He walked with a slouching gait - a lambiner step - and, with his big head, red watery eyes, short body and long legs and arms he looked like an animate walking machine."
Canadian Confederation and a Red River Rebellion
Creation of the Province of Manitoba
1867-1870
On July 1, 1867 the British colonies in North America were united under the British North American Act to become the Dominion of Canada.  Sir John A MacDONALD (1815-1891) was appointed as Canada's first Prime Minister.
On Oct 11, 1869, Louis RIEL (1844-1885) placed his foot on the surveyors' chain to tell them their work was finished! This marked the beginning of another Red River Métis Rebellion. When it was all over, RIEL's Provisional Government accepted the terms of the Manitoba Act andon July 15,1870 Manitoba became the fifth province of Canada, the Canadian Government having acquired the territory previously governed by the HBC.
When the 1870 Census was taken in Mapleton, Tom was enumerated on Lot 8 (then St Clements Parish) with six children at home: John (age16); William 14; Henry 12; Miles 9; Edward 4; James (age 1). Son Tom Jr. was recorded separately on an adjoining lot and may have been married to Eliza ISBISTER by this time. Daughter Catherine was already married to Augustin ADHEMAR.
In 1875 Tom and Charlotte, now living in St Peters Parish, claimed Half-breed Scrip for themselves and for their children, Henry George, Miles, Edward and James.
In 1883 daughter-in-law Eliza died (wife of son Tom Jr.) at the young age of 33. Tom Sr. and Charlotte became the care-givers of her children, their grandchildren (Alice (age 7), Charlotte (age 5) and Robert, age 2). I don't know what became of Tom LYONS Jr.; no further record of him found.
Alice Margaret (L) and Charlotte (R) with their mother Eliza Lyons (C) who died in 1883
(From the Muggaberg Family Tree; contributor Patricia Mackenzie)
In 1884 Tom was the Patentee and Occupant of Lot 8 in St Clements Parish. He was also the Patentee of Lot 9; the Occupant there was son John LYONS.
In 1888 Thomas LYONS is listed renting a pew at St Clements Church in Mapleton. He served as a Sexton of his church for several years.  A plaque in his memory is in the church.
In Census 1891 Tom was recorded in St Andrews Parish as 66 years old; wife Charlotte, 55 years old. With him was Widow Catherine ADHEMAR (his 38 year old daughter, a Seamstress) and his sons John (age 35), Edward (age 23) and James (age 20). Also with him were his grandchildren (Alice  (age 13),  Charlotte (age 11) and Robert, age 9).
Charlotte LYONS died on Mar 6, 1892 in St Andrews, age 62.
On Mar 29, 1894 youngest son James married in St Andrews to Alice Christina Louisa FOLSTER, daughter of Charlotte MOORE and Thomas FOLSTER (1830-1912).** MORE ABOUT THOMAS FOLSTER
Thomas LYONS died on Jan 17, 1897
Comments and queries at this link: FORUM DISCUSSING the THOMAS LYONS FAMILY
========================== Family Details ==========================
Children:
1. Oct 13, 1847 THOMAS LYONS JR (m. Eliza ISBISTER)
2. March, 1853 CATHERINE LYONS (m. Eustache Augustin ADHEMAR)
3. Dec 11, 1854 JOHN LYONS
4. Oct 28, 1856 WILLIAM LYONS (m. Alice Margaret McKENZIE)
5. Jan, 1860 HENRY GEORGE LYONS (?m. Anne NORQUAY)
6. July 17, 1865 MYLES/ MILES LYONS (m. Victoria TAYLOR)
7. 1867 EDWARD LYONS (m. Rachel WATT)
8. Jul 3, 1870 JAMES LYONS (m. Alice Christina Louise FOLSTER)