THOMAS FOLSTER (1830-1912)
FANNY DANIEL (1831-1851)
NANCY WALLER (1835-1873)
CHARLOTTE MOORE (1854-1942)
(Last Updated: November 10, 2016)
Thomas FOLSTER was born Oct 15, 1830, the youngest child of Nancy (Half-breed) and James FOLSTER (1775-1841), a Hudson's Bay Company (HBC) voyageur from the Orkneys of Scotland. ** MORE ABOUT JAMES FOLSTER
Thomas' mother (Nancy) died soon after he was born, and his father re-married to Josephte PATENAUDE, daughter of Josephte DUPUIS and Jacques PATENAUDE(1784-1856) from Quebec.
In 1841 Thomas' father (James FOLSTER) died when he was only 11 years old.
We have little information about Thomas' whereabouts during his formative years. We do know that after his father died, his widowed step-mother (Josephte nee PATENAUDE) returned to Laprairie, Quebec where she died in 1850 when Tom would have been about 20 years old. He is later referred to as Doctor Thomas FOLSTER, suggesting perhaps that he went to Quebec with his step-mother and received medical training in Montreal (across the river from Laprairie).
Thomas & Fanny DANIEL
1851
On Jan 13, 1851 Thomas married Fanny DANIEL, daughter of Margaret and Griffiths DANIEL (1785-1869).
** MORE ABOUT GRIFFITHS DANIEL
Marriage to Nancy WALLER
1854
In 1854 Thomas re-married to Nancy WALLER, the daughter of Nancy BIRSTON and James WALLER (1800-18I76).
** MORE ABOUT JAMES WALLER
On Dec 29, 1855 daughter Nancy was born in the Mapleton – Sugar Point area.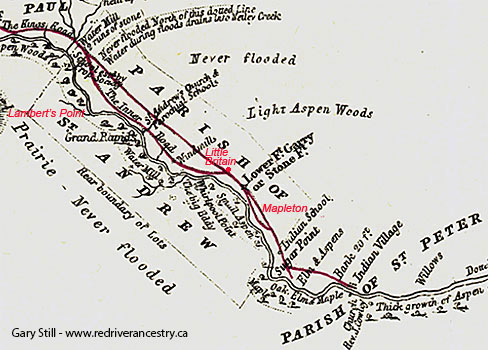 St Andrews Parish from Hind's Map of 1857
Petition for Consecration of St Clements Church, 1864 was signed by Thomas FOLSTER.
Canadian Confederation
Red River Metis Rebellion
Manitoba becomes a Province
1867-1870
On July 1, 1867 the British colonies in North America were united under the British North American Act to become the Dominion of Canada. Sir John A MACDONALD (1815-1891) was appointed as Canada's first Prime Minister. William McDOUGALL (1822-1905) became the Minister of Public Works, and he began negotiations to acquire Rupert's Land from the HBC. Surveyors were sent out to prepare the way for an expected influx of settlers.
On Oct 11, 1869, Louis RIEL (1844-1885) placed his foot on the surveyors' chain to tell them their work was finished. This marked the beginning of a Red River Métis Rebellion.
** MORE ABOUT THE RED RIVER REBELLION in WIKIPEDIA
On July 15,1870 Manitoba became the fifth province of Canada, the Canadian Government having acquired the territory previously governed by the HBC. The Rebellion was essentially over.
In 1870 Thomas' family was recorded on Lot 17 in St Clements Parish; daughter Nancy, age 15. An 1870 map of river lots also shows Reverend Henry GEORGE (1833-1885) on Lot 17.
Nancy Dies
1873
On Jan 23, 1873 Tom's wife Nancy died, about 30 yrs old. She was buried in the St Clements Cemetery at Mapleton.
Around 1874 daughter Nancy married Henry George BIRSTON, son of Nancy LYONS & Magnus BIRSTON (1811-1875). ** MORE ABOUT MAGNUS BIRSTON
In 1875 Thomas claimed Scrip for himself and for his deceased wife Nancy.
Petition for Consecration of St Clements Burial Ground, around 1876 by Thomas FOLSTER.
Beyond the Gates of Lower Fort Garry: Thomas FOLSTER was known as Dr. FOLSTER, and lived by the St Clements Old Stone Church.  He practiced in Selkirk and Winnipeg.  People who came to see him form outlying districts frequently stayed at his place for days, for lack of accommodation.  He was an herb doctor, possibly learning from his mother or other relative. 
Thomas remarries to Charlotte MOORE
1876
Around 1876 Thomas re-married for a third time to Charlotte MOORE, daughter of Nancy THOMAS & John MOAR aka MOORE (1805-1898), a retired HBC voyageur. ** MORE ABOUT JOHN MOORE
In 1877 daughter Charlotte was born.
On June 15, 1882 the Town of Selkirk was incorporated. By the end of the year 1883 the railway branch running on the west side of the river from Winnipeg to the Town of Selkirk was constructed by the CPR was opened for service.
The First Passenger Train from Montreal to the Pacific
1886
On June 28, 1886 the first through passenger train of the new CPR left Montreal for the Pacific. On July 1, it crossed the Louise Bridge in Winnipeg. On July 4, 1886 it arrived at the BC Terminal at one minute to noon hour heading for the Pacific.
In 1894 daughter Alice married James LYONS, son of Charlotte PRUDEN and Thomas LYONS 1825-1897).
** MORE ABOUT THOMAS LYONS
From the 1891 census of the Mapleton area: Thomas FOLSTER (age 68); wife Charlotte (age 36). Children: Alice (age 13), Margaret (11) and William (age 8).
On Nov 29, 1892 their last child, James Lawrence was born.
In 1899 daughter Margaret married Alexander PRUDEN, son of Mary ISBISTER and John Edward PRUDEN (1839-1904). ** MORE ABOUT JOHN EDWARD PRUDEN
On Apr 22, 1905, Thomas FOLSTER died in Mapleton at the age of 76.
The 1906 census recorded Widow Charlotte (age 50) with her two youngest sons, William (age 24) and James (age 14) in Mapleton.
Widow Charlotte moves to Saskatchewan
In the Census of 1911 Widow Charlotte (age 55) was recorded near Weldon, Saskatchewan with the family of her daughter and son-in-law, Alice and James LYONS.
In 1921 Widow Charlotte was with son William Thomas east of Regina.
Widow Charlotte Dies in British Columbia
On Mar 8,, 1942 Widow Charlotte FOLSTER died in Haney, New Westminster, BC. She had probably moved there to live with one of her youngest sons William or James.
Comments and queries at this link: FORUM DISCUSSING the THOMAS FOLSTER FAMILY
========================== Family Details ==========================
Child by Nancy WALLER:
1. Dec 29, 1855 NANCY FOLSTER (m. Henry George BIRSTON)
** MORE ABOUT HENRY GEORGE BIRSTON
Children by Charlotte MOORE:
1. 1877 ALICE CHRISTINA LOUISE FOLSTER (m. James LYONS)
2. Apr 2, 1880 MARGARET JANE FOLSTER (m. Alexander Alfred PRUDEN)
3. Oct 26, 1883 WILLIAM THOMAS FOLSTER
4. Nov 29, 1892 JAMES LAWRENCE FOLSTER