JOHN MOAR aka MOORE (c1804-1898)

NANCY THOMAS (c1818-?)
(Last Updated: May 31, 2015)
John MOAR aka MOORE was born around 1803-05 in the Eastmain District (East side of James Bay), son of a Half-breed Woman named Mary and Andrew MOAR aka MOORE (c1765-c1836), a Hudson's Bay Company (HBC) trader born in the Orkneys.  ** MORE ABOUT ANDREW MOAR aka MOORE
** Most of the credit for what we know about John MOORE and his descendants is due to the conscientious hard work of his great-great granddaughter, Colleen (Gonzo), who has generously shared the results of her excellent and extensive research on the Forum of this website.
In 1818 John (only 13 yeas old?) was on the Company payroll in the Rupert's River District. Just a teenager, he was probably only assisting his father (Andrew) at first. ** MORE ABOUT JOHN MOAR in HBC ARCHIVES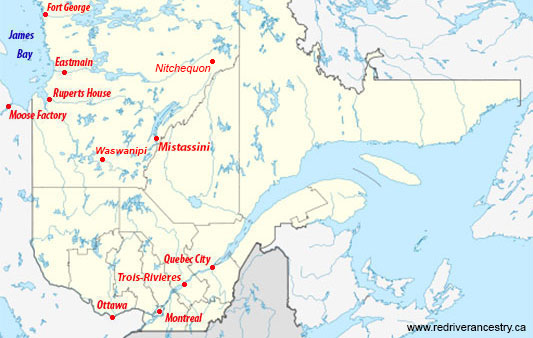 HBC – NWC Merger
1821
By October of 1821, the Hudson's Bay Company (HBC) and the North West Company (NWC) agreed on terms and approved an "amalgamation." The new, merged Company retained the HBC name and governing board in London. At the time of the union, (Sir) George SIMPSON (1786-1860) became the Governor of Rupert's Land.
In September of 1836 John's father (Andrew) retired to Europe from Moose Factory as a passenger on the Prince of Wales. He was an old man by that time, around 71 years old. He never returned and in all likelihood he died in his homeland.
The HBCA Bio tells us that from 1825 right through to 1860 John was a Steersman and Boute (bowsman), essentially a voyageur, in the Rupert River District based at Waswanoby (in 1836) and Mistassini (1842 and 1845). Waswanoby was also called Waswanipi, a Cree village SE of James Bay (east of Matagamy) in Quebec. Mistassini is also in Quebec. This Bio does not provide much in the way of genealogy. The only child mentioned is John Jr.
John & Nancy THOMAS
1835
Around 1835 John was apparently in a relationship with Nancy THOMAS, daughter of Catherine BEST & William THOMAS (1780-1818). ** MORE ABOUT WILLIAM THOMAS
Daughter Mary Ann and son John were born around 1835 and 1836 respectively, probably at Waswanipi where their father was posted during that period.
Around 1843 daughter Louisa was born.
In 1848 daughter Mary Ann became the wife of John ISERHOFF, the youngest son of Cree woman named SHABOWQUA and Jean Baptiste ISERHOFF (1786-1835). ** MORE ABOUT JEAN BAPTISTE ISERHOFF
In 1859 at Lac Seul, son John Jr. married Matilda MORRISSEAU, daughter of Mary DANIEL and Antoine MORRISSEAU (1808-1872), also an HBC voyageur.
John & Nancy settle in Red River
1860
From the HBC Archives, the last whereabouts of John Sr. in the service of the HBC was in 1860 in the Rupert's River district, east of James Bay in Quebec. Colleen informs us that it was around that time that John moved to Red River.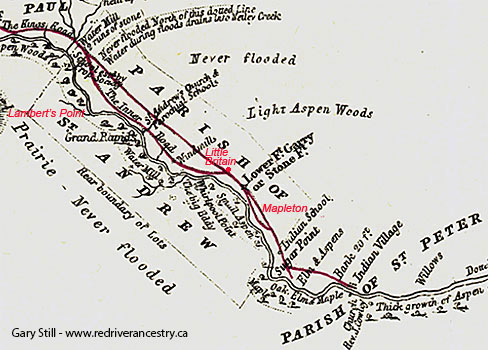 St Andrews Parish from Hind's map of 1857

Canadian Confederation and another Red River Rebellion
Manitoba becomes a Province
1867-1870

Around 1867 daughter Margaret married Thomas THOMAS (1845-1926), son of Catherine (nee MOORE) LINKLATER & Simon THOMAS (1815-1888), both said to be 'Indians'.

In 1867 daughter Louisa married John Richard SETTEE, son of Sarah COOK and Reverend James SETTEE (1809-1902). ** MORE ABOUT REVEREND JAMES SETTEE

On July 1, 1867 the British colonies in North America were united under the British North American Act to become the Dominion of Canada.  Sir John A MacDONALD (1815-1891) was appointed as Canada's first Prime Minister. William McDOUGALL (1822-1905) became the Minister of Public Works, and he began negotiations to acquire Rupert's Land from the HBC. He appointed Surveyor Colonel John Stoughton DENNIS (1820-1885) to draw up a plan for the laying out of townships in the North-West, in anticipation of a vast migration of settlers.

Around 1868-69 son John Jr. married Matilda MORRISEAU at Lac Seul (ON), daughter of Mary DANIEL & Antoine MORRISEAU (1808-1872).

On Oct 11, 1869, Louis RIEL (1844-1885) placed his foot on the surveyors' chain to tell them their work was finished! This marked the beginning of another Red River Métis Rebellion. When it was all over, RIEL's Provisional Government accepted the terms of the Manitoba Act and on July 15,1870 Manitoba became the fifth province of Canada, the Canadian Government having acquired the territory previously governed by the HBC.

.

In December of 1870 a Census of Red River was completed. The results recorded 5, 757 French-speaking Métis; 4, 803 white settlers and 558 Indians in the census region. This information would be later used to determine who would be eligible for Land Grants and Scrip. Later, Scrip affidavits for Nancy & John indicate that they were residents of St Clements Parish at the time of the Transfer (July 15, 1870).

On Sept 4, 1875, both John MOORE, and his wife, Nancy claimed their Half-breed Scrip as residents of St Clements Parish (Mapleton was in that Parish at the time). Their affidavit was co-signed (verified as true) by William TAYLOR, John SINCLAIR and John McDONALD. In it John also stated "My son Robert MOORE is also entitled to a Grant as a child of a Halfbreed Head and has never taken the Treaty. He is now out of the Province in HBC employ and will not return till next year."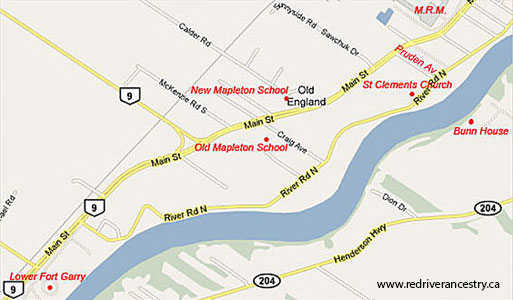 ** Note: Census records indicate that John MOORE and his family were nearby neighbours of both Thomas FOLSTER (1775-1841) and Henry FIDLER (1831-1908), suggesting they probably lived in the vicinity of what is now Craig Avenue (see map above), very likely along River Road.
Around 1877 daughter Charlotte began a connubial relationship with Thomas FOLSTER, son of Nancy (Half-breed) and James FOLSTER (1775-1841), an HBC voyageur from the Orkneys of Scotland. ** MORE ABOUT JAMES FOLSTER
Charlotte was Tom FOLSTER's second or third spouse. ** Note: Charlotte therefore became the step-mother of Nancy FOLSTER who later married Henry George BIRSTON (1849-1918) who was the Great Grandparents of my (Gary's) sister-in-law, Dianne (nee GOWEN) STILL..** MORE ABOUT HENRY GEORGE BIRSTON
In 1879 son Robert (Colleen's Great Grandfather) married Harriet ROBILLARD at Mapleton, daughter of Nancy (a half-breed) and Louis ROBILLARD, a white man (undoubtedly a French Canadian).
In the Census of 1881 in Mapleton, John was recorded as 75 years old; Nancy, age 55. With them are their son Robert, his wife Harriet with their baby Thomas. Also enumerated in their household was a "Domestic Servant" named Charlotte MOORE, age 18 (born c1863 in Ontario). It is unclear to me whether she was a relative.
On Oct 24, 1884, daughter-in-law Harriet (son Robert's wife) died.
In the Census of 1891 in Mapleton, John was recorded as 92 years old; Nancy, age 71. (There are obvious discrepancies in the ages recorded by the enumerators in all of the censuses). Son Robert (now widowed) is still with them, as well as his two sons (John's grandsons), Thomas (age 11) and Peter (age 8).
** Interesting Note: It was in the summer of 1893 that my (Gary's) father-in-law, Ventrice was born, an illegitimate child of Caroline SAYER & James (Jim) FIDLER (1870-1929), both neighbours of John MOAR.
John & Nancy's Death
1898-99
On Apr 6, 1898 John MOAR died in St Andrews Parish. This is from Manitoba Vital Stats, which indicates his age as 96 (b-c1802). The following year (1899), Nancy MOAR died.
Colleen: When John and Nancy died," they were buried in at Mapleton". Son Robert then moved to the Chalet Beach (Matlock) area as well as his sister Margaret who married Thomas THOMAS (who raised my father-in-law, Ventrice (born FIDLER) THOMAS).
** Another interesting note: It was that same year of 1898 when Caroline SAYER & Jim FIDLER parted ways, and their illegitimate five-year-old child, Ventrice, was put in a boat at Mapleton and taken down the river to Matlock to live with Margaret and Thomas THOMAS. Doubly interesting: Jim FIDLER, in the fall of 1899 conceived a child with a "Cree woman named Matilda", last name unknown. I have never been able to determine just who this Matilda was. Now it strikes my attention that the wife of John MOAR JR was named Matilda (nee MORRISSEAU). Is this just my curiosity and wild imagination running wild?
Please post your comments and queries at this link: FORUM DISCUSSING the JOHN MOAR aka MOORE FAMILY
========================== Family Details ==========================
Children:
1. 1835 MARY ANN MOORE (m. John ISERHOFF)
2. 1836 JOHN MOORE JR (m. Matilda MORRISEAU)
?3. c1838 RICHARD MOORE
4. 1843 LOUISA MOAR (m. Rev John Richard SETTER dit SETTEE)
5. 1848 MARGARET MOORE (m. Thomas THOMAS)
** MORE ABOUT THOMAS THOMAS
6. Jun 4, 1854 CHARLOTTE MOORE (m. Thomas FOLSTER)
?7. c1855 CATHERINE MOORE (m. Thomas Marwick LINKLATER)
?8. Nov 14, 1856 (1853 re Colleen) ROBERT MOORE (m. Harriet ROBILLARD)