JAMES FOLSTER (1775-1841)
NANCY (JANE) INDIAN (1785-1830)
JOSEPHTE PATENAUDE (1814-1850)
(Last Updated: November 10, 2016)
James FOLSTER was born around 1775 in Birsay (Orkney, Scotland), son of Jane and James FOLSTER SR (b-1730). James was a brother of John FOLSTER (1776-1871). James may have come to Canada with his brother John in 1792.  We know that John was a Canoe-man with the HBC, so it is possible that younger brother Jim followed suit.
Cree Wife Nancy (Jane)
1802
It was probably around 1802 that James was country-wed to Cree woman named Nancy (Jane). ** James' wife is firsts referred to as Nancy, later as Jane. It is uncertain whether these ladies were one and the same or whether James had two different wives. Around that time daughter Margaret was born. Margaret was a deaf-mute.
In 1810 daughter Nellie was born in Saskatchewan. In 1811 son John was born.
Union of the North West Company with the Hudson's Bay Company
1821
In 1821 the union of the North West Company (NWC) and the Hudson's Bay Company (HBC) occurred, ending the years of bitter rivalry for dominance of the fur trade in Western Canada. After the merger, almost 1,300 employees lost their jobs since the single HBC organization that emerged had no need for most of the voyageurs and fur traders.
In 1822 daughter Elizabeth was born. She may have died in infancy (no further record of her). In 1824 daughter Jane was born.
Sugar Point
1827
In the 1827 Red River Census we find James FOLSTER on Lot 214. He's married with two young sons and three older daughters. These would have been daughters Margaret (age 25), Nellie (17) and Jane (age 3), and sons John (age 16) and William (a baby). He had a house and stable; a horse and mare, four cows, two calves and an ox. He had a cart, a plough and a harrow and he had 10 acres under cultivation. His brother John was his neighbour on Lot 215. I'm not sure exactly where these lots were located, but I suspect it was in the vicinity of the "Red Feather Farm" that is on Eveline Street in Selkirk (Sugar Point, north of Mapleton on map below).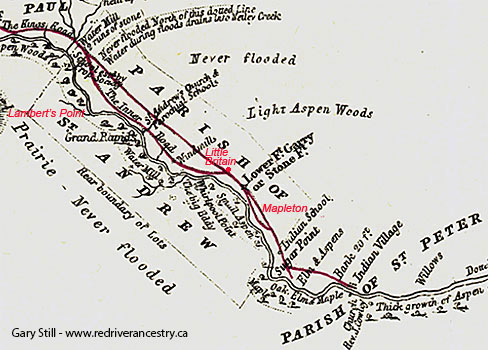 St Andrews Parish from Hind's Map of 1857
On Nov 25, 1827 James and his Cree wife Jane were church-wed at St John's (Kildonan), probably by Reverend William COCKRAN (1798-1865). ** MORE ABOUT REVEREND WILLIAM COCKRAN in DCBO
In 1830 James' wife Jane died after giving birth to son Thomas.
James and Josephte PATENAUDE
After his wife Nancy died, James re-married to Josephte PATENAUDE, daughter of Josephte DUPUIS and Jacques PATENAUDE (1784-1856) from Quebec
Around 1834 son John died (only about 23 years old).
Census 1835: James FOLSTER on Lot 9, St Paul Parish. Seven persons in his household (five children). He has a horse and 17 cattle; two farm implements and a cart. He was farming 15 acres of land. At that time the children would have been daughters Margaret (age 32), Nellie (25) and Jane (age 11), and sons William (age 8) and Thomas (age 5).
On March 22, 1841 James FOLSTER died.
In 1844 son William married Maria PRUDEN, daughter of Nancy HENRY and William PRUDEN (1804-1844).
** MORE ABOUT WILLIAM PRUDEN
Around 1846 daughter Jane was in a connubial relationship with Alexander DAHL, the son of Catherine MURRAY and Peter DAHL (1781-1859) from Norway.
Around 1850 youngest son Thomas married Fanny DANIEL, probably the daughter of Margaret GOODWIN and Jacob DANIEL (1792-1876). Fanny died about a year later (1851).
In 1851 son Thomas married Fanny DANIEL, daughter of Margaret and Griffiths DANIEL (1785-1869).
** MORE ABOUT GRIFFITHS DANIEL
It appears that Widow Josephte (PATENAUDE) FOLSTER returned to Laprairie, Quebec, where she re-married and died on May 8, 1850.
In 1854 son Thomas re-married to Nancy WALLER, the daughter of Nancy BIRSTON and James WALLER (1800-18I76). ** MORE ABOUT JAMES WALLER
Around 1876 son Thomas, widowed again (Nancy WALLER died in 1873), re-married for a third time to Charlotte MOORE, daughter of Nancy THOMAS & John MOAR aka MOORE (1805-1898).
Comments and queries at this link: FORUM DISCUSSING the JAMES FOLSTER FAMILY
=========================== Family Details ===========================
Children by Nancy (Jane):
1. 1802 MARGARET FOLSTER (Died in 1882 Un-married)
2. 1810 NELLIE FOLSTER (Died in 1872 Un-married)
3. 1811 JOHN FOLSTER (Died in 1834, age 23)
4. 1822 ELIZABETH FOLSTER (Died in infancy?)
5. 1824 JANE (JENNIE) FOLSTER (m. Alexander DAHL)
6. 1827 WILLIAM FOLSTER SR (m. Maria PRUDEN)
7. Oct 15, 1830 THOMAS FOLSTER (m1. Fanny DANIEL, m2. Fanny NANCY WALLER, m3. Charlotte MOORE)