GRIFFITH(S) DANIEL (1785-1869)
MARY (Indian Woman)
MARGARET (1794-1837)
MADELEINE MACKAY (1815-1881+)

(Last Updated: November 10, 2016)
Griffiths DANIEL was born around 1785 at Albany Factory (Fort Albany on map below), son of an Indian woman and Jenkins DANIEL (1740-1823) an Englishman from Wales who was an HBC employee for many years at Henley House in the Albany River District.
Griffith's older brother (John DANIEL) was born around 1780 and his younger brother (Jacob DANIEL) was born around 1792, both at Albany Post.
On Sep 26, 1799 Albany River post journals mention Jenkin DANIEL and his two older sons, John and Griffith, had gone to Henley House with some trading goods. They are described as "two youths". This is the first mention of Griffith in the journals.
Griffiths Begins his HBC Service
1800
In 1800 Griffith entered the service of the Hudson's Bay Company (HBC) as a laborer at Albany Post
** MORE ABOUT GRIFFITHS DANIEL in HBC ARCHIVES
In 1806 Griffith's younger brother (Jacob) began his service with the HBC at Albany.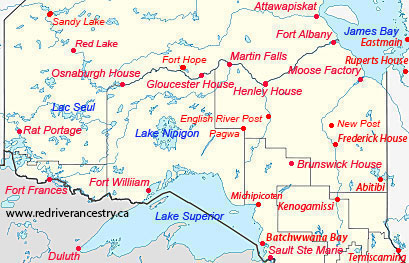 Griffith marries an Indian Woman (Mary) in Albany River district
1806

Around 1806 Griffiths married an Indian Woman named Mary. Daughter Mary was born around 1807 (verified in her Scrip).

In 1812 Griffiths began working the canoes as a steersman inland from Albany Factory along the Albany River.
From 1815 through to 1830 Griffith continued as a steersman with his home base at Marten Falls, still in the Albany River District.

On Jan 4, 1819 the surgeon from Moose pronounced "Old Jenkin" (Daniel's father) unfit for services" (however he continued to work for some time yet). - - On Sep 29, 1823 the record states 5:30-6:00 pm Jenkin DANIEL departed this life. He was buried on Sep 30.

By 1826 Griffith's Indian wife had given birth to nine children.

I don't know what became of his Indian wife. Their last child together (Edward) was born around 1826.  In any case, there is no evidence that she went to Red River with Griffith.

Around 1829 son John married Jane ROSE of uncertain origins.

Griffith retires to Red River
1830

In 1830 Griffith retired to Red River Settlement (St Andrews). Griffith would have been about 45 years old then.

On Nov 9, 1832 all of Griffith's children (except Mary & John) were baptized at St Johns (in Winnipeg North). These were Nancy, Joseph, Charlotte, Thomas, William, Jacob and Edward.

On May 1, 1832, the first St. Andrew's (or Lower) Church was opened and dedicated. Rev David JONES (1796-1844) suggested that a boarding school be established near the church to educate the sons of the gentlemen of the fur trade. It was decided that girls could attend as well. Construction of Lower Ft Garry was begun that year under the supervision of Alexander CHRISTIE (1792-1872).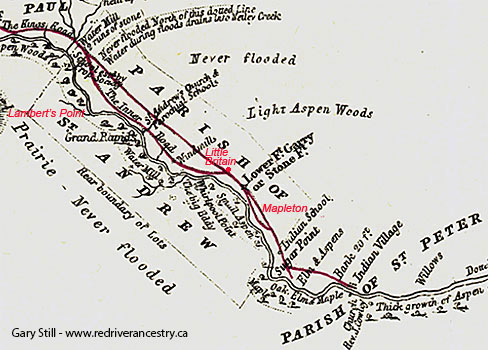 St Andrews Parish from Henry Hind's Map based on his observations of 1857
Marriage to a lady named Margaret
1833-183
7
On Dec 17, 1833 Griffith re-married at St Johns to a lady simply referred to as Margaret DANIEL in his HBC Archives bio.
Around 1836 in St Andrews Parish daughter Mary married Andrew THOMPSON (b-1805) from Scotland.
Around the same time, daughter Nancy married Donald JOHNSTON, son of Jane and Thomas JOHNSTON (an Indian born around 1780). ** MORE ABOUT DONALD JOHNSTON
In 1837 Wife Margaret died; buried on June 17, 1837.
Around 1837 daughter Mary became the wife of Andrew THOMPSON (born 1802 in Scotland).
Marriage to Madeleine MACKAY
1840
On Jun 28, 1840 Griffiths re-married to Madeleine MACKAY.
Around 1846 son Edward married Elizabeth Isabelle FAVEL, daughter of Elizabeth SHORT and John James FAVEL (1797-1870).
In 1851 daughter Fanny married Thomas FOLSTER, the youngest child of Nancy (Half-breed) and James FOLSTER (1775-1841), a Hudson's Bay Company (HBC) voyageur from the Orkneys of Scotland.
By about 1863 daughter Mary was in a connubial relationship with Benjamin Johnston MAYO (1832-1920).
** MORE ABOUT BENJAMIN JOHNSTON MAYO
Canadian Confederation
A Red River Rebellion
Manitoba becomes a Province
1867-1870
On July 1, 1867 the British colonies in North America were united under the British North American Act to become the Dominion of Canada.  Sir John A MACDONALD (1815-1891) was appointed as Canada's first Prime Minister. William McDOUGALL (1822-1905) became the Minister of Public Works, and he began negotiations to acquire Rupert's Land from the HBC; surveyors were sent to Red River to prepare the way for an expected influx of settlers.
Around 1868 daughter Catherine was married to Charles HOWARD, son of Charles HOWARD Sr. (b-1814) from the USA.
In the spring of 1869 Griffith DANIEL died in Red River. On May 7 that year he was buried in St Andrews Parish.
On Oct 11, 1869, Louis RIEL (1844-1885) placed his foot on the surveyors' chain to tell them their work was finished! This marked the beginning of the historic Red River Métis Rebellion.
On July 15, 1870 the Rebellion ended when RIEL's Provisional Government accepted the terms of the Manitoba Act and Manitoba became the fifth province of Canada.
In 1870 Widow Madeleine DANIEL was recorded on Lot 72 in St Andrews Parish with children Mary (age 26), Philip (age 20), James (age 17) and Helena (age 15).
In 1875 Madeleine of St Andrews claimed Scrip as the wife of Griffith DANIEL, indicating her parents as an Indian and Un-named MACKAY (Metis).
In 1876 son James married Madeleine BOUCHER at Fort McMurray (AB), daughter of Madeline PICHE and Joseph BOUCHER.
In 1877 son Philip married Nancy MUNRO in Selkirk, daughter of Jean DENNING and Finlay MUNRO (1824-1901).
Census of 1881 in St Andrews Parish: Widow Magdalene DANIEL, age 70 (born c1811 in NWT). Children: Mary (age 38), Helen (22), Louisa (18) and Maria Ann (age 1). Also Widow Catherine (nee DANIEL) HOWARD (age 36) and her children (Helen, Alfred, Sophia and Robert HOWARD).
Comments and queries at this link: FORUM for DISCUSSING THE FAMILY OF GRIFFITHS DANIEL
============================ Family Details ============================
Children with Indian Woman named Mary:
1. 1807 MARY DANIEL (m. Andrew THOMPSON)
2. c1810 JOHN DANIEL (m. Jane ROSE)
3. c1810 NANCY DANIEL (m1. Donald JOHNSTON)
4. 1815 CHARLOTTE DANIEL (Died age 18)
5. 1816 JOSEPH DANIEL (Died age 22)
6. 1818 THOMAS DANIEL (Died age 23)
7. Aug 20, 1822 WILLIAM DANIEL
8. 1825 JACOB DANIEL (m. Died age 6)
9. 1826 EDWARD DANIEL (m. Elizabeth Isabelle FAVEL)
Children with Indian woman named Margaret:
1. 1829 MARGARET DANIEL (Died in infancy, age 4)
2. Dec 23, 1831 JAMES DANIEL (Died in infancy, age 3)
3.  Apr, 1834 SAMUEL DANIEL (Died in infancy)
4. 1835 FANNY DANIEL (m. Thomas FOLSTER)
Children by McKAY:
1. 1841 SARAH DANIEL
2. 1843 JANE DANIEL
3. Aug 16, 1845 MARY DANIEL (m. Benjamin Johnston MAYO)
** MORE ABOUT BENJAMIN JOHNSTON MAYO

4. 1847 CATHERINE DANIEL (m. Charles HOWARD)
5. Sep 23, 1849 PHILIP DANIEL (m. Nancy MUNRO)
6. Mar 5, 1851 ELLEN (HELEN, HELENE) DANIEL
7. 1856 MARY ANN DANIEL
8. 1858 JAMES DANIEL (m. Madeleine BOUCHER)