JAMES WALLER aka VOLLER (1800-1876)
NANCY BIRSTON (1805-1893)
(Last Updated: February 03, 2016)
James WALLER aka VOLLER, an Englishman, was born around 1800. Other surname variations: VALLER, VALEUR, VANLER, VAWLER, VEULLER
Linda Bruins:  Family folk lore says that James was pressed into the British Navy, beaten and made to "take the King's coin".  After three months on board, he was able to jump ship at Montreal.  This has not been proven.
We don't really know when James WALLER arrived at Red River.
Marriage to Nancy BIRSTON
1830
On Mar 10, 1830 James married Nancy BIRSTON at St Johns Church in Kildonan, daughter of an Indian woman and Alexander BIRSTON (1775-1829), an HBC voyageur from the Orkneys of Scotland.
** MORE ABOUT ALEXANDER BIRSTON
On Sep 25, 1832 their first child, Mary was born in St Andrews Parish. James spent the rest of his life with his family on River Lots 88 and 184 in the Lockport area. Nancy would give birth to 10 children but only seven lived to adulthood.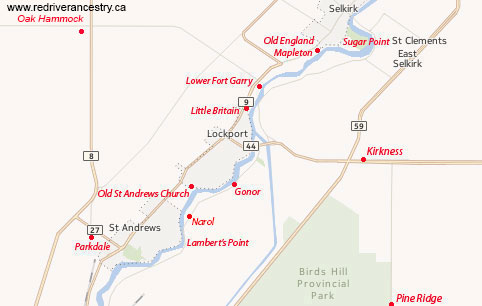 In 1852 eldest daughter Mary married Edward KIPLING, son of Isabella LANDRY and George KIPLING (1805-1878).
In 1854 daughter Nancy married Dr Thomas FOLSTER, son of a Nancy (a Metisse woman) and James FOLSTER (1775-1841). ** MORE ABOUT JAMES FOLSTER
In 1857 daughter Sarah married William SINCLAIR, son of half-breed Elizabeth SWAIN & Baikie SINCLAIR (1802-1887), an HBC Labourer born in the Orkneys of Scotland. ** MORE ABOUT BAIKIE SINCLAIR
In 1865 daughter Elizabeth married George DANIEL, son of Margaret GOODWIN and Jacob DANIEL (1792-1876).
Canadian Confederation
Red River Rebellion
Manitoba becomes a Province
1867-1870
On July 1, 1867 the British colonies in North America were united under the British North American Act to become the Dominion of Canada. Sir John A MACDONALD (1815-1891) became Canada's first Prime Minister.
In 1867 daughter Eliza married Robert TAYOR, son of Jane PRINCE and George TAYLOR (1800-1844), an HBC Sloop Master, Clerk and Surveyor. ** MORE ABOUT GEORGE TAYLOR

Also in 1867 daughter Caroline married Edward McKAY, son of Mary ENGLAND & John McKAY (1816-1922). 
Between 1869 and 1870, The Red River Rebellion occurred, led by Louis RIEL (1844-1885).On July 15,1870 Manitoba became the fifth province of Canada, the Canadian Government having acquired the territory previously governed by the HBC.
In 1870 youngest daughter Maria married her brother-in-law James SINCLAIR.
In 1876 James WALLER died, and in the Census of 1881 Widow Nancy (age 62) was recorded with her daughter and son-in-law, Caroline and Edward McKAY in St Andrews.
On Apr 27, 1893 Widow Nancy (nee BIRSTON) WALLER died in St Andrews at the age of 79.
There were no surviving male descendants.
Comments and queries at this link: FORUM DISCUSSING the JAMES WALLER FAMILY
============================ Family Details ============================
Children who survived to adulthood: Several died in infancy or at a young age
1. Sep 25, 1832 MARY WALLER (m. Edward KIPLING)
2. Jul 2, 1835 NANCY WALLER (m. Thomas FOLSTER)
3. Mar 17, 1838 ELIZABETH WALLER (m1. George DANIEL, m2. William DONALD)
4. Mar 27, 1843 SARAH WALLER (m. William SINCLAIR)
5. 1846 ELIZA WALLER (m. Robert TAYLOR)
6. June 25, 1851 CAROLINE WALLER (m. Edward Richard McKAY)
** MORE ABOUT EDWARD RICHARD McKAY
7. 1853 MARIA WALLER (m. James SINCLAIR)