ROBERT ALEXANDER "BOB" TAYLOR (1836-1919)
ELIZA WALLER (1849-1921)
(Last Updated: December 29, 2012)
Robert Alexander "Bob" TAYLOR was born around 1836 in Little Britain, St Andrews Parish, Red River, son of Jane PRINCE & George TAYLOR (1800-1844), a Hudson's Bay Company (HBC) Sloop Master, Clerk and Surveyor.  
When his father (George TAYLOR) died in 1844, Bob was only eight years old. The family was then living on the property that later became known as the historic Hawthorne Lodge, just south of Lower Fort Garry. We don't know where or when his mother died, but that property was sold in 1848.
An HBC Voyageur
1855-1861
From 1855 to 1861 Bob contracted as a Middleman (middle position in a voyageur's canoe) for the HBC in the Swan River and Saskatchewan Districts. In 1862 he became a "Freeman", having "deserted" his position.
Canadian Confederation
Marriage to Eliza WALLER
1867
On July 1, 1867 the British colonies in North America were united under the British North American Act to become the Dominion of Canada. Sir John A MACDONALD (1815-1891) was appointed as Canada's first Prime Minister.
In 1867 Bob married Eliza WALLER, daughter of Halfbreed Nancy BIRSTON & James WALLER (1800-1876), an Englishman. In 1868 their first-born child was Marianne.
Manitoba becomes a Province
1870
On July 15,1870 Manitoba became the fifth province of Canada, the Canadian Government having acquired the territory previously governed by the HBC. The Manitoba Act that year provided substantial land grants to Métis (Half-breeds) who occupied lots in Red River prior to that date.
In 1870 Robert and his family were recorded on Lot 6 in St Andrews Parish (Parkdale area as shown on the map below). Their children were then recorded as Marianne (age 2) and Edward (age 1). In 1871 daughter Caroline was born.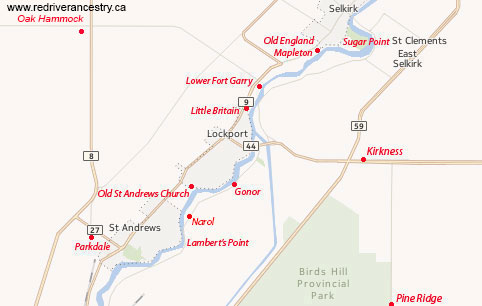 In 1875 Applications for Halfbreed Scrip were made, first (Jul 12) by Robert TAYLOR, and 2nd (Sep 3) by his wife Eliza (both applications were co-signed by George PARK & John McKAY).  Eliza & Robert were residents of St Clements Parish at the time of these applications.
In the Census of 1881 Bob (age 45) and his wife Eliza (age 31) were enumerated n St Clements Parish. Children at home were Edward (age 10) and Caroline (age 9).
River Lot 88
1884
By 1884 Bob was the registered owner of Lot 88 (previously owned by his father-in-law James WALLER). The St Andrews Parish map of 1870 shows the location of Lot 88 to be just a short distance north of the Historic Captain Kennedy House (near the Old St Andrews Church)  on the River Road south of Lockport (west side of the Red River)
In 1886 daughter Mary Anne married Thomas MOWAT, son of Jane NORQUAY & Edward MOWAT (1830-1909).
In 1894 daughter Caroline married James Henry FROST, son of Annie BUTTERFIELD & Jonathan FROST (1834-1898).
Around 1897 son Edward married Clara SPENCE, daughter of Annie GARDINER & Alexander SPENCE (1854-1942).
East Mapleton
Eliza and Bob TAYLOR lived the rest of their lives on their property on the east side of the Red River, across from the St Clements stone church at Mapleton.
From East Side of the Red by Hallie Wilson:I can tell you a story about "Old Bobby" TAYLOR. We children all liked "Old Bobby." My father (A.B. ROWLEY) always looked out for him.  Old Bobby wasn't always responsible for what he was doing, especially in winter. My father looked after him though I don't think there was much difference in their age (ROWLEY was born 1855, Old Bobby in 1836).  - - One night he didn't come back early and Mrs FROST came and told Dad her father hadn't come home, so Dad immediately went down to Selkirk to look for him.  He found him, with his team, stuck in a snowdrift, and he was on a cold wood rack.  He had a hold on one of these uprights; with his hands and they were frozen to the upright.  My Dad took him home, sent my older brother Duncan on horseback for Dr ROSS. - - Anyhow, the old man lost his hands. He was very agile with his "hands" after that. He could do all kinds of things, he was quite a smart old man, in spite of losing all his fingers (stumps for hands) still in all, Dad used to look after him, along with Mr & Mrs FROST.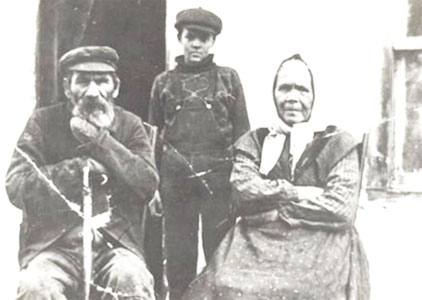 "Old Bobby" Taylor, his wife Eliza and Grandson Leslie Frost
This photo must have been taken around 1905 when Leslie Frost was about 10 years old
On Mar 26, 1919 Robert TAYLOR died in St Clements Parish
On Feb 19, 1921 Eliza TAYLOR died in St Clements.
Please post comments & queries at this link: FORUM DISCUSSING ROBERT TAYLOR & FAMILY
============================ Family Details ============================
Children:
1. Jan 3, 1868 MARY ANNE JANE TAYLOR (m. Thomas E. MOWAT)
2. Aug 23, 1870 EDWARD TAYLOR (m. Clara SPENCE)
** MORE ABOUT EDWARD TAYLOR
3. Oct 23, 1871 CAROLINE TAYLOR (m. James Henry FROST)
** MORE ABOUT JAMES HENRY FROST