EDWARD TAYLOR  (1870-1925)
ANN CLAIR "CLARA" SPENCE (1880-1921)
(Last Updated: March 18, 2013)
Edward TAYLOR was born 1870 in St Andrews Parish, son of Eliza WALLER and Robert Alexander TAYLOR (1836-1919). ** MORE ABOUT ROBERT ALEXANDER TAYLOR
When Edward was born, the TAYLOR family was living on River Road (just east of where it meets Highway #9) in the vicinity of what is now the location of the Larters Golf Course. By 1884 the TAYLOR family had moved north to Lot 88 which was located to the south of present day Lockport, just north of the Historic Kennedy House.
By 1891 the TAYLOR family had moved to the north of Lower Fort Garry on the east side of the Red River (St Clements Parish) across from Mapleton (Old England). In the census that year Ed (age 20) was enumerated with his parents there. Their neighbours included the families of Claude MacFIE (1857-1936), William FIDLER (1845-1929), and Annie (nee GARDNER) & Alexander SPENCE (1854-1942), Ed's future parents-in-law.
In 1896 Ed's youngest sister Caroline TAYLOR, and her husband James FROST (1869-1959), moved in next-door.
Edward & Clara SPENCE
1898
On Oct 4, 1898 Edward married Clara SPENCE in St Clements, daughter of Annie GARDNER and Alexander SPENCE (1854-1942).  Their first child was Lawrence, born on Aug 2, 1900.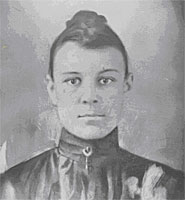 Clara Spence-Taylor
Ed & Clara lived for a short time with Ed's parents, but by 1901 they had their own house, next door.
In 1903 their second child, Eliza, was born. Eliza must have died in infancy; she doesn't appear in later census records. In 1905 and 1907 sons Edward Jr. and twins William and George, were born. Twin George died in infancy.
Ed and his family move to Lac du Bonnet
1909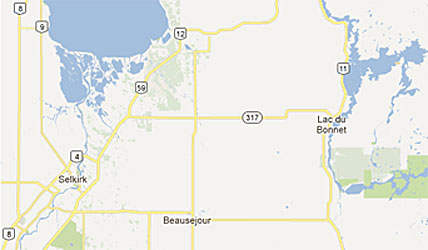 Bob Taylor (Ed's son): About 1909 Ed moved to Lac du Bonnet, where he did bush work to supplement the family income. (Clara's SPENCE parents and siblings were already living there (the Alex SPENCE family had moved to Lac du Bonnet in 1900).
Ed's property was located on Section 33-15-11-Epm, which is near Hwy #11 about three miles north of the Town of Lac du Bonnet.
Daughter Edith was born in 1913, son Robert in 1914.
The First World War
1914-1919
On Aug 14, 1914, Great Britain (and Canada) declared war on Germany and Austria-Hungary, to uphold treaties with France and Belgium which were under German attack.
On Dec 20, 1915, son Lawrence enlisted in Selkirk stating his birth-date as Aug 7, 1897. On his medical examination of the same date they show his "Apparent age" as 16; he's 5' 7", dark complexion with dark brown hair. His military service was of short duration. On Apr 11, 1916 he was discharged as being "under-age" which is somewhat puzzling. As far as I can tell he turned 18 on Aug 7, 1915.
November 11,1919, Armistice Day (Remembrance Day) marked the end of the First World War.
Wife Clara dies
1921
On May 31, 1921, Clara died in Lac du Bonnet about 6 weeks after giving birth to son Thomas (she was only 42 yrs old). 
Edward took the children back to Caroline (her sister) and James FROST in St Clements (Lot 88) where Caroline raised them with loving care and opened her heart and home to the motherless TAYLOR family.  Lawrence was 24 yrs old by this time; Ed Jr. about 16, and Bill, the surviving twin, turning 14.  However, Edith was only 8, Bob 7, and little Tom, a babe in arms at the time of Clara's death in 1921. Quite a burden for Caroline FROST, but she coped, raising her brother's children, who attended Kitchener, Happy Thought, and Selkirk schools.  ** MORE ABOUT CAROLINE & JAMES FROST
Around 1922-23 son Lawrence (around 25 years old) began a relationship with Mary Elizabeth STEVENSON. Their daughter Clara Mabel was born on May 18, 1924 in the Fisher River Reserve (at Koostatak).
Note: At his time, we have no solid information regarding the parents of Mary Elizabeth STEVENSON from the Fisher River Indian Reserve. Granddaughters Linda & Clara indicate that her father was John James STEVENSON of so far unknown origins. I believe this was John James STEVENSON b-1875, son of son of Elizabeth DANIEL, the second wife of "Swampy" John STEVENSON (1840-1932). It should be noted that my opinion is not necessarily shared by Linda & Clara. In that regard, check the following link: ** MORE ABOUT SWAMPY JOHN STEVENSON
On May 20, 1925, Edward TAYLOR died in the RM of St Clements, at age 54.
Around 1928 son Edward Jr. (age 23) began a relationship with Esther DEMERIA, 20 year-old daughter of Elizabeth Jane SMITH & Frank DEMERIA (b-1883), a childhood school-mate from the Lac du Bonnet area.
On Jun 10, 1942, daughter Edith married her brother-in-law Archie DEMERIA (1907-1978), also from the Lac du Bonnet area.
Around 1942 son Robert married Ethel WHEELER-KORMAN, daughter of Dorothy & Alfred WHEELER of St Catherines, Ontario, adopted daughter of Albania KORMAN.
Finally, son Thomas married a lady named Harriet. I have no details about this marriage.
I was told that son William married a lady named Georgelina JAOULE. Again, I have no details about that marriage and I wonder if the surname might actually be JOYAL which is more common. I have failed to find the surname JAOULE in any of my searches.
** Note: Son Lawrence TAYLOR and Clara SPENCE were the parents of Clara TAYLOR who married my Cousin William "Bill" GORDON (1918-1994), son of my Aunt Grace (nee CONROD) and Peter GORDON (b-1889).
** MORE ABOUT GRACE & PETER GORDON
Regarding Ed's descendants: Because there are too many living people involved who may not wish to have their personal information made public, I will not post any Family Pages for Edward's descendants unless requested to do so. Our main interest on this website is in our ancestors.
Please post comments & queries at this link: FORUM DISCUSSING EDWARD TAYLOR & FAMILY
============================ Family Details ============================
Children (4 survived):
1. Aug 2, 1897 LAWRENCE TAYLOR (m. Mary Elizabeth STEVENSON)
** MORE ABOUT LAWRENCE TAYLOR
2. Feb 25, 1903 ELIZA TAYLOR (Died in infancy)
3. Apr 22, 1905 EDWARD TAYLOR JR (m. Esther DEMERIA)
4. Feb, 1907 WILLIAM "BILL" (twin) TAYLOR (m. Georgelina JAOULE)
5. Feb, 1907 GEORGE (twin) TAYLOR (Twin, of Bill, George died in infancy)
6-7 NELLIE and JIMMIE (both died in infancy in the flu epidemic of 1918)
8. 1913 EDITH TAYLOR (?m1. Charlie FROST, m2. Archie DEMERIA)
9. 1914 ROBERT "BOB" TAYLOR (m. Ethel WHEELER KORMAN)
10. 1921 THOMAS TAYLOR (m. Harriet)