SWAMPY JOHN STEVENSON (c1840-1932)
MARY MAWAIS
ELIZABETH DANIEL (1847-1929)
(Last Updated: September 05, 2014)
John STEVENSON, a Swampy Cree Indian (often referred to as "Swampy John") was born around 1840, probably in Red River country. The HBC Archives describes him as a "Native of Red River".  He was the son of Indians Juliet and John STEVENSON SR.
In 1852 John began to work as a labourer for the Hudson's Bay Company (HBC) in the Swan River District.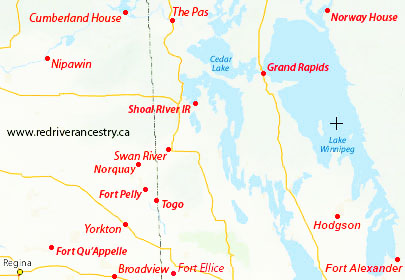 The Key Indian Reserve was located near Fort Pelly
In 1855 and 1856 John signed HBC work contracts at Norway House as a bowsman (canoe man, voyageur) but his main base continued to be in the Swan River district.
John & Mary MAWAIS
1858
Around 1858 John was united with Mary MAWAIS who belonged to the Shoal River Indian Band led by Chief KEY. On Aug 1, 1859 their first child, Adam, was born there.
The work of a voyageur involved extensive travel away from home, including trips to Norway House and Red River. From the fall of 1862 to the spring of 1863 for example John was recorded as a "freeman at Red River".
John didn't sign another contract until 1865 at which time he was back in the Swan River District as a steersman.
In 1866 daughter Sarah was born in the Shoal River Reserve and in the spring of 1867 Mary MAWAIS was pregnant again, just before John made another trip to Red River.
During 1867-68 John was again a "Freeman" (no work contract) in Red River, apparently without Mary MAWAIS.
John and Elizabeth DANIEL in St Peters
1867
It seems that during his 1867-68 stay in Red River, John began a relationship with Elizabeth DANIEL daughter of Jane ROSS & James DANIEL (b-c1825). His service with the HBC ended; he became a "Freeman" in Red River, beginning a new life with Elizabeth DANIEL in St Peters. He never returned to Swan River.

John was well acquainted with Elizabeth's DANIEL relatives both in the Swan River District and Red River. For example, Elizabeth's Uncle William DANIEL (b-1822) was an HBC Interpreter and Guide at Fort Pelly from 1865 to 1868.
In January of 1868 daughter Mary STEVENSON was born at Swan River to Mary MAWAIS. That same year daughter Caroline STEVENSON was born to Elizabeth DANIEL in Red River.
In 1870 John & Elizabeth were recorded in St Peters with two year old daughter Caroline.
In 1874, under the terms of Treaty Four, the Shoal River homeland was ceded to the Crown, although the Key Band did not adhere to Treaty until September of 1875.
Mary MAWAIS remained in the Swan River district with her three children by John (Adam, Sarah and Mary). She became a member of the Shoal River Indian Band led by Chief Ow-tah-pee-ka-kaw – "The KEY" (also known as the Key Reserve), near Fort Pelly.
In the 1881 Census John (age 32) was recorded as an Indian living in the St Peters Reserve with wife Elizabeth (age 32) and children Caroline (age 11), Alexander George (9), Alfred (7), John James (6), Riley (age 4) and Elizabeth, (6 months old). His parents (Juliet & John STEVENSON SR) and some siblings were recorded as next-door neighbours in the same census.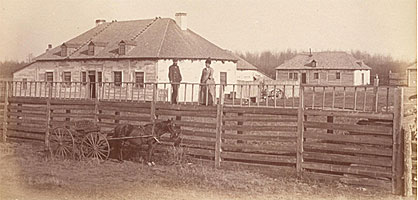 Fort Pelly 1887
(Part of MS. Coll. 26 Tyrell (Joseph Burr) Papers)
In 1882, Chief KEY, together with 12 families from the Shoal River IR relocated to Fort Pelly. Under the leadership of Headman John BEARDY, the group resident at Shoal River petitioned the Department of Indian Affairs in 1882, 1884, and 1885 for their own reserve at that location, stating that they had no interest in relocating to a new reserve at Pelly and repudiating the leadership of Chief 'The Key'.
In 1882, 16 year old daughter, Sarah married at Fort Pelly to Frederick FISCHER (1859-1930).
Around 1883, son Adam (age 24) married at Fort Qu'Appelle to Suzanne SMITH.
In 1885, daughter Mary married at Fort Ellice to John Richard THOMAS.
On May 14, 1887 son Adam received a Discharge from Treaty as a former member of the Kee-see-Kouse Indian Band near Fort Pelly.
Around 1901 (according to Clara) a John James SINCLAIR was married to Helen Frances SINCLAIR who was the mother of Mary Elizabeth STEVENSON born on March 28, 1901 at Koostatak in the Fisher River Indian Reserve. We are sadly lacking information about this marriage and about the origins of Helen Frances SINCLAR.
Census 1906, St Peters: John STEVENSON (age 61); wife Elizabeth (age 51). Children at home: Thomas (age 21) and William (age 19).
Surrender of the St Peters Reserve
A New Peguis Reserve at Fisher River
1907
After much wrangling, in October of 1907 Chief William PRINCE and his four Councillors of the St Peters Indian Band agreed to the historic surrender the St Peters Reserve to the Crown in return for a New Peguis Reserve in the Fisher River area north of Hodgson, Manitoba.
By 1911 John and Elizabeth were among the group that moved to the New Peguis Reserve. They were recorded there in the census that year, and again in 1916.
On Feb 18, 1929 according to Vital Stats, Elizabeth died in the Fisher River Reserve at the age 78.
Interestingly, also according to Vital Stats, a John STEVENSON died on Aug 26, 1932 back in Swan River at the age of 83. What became of Mary MAWAIS? No one seems to know.
Please post your queries and comments about this family at the following Link:
FORUM DISCUSSIONS regarding JOHN STEVENSON
============================ Family Details ============================
Children of John STEVENSON & Mary MAWAIS :
1. Aug 1, 1859 ADAM STEVENSON (m. Susan/Suzanne SMITH)
2. 1866 SARAH STEVENSON (m. Frederick FISCHER)
** MORE ABOUT FREDERICK FISCHER
3. Jan, 1868 MARY STEVENSON (m. John Richard THOMAS)
Children of John STEVENSON & Elizabeth DANIEL:
1. 1868 CAROLINE "CARRIE" STEVENSON
2. 1872 ALEXANDER GEORGE STEVENSON (m. Catherine Ann PAHKOO)
3. 1874 ALFRED STEVENSON (m. Mary Anne CHIEF or TRIMBLE)
4. 1875 JOHN JAMES STEVENSON (?m1. Helen Frances SINCLAIR; m2. Maria)
** MORE ABOUT JOHN JAMES STEVENSON
5. 1877 RILEY STEVENSON (m. Eliza MANNINGWAY)
6. Sep 6, 1880 ELIZABETH STEVENSON
7. 1885 THOMAS (EDWARD?) STEVENSON (?m. Margaret Elizabeth STRANGER)
8. 1887 WILLIAM STEVENSON