ADAM STEVENSON (1859-c1898)
SUSAN (SUZANNE) SMITH (c1860-1925)
(Last Updated: November 25, 2013)
Adam STEVENSON was born Aug 1, 1859, in the Shoal River Indian Reserve to Mary MAWAIS & John "Swampy" STEVENSON (born around 1840). ** MORE ABOUT SWAMPY JOHN STEVENSON
Adam's father (Swampy John) was a voyageur (a canoe bow-man and steersman) who worked for the HBC (by contract) in the Swan River District. He was required to be away from home during the freighting season (from spring to fall), transporting furs and trade-goods to and from the distribution centres at either Norway House or Lower Fort Garry (Red River).
Canadian Confederation
Manitoba becomes a Province
1867-1870
On July 1, 1867 the British colonies in North America were united under the British North American Act to become the Dominion of Canada and Sir John A MACDONALD (1815-1891) was appointed as Canada's first Prime Minister.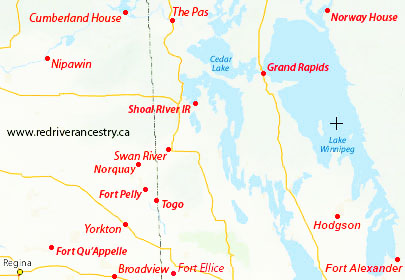 In January of 1868 we know that Adam's mother, Mary MAWAIS, gave birth to a child (Mary STEVENSON) and that soon after that his father left the service of the HBC, moved to Red River and began a relationship with Elizabeth DANIEL from the St Peters Indian Settlement. Had Mary MAWAIS died, perhaps in childbirth? We do know that her children remained in the Swan River District. If Mary had died, it seems most likely that Adam and his two sisters would have been taken in and raised by Mary's Indian relatives near Fort Pelly in the Kee-See-Kouse (or Key) Indian Reserve.
By 1870 Adam would have been about 11 years old. This was the year that the Red River Rebellion ended and Manitoba became a Province.
====================================================
In 1874, under the terms of Treaty Four, the Shoal River homeland was ceded to the Crown, although the Key Band did not adhere to Treaty until September of 1875.
In 1882 Adam's 16 year old sister, Sarah STEVENSON, married at Fort Pelly to Fred FISCHER.
Adam & Suzanne SMITH
In 1883 Adam (age 24) married at Fort Qu'Appelle to a lady named Suzanne SMITH.
Who was Suzanne SMITH? I am having great difficulty in finding the parents or origins for Suzanne or Susan SMITH born around 1860 and living in that part of Saskatchewan around 1883. There was an interesting fellow from England called Robert Russell SMITH (1849-1924) who owned a hotel at Fort Qu'Appelle around that time and was a J.P. He married an American Sioux Indian woman named Mary Rose, daughter of DOTEPAHA (Red Bonnet). However, I cannot establish any link from him to our Susan. If anyone can provide more clues about Suzanne/ Sarah, I would certainly love to hear from you.
In 1885 Adam's youngest sister (Mary) married at Fort Ellice John Richard THOMAS.
On Apr 20, 1886, Adam's first child, Samuel, was born to Susan.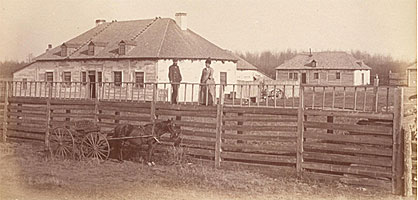 Fort Pelly 1887
(Part of MS. Coll. 26 Tyrell (Joseph Burr) Papers)
Adam moves to St Peters
On May 14, 1887, Adam STEVENSON, of the Kee-see-kouse Band, obtained a Discharge from Treaty as a member of the Kee-see-kouse Band, which required him to move his family off of the Reserve. Then on Nov 19 that year he claimed his Half-breed Scrip, indicating his address was now Ardpatrick. There was a Post Office named Ardpatrick, located on Ben MARSHALL's homestead in Township 27, near Togo, SK (See map above).
At the time of his Scrip application on Nov 19, 1887, Adam was working for a Trader named William CAMERON (b-1859) at Fort Pelly. After this date, Adam STEVENSON seems to disappear from all documented historical records. Susan however shows up later in Red River (St Peters), suggesting perhaps that she and Adam may have moved there with their family to be re-united with his long lost father (Swampy John), then married to Elizabeth DANIEL.
On March 16, 1891, Susan gave birth to a second son, William.
In January of 1895 daughter Clara was born in the St Peters Indian Reserve. Clara is the focus of this research, having later become the wife of Joseph Albert OIG, with family ties to my sister-in-law (Yvonne).
We have no record of when Adam STEVENSON died, but it must have been prior to 1899 when Susan re-married to John Ryerson SINCLAIR.
Suzanne & John Ryerson SINCLAIR
On Mar 25, 1899, Susan STEVENSON married in Selkirk to John Ryerson SINCLAIR, son of Betsy OMAND and John Colfield SINCLAIR (1830-1920). ** MORE ABOUT JOHN RYERSON SINCLAIR
Comments and Queries at this Link:  FORUM DISCUSSING the ADAM STEVENSON FAMILY
========================= Family Details =========================
Children:
1. Apr 20, 1886 SAMUEL STEVENSON aka SINCLAIR
2. Mar 16, 1891 WILLIAM STEVENSON aka SINCLAIR
3. Jan 8, 1896 CLARA STEVENSON aka SINCLAIR (m. Joseph Albert OIGE)
** MORE ABOUT JOSEPH ALBERT OIGE