JOHN RYERSON SINCLAIR JR (1854-1910)
SUSAN (nee SMITH) STEVENSON (1860-1925)
(Last Updated: November 25, 2013)
John Ryerson SINCLAIR was born Nov 10, 1854 at Norway House, son of Betsy OMAND and John Colfield SINCLAIR alias MA-TO NE KE-SE-KWA-WE-KE-MOW (1830-1920). ** MORE ABOUT JOHN COLFIELD SINCLAIR
On Dec 9, 1854 John's father (John Colfield) in a letter to Reverend John RYERSON tells him "In memory of you, and your visit to this place, I have given your honoured name, 'John Ryerson' to my infant, who was baptised by the Rev Robert BROOKING (1813-1892) two weeks ago".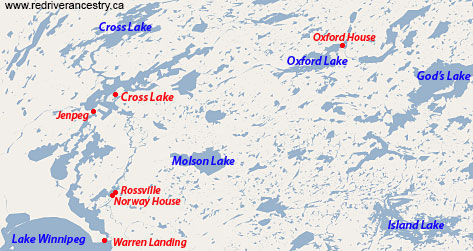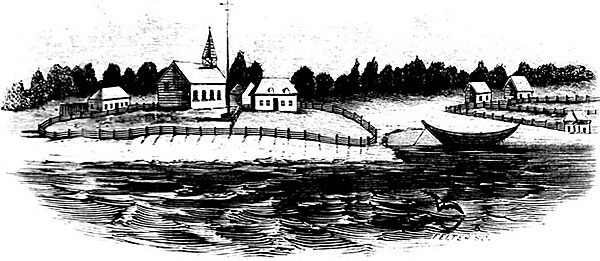 Wesleyan Mission Premises, Rossville
(From Ryerson's Book)
Treaty Number Five – Norway House
Over 200 Norway House Indians move to the Fisher River Indian Reserve
1875-1877
In 1875 Treaty Number Five was signed by the Saulteaux and Swampy Cree Indians around Lake Winnipeg including the Norway House Band to which the SINCLAIR family belonged. In 1877 over 200 of them were moved to the Fisher River Reserve. At this time John was about 23 years old. MORE ABOUT TREATY 5 in WIKIPEDIA

John Ryerson SINCLAIR marries Clara (nee BUDD) HALCROW
1881
In 1881 John married Clara BUDD, daughter of Jane DUCK and TEPWATUM aka Philip BUDD (b-1811). She was a granddaughter of Nancy and Charles UCHEGUN CURLEYHEAD (1770-1855). Clara had been previously married to Peter HALCRO of uncertain origins, by whom she had two children that died in infancy.
In 1894 both John and Clara received their Discharge from Treaty as a members of the Fisher River Band.
John Ryerson SINCLAIR marries Susan (nee SMITH) STEVENSON
1899
On Mar 25, 1899 John married Susan (nee SMITH) STEVENSON in Selkirk (MB). Susan's origins are uncertain at this time, but in 1883 she was married to Adam STEVENSON who apparently died in the St Peters Reserve prior to Susan's marriage to John Ryerson SINCLAIR. ** MORE ABOUT SUSAN SMITH & ADAM STEVENSON
It appears that after her marriage to John Ryerson, Susan's children by Adam STEVENSON assumed the name SINCLAIR.
In 1901 Census John (age 46) and Susan (age about 35) were still living in Fisher Bay West (Koostatak area). Their children were recorded as Clara (age 18), Samuel (14) and William (age 10). John's father (John Colfield SINCLAIR) was recorded in the next household.
St Peters Parish
1906
By 1906 John was living on Lot 10 in St Peters Parish, age 52; wife Susan (age 47) and daughter Clara (age 8). This time he has his widowed father, John Colfield SINCLAIR (age 77) with him.
On Feb 21, 1910 John Ryerson SINCLAIR died in Selkirk at the age of 55.
In 1911 Widow Susan (age 50) and her daughter Clara (age 15) were recorded on Lot 10, St Peters.
In 1916 daughter Clara married Joseph Albert OIG, son of Louise Ann PARISIEN and Charles OIG (1860-1927). In the census that year they were recorded in St Peters with Clara's mother, Widow Susan SINCLAIR (age 54).
** MORE ABOUT CHARLES OIG
In 1921 Susan (age 58) was again recorded in St Peters. Her daughter Clara and son-in-law Joseph OIG were still with her, and now they had a son, Howard OIG (age 4), Susan's first grandchild.
On March 27, 1925 Widow Susan SINCLAIR died in Selkirk, age 69.
Comments and queries at this link: ** FORUM DISCUSSING the JOHN RYERSON SINCLAIR FAMILY
====================== Family Details ======================
Children by Susan:
1. Apr 20, 1886 SAMUEL (STEVENSON) SINCLAIR
2. Mar 16, 1891 WILLIAM (STEVENSON) SINCLAIR
3. Jan, 1895 CLARA (STEVENSON) SINCLAIR (m. Joseph Albert OIG)
** MORE ABOUT JOSEPH ALBERT OIG