JOHN COLFIELD SINCLAIR (1830-1920)
(MA-TO NE KE-SE-KWA-WE-KE-MOW)
ELIZABETH (BETSY) OMAND (1837-1905)
(Last Updated: December 04, 2013)
John Colfield SINCLAIR was born on June 15, 1830 at Oxford House in the Keewatin District, son of Nancy and John SINCLAIR SR (b-1807). He was a grandson of Margaret "Nahovway" NORTON & William SINCLAIR (1766-1818) from the Orkneys, well known as the forefather of many of the Red River SINCLAIR families.
** MORE ABOUT WILLIAM SINCLAIR
John's own words: "I am a native of this place (Oxford House), but when I was young my parents removed to Norway House before any Missionary came to that place - I am commonly called John SINCLAIR. I never use the name of Colfield."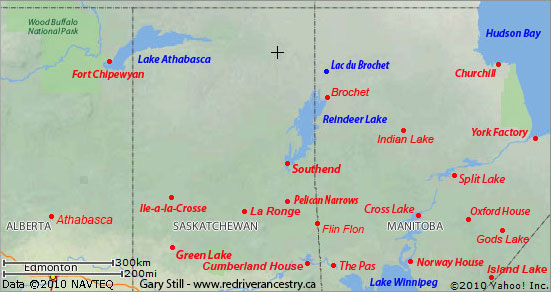 From the 1830s, the Councils of the HBC, (annual meetings of its Chief Factors) met at Norway House rather than York Factory. Donald ROSS (1798-1852) was the Chief Factor at Norway House. The Village of Rossville was named after him. ** MORE ABOUT DONALD ROSS in MHS
Arrival of Reverend James EVANS at Norway House
1840
In 1840 when John was about 10 years old, the year the first clergymen, Reverend James EVANS (1801-1846) and Reverend Robert RUNDLE (1811-1896), arrived at Norway House to establish a mission for the Wesleyan Methodist Missionary Society. ** MORE ABOUT REVEREND JAMES EVANS in DCBO
John's own words: "- - but before long Missionary arrived amongst us, who took me and taught me, and used all his efforts to make me happy, and to bring me up in the Christian knowledge - - Since I was converted I had an earnest desire to that all around me should be made happy, converted to God, and have their eyes opened to behold the wonderful works of God."
One of the most notable achievements of Reverend EVANS was the invention and introduction of syllabic characters for the Cree language. This easily learned form of written Cree spread rapidly among the native communities, initially as a result of the translating and printing done at Rossville by EVANS, William and Sophia MASON, Henry STEINHAUER, John SINCLAIR, and others. As a result the entire Holy Bible was translated into the Cree language.
Marriage to Betsy OMAND
1851
Around 1852 John SINCLAIR married Elizabeth (Betsy) OMAND, believed to be the daughter of a Half-breeds Jane BROWN and James OMAND (1798-1850). ** MORE ABOUT JAMES OMAND
On Oct 10, 1852 their first child, Donald Ross was born (named after Chief Factor Donald ROSS).
More about John SINCLAIR in Ryerson's Book
Hudson's Bay, A Missionary Tour (Published 1855)
1854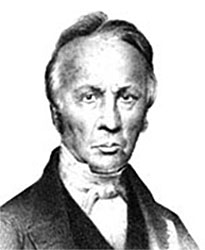 Reverend John Ryerson
In the summer of 1854 Reverend John RYERSON (1800-1878) and Reverend Robert BROOKING (1813-1893) made a trip to the Northwest, making stops at Norway House and Oxford House. BROOKING remained at Oxford House, while RYERSON went on to York Factory and sailed to England that fall.
** MORE ABOUT REVEREND JOHN RYERSON in DCBO
On Dec 9, 1854 John SINCLAIR wrote a lengthy letter to Reverend John RYERSON from Norway House thanking him for his visit to Oxford House where the two had met. Some quotes: "Although I have not been able to teach school for want of things I have asked you to send, I have not been idle. I have laboured hard with my hands in helping to make a fish house, and chimney, and other things; and we have hard winter work before us.And we trust that our Christian fathers will send us books, and all other school articles to begin our school with these poor children, which they mostly need at present, and which are long expected by their Christian parents." The letter was signed "Your favoured Friend, John SINCLAIR, (alias) MA-TO NE KE-SE-KWA-WE-KE-MOW.
In November of 1854 John named his second son John Ryerson SINCLAIR after Reverend John RYERSON. He was baptized with that name at Norway House by Reverend BROOKING. (From the letter he wrote to RYERSON that winter)
** MORE ABOUT REVEREND ROBERT BROOKING in DCBO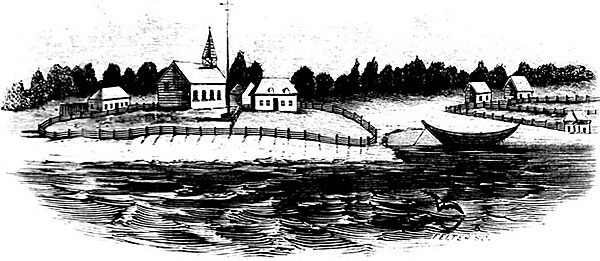 Wesleyan Mission Premises, Rossville
(From Ryerson's Book)
Peel: John MURDOCH attributes translation of 1857 edition of The Gospel according to St John in Cree to James EVANS and John SINCLAIR. Reverend Henry STEINHAUER (1820-1884), with the assistance of John SINCLAIR, layman, translated the English Bible into the Cree Language. ** MORE ABOUT HENRY BIRD STEINHAUER in DCBO
On March 19, 1866 son Elijah Hoole was baptized by Reverend Charles STRINGFELLOW (1832-1915) at Norway House. ** MORE ABOUT REVEREND STRINGFELLOW in FADED GENES

Canadian Confederation
A Red River Metis Rebellion
Manitoba becomes a Province
1867-1870
On July 1, 1867 the British colonies in North America were united under the British North American Act to become the Dominion of Canada. Sir John A MACDONALD (1815-1891) was appointed as Canada's first Prime Minister. William McDOUGALL (1822-1905) became the Minister of Public Works, and he began negotiations to acquire Rupert's Land from the HBC, sending out surveyors to prepare the way for an expected influx of settlers.
In 1868 Reverend Egerton Ryerson YOUNG (1840-1909) arrived at Norway House. James Green STEWART (1825-1881) was in charge of the HBC post at that time.
Nahovway pg 190: Many years later (1868) John C. SINCLAIR wrote a few letters to John INKSTER (1799-1874) of Seven Oaks requesting goods and making pleasantries regarding Mary SINCLAIR INKSTER, which does show a connection of familiarity, but he did not use words such as aunt/uncle that would confirm a family connection. He called himself a missionary at Oxford House. ** Colin INKSTER was the Governor of Assiniboia at that time. His wife Mary (nee SINCLAIR) was a child of Nahovway & William SINCLAIR (1766-1818), John C's grandfather.
In 1869 the Red River Rebellion began and it ended in 1870 when Manitoba became a Province.
** MORE ABOUT the RED RIVER REBELLION in WIKIPEDIA

Treaty Number One
1871
In 1871 Wemyss SIMPSON (1824-1894) was selected by DIA as General Indian Agent, to make Treaties with the Indian Tribes, and to represent the Government in the Northwest.
On Aug 3, 1871 Treaty Number One was signed by Chief Henry (Red Eagle) PRINCE (1819-1902) on behalf of the St Peters Indian Band. ** MORE ABOUT CHIEF HENRY PRINCE and TREATY ONE
John begins to work for the Hudson's Bay Company
Treaty Number 5 at Berens River and Norway House
1874-75
HBCA: on May 16, 1874, John C SINCLAIR entered HBC service at Norway House as a mid-man (canoe position). From 1876 to 1882 he was the postmaster there, and at Rossville.
** MORE ABOUT JOHN SINCLAIR in HBC ARCHIVES

In 1874 David RUNDLE, Chief of the "Christian Indians of Rossville" wrote to Lieutenant Governor MORRIS requesting that a treaty be made. Many people there expressed a desire to move south and establish an agricultural colony.
In 1875 Treaty Number Five was signed by the Saulteaux and Swampy Cree Indians around Lake Winnipeg including the Norway House Band to which the SINCLAIR family belonged. Many of these people subsequently moved to the Fisher River Reserve. ** MORE ABOUT TREATY 5 in WIKIPEDIA
On Oct 7, 1876 the Federal Government passed the first Indian Act, and much like its predecessor, the Act continued to subordinate Aboriginal peoples to the discretion of federal lands.
John Petitions for Land Grants for his family outside of the Reserve
1881
In October of 1881 John SINCLAIR wrote a letter to DIA Inspector Ebeneezer McCOLL (1835-1902) with a petition requesting land grants outside of the Reserve at Norway House for himself and his offspring. In the letter he indicated that he had five boys, three of them already married, and that he had taken claims for them before the Treaty. "We desire to be outside and separated from the Indians, our ways and customs and habits are those of a white man, we are using a large stock of cattle and are commencing to farm and improve ourselves in every possible way - -
In the spring of 1882 McCOLL wrote a letter of recommendation regarding John's request: "SINCLAIR is a most intelligent Indian, or rather Half Breed who takes Treaty. He is the only member of the Band who has accumulated much property of any description and consequently is deserving of encouragement for his industry."
** MORE ABOUT EBENEEZER McCOLL in DCBO

It was around that time that son Elijah married a lady named Mary (of uncertain origins).
** Note: John's letter of 1881 indicates that three of his five sons were already married and having children. I can account for only two marriages, those of sons (John and Elijah). That would leave Donald, Robert and James, none of which I have found marriage information for. Need help in this regard.
John retires from HBC service
1882
On Aug 1, 1882 John retired from HBC service as the Post Master at Norway House. However, during 1883-84 he was back in service temporarily as a clerk.
In June 1884 poverty forced John SEMMENS (1850-1921) to request a transfer to Norway House. The conference, unlike parish congregations, paid a regular, and thus secure, salary. While in Norway House he worked with his translator, John C. SINCLAIR, to transcribe several literary works, such as John Bunyan's 'The pilgrim's progress', and 200 hymns into Cree. ** MORE ABOUT JOHN SEMMENS in DCBO

Discharged from Treaty – John Claims Half-breed Scrip
1887
On Aug 22, 1887 our John Colfield SINCLAIR and his wife Betsy asked for and were granted a Discharge from Treaty as members of the Norway House Band in order to receive Half-Breed Scrip. In his Scrip Affidavit John named their seven living children (approximate ages added): Donald (age 35), John (33,) Robert (30), Mary (24), Elijah (22), James (19) and Ellen (age 18). Two children who died: Enoch and an Un-named child who was born and died in 1876. Under the terms of the Indian Act they were no longer Treaty Indians and were required to move off of the Reserve.
In 1889 John C SINCLAIR operated an independent company in opposition to the HBC named "John C Sinclair & Sons" (HBCA)
In 1899 son John Ryerson married in Selkirk to Susan (nee SMITH) STEVENSON of uncertain origins. She was the widow of Adam STEVENSON (1858-1898). ** MORE ABOUT ADAM STEVENSON
Fisher Bay
1901
In the Census of 1901 we find John (age 70) now a Carpenter, his wife Betsy (also listed as age 70) in Fisher Bay West (Koostatak area). With them are daughter Mary E (age 30) and son James (age 27). Son John Jr. (age 36) is listed separately (next household).
It wasn't until Aug 1, 1901 that John claimed Half-breed Scrip for his deceased daughter Jane Mary, who had died in 1875 at Norway House when she was only two days old. ** Note: At the top of the first page is handwritten "Disallowed – Treaty" I'm guessing the Half-breed Claim may have been denied because Jane Mary was a Treaty Indian when she was born and died.
Perhaps about 1905 (before 1906), John's wife Betsy died, probably in the Fisher Bay area.
St Peters Reserve and its Surrender
1906-1907
Census of St Peters Parish, 1906: John C SINCLAIR (age 77), widowed, with son John Jr. and his wife Susan.
In the fall of 1907 Chief William PRINCE (1848-1828) signed an agreement surrendering the St Peters Reserve to the Crown, and it was decreed that a new Reserve for this Band shall be selected on Lake Winnipeg (Fisher River) to the extent of 75,000 acres.... Subsequent events, in particular a 1911 Manitoba Royal Commission investigating the titles to the river lots and the surrendered land, were to vindicate those who had opposed the surrender's validity. Nevertheless, the St Peters Reserve was gone forever! What followed was an Indian Land Claim Dispute that lasted well into the next century.
In 1910 son John Ryerson died in Selkirk at the age of 55.
In the 1916 Census John C SINCLAIR, a 90 year old widower was recorded on Main Street in Selkirk with a child named Mary, age 30 (b-c1886; more likely a granddaughter). His neighbours were Joseph A OIG and daughter-in-law, Widow Susan (nee SMITH) SINCLAIR (age 54).
On March 7, 1920 John Coldfield SINCLAIR died in Selkirk, age 91 (from Vital Stats).
Comments and Queries at this link: FORUM DISCUSSING JOHN SINCLAIR and his FAMILY
====================== Family Details ======================
Children:
1. Oct 10, 1852 DONALD ROSS SINCLAIR
2. Nov 10, 1854 JOHN RYERSON SINCLAIR (m. Susan (nee SMITH) STEVENSON)
** MORE ABOUT JOHN RYERSON SINCLAIR
3. Mar 12, 1857 ROBERT BROOKING SINCLAIR
4. Oct 10, 1859 ENOCH WOOD SINCLAIR (Died in infancy)
5. Dec 12, 1863 MARY SINCLAIR
6. Nov 5, 1865 ELIJAH HOOLE SINCLAIR (m. Mary)
** MORE ABOUT ELIJAH HOOLE SINCLAIR
7. Aug 12, 1868 JAMES SINCLAIR
8. Jul 15, 1869 ELLEN FRANCES SINCLAIR (Died age 22)
9 Mar 12, 1875 JANE MARY SINCLAIR (Died at birth)