JAMES OMAND (c1798-1850)
JANE BROWN (c1808-1857)
(Last Updated: November 24, 2013)
James OMAND was born around 1798 in the Orkneys, Scotland, son of Anne MELVIL & Thomas OMAND.
In 1817 James entered the service of the Hudson's Bay Company (HBC). He was a Labourer, Middleman and Steersman (voyageur) between 1818 and 1828 in the Kenogamissi, Moose and Abitibi districts (all in the region east of Lake Superior and NE of Sault Ste Marie). From 1819 through to 1825, Thomas VINCENT (1766-1832) was the Governor (Chief Factor) at Moose Factory.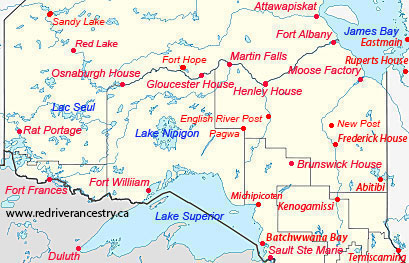 Union of the North West Company and the HBC
1821
In 1821 the HBC and the North West Company merged after many years of bitter rivalry.
From 1824 to 1826 Alexander CHRISTIE (1792-1872) was the Chief Factor in the Kenogamissi District; from 1826 to 1830 he was Chief Factor at Moose Factory.
Marriage to Jane BROWN
1827
Around 1827 James married at Moose Factory to Jane BROWN, daughter of half-breed Elizabeth & Joseph BROWN (1772-1818), an Englishman (an HBC Schooner Master). At that time Alex CHRISTIE was still the Chief Factor at Moose. Being the "Magistrate of Rupert's Land" at the time, it seems quite likely that CHRISTIE performed the marriage. That same year CHRISTIE  married Frances (nee THOMAS) STEWART to George JOHNSTONE (1803-1873).
James Retires to Red River
1828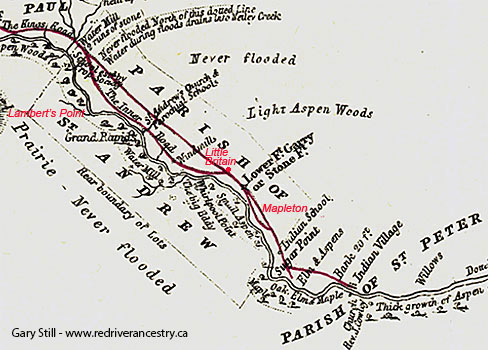 Part of Henry Hind's Map based on his observations of 1857
Around 1828 James retired to Red River. It is said that his first child, John, was born in St Andrews Parish around that time.
In 1833, James' boss, Alexander CHRISTIE, became the Governor of Assiniboia. CHRISTIE supervised the construction of Lower Fort Garry where he became the Chief Factor in 1849.
Around 1843 eldest son John married Catherine McKAY in St Andrews.
On July 15, 1847 daughter Charlotte married William BROWN from the Orkneys
On July 17, 1850, James OMAND died in St Andrews where all of his children were born. He would have been about 52 years old; Widow Ann about 42 years old.
Around 1852 daughter Ann married William Robert SMITH (1797-1869), a widowed Englishman with a large family.
Widow Jane OMAND died on July 3, 1857.
Link to Discussions regarding this family: JAMES OMAND on the Forum
=========================== Family Details ===========================
Children:
1. May 23, 1828 JOHN OMAND (m. Catherine McKAY)
2. June 22, 1829 ANN OMAND (m. William Robert SMITH)
** MORE ABOUT WILLIAM ROBERT SMITH
3. Aug 31, 1830 CHARLOTTE OMAND (m. William BROWN)
4. July 12, 1835 THOMAS OMAND (m1. Sarah Anne McDONALD, m2. Flora SANDERS)
5. 1837 ELIZABETH (BETSY) OMAND (m. John SINCLAIR)
6. Nov 30, 1840 FRANCES "FANNY" OMAND (m. Dr Henry Septimus BEDDOME)
7. Nov 20, 1841 JAMES OMAND JR (m. Jane BIRSTON)
8. June 2, 1842 JOSEPH OMAND (m. Ellen CROMARTIE/CROMARTY)
9. Apr, 1844 JANE OMAND (Died at birth)
10. Nov, 1845 MARY OMAND
11. Feb, 1850 GEORGE OMAND (Died in infancy, age 3)