WILLIAM ROBERT SMITH (1797-1869)
MARY ANNE SWAIN (1805-1851)
ANN OMAND (1829-1912)
(Last Updated: December 20, 2017)
William Robert SMITH was born June 28, 1797 in Lamberth, Surrey, England, son of Hannah WOODMAN and William SMITH (b-c1771).
On June 1, 1813 William (age 16) sailed from London, England, aboard the Prince of Wales as an employee for the Hudson's Bay Company (HBC), arriving at York Factory on Hudson Bay on June 28 that year.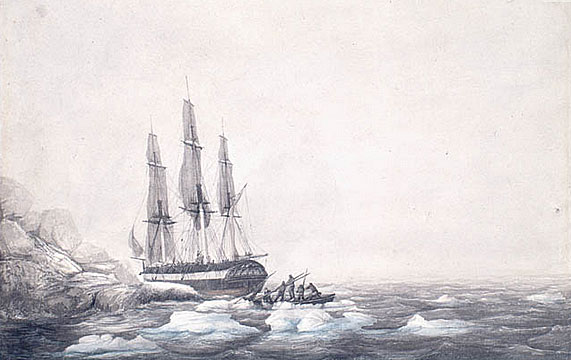 The Prince of Wales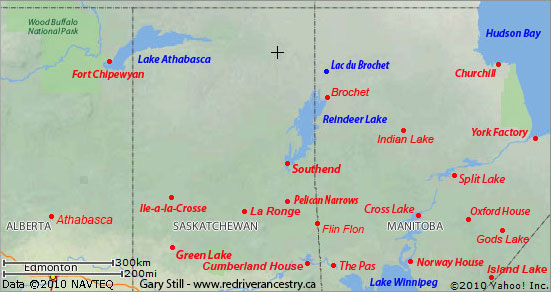 On Oct 2, 1813 William left for the interior. He spent his first winter in Rupert's Land as a "Writer" at Oxford House along the Hayes River. He was probably still there in the spring of 1814 when the third group of Lord SELKIRK's Settlers passed through there on their way to Lake Winnipeg and on to Red River, led by Archibald McDONALD (1790-1853).
William spent the next winter (1814-15) at Ile a la Crosse (SK) working under Joseph HOWSE (1774-1852); then at Lesser Slave Lakeas an apprentice clerk and writer. William was associated with John Lee LEWIS (1791-1872) during this period. He would later name one of his sons after this man.
Marriage to Mary Ann SWAIN
1817
In 1817, at York Factory, William married "a la facon du pays" to Mary Anne SWAIN, daughter of an Indian woman & Englishman James SWAIN (1775-1829), Chief Factor there. William was still assigned to the Lesser Slave Lake district at the time.
Their first child (Joseph) born at Lesser Slave in the spring of 1819, died in infancy (about two months old).
Union of the North West Company and the HBC
1821
In 1821 the HBC and the North West Company merged after many years of bitter rivalry. William was at Lesser Slave at the time, trading in opposition to William HENRY (1784-1864) of the NWC. News of the union reached them in August that year. After the two took inventories and SMITH was left in charge there. ** MORE ABOUT WILLIAM HENRY
By 1823 two more children were born at Lesser Slave; John Lee Lewis and Mary Ann. During the next outfit year (1823-24) William was posted to Norway House.
After the NWC-HBC merger, almost 1,300 employees lost their jobs due to cut-backs, including William who was retired in 1824 to Red River.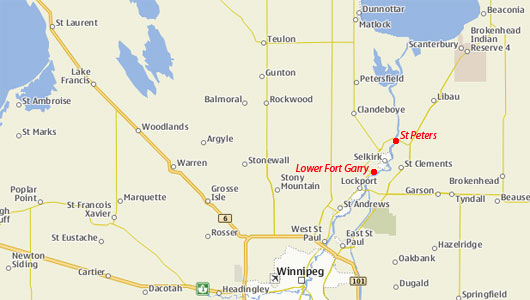 On July 15, 1825 William and Mary Ann were church-wed at St John's (Winnipeg). The marriage was witnessed by William GARRIOCH (b-1779) & Joseph COOK (1788-1848). At that time Reverend David JONES (1796-1844) was the resident clergyman at St John. In October that year, Rev William COCKRAN (1798-1865) arrived to assistant to Rev. JONES at the Upper (St John) and Middle (Middlechurch, St Paul) Churches.
The Great Red River Flood
1826
In the spring of 1826 the Great Red River Flood occurred, the worst ever experienced by the settlers of the time. On May 1l that year Rev JONES wrote in his journal that year-old St. Paul's Middlechurch at Image Plain was completely destroyed by the flood. Meanwhile, St. John's (Upper Church) was left relatively unscathed.
In the Red River Census of 1827, William and his wife were recorded with two sons and a daughter. These would have been John Lee Lewis (age 7), Mary Anne (age 4) and baby Henry. They had a house and a stable; two horses, two cows, an ox and a calf; a cart, plough, harrow and a canoe. They had two acres under cultivation.
William becomes a School Teacher
1828-1848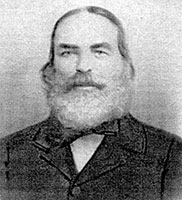 William Robert SMITH (1797-1869)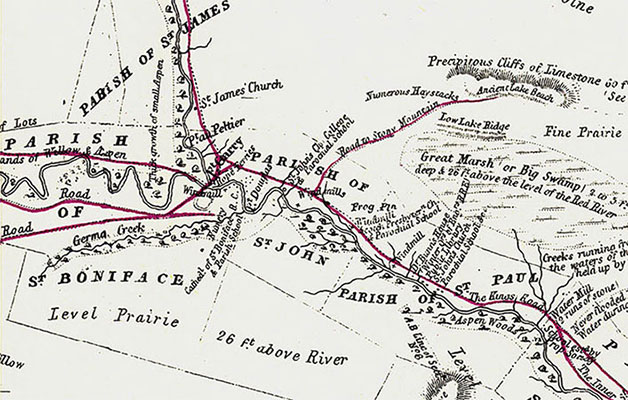 From Hind's Map of 1857
Under the patronage and auspices of the Church Missionary Society William taught school at St. John's from 1828 to 1832.  He had very strong ties to the Church, a one time Catechist at St Johns then, as a Precentor, he led the singing of the church choir at nearby churches.
From 1832 to 1848 he taught at St. Paul's. In the Census of 1835 William and his family were recorded on Lot 15 in the Parish of St Paul (Middlechurch). He had three horses now, eight cattle, two farm implements, two carts and he had three acres under cultivation. There were 10 persons in his household. Excluding himself and his wife, that suggests they had eight children then. By 1843 Mary Anne had given birth to 13 children, but some had died in infancy.
In 1843 eldest son John Lee Lewis SMITH married in St Andrews to Elizabeth MOORE, daughter of Mary TRUTHWAITE & George MOORE (1776-1846). They became residents of the St Peters Indian Settlement.
In 1844 Alexander CHRISITE (1792-1872) was appointed as the Governor of Assiniboia, Upper Fort Garry, Red River District. CHRISTIE was forced to take strong measures against free traders and small merchants who challenged the HBC's legal right to a fur trade monopoly.
In 1848 William was invested with the offices of clerk of Court and Council. In 1849 he compiled the Red River census.
On May 17, 1849, 54 year old Pierre Guillaume SAYER (1796-1853) and three other Métis from the Red River Colony were brought to trial on the charge of violating the HBC charter by trafficking in furs. SAYER violently resisted his arrest; he was an example of the bitter and dangerous spirit that was developing among the Métis. The Elder Louis RIEL, who was a violent, but effective speaker, of French, Irish and Indian descent, busied himself in stirringup resistance. As the SAYER trial began, a swarm of armed and menacing Métis were gathering outside the courthouse.
SAYERwas found guilty, but the jury recommended clemency on the grounds that the Métis genuinely believed they had the right of free trade. Satisfied that the rights of the Company had been upheld with the guilty decision, the Chief Factor requested that SAYER not be punished and withdrew the charges against the other men.  When the four emerged "free" from the courthouse to the cheers of the crowd, both the Métis and the HBC, accepted this as recognition of the principal of free trade.  From that point on, the HBC abandoned its claim to a monopoly and began open competition with other traders.
William began his public life by becoming Secretary to the Quarterly Court and then Executive Officer of the Council of Assiniboia. Among his duties were Customs Collector, and issuing liquor and marriage licenses.
Mary Anne Dies
1851
In 1851, William Robert SMITH was about 54 yrs old when Mary Anne died.
Around 1851 daughter Mary Ann married Richard SALTER (born 1818 in England). They settled in Headingly Parish.
More and more HBC retirees began to arrive and settlement progressed further down the river, all the way to The Rapids (now Lockport) and Mapleton; to the very edge of the Indian Settlement. This district became generally known as Little Britain and notable first families included William Robert SMITH as well as his brother-in-law, James SWAIN Jr. (1799-1887).
William remarries to Ann OMAND
1852
On Sep 12, 1852 William (age 55) remarried to 23 year old Ann OMAND, daughter of Jane BROWN & James OMAND (1798-1850), an HBC voyageur from the Orkneys of Scotland. On Jun3 30, 1853 their first child together, Joseph Pemble, was born in St Paul.
On Nov 24, 1853 daughter Sarah married Robert MASSEY (1823-1897) in St Paul.
On Dec 24, 1854 wife Ann gave birth to daughter Ann in St Paul.
On Mar 8, 1857, son Benjamin was born in St Paul.
Around 1858 daughter Caroline married Henry FIELD (a half-breed born around 1840 in Upper Canada)
ON Mar 24, 1859, daughter Frances Jane was born in St Paul. On July 4, 1860, son Thomas was born in St Paul.
In 1860 four children were married: Son James married Caroline Ann BAUBEE, daughter of Mary COURCHENE & Jean Baptiste BAUBEE (1810-1874). Daughter Elizabeth married Samuel BALLENDINE (1839-1903) and daughter Bridget Agnes married Oluff OLSON in Winnipeg. Daughter Ellen married Adam ISBISTER, son of Fanny SINCLAIR and John ISBISTER (1794-1884).
Son William Robert Jr. married Mary BIRD, daughter of Venus HAY and William BIRD (1803-1885).
On Sep 4, 1864, son Alexander was born.
On March 4, 1865, Ann gave birth to twins (Rupert & George Gilbert). These would be the last of the nine children born to Ann & William. Ann was only about 36 years old when she gave birth to the twins, but William would have been about 68 years old.
Canadian Confederation
1867
On July 1, 1867 the British colonies in North America were united under the British North American Act to become the Dominion of Canada. Sir John A MACDONALD (1815-1891) was appointed as Canada's first Prime Minister.In 1868William McDOUGALL (1822-1905) became the first Minister of Public Works for the new Dominion of Canada, and he began negotiations to acquire Rupert's Land from the HBC. Plans were already under way to create a new province in Red River territory. Colonel John Stoughton DENNIS (1820-1885), a soldier and a surveyor, was sent to delineate plots of land for settlers
In 1867 ill health forced his retirement as clerk of the Council of Assiniboia. He was then appointed president of one of the petty courts. For a number of years he also served as a collector of customs at Lower Fort Garry.
In 1868 daughter Charlotte married Norman MORRISON in Kildonan, son of Nancy CUNNINGHAM and Angus MORRISON (1819-1875), a retired HBC blacksmith from Scotland. ** MORE ABOUT ANGUS MORRISON
Death of William Robert SMITH
Ann and Thomas ORD/ ARD?
1869
On May 14, 1869 William Robert SMITH died in Headingly where he was probably staying with his daughter and son-in-law, Mary Ann & Richard SALTER.  He was buried in St Paul (Middlechurch).  He would have been about 72 yrs old.
Widow Ann (nee OMAND) SMITH had mothered of nine of William's children and she was essentially the step-mother to 13 other children from his previous marriage to Mary SWAIN, albeit most of those were married by now and leading quite independent lives.
Around 1869 Widow Ann (nee OMAND) SMITH gave birth to a child named Benjamin (ORD) SMITH. The father is said to have been a Thomas ORD/ ARD of uncertain origins. ** Note: Some sources indicated that Benjamin was born on Nov 29, 1870 which conflicts with the census record that indicates he was one year old in 1870. Also in the 1881 census he is listed as age12. A birth date in 1869 would suggest that Benjamin could still have been William Robert SMITH's child, as he didn't die until the spring of 1869.
The Riel Rebellion
Manitoba becomes a Province
1869-1870
On Oct 11, 1869, Louis RIEL (1844-1885) placed his foot on the surveyors' chain to tell them their work was finished! This marked the beginning of the Red River Métis Rebellion. RIEL began to organize resistance to the anticipated transfer of the North-West to the Dominion of Canada without prearranged terms.His strongest and most ardent and outspoken opponents among the English speaking population were Dr SCHULTZ and Thomas SCOTT (1842-1870).
The Métis soon afterestablished their National Committee of the Métis of Red River. Then, on Nov 2, 1869 he and 120 armed men took control of Upper Fort Garry.SCHULTZ fortified his house and store ("Fort Schultz"), and recruited about 50 followers as guards, but on Dec 7, RIEL captured and imprisoned the occupants in Fort Garry, including SCHULTZ and SCOTT. On Dec 10 the Métis raised a flag of the future Provisional Government over Fort Garry to the sound of musket and cannon fire. They continued to arrest 'Canadians' wherever they could find them.
Story in Lang Family Tree: Benjamin Paul William SMITH was taken prisoner by Louis RIEL at the same time as DR. SCHULTZ and his party. This was likely Feb 17, 1870. On February 12, BOULTON led a party from Portage la Prairie to rendezvous at Kildonan with SCHULTZ's men. They intended to overthrow the provisional government. BOULTON had misgivings, and turned the party back. RIEL's forces detected the men, and on February 17, BOULTON, SCOTT and 46 other men were captured near Fort Garry. On hearing this news, SCHULTZ and MAIR fled to Ontario.
Benjamin Paul William SMITH was held at Upper Fort Garry. SCOTT was executed by a firing squad on March 4, 1870.
Benjamin Paul William SMITH and Tom ORD managed to escape and start for home in Headingly. It was cold and blustery and he never made it. His (Ben's?) body was found one mile from home in the spring. Some reports say he was 19.
A List of men who mustered to rescue prisoners of Louis RIEL during the winter of 1869-70, included brothers James and John OMAND, as well as a Thomas OMAND.  These were probably all sons of James OMAND.  Also listed are sons of John BROWN:  Thomas and James BROWN.
On July 15,1870 Manitoba became the fifth province of Canada, the Canadian Government having acquired the territory previously governed by the HBC.
Map of River Lot Occupants in 1870 (in BGLFG) shows William SMITH on Lot 102 (Along the Lockport Road). Daughter Sarah Hannah and son-in-law Robert MASSEY are shown to be on the same lot that year (in Sprague & Frye).
Census of 1870 in Headingly Parish:  Widow Ann SMITH (age 43) and her children: Joseph (age 17), Ann (16), Frances (12), Thomas (10), Alexander (7), Rupert (4) and Benjamin (age 1).
Ann marries Andrew HALL
1872
In 1872 Widow Ann (nee OMAND) SMITH remarried to Andrew HALL (1824-1901) from the Orkneys.
On July 14, 1872 Widow Ann (nee OMAND) SMITH re-married to Andrew HALL (1824-1901) from Scotland.
On Jan 1, 1873 son Edward married Ann SABISTON in Winnipeg, daughter of Nancy CAMPBELL and Alexander SABISTON (1804-1846).
In 1874 son Joseph Pemble married Sarah CORRIGAN in Headingly, daughter of Sarah Jane McMILLEN and William John CORRIGAN (1827-1888).
In 1875 Ann (nee OMAND) applied for Scrip as the widow of William SMITH, and the wife of Andrew HALL. They were living in the Boine (Boyne) Settlement (south of Portage).
In 1876 daughter Ann married George GRAY (1847-1934) in Winnipeg. He was born in Scotland.
In 1878 daughter Frances Jane married Charles STEWART (1851-1919) in the Boyne Settlement. He was born in the Philippines, son of Jane WILSON and George McKenzie STEWART (1814-1868).
Census of 1881 at Spruce Creek (SW of Dauphin):Andrew HALL, age 49; his wife Anne, age 49. Children: James HALL (age 6) and Alfred HALL (age 5). Also with them is Benjamin SMITH, age 12.
In 1886 son Thomas married Dolena MUNRO in Rockwood (MB). She was born in Scotland, daughter of Jessie and John MUNRO (1841-1883).
In 1889 son Rupert married Harriet Louise BROWN in Winnipeg, daughter of Margaret McLAUGHLIN and William Leach BROWN (1839-1909).
 In 1890 son Benjamin (ARD) nmarried Phyllis CARTER in Headingly.
Census of 1901: Widow Annie SMITH, age 72, with son Rupert in Winnipeg.
In 1901 son Alexander Beddome married Margaret Elizabeth McCLAY in Neepawa.
On Nov 4, 1912 Ann (nee OMAND) SMITH died in Red River.
Comments and queries at this link: FORUM DISCUSSING DESCENDANTS of WILLIAM ROBERT SMITH
=========================== Family Details ===========================
Children by Mary Ann SWAIN:
1. May 20, 1819 JOSEPH PEMBLE SMITH (Died in infancy, 2 mos old)
2. Nov 29, 1820 JOHN LEE LEWIS SMITH (m. Elizabeth Mary MOORE)
** MORE ABOUT JOHN LEE LEWIS SMITH
3. Dec 10, 1822 MARY ANN SMITH (m. Richard John Turner SALTER)
4. Jan 17, 1826 HENRY SMITH
5. Dec 4, 1827 SARAH HANNAH SMITH (m. Robert MASSEY)
6. Nov 19, 1829 ELIZABETH SMITH (m. Samuel BALLENDINE)
** MORE ABOUT SAMUEL BALLENDINE
7. Nov 22, 1831 CAROLINE SMITH (m. Henry FIELD)
8. Sep 13, 1833 WILLIAM ROBERT SMITH JR (Mary BIRD)
9. Jan 10, 1836 ELEANOR HELENA "ELLEN" SMITH (m1. Adam ISBISTER, m2. Rev John BADGER)
10. Dec 10, 1837 JAMES SINCLAIR SMITH (m1. ? Mary Madeleine BAUBEE, m2. Ann Caroline BAUBEE)
11. Feb 1, 1840 BRIDGET AGNES SMITH (m. Oluff OLSEN)
12. Dec 13, 1841 CHARLOTTE SMITH (m. Norman MORRISON)
13. Jan 9, 1843 EDGAR EDWARD HARRIOTT SMITH (m. Ann SABISTON)
Children by Ann OMAND:
1. June 30, 1853 JOSEPH PEMBLE SMITH (m. Sarah Jane CORRIGAN)
2. Dec 24, 1854 ANN SMITH (m. George GRAY)
3. Jan 20, 1857 BENJAMIN PAUL WILLIAM SMITH (Died 1870)
4. Mar 24, 1859 FRANCES JANE SMITH (m. Charles STEWART)
5. July 4, 1860 THOMAS VINCENT PEMBLE SMITH (m. Dolena "Dolly" MUNROE)
6. 1863 VICTORIA ALEXANDRA SMITH (Died at birth, same yr)
7. Sep 4, 1864 ALEXANDER BEDDOME SMITH (m. Margaret Elizabeth McCLAY)
8. Mar 4, 1865 RUPERT PRUDEN (twin) SMITH (m. Harriet Louisa BROWN)
9. Mar 4, 1865 GEORGE (GILBERT) ALBERT (twin) SMITH (Died age 10)
Child of Ann OMAND & Thomas ORD?:
10. Nov 29, 1870 BENJAMIN (ORD) SMITH (m. Phyllis CARTER)