WILLIAM HENRY (1784-1864)
AGATHE (AGGATHA) LETENDRE (1790-?)
CHARLOTTE FELTON (1791-?)
(Last Updated: January 27, 2014)
William HENRY was born on Mar 4, 1784 (baptized March 17 in Montreal), the eldest child of Alexander HENRY the ELDER (1739-1824), a prominent merchant in Montreal. William's mother is presumed to have been an Indian woman of uncertain origins. In 1785 William's father  formally married Widow Julia (nee CALCUTT) KITTSON from Newton-Limavady, Ireland. She was the widow of John KITTSON (born c1747) who came to Canada from England in 1759. William was raised by his step-mother (Julia) in Montreal. ** MORE ABOUT WILLIAM HENRY the ELDER
A Clerk with the North West Company
Fort Alexandria – Fort Chipewyan
Union with Agathe LETENDRE
1801-1810
In 1801 Archibald Norman McLEOD (1760-1837) employed William HENRY as a clerk at Fort Alexandria up the Assiniboine River (See map below).  William was about 17 yrs old in 1801.
** MORE ABOUT ARCHIBALD NORMAN McLEOD in WIKIPEDIA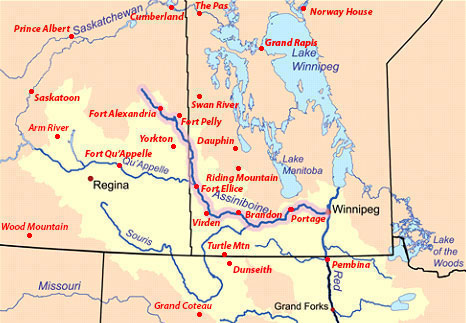 Assiniboine River Forts
Biographical Notes from 'North of Athabasca', edited by Lloyd Keith, pg 400-401 : On Dec 22, 1803 William HENRY's name first appears in the Athabasca journals of Peter FIDLER (1769-1822) of the HBC. He was then referred to as a hunter for the XY Company, applying his skills along the Athabasca River over the winter 1803-04. For the next six years, HENRY's whereabouts are unknown, but he probably remained in the Athabasca country.
In 1804 the XY Company was merged with the NWC.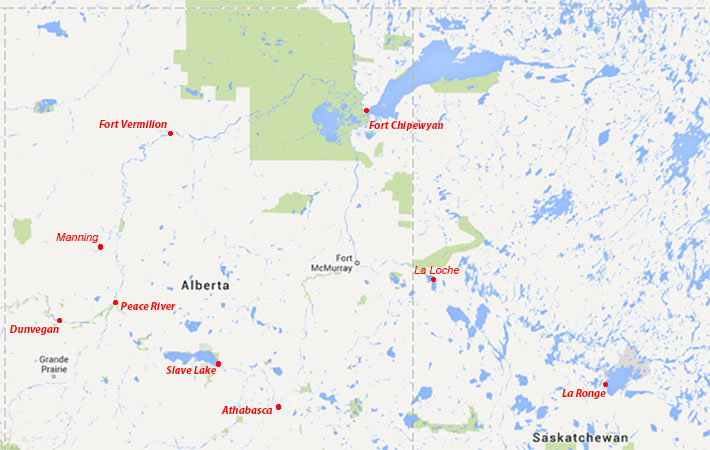 In 1807-08 Norwegian trader William WENTZEL (1780-1832) kept a diary at the Forks of the Mackenzie River (north of Fort Chipewyan). It was during that period that WENTZEL was in a relationship with Agathe LETENDRE who in 1808 gave birth to his child, Emilie WENTZEL. Agathe LETENDRE was the daughter of a Cree woman named Josephte and Jean-Baptiste LETENDRE (1762-1827), a NWC voyageur from Sorel, Quebec.
** MORE ABOUT JEAN BAPTISTE LETENDRE in DCBO
It was around 1809 that William HENRY began his connubial relationship with Agathe LETENDRE (a more lasting one), and around 1810 Agathe gave birth to his first child, daughter Nancy at Fort Alexandria, far up the Assiniboine River (See map above).
The Columbia River Expedition with David THOMPSON
William builds Henry House
1810-1811
In the summer of 1810 David THOMPSON (1770-1857) set out on his historic expedition to survey a feasible route across the mountains to the mouth of the Columbia River. Also associated with this expedition were William's cousin, Alexander HENRY the YOUNGER (1765-1814) and Agathe's father (Jean Baptiste LETENDRE) and his family and of course William HENRY. ** MORE ABOUT DAVID THOMPSON in DCBO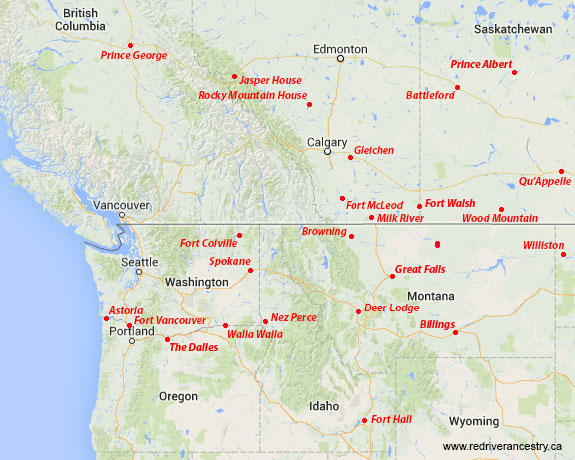 On Dec 29, 1810 David THOMPSON left William HENRY with the party's horses at the location where he spent the winter building the original Henry House (near Jasper House as shown on the map above). From there, THOMPSON made his final dash across the Rocky Mountains to the Columbia River. On July 15, 1811 he arrived at Fort Astoria. A week later he returned back across the mountains to pick up supplies at William HENRY's post on the Athabasca and returned to pass the winter of 1811-12 at Saleesh House.
Champoeg or French Prairie
Willamette River
1811
In 1811, WILLIAM HENRY and Alfred SETON (1793-1859), a Pacific Fur Company clerk, journeyed by bateau up the Columbia River from Fort Astor, then up the Willamette River as far as the Falls. They ported their canoes around the Falls on the east side and then canoed to where they built Champoeg or French Prairie trading post on the Willamette, where William became the NWC clerk in charge. They were likely the first white men seen in the region that would become Clackamas County.
Around 1812 son Alexis was born, probably in the Willamette Valley (Campoeg). 
In the winter of 1813-14 William was visited at his Campoeg Post by his cousin, Alexander HENRY the YOUNGER (1765-1814). ** MORE ABOUT ALEXANDER HENRY the YOUNGER in DCBO

The First Selkirk Settlers Arrive at the Forks
The Pemmican War
Red River Metis Rebellion
1812-1816
In 1812, there was a growing conflict between the two major companies, the HBC and the NWC with the arrival of the first of Lord SELKIRK's settlers at Red River, led by Miles MACDONELL (1767-1828), the first Governor of Assiniboia. The Nor'Westers saw the colonists as a threat to the fur trade and supply of pemmican.
** MORE ABOUT LORD SELKIRK in DCBO
** MORE ABOUT MILES MACDONELL in DCBO
In 1815 the Red River Metis Rebellion began, and in the summer of 1816 it culminated with the Seven Oaks Massacre.
During the Rebellion years William HENRY was at his Willamette post until 1816, being then transferred to Slave Lake.
It was in 1816 that Lord SELKIRK and his soldiers arrived at Fort William and arrested all of the NWC Partners who were present, including William McGILLIVRAY (1764-1725). There seems to be no mention of William HENRY being involved in this event. It is said that he went to Montreal that year, so he may have been at Slave Lake or somewhere en-route to Montreal at the time. ** MORE ABOUT WILLIAM McGILLIVRAY in DCBO
1817-1821
In 1817 William HENRY was inducted into the Beaver Club which was founded by his father in Montreal. It seems that William and/or his family were at Slave Lake during the next four years leading up to the NWC-HBC merger. It was customary for many NWC traders to travel to Montreal with their furs in the summer and then return to their inland posts for the winter trading season.
Union of the North West Company with the Hudson's Bay Company
William Retires to Montreal
1821
In 1821 the union of the North West Company (NWC) and the Hudson's Bay Company (HBC) occurred, ending the years of bitter rivalry for dominance of the fur trade in Western Canada. ) George SIMPSON (1786-1860) became the Governor of Rupert's Land. ** MORE ABOUT GOVERNOR GEORGE SIMPSON
At the time of the Union we can place William HENRY at Lesser Slave Lake where he was trading in opposition to HBC trader William Robert SMITH (1797-1869). News of the union reached them in August that year. After the two took inventories, SMITH was left in charge there. ** MORE ABOUT WILLIAM ROBERT SMITH
The HBC-NWC union resulted in retirements and relocations of many employees of both companies. ** Note: There doesn't seem to be any information to indicate that William HENRY became an HBC employee after the union.
In 1823 son John was born in Red River, the last child of William's marriage to Agathe. Although this places Agatha at Red River, it is uncertain whether William HENRY was there at the time. It is said that he abandoned Agathe and his family around that time and returned to Montreal.
Around 1825 Agathe's father (Jean Baptiste LETENDRE) and her siblings came to Red River and settled in St Boniface. After that, Agathe and her children probably stayed with or near her father for support.
Montreal
William marries Charlotte FELTON
1826
After the NWC merged, HENRY removed to Montreal, and became a surveyor and engineer.
In 1824 William's father (Alex HENRY the Elder) died in Montreal at the age of 85.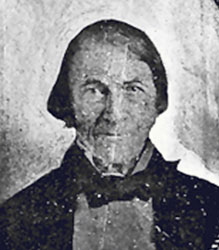 William Henry (1784-1864)
From Travels and Adventures (Bain, ed., Boston, 1901)
In 1826, at the age of 46, William re-married to 35 year old Charlotte FELTON, near Sherbrooke, PQ.  Charlotte was born in 1791 in England, the daughter of Sir John FELTON, who was a Governor of the Balearic Islands near Spain. William had several more children by Charlotte.
On Sep 26, 1826 daughter Nancy married William PRUDEN in Red River, the eldest son of Nancy PATASEGAWISK and John Peter PRUDEN (1778-1868).   ** MORE ABOUT JOHN PETER PRUDEN
Around 1827 son Alexis married Mary LYONAIS dit DAUNAIS in St Boniface, daughter of Louise (Indian) and Francois LYONAIS dit DAUNAIS (1781-1859).
Agathe re-marries to Joseph PAGE
1829
Around 1829 Agathe LETENDRE became the second wife of Joseph PAGE in St Boniface, a French Canadian born around 1783. She would have four more children with PAGE.
In 1834 William's mother (Julia) died in Montreal.
Daughter Josephte married Joseph LYONAIS dit DAUNAIS, her brother-in-law, probably in St Boniface.
Around 1848 William went to live at Newmarket, Ontario.
Around 1850 son John married Josephte PARISIEN in Red River, daughter of Josephte CARRIERE and Hyacinghe PARISIEN (b-1797).
In 1864 William HENRY died in Newmarket, Ontario.
Comments and queries at this link: FORUM DISCUSSING the WILLIAM HENRY FAMILY
======================== Family Details ========================
Child of Agathe LETENDRE and William WENTZEL:
1. 1808 EMILIE aka HELENE WENSEL (m.1. Duncan McDOUGALL, m2. Francois LARIVIERE, m3. Louis GOULET)
Children by Agathe LETENDRE and William HENRY:
1. c1810 NANCY OGDEN HENRY (m1. William PRUDEN SR, m2. Duncan CAMPBELL JR)
2. 1812 ALEXIS HENRY (m. Marie LYONNAIS dit DUNAIS)
?3. NORMAN HENRY aka ALLARY (m. Nancy WALLA WALLA)
4. est c1821 JOSEPHTE ALLARY dit HENRY (m. Joseph LYONNAISE dit DAUNAIS dit DELAUNEY)
5. Jun 17, 1823 JOHN HONORE alias ALLARY alias HENRY (m. Josephte PARISIEN)
Children of William HENRY and Charlotte FELTON:
1. 1832 CHARLES HENRY
2. JULIA HENRY