JOHN PETER PRUDEN (1778-1868)
NANCY ANN (PATASEGAWISK) (1785-1839)
ANN ARMSTRONG (1800-1887)
(Last Updated: May 25, 2016)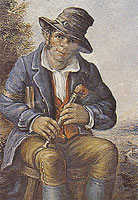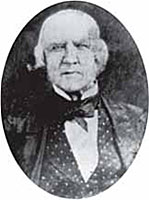 Left: A painting purported to be John Peter PRUDEN (not proven)
Right: John Peter Pruden (1778-1868)
John Peter Pruden was born in 1778 in Edmonton, Middlesex, England to Margaret (nee SMITH) FRASER and Peter PRUDEN (born around 1752). 
His story is fairly well documented by Historians. Here are a few links for further reading:
Dictionary of Canadian Biography Online
The purpose of this narrative is to focus on genealogical aspects of his life; his relationships with other Red River families of interest; and most importantly, establish a basis for further narratives and discussions about his descendants.
York Factory
1791-1794
PRUDEN entered the service of the HBC in 1791 when he was just 13 years old.  His first posting was at York Factory where he started as an apprentice and later became a Writer. During his stay at York, he worked under Chief Factor Joseph COLEN (1751-1818).
Inland Postings
1795-1800
From 1795 to 1800, PRUDEN continued his apprenticeship at Carlton House, Buckingham House, Bolsover House and Edmonton House, working under George SUTHERLAND (born c1765). During this time he had associations with Peter FIDLER (1769-1822), Henry HALLETT (1773-1844), Charles ISHAM/ ASHAM (1755-1714) and Alexander FLETT.
First Wife, Nancy (PATASEGAWISK)
1801-1804
Between 1801 and 1804 PRUDEN was promoted to an Inland Trader, working out of York Factory. At that time he was working under James Curtis BIRD (1773-1856) who was the Chief of the Edmonton, Saskatchewan District in charge of the Inland posts.
It was during this period that John Peter began a connubial relationship with a young Cree woman named Nancy Ann (PATASEGAWISK). They had their first child, William, in 1804. 
Acton House
1805-1809
Still working under BIRD, from 1805 to1807 PRUDEN was the Clerk in Charge at Acton House in the Saskatchewan District. Acton House was an HBC post that was built around 1800 by BIRD, near the NWC post at Rocky Mountain House. Two more children were born there; Peter Jr. in the fall of 1807 and his first daughter, Charlotte in 1808. John Peter spent the winter of 1808-09 in London, England..
Carlton House (Fort Carlton)
1810-1824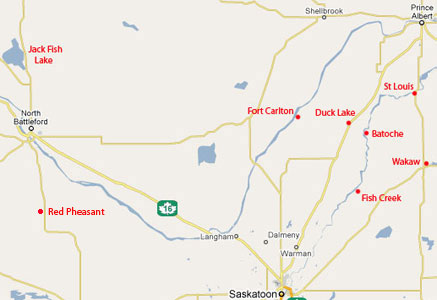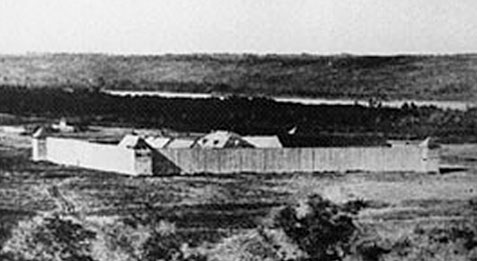 Fort Carlton as it appeared many years ago. Carlton House was first established in 1795
near the junction of the North and South Saskatchewan Rivers.
The original post was abandoned around 1804 and re-established in 1810 at its present location
Southwest of Prince Albert, along the North Saskatchewan River.
This is where John Peter Pruden spent most of his HBC career as a Chief Factor.
From 1810, right through to 1824, PRUDEN was the Chief Trader at Carlton House. Daughter Elizabeth was born there soon after the family arrived there.


Around 1820, teenage daughter Charlotte conceived a child (John McLEOD Jr.) by John McLEOD (1788-1849). They moved away to Norway House.
After the Union of the HBC and the North West Company
1821
In 1821 the union of the North West Company (NWC) and the Hudson's Bay Company (HBC) occurred, ending years of bitter rivalry for dominance of the fur trade in Western Canada. George SIMPSON (1786-1860) became the Governor of Rupert's Land. ** MORE ABOUT GOVERNOR GEORGE SIMPSON
Son James was born in the fall of 1823.
From 1823-26 Nephew John Edward HARRIOTT was back at Carlton House. It was probably during this period that he began a connubial relationship with his cousin, Elizabeth PRUDEN, JPP's daughter.
In 1824 John Peter sailed to London, England, to spend a year's furlough. During his absence, John STUART (1780-1847) filled in as Chief trader at Carlton, watching over his children in his absence.
York Factory - Norway House
1825-26
John Peter spent the winter of 1824-25 in London, returning to York Factory in the fall of 1825, probably on the same ship (the King George) as Reverend William COCKRAN (1798-1865). COCKRAN, just recently ordained, was on his way to Red River. While at York, on Sep 27, 1825, he formally married John Peter to his Cree wife Nancy, and baptized two of their children (Twelve year old Maria and two year old James).  The rest of his family remained at Fort Carlton with John STUART. He then accompanied Rev COCKRAN to Norway House, where he would spend the winter as Chief Trader.
Back to Carlton House
1826-1837
In 1826 John Peter returned to Carlton House to resume his charge as Chief Trader there.
On Sep 4, 1826, eldest son William married Nancy HENRY; they left Carlton to make their home at Red River (St Andrews Parish). Nancy was the teen-age daughter of Agathe LETENDRE & William HENRY (1784-1864).
In July of 1828 daughter Charlotte was church-wed at Norway House to John McLEOD by Reverend David JONES (1796-1844), a noted HBC Chaplain who was on his way home to England.
On May 7, 1829 son Peter married Suzette JOLICOEUR at St Johns, Red River. She was the daughter of Suzette (Cree) & Louis JOLICOEUR. 
John Peter retires to Red River
1837-1868
In 1837 John Peter retired to Red River.
On Aug 16, 1838 wife Nancy died (buried in St Johns),
1839 John Peter was appointed to the Council of Assiniboia.
In December of 1839 John Peter remarried to Ann ARMSTRONG, a Teacher at the Red River Academy.
On Sep 6, 1841, daughter Maria became the 2nd wife of William HALLETT (1811-1873), son of Henry HALLETT (1734-1781) & his 3rd wife, Catherine TENANSE. 
On Oct 17, 1841 son Arthur married at Carlton to Charlotte SMALL, daughter of Nancy HUGHES & Patrick SMALL (1789-1846). Charlotte was a niece of surveyor and explorer David THOMPSON (1770-1857).
In 1850 daughter-in-law Charlotte (Arthur's wife) died at Fort Carlton, and in 1851 Arthur remarried to Archange GUIBOCHE, daughter of Marie Anne ROCQUE & Edouard GUIBOCHE (born 1795).
In 1850 daughter Caroline married in Winnipeg to Thomas SINCLAIR (1810-1870), son of Margaret "Nahovway" NORTON & William SINCLAIR (1766-1818). ** MORE ABOUT WILLIAM SINCLAIR
In 1853 son John Peter Jr. married in St Andrews to Sarah ROSS, daughter of Catherine BRELAND & George ROSS (1797-1874).
John Peter PRUDEN died May 28, 1868 (buried May 30, 1868 St John's Cemetery, Winnipeg).
Please post comments & queries at this link:  FORUM DISCUSSING JOHN PETER PRUDEN (1778-1868)
========================== Family Details ==========================
Children by Cree Wife Nancy & John Peter PRUDEN:
1. 1804 WILLIAM PRUDEN (m. Nancy Ogden (nee HENRY) CAMPBELL)
2. Aug, 1807 PETER PRUDEN (m. Josephte "Suzette" JOLICOEUR)
** Ancestors of Mapleton PALMER, RAILTON and MAGNUSSON Families **
Child:
1. 1807 PETER PRUDEN (m. Josephte Suzette JOLICOEUR)
Child:
1. Mar 14, 1839 JOHN EDWARD PRUDEN (m. Mary ISBISTER)
** MORE ABOUT JOHN EDWARD PRUDEN
3. 1808 CHARLOTTE PRUDEN (m. John McLEOD)
4. 1810 ELIZABETH PRUDEN (m. John Edward "Ted" HARRIOTT)
** MORE ABOUT JOHN EDWARD HARRIOTT
5. Sep 9, 1813 MARIA PRUDEN (m. William Peter HALLETT)
6. 1820 ARTHUR PRUDEN (m1. Charlotte SMALL, m2. Archange GUIBOCHE)
7. Mar 3, 1822 CORNELIUS PRUDEN (m1. Nancy, m2. Isabella McKENZIE)
8. Sep 1, 1823 JAMES PRUDEN (m1. Nancy SMITH, m2. Genevieve DESJARLAIS)
9. 1829 JOHN PETER PRUDEN (m1. Sarah ROSS, m2. Annie ROWLAND)
** MORE ABOUT JOHN PETER PRUDEN JR.
10. 1830 CAROLINE PRUDEN (m1. Thomas SINCLAIR, m2. Albert SARGENT)