JOHN EDWARD "TED" HARRIOTT (1797-1866)
ELIZABETH PRUDEN (1810-1829)
NANCY ROWAND (1818-1849)
FRANCES BUNN (1809-1895)
(Last Updated: October 13, 2015)
John Edward "Ted" HARRIOTT was born Feb 5, 1798 in London England, son of Christian FRASER and Edward HARRIOTT (1773-1839). ** MORE ABOUT JOHN EDWARD HARRIOTT in DCBO
Another excellent source of information is the book "John Rowand, Czar of the Prairies", by James G MacGregor (hereafter referred to as Czar) with a focus on John ROWAND (1787-1854).
Recruited by the Hudson's Bay Company
1809
In 1809 (DCBO), John Edward entered the service of the Hudson's Bay Company (HBC) as an apprentice. He was only about 12 years old at that time. In 1811 he was sent to Carlton House in the Saskatchewan District where he worked under his Uncle John Peter PRUDEN (1778-1868), the Chief Trader there. ** MORE ABOUT JOHN PETER PRUDEN
The NWC-HBC Merger
1821
In 1821 the union of the North West Company (NWC) and the Hudson's Bay Company (HBC) occurred, ending years of bitter rivalry for dominance of the fur trade in Western Canada. George SIMPSON (1786-1860) became the Governor of Rupert's Land. ** MORE ABOUT GOVERNOR GEORGE SIMPSON
In 1822 the HBC was keen to open up trade in the southern part of Niitsitapi (Blackfoot) territory. That year, John Edward became a member of the Bow River Expedition which established a small post below the forks of the Red Deer and South Saskatchewan rivers. The expedition was led by Donald McKENZIE (1783-1851) and John Edward was second in command. ** MORE ABOUT DONALD McKENZIE in DCBO
John Edward and Elizabeth PRUDEN
Carlton House – Columbia District
1823-1831
From 1823-26 John Edward was back working under his Uncle John Peter PRUDEN at Carlton House. It was probably during this period that he began a connubial relationship with his cousin Elizabeth PRUDEN, JPP's daughter.
During 1826-28 he was posted to Fort Assiniboine, 1828-32 in the Columbia District.
On June 5, 1831 wife Elizabeth gave birth to daughter Margaret. John's union with Elizabeth PRUDEN ended with her death under tragic circumstances that are shrouded in legend." The 'legend' is told in much greater detail in Czar of the Prairie where HARRIOTT's wife is erroneously referred to as Margaret.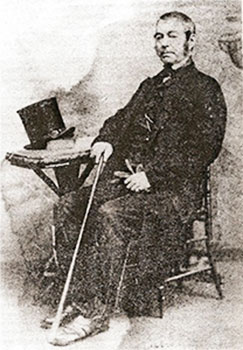 HBC Chief Factor John Edward Harriott Sr.
 (From DCBO)
In 1832 HARRIOTT returned to the Saskatchewan District to take charge of the Piegan Post on the Bow River but, from 1834 onwards, his principal posting was Rocky Mountain House.  He was John ROWAND's right-hand man in the Saskatchewan District and often had charge in ROWAND's absence. ** MORE ABOUT JOHN ROWAND (1787-1854)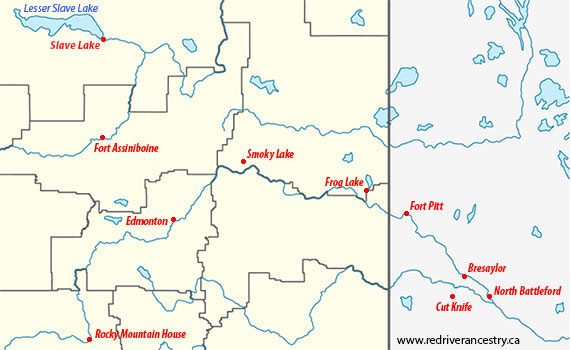 John Edward and Nancy ROWAND
1835-1850
By 1835 John Edward was in a connubial relationship with 'the boss's teen-aged daughter', Nancy ROWAND. On Sep 10, 1838 they had their marriage legalized by Reverends Modeste DEMERS and Francois-Norbert BLANCHET (1795-1883) at Edmonton. The purpose being to legitimize their children: Christian (born Oct 1, 1836) and Flora (born Feb 2, 1838). The mssionaries were travelling from Red River on their way to Oregon to establish the Roman Catholic Church presence in the Northwest. On Nov 24, 1838 DEMERS and BLANCHET reached Fort Vancouver after a perilous journey down the Columbia River, having stopped at most of the HBC forts along the way.
** MORE ABOUT MODESTE DEMERS in DCBO
** MORE ABOUT FRANCOIS NORBERT BLANCHET in WIKIPEDIA

In 1848 daughter Margaret married John ROWAND JR at Fort Pitt.
On July 8, 1850 wife Nancy ROWAND-HARRIOTT died at Fort Edmonton. Children still at home at that time would have been Christine(age 14), Flora (12), Rachel (10), John Edward Jr. (8), Victoria (7) and Alexander (age 4).
Red River
Marriage to Frances BUNN
1853
By 1853 John Edward had moved to Red River. That year, with what his father-in-law considered unseemly haste, he married Frances BUNN, daughter of Phoebe SINCLAIR & Thomas BUNN (1765-1853).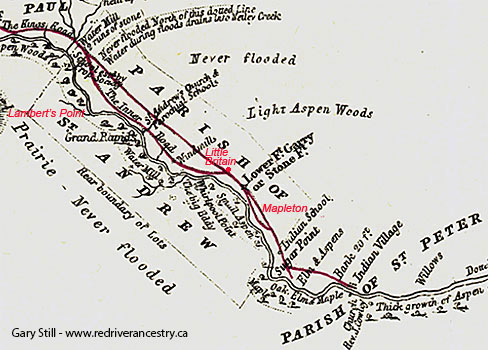 St Andrews Parish from Hind's map of 1857
In 1855 John Edward Sr. retired from HBC service, and that year his daughter Flora married Henry McDERMOT in Winnipeg, son of Sarah McNAB and Andrew McDERMOT (1791-1881), a prosperous Winnipeg businessman.
Hawthorne Lodge
1858
Chris JOHNSTONE: There was always a road along the river bank (The Inner Road on Map above). Where this road turned west from the river (Little Britain) was the original "Hawthorne Lodge" built by Chief Factor John Edward HARRIOTT in 1858, of log frame, filled with stone, a full two stories high. It was named Hawthorne Lodge for the hawthorn hedge HARRIOTT had imported from England. It was filled with furniture and pictures from England and France, all brought by way of Hudson Bay and transported inland by York boats.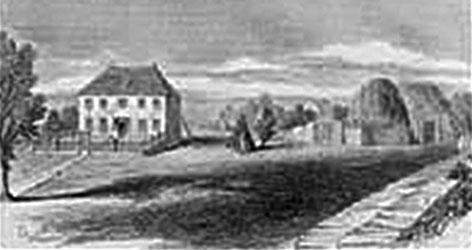 Residence of John E HARRIOTT, Red River Settlement (Date 1861)
Destroyed by fire in 1918; re-built by Dunbar Hibbard Hudson
(Glenbow Archives)
HARRIOTT's Will, made in 1858, indicates also some period of residence in Montreal. He had prospered in the service and in his will was able to dispose of an estate of over $10,000, not including "a house, property, cattle, horses, carriage, carriols." A strong family man, he had made a generous allowance to his mother until 1844 and in his will he remembered his brother and three sisters and provided handsomely for his widow and his younger children. To his daughter by his first marriage, Margaret, who had married John ROWAND JR, he left £50 "to purchase a gold watch or anything she may fancy to keep in remembrance of her affectionate father."
In 1859 daughter Rachel married Thomas BUNN, the eldest son of Catherine THOMAS & Dr John BUNN (1803-1861) who were both half-breeds.
In 1862 Hawthorne Lodge was sold to Judge John BLACK (1817-1879).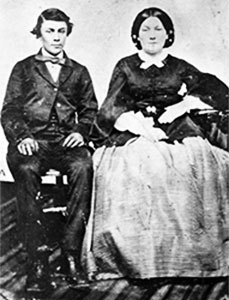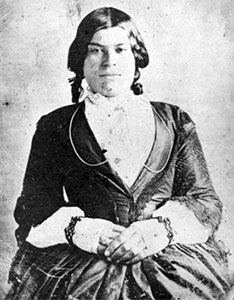 Left: Alexander Harriott and his sister Victoria Harriott-Ross
Right: Christie Marion Harriott
(Glenbow Archives – Thanks to Tom Long)
In 1865 son John Edward Jr. married Harriet Marie THOMAS; daughter of Eleanor BUNN & William THOMAS (1806-1875). Also in 1865 youngest daughter Victoria married Roderick ROSS at St John's in Red River, son of Mary McBEATH and Donald ROSS (1798-1852) from Scotland. ** MORE ABOUT DONALD ROSS
On Feb 7, 1866 John Edward HARRIOTT SR died in Montreal.
In 1871 daughter-in-law Harriet (nee THOMAS) died, and in 1875 son John Edward Jr. re-married to Jane TAYLOR, daughter of Nancy McKAY & Samuel TAYLOR (1812-1894), the stonemason from the Orkneys who build St Clements Church at Mapleton. ** MORE ABOUT SAMUEL TAYLOR
In the 1891 Census Widow Frances HARRIOTT (age 81) was recorded living with her step-daughter (Widow Rachel BUNN) in St Clements Parish.
On Mar 27, 1895 Frances (nee BUNN) HARRIOTT died in RM St Clements, age 86.
Comments and queries at this link: FORUM DISCUSSING the JOHN EDWARD HARRIOTT FAMILY
============================= Family Details =============================
Child by Elizabeth PRUDEN:
1. Jun 5, 1831 MARGARET "PEGGY" HARRIOTT (m1. John ROWAND JR; m2. Hugh S DONALDSON)
Children by Nancy ROWAND:
1. Oct 1, 1836 CHRISTINE HARRIOTT
2. Feb 2, 1838 FLORA HARRIOTT (m. Henry McDERMOTT)
3. June 9, 1840 RACHAEL HARRIOTT (m. Thomas BUNN)
4. June 29, 1842 JOHN EDWARD HARRIOTT JR (m1. Harriet Marie THOMAS,  m2. Jane TAYLOR)
** MORE ABOUT JOHN EDWARD HARRIOTT JR
5. 1843 VICTORIA HARRIOTT (m. Roderick ROSS)
6. 1846 ALEXANDER HARRIOTT (Died age 16)