JOHN ROWAND (1812-1865)
MARIE (an Iriquois Metisse)
KE-NE-NU-WIS-MAN
MARGUERITE MONDION
MARGARET HARRIOTT (1830-1893)
(Last Updated: October 13, 2014)
John ROWAND was born Feb 8, 1812 at Fort Edmonton, eldest son of Louise UMPHREVILLE & John ROWAND SR (1787-1854). ** MORE ABOUT JOHN ROWAND SR
In this narrative the notation *Czar refers to quotations from the book 'John ROWAND – Czar of the Prairies' by JG MacGregor.
Czar pg 80: October of 1828: By this time the ROWAND children were teenagers; young John was nearly 16. John, whose whole life had been spent in his father's trading post, knew Indian ways and could speak two or three of their languages. As a vigorous lad who resembled his father in physique and temperament, he was now ready to start out on his own career. While he was not yet on the Company payroll, his father had seen that he had obtained an excellent training for the fur trade.
Tom Long (Edmonton Tom), Public Interpretation Coordinator for Fort Edmonton Park, has provided us with new information and fresh insights regarding John ROWAND JR. and his family relationships. See Tom's comments on our Forum.
In 1832 Catherine ROWAND was born near Fort Edmonton. According to her Scrip Affidavit of 1885 she was a child of an Iroqouis Metisse and young John ROWAND.
** MORE ABOUT IROQUIS in the EDMONTON-JASPER AREA – LOUIS CALLIHOO (1782-1854)
John is hired by the Hudson's Bay Company
1833
In 1833 John began his employ with the Hudson's Bay Company (HBC) in the Saskatchewan (River) District as a Postmaster at Rocky Mountain House for two years. ** MORE ABOUT JOHN ROWAND JR in the HBC ARCHIVES
During 1835-36 John spent a brief stint (1835-36) at Fort Garry (Red River). *Czar: Whether or not his younger brother Henry accompanied John is not known, but either then (1835) or a year earlier he went to school in the settlement where Mr. McALLUM taught the boys, while Mrs. LOWMAN instructed the daughters of the widely dispersed traders and factors. **My Note: This refers to John McCALLUM (1806-1849) and Mrs. LOWMAN (1801-1873) who soon became the second wife of Chief Factor James Curtis BIRD (1773-1856).
Fort Assiniboine
1836-1841
In 1836 John was made the Clerk in Charge at Fort Assiniboine where he remained for the next five years.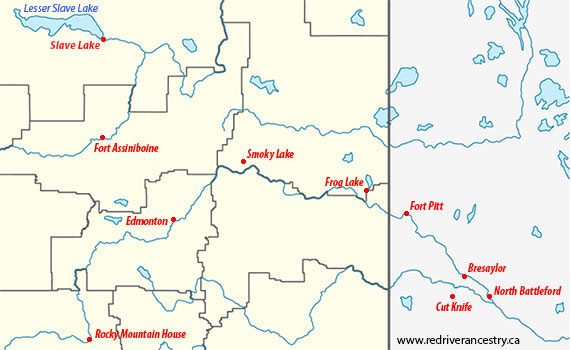 In October of 1840 Reverend Robert RUNDLE (1811-1896) arrived at Fort Edmonton. RUNDLE soon established a rigourous itinerary that he would maintain for much of the next seven years. The winter months were usually spent at Fort Edmonton with the ROWAND family. The HBC pressed for an Indian mission school and agricultural station near Fort Edmonton. Although RUNDLE did begin to educate ROWAND's daughters at the fort, he never set up the proposed school.
** MORE ABOUT ROBERT RUNDLE in DCBO

John and KE-NE-NU-WIS-MAN
1841
EdmontonTom: On Oct 6, 1841 Reverend RUNDLE baptized an infant child, Isabelle, and named the parents as John ROWAND JR. and KE-NE-NU-WIS-MAN. Isabelle only lived for a few months.

Fort Pitt
John and Marguerite MONDION aka MOIGNON
1842-1855
Beginning in 1842, John would spend the rest of his HBC career at Fort Pitt (except for a brief stint at Cumberland House in the summer of 1843).
In 1843 John (Jean) ROWAND was born to Marguerite MONDION aka MOIGNON, the daughter of Marie Suzanne NADEAU aka NADON and Joseph MONDION, a French Canadian.
Czar pg 148: Edward DUFRESNE's wife bore John a son who, although he was named Francois DUFRESNE, appears to have been considered one of John ROWAND's family.
In 1845 eldest daughter Catherine married William IASTAWITCH at Lac St Anne. William was born about 1807 in Fort a la Corne of uncertain parentage.
John marries Margaret HARRIOTT
1848
On Jan 6, 1848 John married Margaret HARRIOTT at Fort Pitt, daughter of Elizabeth PRUDEN and John Edward HARRIOTT (1797-1866) from England, the HBC Chief Trader at Rocky Mountain House and Edmonton House.
** MORE ABOUT JOHN EDWARD HARRIOTT
*Czar p.149: This (Margaret HARRIOTT) was the girl who had been brought to Edmonton House as a babe in arms when in 1830 her mother had perished in the Yellowhead Pass. Watching the wedding, Louise ROWAND must have recalled the day some nine years earlier when HARRIOTT himself had married their daughter Nancy. On that occasion HARRIOTT, a Protestant, was united in marriage with Nancy, a Roman Catholic, by a priest of that faith. Now, at the time of KANE's visit, young ROWAND (John Jr.), a Catholic, was wed to Margaret, a Protestant, by the Reverend Mr. RUNDLE, a Methodist. **My Note: This is Reverend Robert RUNDLE (1811-1896)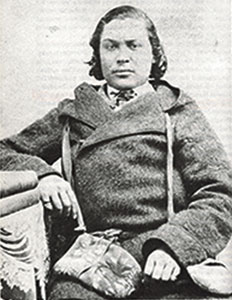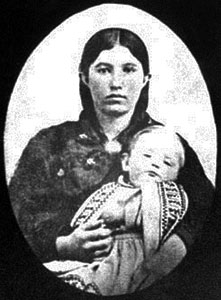 John Rowand Jr - Margaret Harriott with her infant daughter (Maria) around 1850
(From Many Tender Ties)
In 1850 John became the Chief Trader at Fort Pitt.
*Czar p.157: Here and there throughout the information available, there are hints that young John was never the man his father was. In physique, rotundity and domineering attitude he apparently followed in his father's footsteps but he failed to measure up to his graciousness or his ability to make friends. In appearance, as Sir George SIMPSON wrote in 1853, he was the very image of his father some 30 years previously. At times, however, reports reached his father and even Sir George that on occasion young John acted with little courtesy and less forbearance.
On May 30, 1854 John's father, John ROWAND SR, died at Fort Pitt at the age of 64. He was buried there. *Czar p.171: John ROWAND died a wealthy man whose estate exceeded £30, 000, but, while his while his financial affairs and Will were both in good order, his family affairs caused Sir George considerable anxiety. He found himself pulled one way by Dr. Alexander ROWAND, who had made his way into the East's white society, and another way by John Jr., and his sisters, whose lives were still focussed on the frontier. To that end, as well as leaving them £7500 sterling each as compared to £3,000 each to John and Alexander, John ROWAND had decided to take them down to the Montreal area and try to introduce them into its civilized society. While both Duncan FINLAYSON of the Company's Lachine office and Sir George were the executors of the Will, SIMPSON was the one who dealt with its actual details.
**My Notes: In 1855-56 SIMPSON had old John ROWAND's body was dug up, the body reduced to bones (by boiling) which were sent to York Factory and from thence to England by ship. Eventually the bones re-crossed the ocean and on Nov 10, 1858, over four years after his death, they were deposited in Montreal's Mount Royal Cemetery. SIMPSON did this because he knew that old John had expressed his wish to be buried there.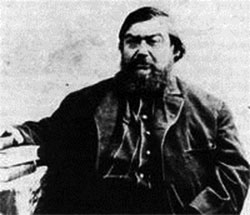 John Rowand Jr in his later years
John Jr. Retires to Red River
1856
In 1855-56 John "availed himself of furlough (leave of absence), and on June 1, 1856 he retired to Red River. *Czar p.174: In 1856, not long after his father's Will was settled, John severed his connection with the HBC, moved to that settlement (Red River) and commenced to build a home that he called Silver Heights (on the Assiniboine River near Sturgeon Creek).
In 1863 eldest daughter Maria married John Henry McTAVISH (1837-1888), an HBC Accountant at Fort Garry who later became a member of the Manitoba Legislative Assembly.
On Oct 33, 1864 John made his Will.
John ROWAND JR Dies
1865
Grossly fat like his father (his weight reached 350 pounds), on March 13, 1865 John ROWLAND died in Winnipeg at the age of 53.  He had a large estate to leave (Silver Heights), he may well have been the richest man in the Red River Settlement.  In his will, he left Silver Heights to his wife Margaret.  *Czar p.175: - - besides his 500 acre Silver Heights property, on statement of his investments showed them worth $69, 000. - - One piece of his real property he left to his legitimates son, John James Alexander, who unfortunately died the next year, and another piece fell to the lot of his natural son, William ROWLAND. He had other children but what provisions  he made for them is not apparent.
In 1866 son William married Mary ROSS in St Andrews, daughter of Mary McBEATH and Donald ROSS (1798-1852) from Scotland.
In 1867 daughter Adelaide became the second wife of John BALSILLIE (1839-1906) from Scotland, an HBC Junior Chief Trader at Upper Fort Garry. ** MORE ABOUT JOHN BALSILLIE
Canadian Confederation
A Red River Metis Rebellion
Manitoba becomes a Province
1867-1870
On July 1, 1867 the British colonies in North America were united under the British North American Act to become the Dominion of Canada. Sir John A MACDONALD (1815-1891) was appointed as Canada's first Prime Minister. William McDOUGALL (1822-1905) became the Minister of Public Works, and he began negotiations to acquire Rupert's Land from the HBC, sending out surveyors to prepare the way for an expected influx of settlers.
The Red River Rebellion began in 1869 and ended in 1870 when Manitoba became a Province.
Widow Margaret Re-marries to Hugh DONALDSON
1871
In 1871 Widow Margaret ROWAND re-married to Hugh S DONALDSON from Quebec.
** MORE ABOUT HUGH DONALDSON in MHS
Around 1879 daughter Margaret Louisa married Andrew Robert James BANNATYNE, son of Annie McDERMOT and Andrew Graham Ballenden BANNATYNE (1829-1889), a wealthy Winnipeg businessman.
In 1885 son Edward married Annette GOFF in Montreal.
On Sep 3, 1893 Margaret (nee HARRIOTT) DONALDSON died in Winnipeg.
Please post comments and queries at this link: FORUM DISCUSSING the JOHN ROWAND FAMILY
========================= Family Details =========================
Child by Marie (Iroquois Metisse):
1. 1832 CATHERINE ROWAND dit BRUNEAU (m. William IASTAWITCH)
Child by KE-NE-NU-WIS-MAN:
1. 1841 ISABELLE ROWAND (Died in infancy)
Children with Marguerite MONDION:
1. 1843 JOHN (JEAN) ROWAND
2. 1847 WILLIAM ROWAND (m. Mary ROSS)
Children with Margaret HARRIOTT:
1. Sep 12, 1849 MARIA ROWAND (m. John H. McTAVISH)
2. Dec 15, 1852 ADELAIDE ROWAND (m. John BALSILLIE)
3. Aug 25, 1854 MARGARET LOUISA ROWAND (m. Andrew Robert James BANNATYNE)
4. Jan 11, 1861 JOHN JAMES ALEXANDER ROWAND
5. Jun 18, 1864 EDWARD ROBERT T ROWAND (m1. Annette GOFF; m2. Jenny HAYES; m3. Hilda PARNITZKY)
6. c1865 WILLIAM ROWAND