JOHN BALSILLIE (1839-1906)
ANNIE FLETT (1842-1926)
ADELAIDE ROWAND (1852-1889)
(Last Updated: January 08, 2014)
John BALSILLIE was born in Scotland on July 7, 1839 in St Andrews, Fife, Scotland, son of Agnes TODD & David BALSILLIE.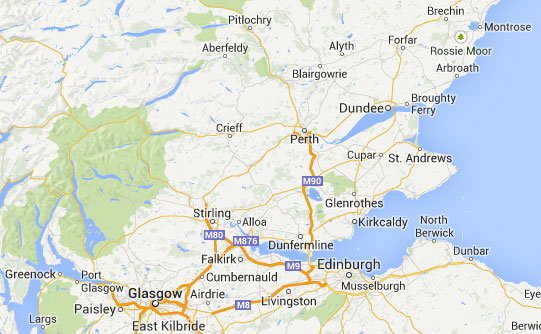 The County of Fife is located just north of St Andrews as shown on this map
Scotland Censuses 1841, 1851: In these two censuses John BALSILLIE (age 1, age 11 respectively) was recorded in St Andrews Parish, County of Fife in Scotland (SW of Dundee). His father (David) was a Carpenter (Joiner).
** MORE ABOUT FIFE in WIKIPEDIA
In the Service of the Hudson's Bay Company
1858
On June 21, 1858, John entered the service of the Hudson's Bay Company (HBC) as an Apprentice Clerk at York Factory. From 1860 to 1861 he was assigned to Norway House.
** MORE ABOUT JOHN BALSILLIE in HBCA It is unclear who authored this bio. Does anyone know?
** MORE ABOUT JOHN BALSILLIE in MHS This Bio was prepared by Gordon Goldsborough. With additional information provided by Monica BALL and Beth BALSILLIE (a great-great granddaughter). It makes no mention of John's first marriage to Annie FLETT.
John & Annie FLETT
Upper Fort Garry
1861-1867
In 1861 John was assigned to Upper Fort Garry where he was promoted to Clerk and then Junior Chief Trader. It was around this time that he began a connubial relationship with Annie FLETT, daughter of Euphemia HALCROW & Peter FLETT (1812-c1905). ** MORE ABOUT PETER FLETT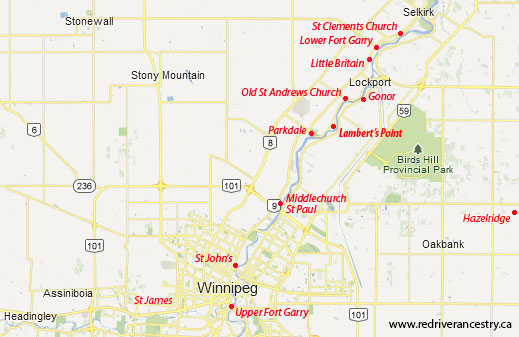 In 1862 daughter Florence Ann was born.
On Mar 30,1867 son James BALSILLIE was born. It appears that John and Annie FLETT had parted ways around the same time that Annie gave birth to James.
Marriage to Adelaide ROWAND
1867-1886
On Nov 28,1867 John married Adelaide ROWAND in St Boniface, daughter of Margaret HARRIOTT and John ROWAND (born 1812 at Fort Edmonton). Bishop Alexandre-Antonin TACHE (1823-1894) performed the marriage.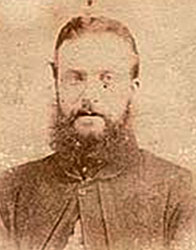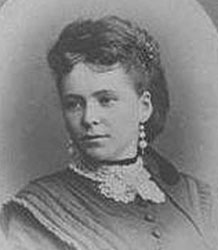 John Balsillie (1839-1906) – Adelaide Rowand (From Beth Balsillie)
In 1870 Annie FLETT (age 28) was with her parents (Euphemia & Peter FLETT) in St Paul Parish. That same year, John BALSILLIE (and presumably Adelaide) were recorded on Lot 6-33 in St Paul Parish with daughter Agnes (age 1).
Around 1872 Annie FLETT married Joseph AKROYD (1851-1885) from England.
In 1873 John became an Accountant in the HBC's Land Department until 1884. He was one of the founders of the Winnipeg Board of Trade that year.
On Nov 3, 1889 Adelaide (nee ROWAND) BALSILLIE died.
========================= // =========================
In 1891 son James married Ellen PRUDEN in Winnipeg, daughter of Mary ISBISTER & John Edward PRUDEN (1839-1904).** MORE ABOUT JOHN EDWARD PRUDEN
In the 1901 census, Widower John BALSILLIE was recorded as a 61 year old Accountant in Winnipeg. Children still at home were Evelyn (age 22), Hugh (19), Beatrice (15) and John (age 13).
In 1901 son James Allen married Marie FABIAN, daughter of Eliza MAINVILLE and Herbert FABIAN of uncertain origins.
On Dec 19, 1906 John BALSILLIE died in Winnipeg.
Comments and queries at this link: FORUM DISCUSSING the JOHN BALSILLIE FAMILY
============================ Family Details ============================
Children by Ann FLETT:
1. 1862 FLORENCE ANN BALSILLIE
2. Mar 30, 1867 JAMES BALSILLIE (m. Ellen PRUDEN)
Children by Adelaide ROWAND:
1. Mar 23, 1870 AGNES MARGARET BALSILLIE (m. Harry L C ALLEN)
2. 1873 MARIA L McTAVISH BALSILLIE (Died in infancy)
3. 1875 MABEL ELIZABETH BALSILLIE (m1. Thomas McMANUS, m2. Francis McGLOGAN)
4. Oct 8, 1876 JAMES ALLEN ROWAND BALSILLIE (m. Marie FABIAN)
5. 1879 EVELINE BALSILLIE
6. 1880 FLORENCE EMILY BALSILLIE (Died in infancy)
7. Oct 27, 1882 HUGH SEDLEY BLANCHARD BALSILLIE (m. Martha DONALDSON)
8. Nov 15, 1885 BEATRICE ANNETTE BALSILLIE (m. George Alexander ANTHONY)
9. Feb 2, 1888 JOHN GEORGE "JACK" BALSILLIE (m. Ida S PANCHOT)