JOHN EDWARD PRUDEN (1839-1904)
MARY ISBISTER (1844-1926)
(Last Updated: March 04, 2016)
John Edward PRUDEN was born Mar 14, 1839 in Old Kildonan, son of Josephte JOLICOUER & Peter PRUDEN (1807-1889). ** MORE ABOUT PETER PRUDEN
Edward was a grandson of Nancy PATASAGAWIS (a Cree woman) and the noted Hudson's Bay Company (HBC) Chief Trader John Peter PRUDEN Sr. (1778-1868) from England. ** MORE ABOUT JOHN PETER PRUDEN SR.
Marriage to Mary ISBISTER
1860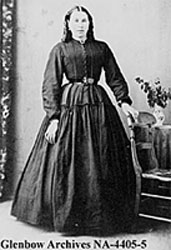 Glenbow: Date: c1870's: Mary Isbister, Red River. Mother of Mrs Palmer
Edward married 1860 in West St Paul to Mary ISBISTER, daughter of Frances SINCLAIR & John ISBISTER (1794-1884).
Canadian Confederation and another Red River Rebellion
Manitoba becomes a Province
1867-1870
On July 1, 1867 the British colonies in North America were united under the British North American Act to become the Dominion of Canada.  Sir John A MACDONALD (1815-1891) was appointed as Canada's first Prime Minister.
On Oct 11, 1869, Louis RIEL (1844-1885) placed his foot on the surveyors' chain to tell them their work was finished! This marked the beginning of another Red River Métis Rebellion. When it was all over, RIEL's Provisional Government accepted the terms of the Manitoba Act and on July 15,1870 Manitoba became the fifth province of Canada, the Canadian Government having acquired the territory previously governed by the HBC.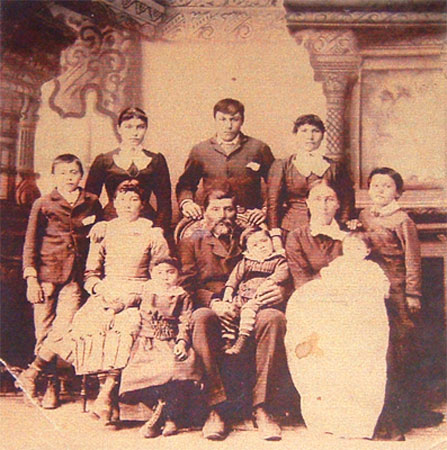 John Edward Pruden and his Family around 1886
(Photo courtesy of Beth Balsillie from her cousin Bonnie Balsillie and Vida Brown)
Left to Right: Boy standing: Alexander Alfred "Uncle Alec", age 10
Girl sitting: Ellen Isabella "Grandma Balsillie", age 13 (Bonnie's Grandmother)
Young Girl Sitting: Rachel Harriet "Aunt Hattie", age 5
Older Girl Standing on Left: Mary Jane Scott
Older Boy Center: John Edward "Uncle Jack", age 17
Man Sitting Center: John Edward Pruden "Great-Great Grandfather
Infant Sitting on John Edward's Lap: Benjamin Hubert Camloops "Uncle Bert", 2 ½
Girl Standing Right Rear: Sarah Ann Monkman
Lady Sitting: Mary Isbister Pruden "Great-Great Grandmother"
Infant Sitting on Mary's Lap: Beatrice Florence "Auntie Bea Miller", age 6 months
Boy Standing Far Right: Peter James, age 8
In 1888 Mary Jane married John Graham SCOTT in Winnipeg.
On July 23, 1890 daughter Sarah married in Kildonan to Charles MONKMAN, son of Catherine HARPER & Philip MONKMAN (1848-1932). ** MORE ABOUT PHILIP MONKMAN
When the Census was taken in 1891 Edward & Mary were still living in St Paul with the following children at home: Mary Jane, age 27; Sarah Ann 26; John Edward 23; Ellen E 18; Alex 15; Peter 13; Rachel 10; Benjamin 8 and Jemima, age 6. Also staying with them was Niece Jane ISBISTER (age 12).

On June 25, 1891 daughter Ellen married in Winnipeg to James BALSILLIE, son of Ann FLETT & John BALSILLIE (1839-1907). ** MORE ABOUT JOHN BALSILLIE
On Nov 24, 1896 daughter Sarah (Mrs. Charles MONKMAN) died at Scanterbury. Edward and Mary became the surrogate parents of their three year old granddaughter, Frances Annabella MONKMAN (Sarah's child).
Move to Mapleton
c1895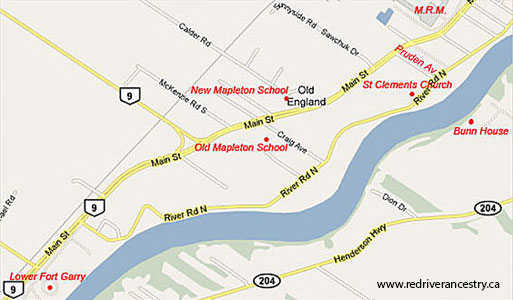 It was probably in the mid 1890's that Edward had moved his family north to Mapleton (Lot 23). His Uncle John Peter PRUDEN (1829-1897) died 1897 in Mapleton and his son (Ed's cousin) Tom Alex PRUDEN (1869-1945) was now his neighbour living on Pruden Avenue (see map above).
It is said that Mary was a mid-wife known as "Aunt Mary" who worked with Dr ROSS. This was probably Dr Daniel ROSS (born 1867), a Selkirk physician.
On Feb 16, 1899, son Alex married Margaret Jane FOLSTER, daughter of Charlotte MOORE & Dr. Thomas FOLSTER (1830-1912) from Mapleton. ** MORE ABOUT THOMAS FOLSTER
Edward PRUDEN dies
1904
On Dec 18, 1904 Edward PRUDEN died in Mapleton, age 66.
On Dec 6, 1905 son Bert married in Selkirk to Esther STEVENSON, daughter of Rachel Harriet WEST & Samuel STEVENSON (1855-1914), a Cree Indian from the St Peters Band north of Selkirk. 
** MORE ABOUT SAMUEL STEVENSON.
.
On July 31, 1907, daughter Jemima Beatrice (Theodora) married in Winnipeg to John Duncan MILLER
On Oct 23, 1907 daughter Rachel married in Selkirk to Sidney PALMER (1871-1949), a widower from England with four children.
Widow Mary PRUDEN was in her mid-60's now and all of her children had departed except her youngest son Bert and his wife Esther who would remain with her for the rest of her days.
In 1920 son Bert served on the Vestry of the St Clements Church at Mapleton.
Widow Mary ISBISTER-PRUDEN died on Mar 13, 1926, at the age 82. She was buried in the St Clements Churchyard at Mapleton.
Please post comments & queries at this link: FORUM DISCUSSING the JOHN EDWARD PRUDEN FAMILY
============================ Family Details ============================
Children:
1. 1861 FRANCES ELIZABETH PRUDEN (Died 1865)
2. May 29, 1864 MARY JANE PRUDEN (m. John Graham SCOTT)
3. Dec 24, 1865 SARAH ANN PRUDEN (m. Charles MONKMAN)
4. Oct 18, 1868 JOHN EDWARD PRUDEN JR
5. 1871 WILLIAM LOUIS PRUDEN (Died same yr)
6. Mar 23, 1873 ELLEN ISABELLA PRUDEN (m. James BALSILLIE)
7. Jan 29, 1876 ALEXANDER ALFRED PRUDEN (m. Margaret Jane FOLSTER)
8. June 2, 1878 PETER JAMES PRUDEN
9. Feb 15, 1881 RACHEL HARRIOT "HATTIE" PRUDEN (m. Sydney "Sid" PALMER)
10. Jul 2, 1883 BENJAMIN ALBERT "BERT" KAMLOOPS  PRUDEN (m. Esther STEVENSON)
11. Sep 25, 1885 JEMIMA BEATRICE (THEODORA) PRUDEN (m. John Duncan MILLER)